Last Updated on October 8, 2022 by Celeste.
Family spa and wellness is a relatively new phenomenon in Greece and something I will be posting more about in the future. More and more spa & wellness centers understand the need for families to enjoy spa treatments together and the benefits for children. In this article I have listed six of these, all tried and tested by myself and my family.
** updated blog post 2019**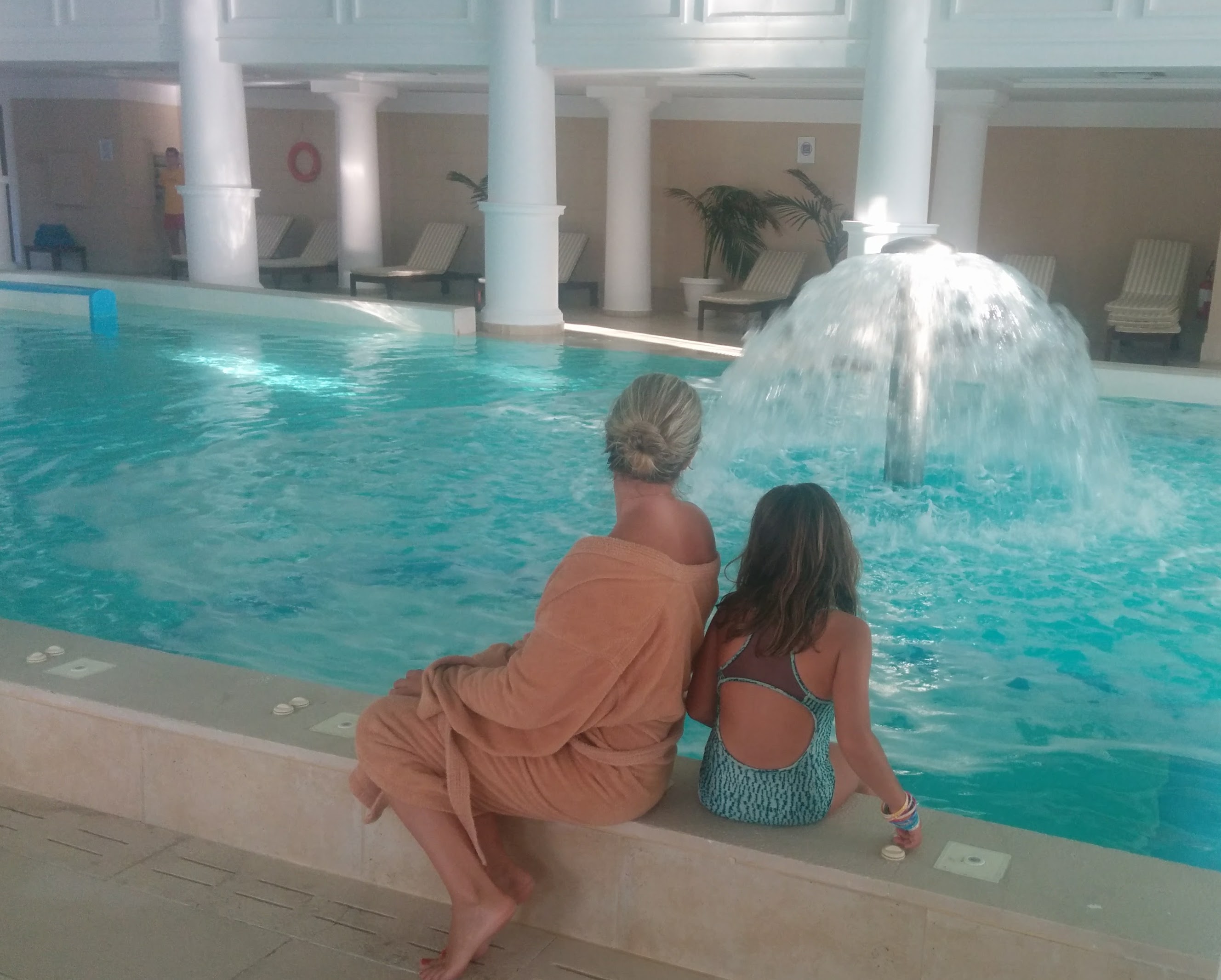 The family spa and wellness of the Elixir Thalassotherapy Spa Center at the Grecotel Olympia Riviera Resort presents (Ayurvedic) treatments for kids as well as children's massage. Parents can share a treatment room with the kids or they can do some alone pampering whilst their children are being entertained and supervised at the Grecoland Kids Club. My girls and I tried the spa during our family summer vacation. It was very pleasant to share a treatment room together. For my 5-year-old, this was the perfect way to introduce her to the spa and wellness lifestyle. I had an Elixir Aroma Massage (50'/90E) and a Total Body Massage that made me feel relaxed and rejuvenated. The girls tried a Kids Massage (20'/40E – 45'/75E). Kids massage is based on touch as a natural healing therapy. It is suitable for boys and girls aged 5 to 16 years and is applied on hands, back, legs, face, neck, scalp, hair. Below photos show the kids massage at Elixir Thalassotherapy Center. Read more about our Grecotel Olympia Oasis family holiday or Kids spa treatments at the Grecotel Elixir Thalassotherapy Center.
Click here for more information and to book your stay at Grecotel Elixir Thalassotherapy Center at Grecotel Olympia Oasis.
Casa Marron Wellness Center, Peloponnese
The Grecotel Casa Marron all-inclusive resort was the location of our most recent Spa & Wellness experience. The Asian inspired spa located in the main building of the resort offers massages and therapies for adults and children. The Kids' massage (20'/30E – 40'/50E) is based on touch as a natural healing therapy and ideal for children between five and 16 years old. Children can also enjoy the sauna and pool with their parents. More on our experience and our family holiday at Grecotel Casa Marron can be found here.

Family spa and wellness can also be found in The Euphoria Rejuvenating Spa belongs to the Out of the Blue Capsis Elite Resort on the island of Crete. Euphoria is a Greek word. It means 'psychologically uplifting or extreme happiness'. It is a hi-tech Spa & Wellness center as well an Aesthetic and Aesthetic Medical Department. This way, the spa offers a unique and complete wellness philosophy where the emotional, mental and physical well being of the guest is important. The focus is on health, weight, stress reduction and detoxification. The spa menu presents a long list of face and body treatments and massages for men and women and there are specially designed treatments for teenagers such as the Purity Face Cleansing (80'/170E). You and your teens can combine spa treatments with the world famous Dukan diet method. You can read more about my wellness getaway at Euphoria Rejuvenating Spa in the Out of the Blue Capsis Elite Resort Crete here.

Photo courtesy: Out of the Blue Capsis Elite Resort
In a list of family spa and wellness, the family-friendly spa hotel of Thermae Sylla Spa Wellness Hotel cannot be missed. This hotel is located on the island of Evia in Edipsos relatively near Athens. The thermal town of Edipsos and its therapeutic waters, as well as the Thermae Sylla Spa hotel, are well known in Greece. Thermae Sylla Spa Wellness Hotel has been classified among the 10 best spas in the world. The curative springs in Edipsos have been known for thousands of years (they are mentioned by the ancient Greek philosophers and Hippocrates) and it was Roman general Sylla who gave his name to the hotel. He visited the springs and was cured of arthritis. Later on, Thermal Tourism was the first kind of tourism to Greece. Thermae Sylla Spa has an indoor and outdoor pool. They are connected with the warm thermal waters found 300 meters underneath. The outdoor pool is mixed with seawater. The outdoor pool can be used by children starting from infant age. In fact, a baby was in the outdoor pool during my winter weekend stay! Because of its temperature – 32-34 degrees C-, the outdoor pool is open all year. The hotel offers family features such as family rooms and a small playroom for babies and kids. The hotel is open all year and is a great winter destination as well. I have described my experience in the winter in the post A winter stay at Thermae Sylla Spa Wellness Hotel. More tried and tested experiences at the Thermae Sylla Spa Wellness Hotel can be found in my post called Thermae Sylla Spa Wellness hotel.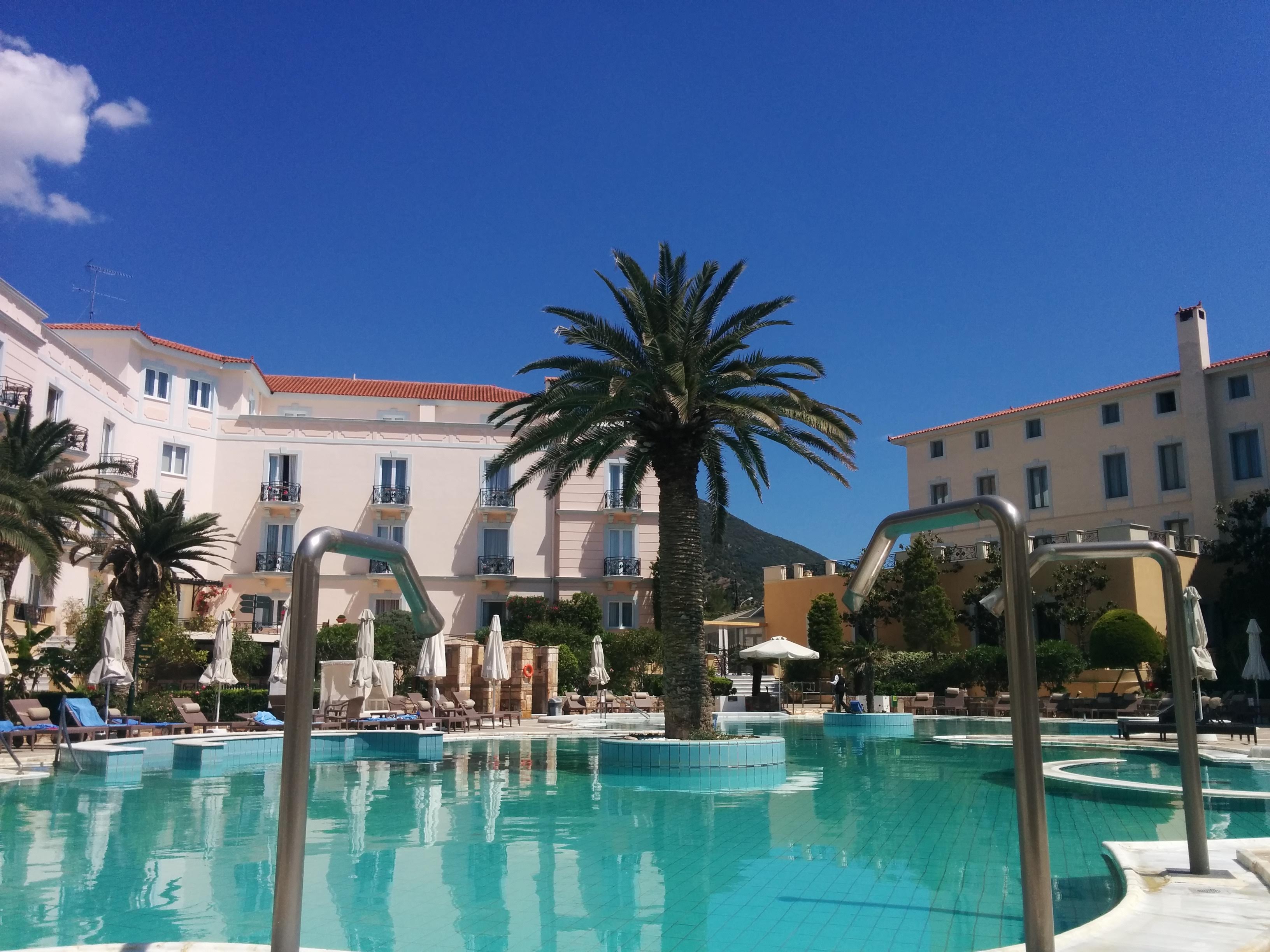 Family spa and wellness cannot only be found at resorts on the Greek islands. For parents and kids spa treatments in Athens, you can visit the Aegeo Spa in St. George Lycabettus Boutique Hotel. The Aegeo spa provides the treatment " MY CHILD AND I ". It is a rejuvenating treatment for two, in the same room, followed by an aromatherapy massage for the parent and a chocolate wrap and massage for the child. Parents share a room with their child and have a relaxing time together. Please take a look at my blog post called spa with kids aegeo spas about our recent experience.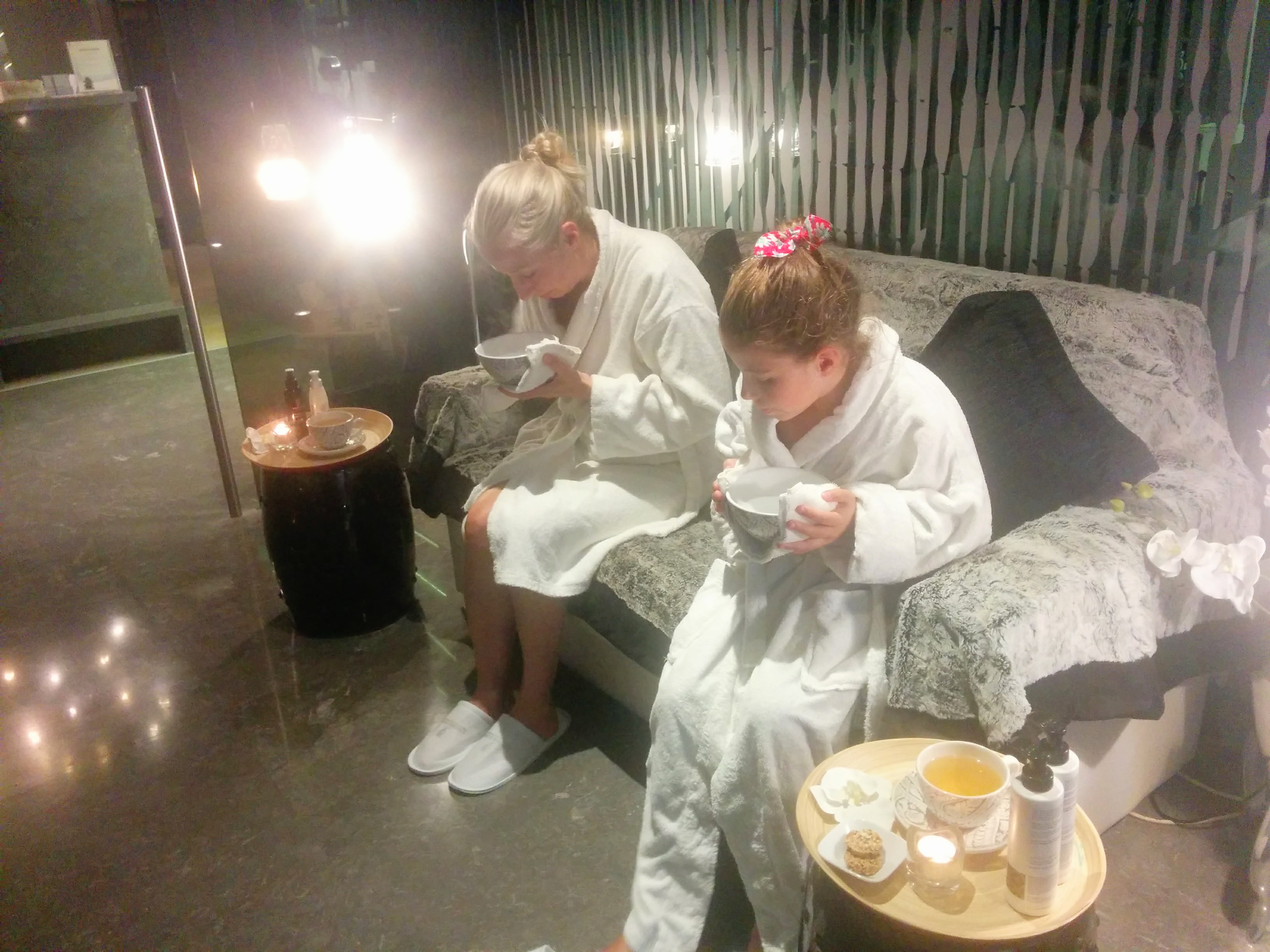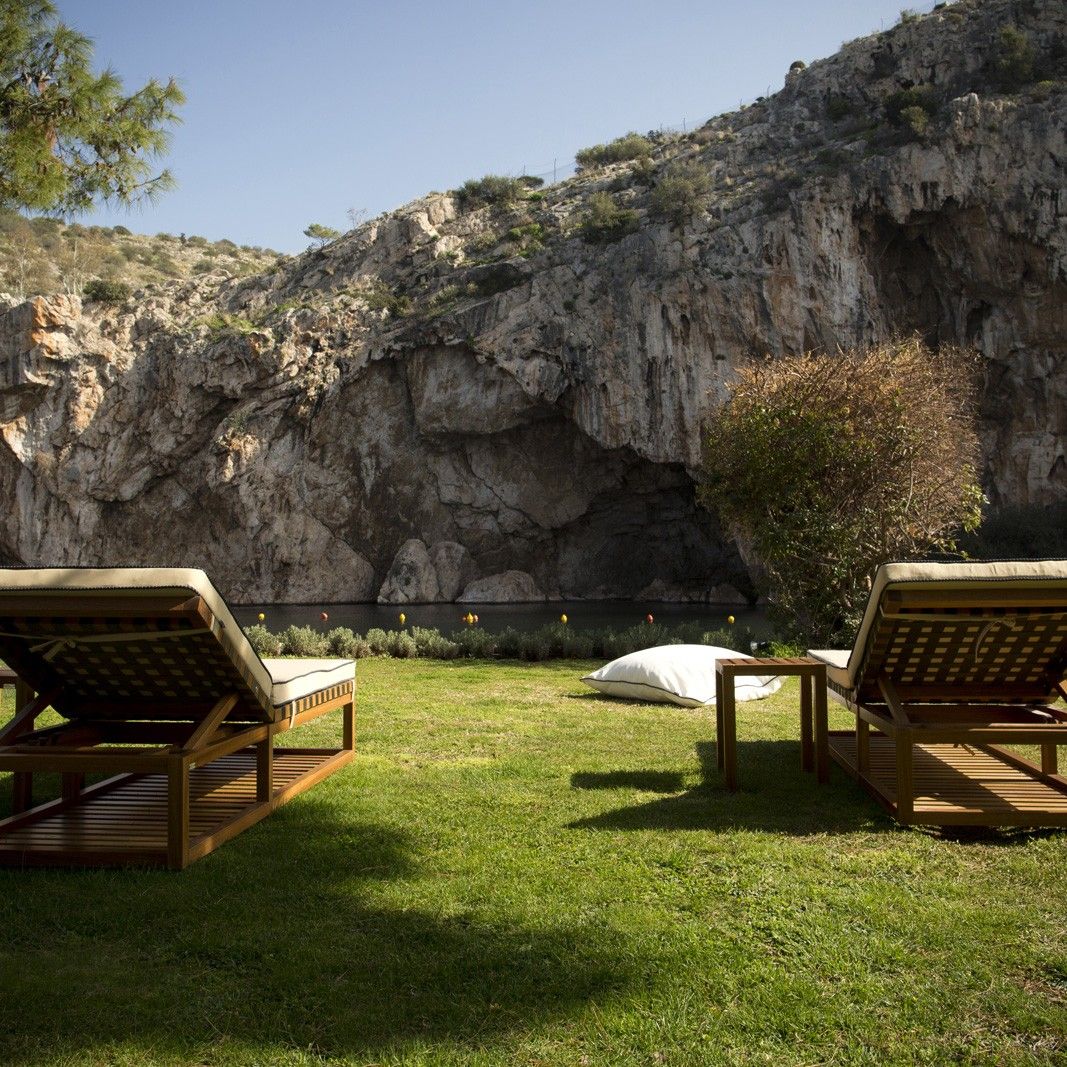 Lake Vouliagmeni is somewhat different from the before mentioned family spa and wellness centers. It is a truly amazing geological phenomenon. The lake is only 25 km away from the Athens city center located on the Athenian Riviera in the tourist resort of Vouliagmeni. It's very near to the sea, in fact, it is connected by it. The lake contains brackish water fed by underground currents seeping through the surrounding mountains. It is not very clear how the lake was formed but it is said that at the location of the lake, there was once a large underground cave. The walls of this cave suffered erosion by the hot thermal water causing the roof of the cave to collapse and the ground sank. Vouliagmeni means 'sunken' and the scenery is truly impressive. The healing capacities of Lake Vouliagmeni provide relief many conditions. Inside the lake is a variety of unique organisms: a special sea anemone and also species of sponges. It also has the little Garra Rufa fish, also known as Doctor fish or Spa fish and famous for being used in fish spas; they exfoliate the skin and offer a massage. It is important to know that sun lotions are not allowed when using the lake so it is wise to dress your babies/children in sun protective swimwear and keep them in the shade. There are plenty of umbrellas and trees around the lake. Our swim in the lake was very relaxing and rejuvenating although I expected the waters to be warmer. When we sat down on the side of the lake with our feet in the water, the little fish came nibbling our feet. It was difficult to resist the tickling feeling of the fish at our toes. The lake is safe for children who can swim but young kids will not be able to stand on the bottom. The middle of the lake is deep, adults cannot stand their either. There are no waves here and there is a lifeguard. More information and tips for an excursion to this special place can be found in my post about Lake Vouliagmeni.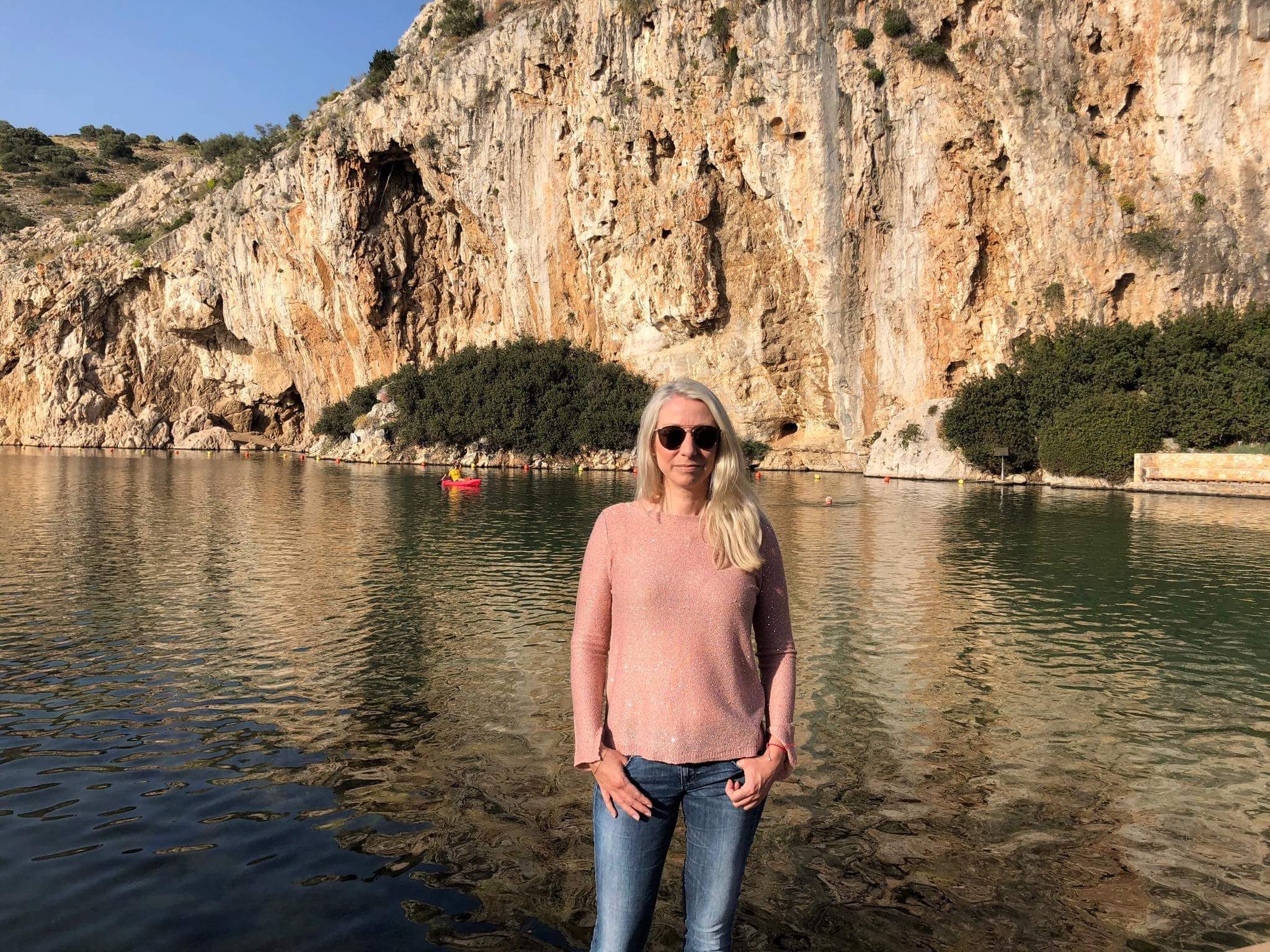 Wellness and Spa vacations for families are becoming more and more popular. Families are looking for new ways to leave the stress of their daily lives behind and to spent time together. Family life is wonderful but it can be busy and demanding. A spa is a quiet and relaxed place for family bonding time. A spa makes you feel happy both physically and emotionally. Have you been to a spa with your kids and did you enjoy it?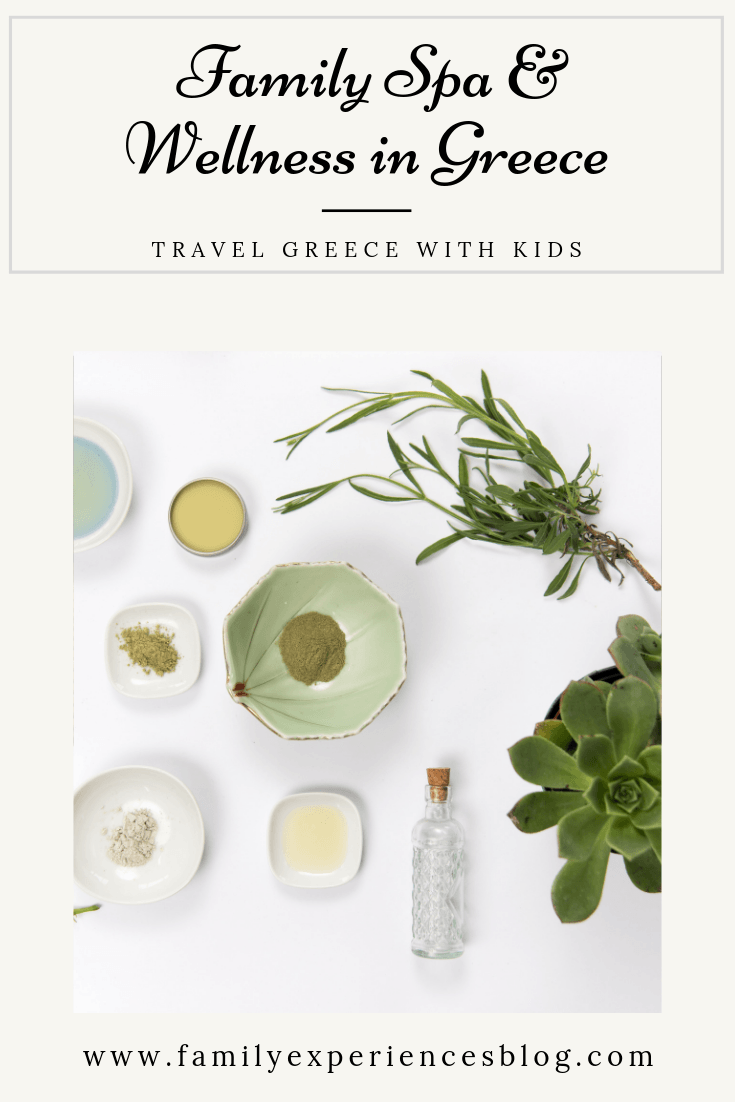 **Disclaimer: This post contains affiliate links. This means that should you click on certain links, and then subsequently purchase a product, I will receive a small commission. It costs nothing extra to you but helps keep my site running. Thank you for supporting me in this way**