Last Updated on January 26, 2023 by Celeste.
Over the years, we have reviewed many kid-friendly tours in Athens. Isabella was as young as three years old when we first joined a family tour to the Acropolis. A few amazing family tours that come to my mind are a Family Food Tour, a Mythology Tour, a Mythological Athens Tour, a Pottery Tour, a Harry Potter Experience, and even a combined Mythology & Food Tour. There were also activities at the Ancient Agora, inside the Acropolis Museum, and, recently again in November 2022, inside the Acropolis with Athenian Tours (pictured below).
Kid-Friendly Tours in Athens
You can read our reviews for each of these tours in individual blog posts. The customized tours were organized by individual tour agencies, to which we were invited. You can find these private tours on digital marketplaces such as Get Your Guide. Besides buying a private tour, families can also opt for a small group tour of the same theme. These are more affordable than private tours and still family-friendly due to their size. Our experience from small group tours is that it's great for making new friends, having a shared experience with other travelers, and there is plenty of time for asking questions or talking to the tour guide.
Tours in Athens for families
Readers of this blog often ask me for recommendations for family tours in Athens (both private and small group tours). Instead of pointing them to each individual blog review, I decided to sum up my favorite kid-friendly tours in Athens in one blog post. Here we go!
A bucket list must! When visiting THE highlight of Athens with a tour guide, it's a must to opt for a private or small-group tour. Specialized guides will engage little participants through storytelling and with flashcards or other surprises to make the tour interesting. This Acropolis: Guided Walking Tour with Entrance Ticket saves you time at the entrance line and is suitable for families because it is 1,5 hours.
The treasures from the Acropolis also come to life during this G-originals (or bestseller) Athens: Acropolis Small-Group Guided Tour with Entry Ticket which focuses on the myths of Ancient Greece and includes a walk to the Pnyx Hill, the birthplace of Democracy. A large green area where kids can let go of some excess energy.
The best way to experience a city is to walk its streets and visit its hidden corners with someone who knows its history and culture well. This 2-hour private Walking Tour for Families is the perfect introduction to the city at your own pace. Along the way, you will play fun games along the way which are designed to show the importance of teamwork while teaching lessons about Greek history.
Can't get enough of the city? Have a look at this unique Private Mythology Walking Tour for kids.
This tour is great for families with young members thanks to the fun and educative aspects of the myths. At the same time, older children and parents will enjoy discovering the underlying messages of the myths, which describe and examine the human condition, making them valuable even today.
Another tour that we recommend for families with younger children is the Athens: Painting the Parthenon for Families Tour. From the earlier mentioned Pnyx Hill, and after admiring the spectacular views, you and your family will enjoy a short art workshop. Paint your own image of the Parthenon to take home with you. I have joined painting activities with my kids and I can tell you that they loved it!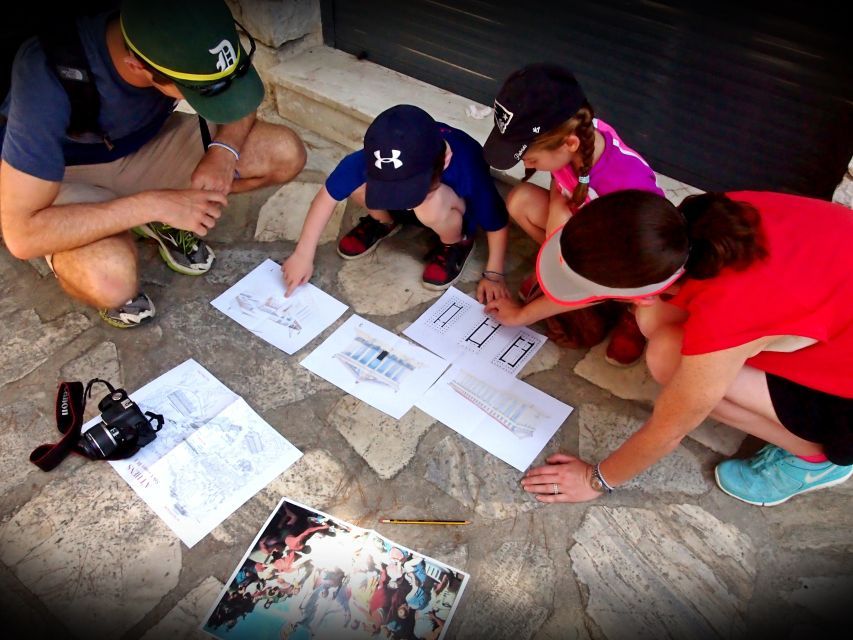 For those who love taking photos, we offer a very fun add-on; instant camera activity. Specifically, during this walking tour, kids take pictures of their favorite places, items, food which you then stick on a scrapbook. A very creative activity that will also appeal to teens.
If you are an active family, what better way to explore the ancient monuments of Athens on a fun and easy bike tour? We joined a bike tour in Athens on two occasions, one with a regular bike (my youngest in a bike seat on the back) and with an electric bike.
In any case, bike tours are a great way to discover the city along safe bike-friendly paths and streets covering much more distance than walking. Young kids can sit on either tandem riders or child seats on bikes. On all tours, kids and adults received helmets. I believe that a bike tour is a great introduction to Athens for first-time visitors who love some exercise as well. For those with less stamina or health problems, there is always the option of an e-bike. Have a look at this Morning Bike Tour in Athens. For an electric bike, I recommend this Small Group 2,5 hours Classic Athens E-bike Tour.

6. Greek Cooking Lesson & Dinner
Who likes Greek food? The real answer is everyone! This workshop is a big digital hit and definitely one of the favorite activities for visitors to Athens. During this workshop, you will learn how to make traditional Greek food, and you will get to eat it too! Although not specifically for kids, this family welcome workshop is suitable for children who love to cook and for teens.
Not in the mood to cook yourself, but interested in tasting the rich Greek cuisine? This Taste Athens Walking Food Tour is suitable for families because it is a small group tour of 3 hours max. It combines stories of Ancient Greece and Greek mythology with foods from (Ancient) Greece. During this tour you will walk around the historic center of Athens while tasting some of the Greek cuisine's highlights. My kids favorite: Greek bougatsa (Greek custard pie with phyllo, featured below)!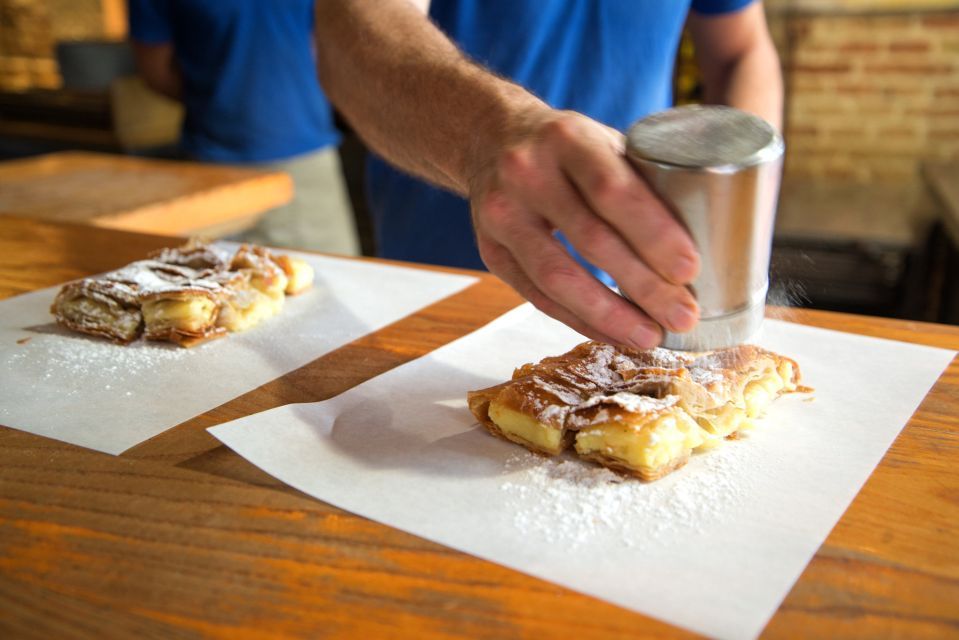 For a luxurious and relaxed family excursion, I recommend the Athens Riviera Catamaran Cruise. Kids will love swimming in the turquoise waters, listening to stories, and enjoying beautiful views while parents unwind and savor Greek delicacies. A catamaran boat is more stable than a regular sailing boat making it ideal for trips with young kids. This activity can be booked on a private basis, or you can join a small group in the morning or afternoon.
Here you can read more about Sailing with Kids in Greece and 10 Tips for Sailing with Kids
In the past years, we have joined a one-day cruise from Athens to the Saronic islands on several occasions. Our most recent cruise was to Agistri island. These day cruises are the perfect activity for families in Athens who also want to experience the Greek islands but do not have the time to stay long. The Argo and Saronic Islands Cruise with Lunch is one of the many one-day cruise options with a luxury cruise from Athens to the islands of Hydra, Poros, and Aegina in the Saronic Gulf. Swim in crystal-clear waters off Hydra, admire neoclassical beach houses on Poros, and explore the pine-covered landscape of Aegina with your kids in a relaxing way!
From all the kid-friendly tours on this list, this last one is the only tour that I haven't personally tried myself with my children. But when we do, I will let you know! This Athens Riviera Trikke Bike Tour is suitable for families with kids. The specially designed vehicles will deliver you to the most beautiful beaches of Athens such as Kavouri Beach. It also takes you to the famous Vouliagmeni Lake, a thermal lake with brackish waters surrounded by stunning nature. It seems like a great activity for teens too!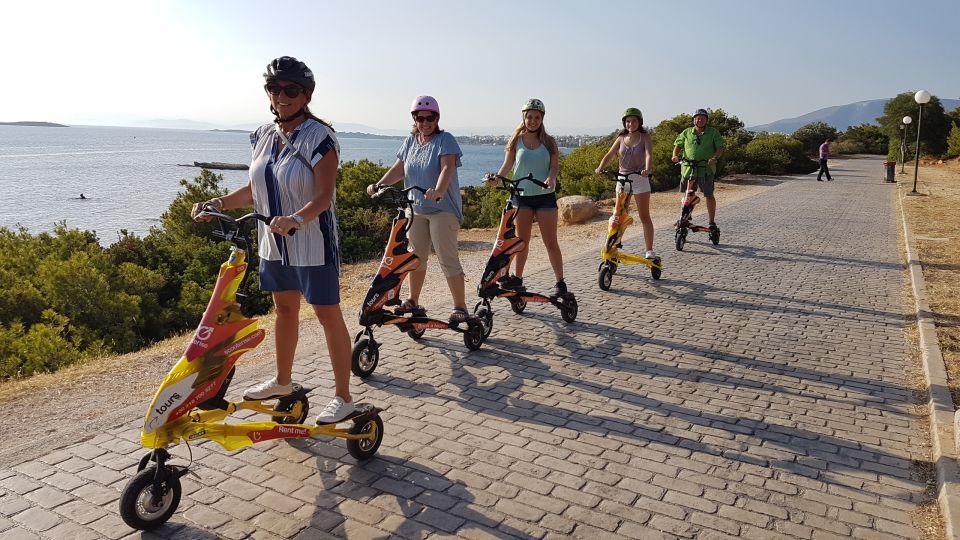 Ideas for free things to do in Athens
If you are not interested in purchasing kid-friendly tours in Athens, there are still many free things to do in the city. You can find them all in my complete guide of Top Things to do in Athens with Children.
For rest and relaxation, you can go to the National Garden. This green park is a must-visit in Athens with young kids. Located in the heart of Athens, the public park is an urban oasis with grass areas and two playgrounds. There is also a mini zoo, a turtle pond and a lake with ducks. Combine your stop here with a visit to next door Syntagma Square. Your kids will love watching the hourly changing of the guards and feeding the pigeons with some leftover bread.
For outdoor play near the sea, head to The Stavros Niarchos Park. It provides a lush garden landscape featuring wooden playgrounds, water fountains, walking paths, a labyrinth, and many other outdoor surprises. Older kids will like the Benaki Toy Museum with a collection of vintage toys. All these activities on the Athens Riviera are listed in Top Things to do on the Athens Coast.

This post contains affiliate links. Our blog has a number of affiliate links placed. If you decide to buy items through these links, you will be helping us to fund this site and perhaps the next family adventure. More importantly, it doesn't cost you anything extra! Featured photos credit: Get your Guide