Last Updated on August 6, 2019 by Celeste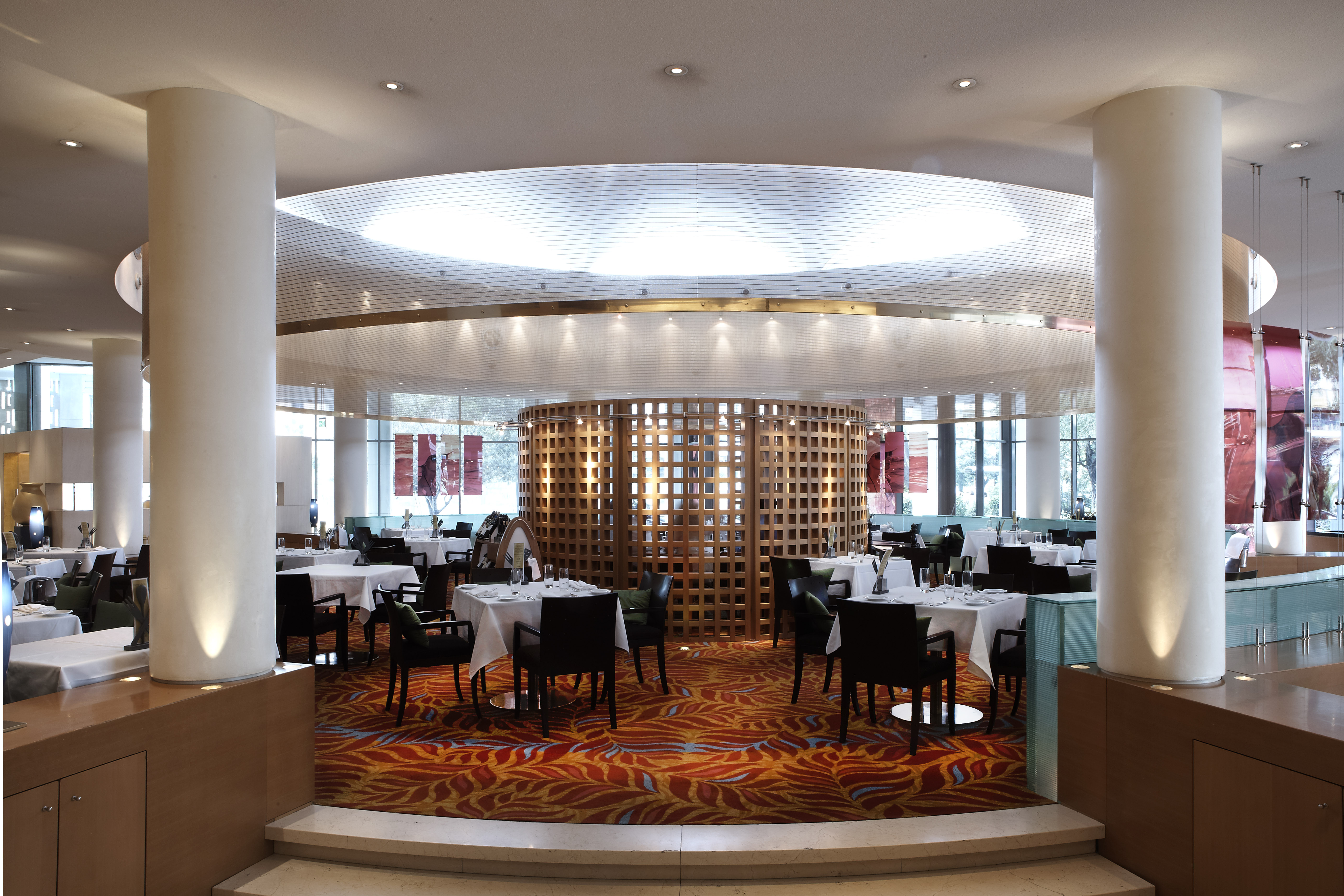 It had been a while since our last family meal at the
Byzantino Restaurant. 
 And thus we ventured out to the
Athens Hilton Hotel
in the city center on a rainy Sunday in November. The hotel's celebrated Byzantino Restaurant prides itself on being a 'family-friendly haven' during Sundays. This, and the fact it's a bright, spacious venue with excellent food, service, and indoor parking, has made it a hot destination for quality family time during the weekend. The interior of Byzantio Restaurant is modern and upscale but not fussy, with rustic woods, metal details, lots of glass, high ceiling and light, and plenty of table seating on different levels – plus a modern sitting/reading corner and indoor patio. There is plenty of space between the tables and the cushioned chairs are comfortable enough to sit back and enjoy a whole afternoon of food and wine whilst the kids are off to play.
Quality and variety of food 
The Family Lunch at Byzantino Restaurant buffet offers a rich variety of dishes from Greek and Mediterranean cuisine in an open plan setting. The cold buffet showcases a salad bar and a dazzling choice in cheeses, traditional mezze such as dolmades and Aegean seafood. Less seafood-inclined palates can choose from options like the variety of cold cuts and vegetarian options such as asparagus and mushrooms. Healthy choices as couscous and lentils salads, vegan dips, and smoked salmon are combined with pickled veggies, langoustines and all beautifully served and decorated with Greek treasures such as saffron and eatable flowers.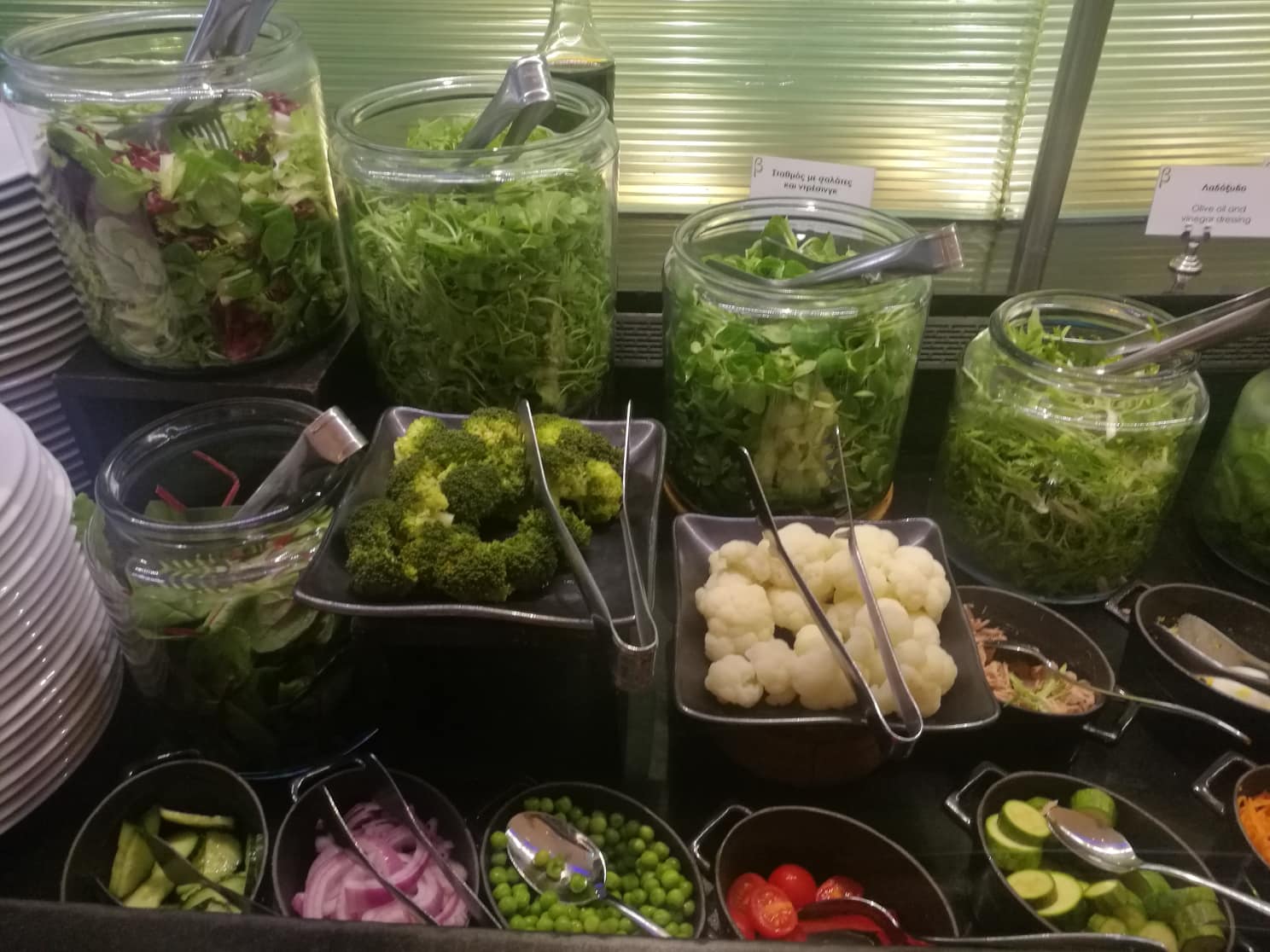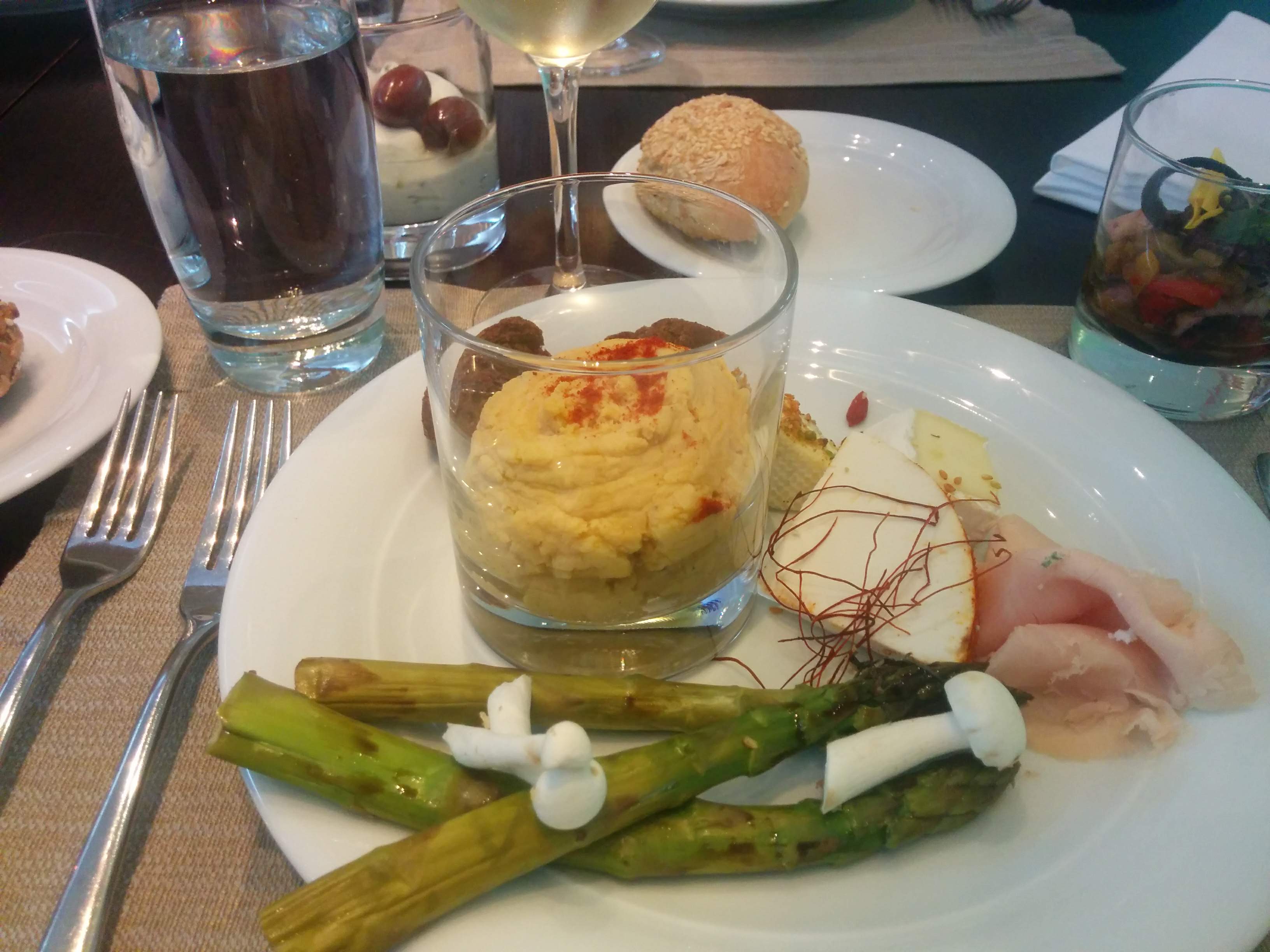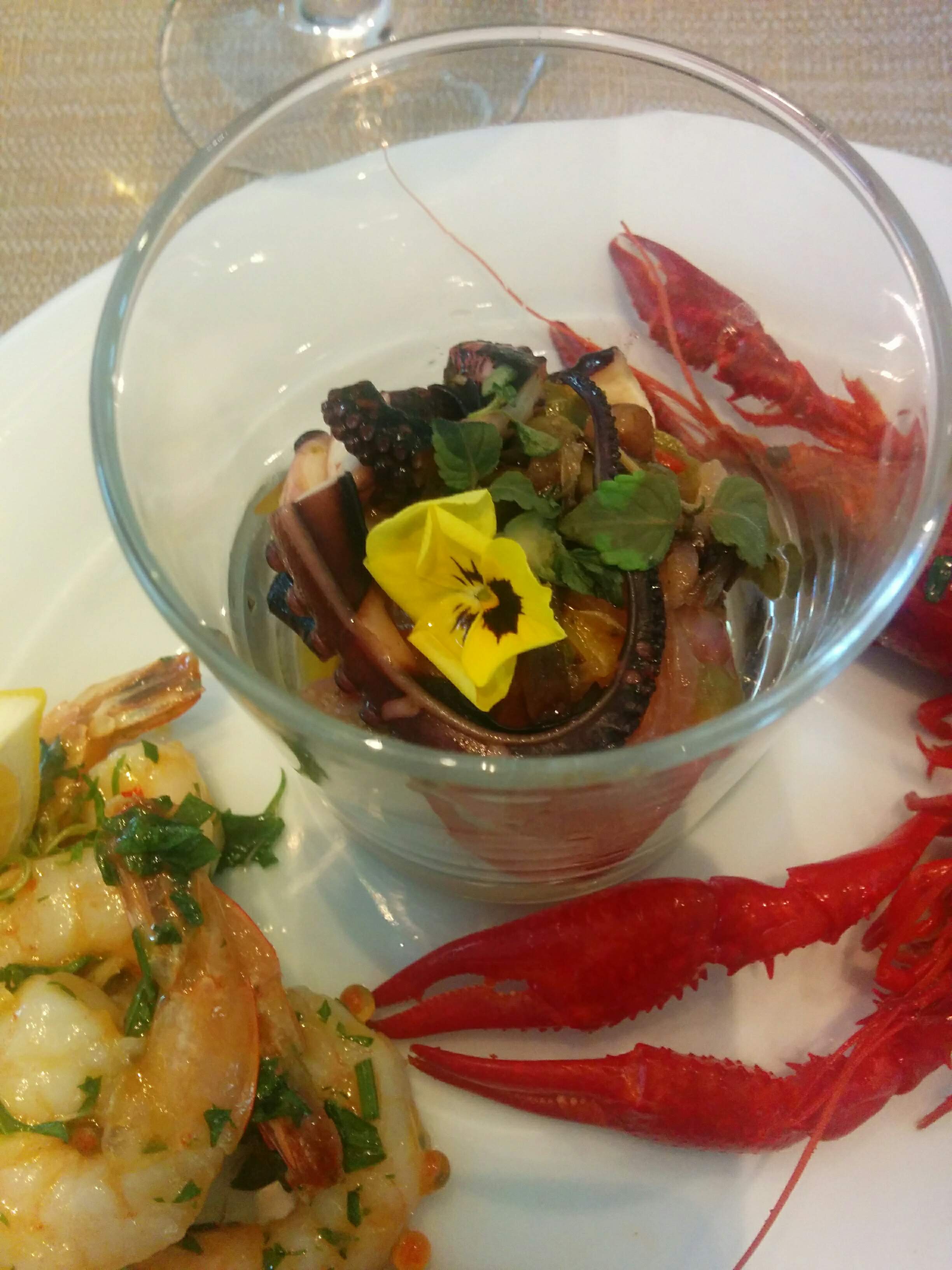 The hot food section for the family lunch in the Byzantino Restaurant is presented around the open air kitchen with spectacular flames burning and chefs cooking and cutting. Tempted to try the soup on this rainy autumn Sunday, I fell for the mouth-watering rib-eye with winter vegetables. Other meat options were roasted chicken, lamb chops, traditional Greek kebab, and gyros meat. My rib-eye was simply a great piece of meat, cooked with care and precision. We also loved the roasted grouper. Sides are worth making space for: creamed sweet corn, steamed vegetables and the most comforting roasted potatoes with gravy that I have had in a long time.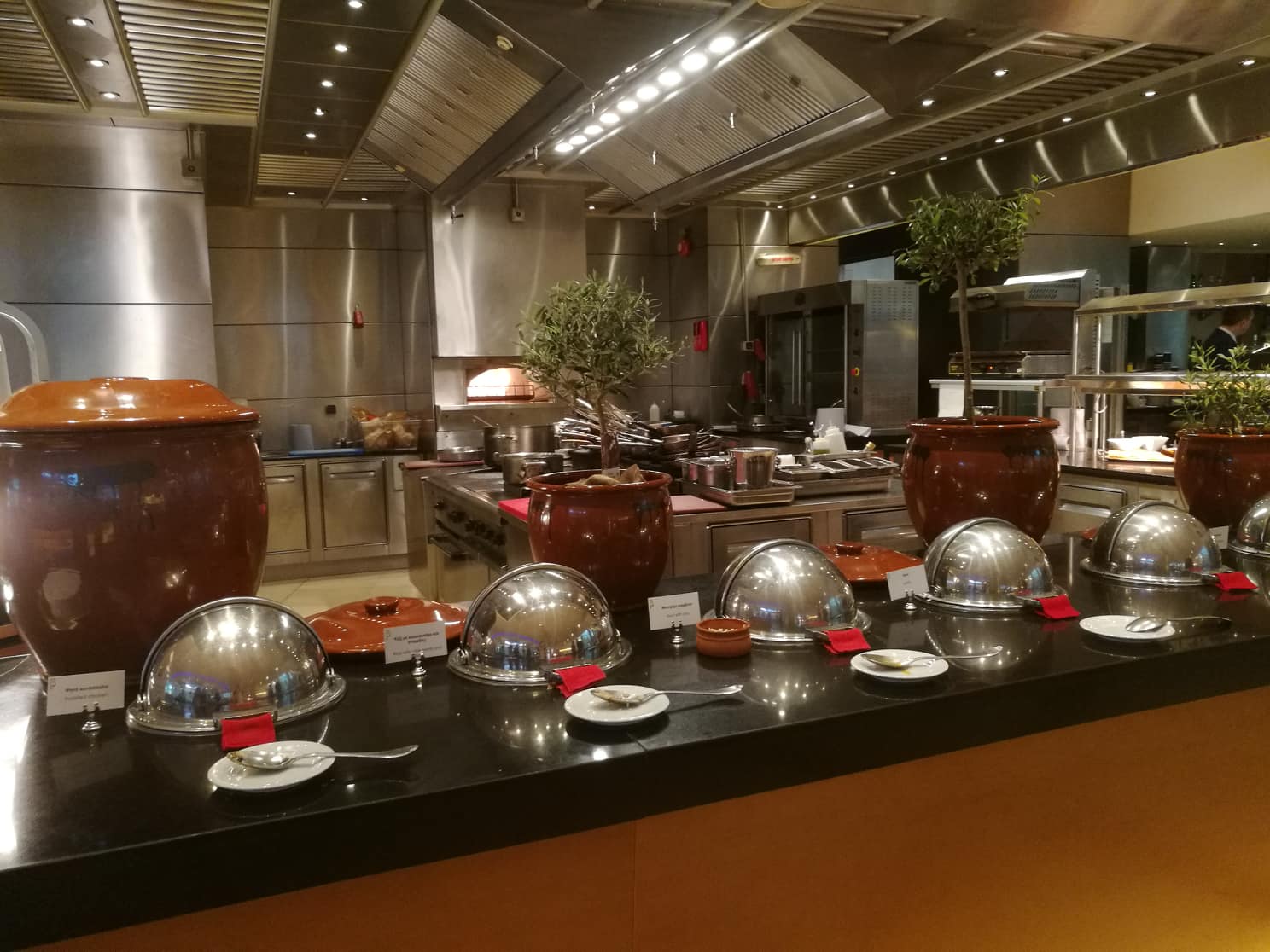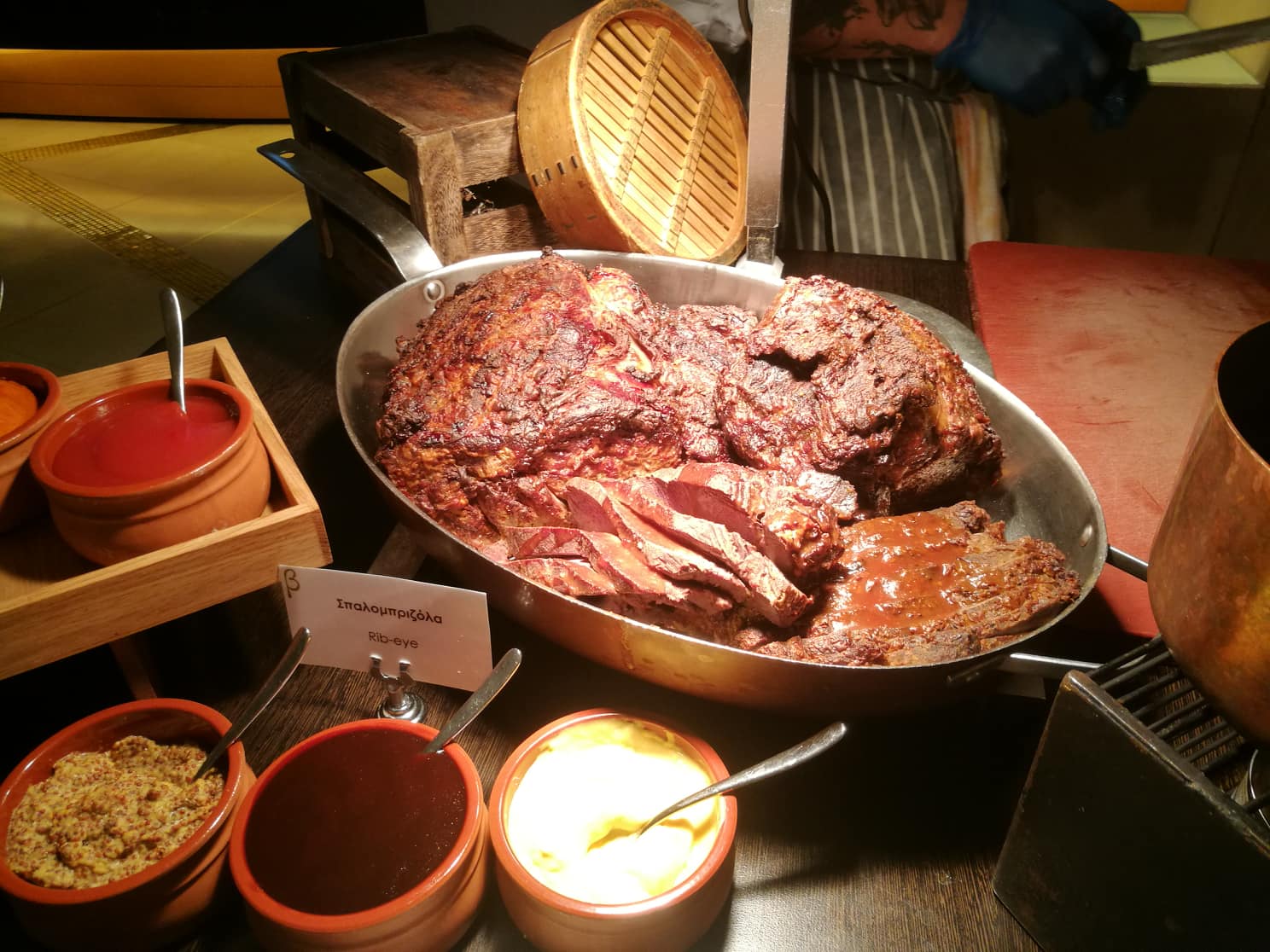 And then there's dessert. Chocolate fondant, crème brûlée, jelly, cakes, pies, chocolate mousse, soft puddings, donuts, lemon tart, the list is long and impressive. We tried many of them, all delicious. The decadent dessert section also featured many traditional Greek sweets, a huge chocolate fountain and a beautifully coloured sugar-free section with fresh fruits. The family lunch at Byzantino restaurant is great for sweet tooths!

Family lunch at Byzantino Restaurant
Kid's Buffet
The kiddies' buffet is next to the play area and the main buffet. The menu has a lovely selection of kids' favourites such as fried meatballs, chicken nuggets, pasta, and fries. The Kid's buffet dessert section is every dentist nightmare; chocolate bars, chocolate cake and everything else chocolaty possible. Having said that, there is plenty of fruit to make up for the extra sugar.
Kid's Corner
The Kid's corner is located in a quiet corner near the restaurant area. Ask for a table near the play area and you will be able to see your children while you are enjoying another glass of wine. It has a chilled vibe going on with loads of comfy chairs, a playhouse, games, arts and crafts and many toys. So, while the juniors keep themselves amused you can sit back and relax.
Professional Animateur
Entertainment for the children is the key to a happy family meal with young kids. My girls loved the clown entertainer showing them magic tricks, playing games and painting their faces. At the end of the day, the girls received a goodie bag with games and crafts.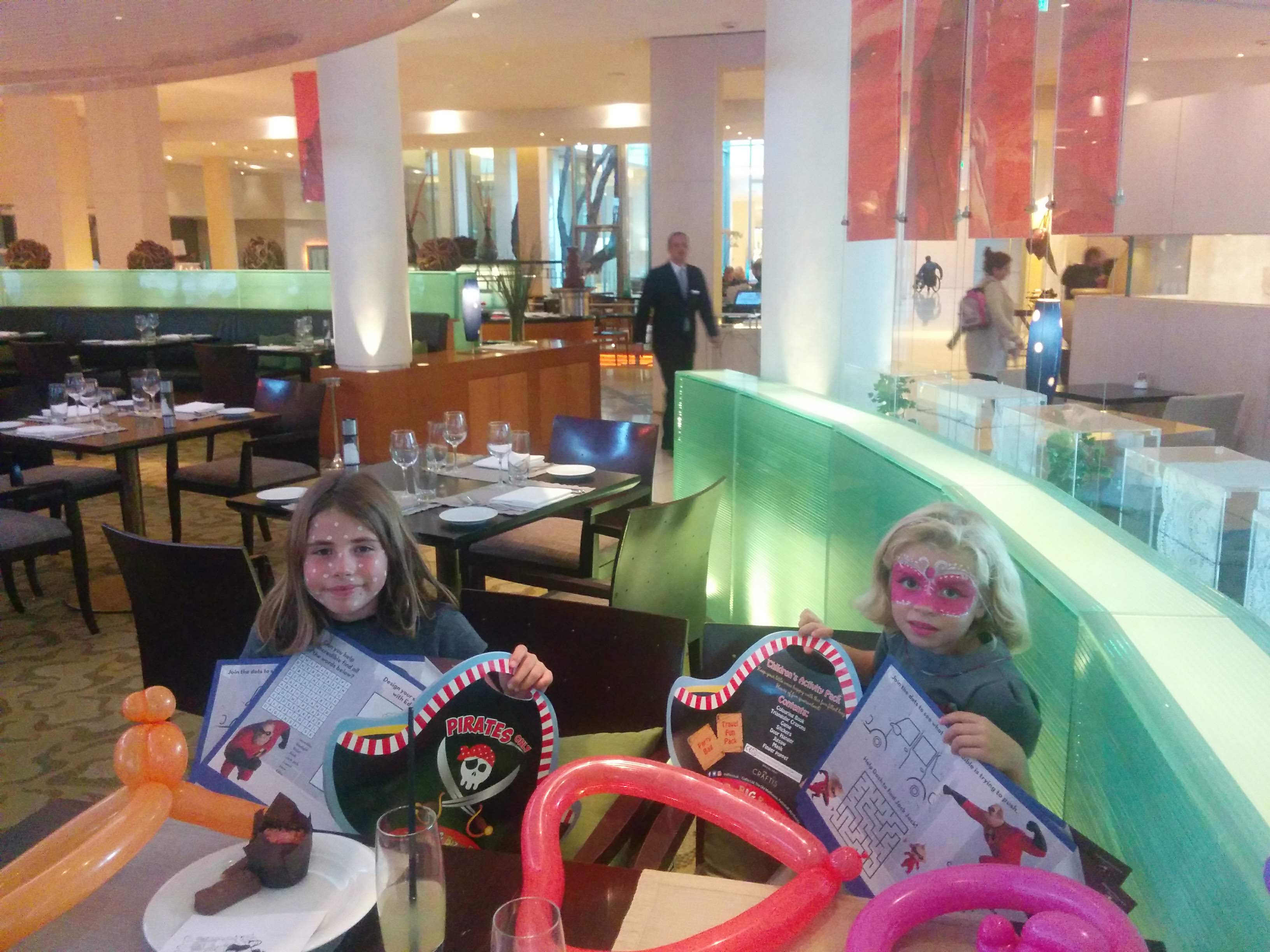 So, this is how you do a relaxing Sunday family lunch at Byzantino Restaurant. It is the sort of place you can enjoy good quality food AND have your kids happily entertained for hours! The restaurant ticks all the boxes making it not only a fab place for the kiddos but also a parent's happy place. This is the time and the place to truly enjoy one another without the stress of having to leave the table or where to park the car. Value for money, outstanding service, great food and wines, and happy kids!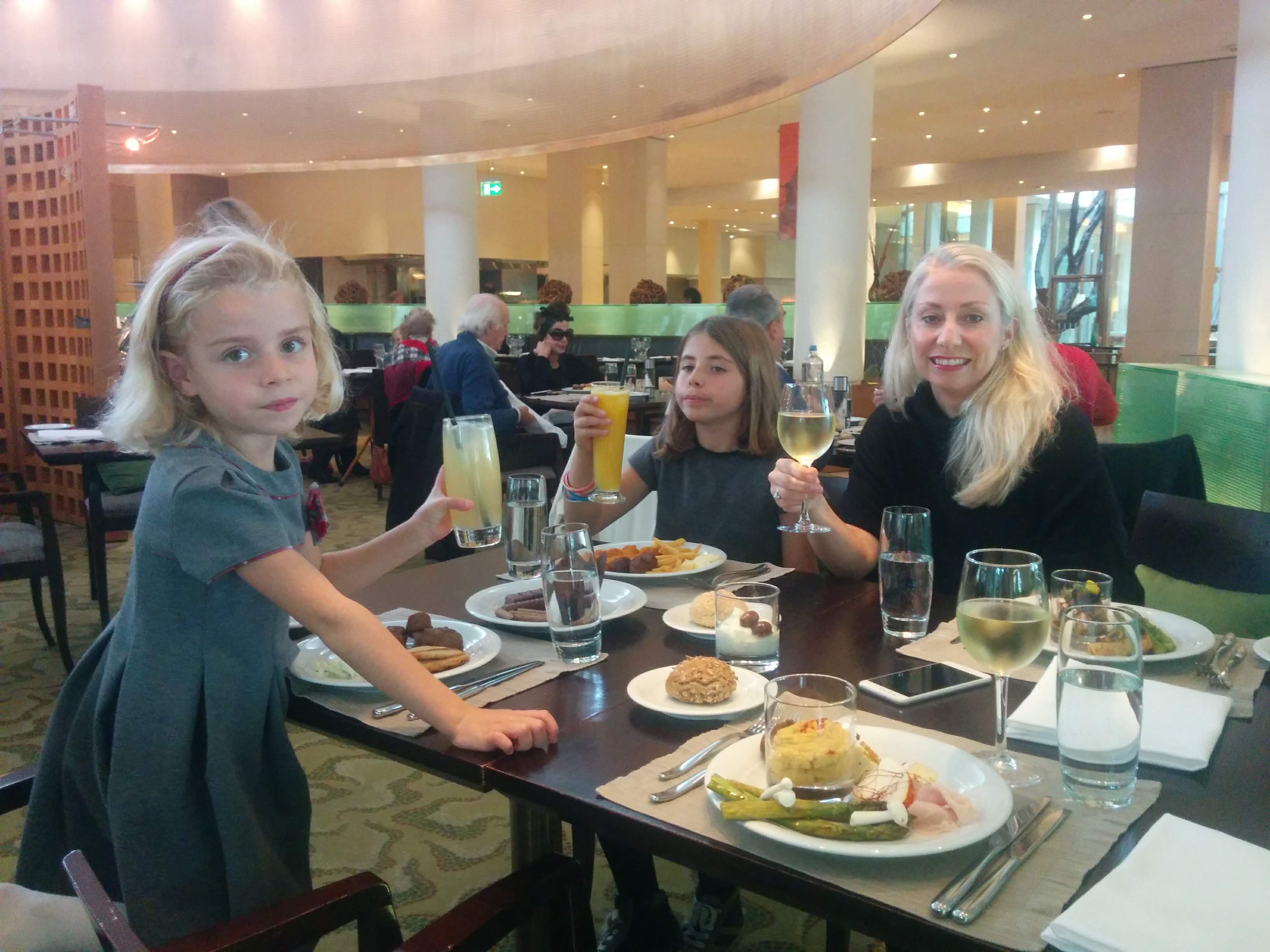 Info
The price per person is €45 and includes a free parking space
Children up to 5 years old are free of charge and from 6 to 11 years have a 50% discount
The buffet features also a variety of healthy choices
Byzantino Sunday Family lunch is served from 12:30 -16:30
For more food photos and our previous experience,  you can read my 2017 post Hilton Athens Sunday Family lunch with kids.
If you are planning to stay at the Hilton Athens Hotel, click here for more information and to book your stay.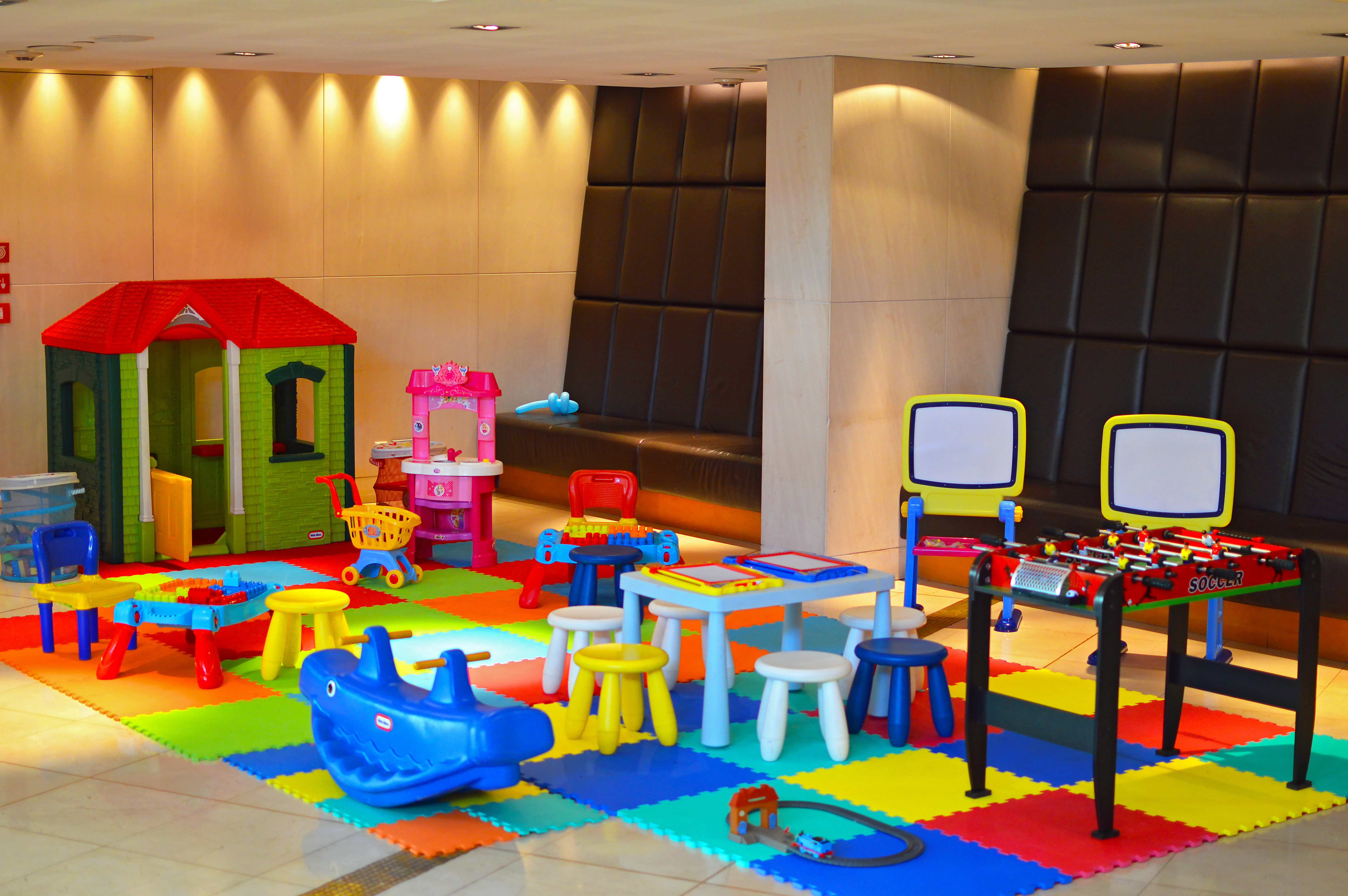 ** The Byzantino Restaurant at Hilton Athens is open year-round for breakfast, lunch and dinner, offering authentic Mediterranean food in a chic and modern ambience. To book a table for a Family Lunch at Byzantino Restaurant, please call +30-210-7281400. Book a Table Online. Byzantino Restaurant Menu (PDF) More info can also be found at the Hilton social media accounts on Facebook and Instagram. I was a guest invited by the Byzantino Restaurant. As always, opinions and information expressed in this article are my own**