Last Updated on February 15, 2023 by Celeste.
Pallas Athena Family Sunday
Luxury Art Boutique Hotel Pallas Athena offers a series of Family Sundays with family buffet and a creative programme developed with The Paramythohorio. Each Sunday a different concept will be introduced to the children and these are based on the season, a month circle etc. Read here about our experience at the Pallas Athena Family Sunday Event with Kids Creative Lab.
On 26/11 the Family Sunday program will be 'Shadow theatre': who was Karagkiozis? when did he live and where? The children will be taught the story of Karagkiozis and will create their own souvenir figure, before watching one cheerful show with his funny experiences.

On 3/12 the Family Sunday program will be 'Traveling with the Xmas star': children will play and dance guided by the Xmas star! They will create planets and make an inter-galactic journey amongst stars in a highly festive atmosphere.
Pallas Athena Family Sunday Lunch is offered in buffet style with kids favorite foods including a dessert buffet offered traditional Greek delicacies such as 'loukoumades' (little bite-sized fluffy sweet honey puffs), international desserts, pies, and fruits.

Family quality time with buffet lunch in a wonderful setting in the center of Athens, topped by a creative programme for your kids with a new focus each week!
Family Buffet & Kids' Creative Lab @ Pallas Athena Family Sunday – for kids from 4 to 10 years old. Every Sunday 13.00 – 16.00. 25euro/person, 50% discount for kids 4-10. For reservations and more information: 210-32509007

Click here for more information and to book your stay at Grecotel Pallas Athena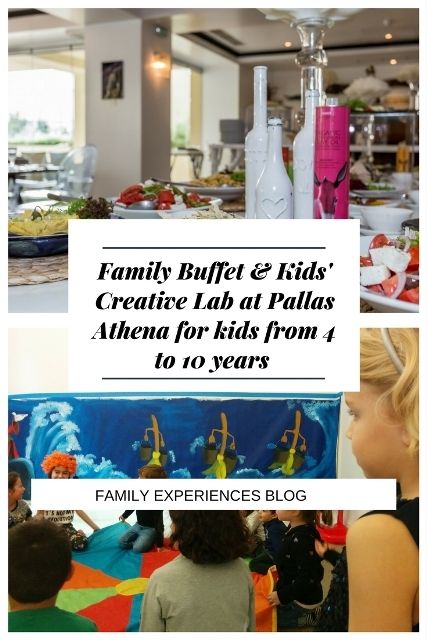 PALLAS ATHENA

GRECOTEL BOUTIQUE HOTEL

65, Athinas str. & Likourgou,
GR-10551, Kotzia sq.,
Athens, Greece

Tel. + 30 210 3250900
Fax: +30 210 3250920

*Featured photo of Pallas Athena Family Sunday dining room on top of this post: Photo courtesy Grecotel