Last Updated on January 26, 2023 by Celeste.
The Greece coronavirus pandemic is part of the worldwide pandemic of coronavirus disease 2019 (COVID-19). The first case in Greece was confirmed on 26 February 2020. The Greek government has imposed travel restrictions and implemented measures, for many businesses in Greece due to this coronavirus, or COVID-19. I feel it is relevant for this blog to share and update the measures that are affecting Travel and/or Family life.
Latest information about Greece Travel restrictions and guidelines
The Greek government offers up-to-date detailed travel information on its COVID-19 website, which includes frequently asked questions, on how Greece is welcoming visitors this year.
This week, the Greek government implemented several new rules for locals and visitors regarding restaurants, bars, and other entertainment venues. As there seem to be many questions regarding these new restrictions – especially regarding kids-, I'd like to sum them up here.
From July 16, indoor venues such as restaurants, bars, and theaters will only be accepting vaccinated and seated-only customers until August 31. Kids under 18 years old will be allowed in indoor spaces with a negative self-test result. These can be bought in any pharmacy in Greece for 6 Euro. If you need to get tested before you depart, Washington DC Covid testing can ensure you have the right documents in hand when you arrive so you can avoid travel disruptions.
May 2021 Update on the Lockdown Restrictions in Greece
Here is a summary of the most recent restrictions in Greece as per 14 May:
The use of masks is mandatory everywhere for anyone over 4 years old.
Social distancing (1.5 meters) is mandatory
How travelers can enter Greece
Greece will allow entrance to travelers that have filled out the Passenger Locator Form (PLF) one day before travel and have one of the following:
– a vaccination certificate, stating that 14 days have passed since full vaccination for Covid-19
– a negative PCR test performed less than three days (72 hours)
– a certificate stating that one has recovered from the coronavirus
The country will be accepting road travelers through the Northern Greece entry points at Promachonas, Evzoni and Ormenio. More border points will open in the near future.
At the moment, the countries from which entry is allowed to Greece, without the requirement for subsequent self-isolation are: EU & Schengen Area countries, USA, UK, Israel, Serbia, UAE, New Zealand, Australia, South Korea, Thailand, Rwanda, Singapore, and the Russian Federation.
The Greek government announced that on June 1, Greece will be technically ready to activate its "green pass" system, weeks before the expected launch of the EU's Digital Green Certificate (also known as EU Covid-19 Certificate).
Extra safety measures
Random Covid-19 tests will be conducted at Greece's entrance. If a passenger is selected for a rapid test and is positive for the coronavirus then he/she must quarantine. Greece has established a network of quarantine hotels in 35 areas of the country in close distance to entry points. The quarantine hotels are a precaution in case a passenger selected for a rapid test is positive for the virus. Moreover, all tourism-related businesses and services in Greece will operate under updated health safety protocols.
Update on the Covid-19 Measures as per 8 February 2021
Here is the latest travel advice for Greece for February 2021, according to the latest official government announcements on 7 February 2021.
International travel to Greece February 2021
Due to the ongoing COVID-19 situation, there are several restrictions and measures in place for travellers coming to Greece from abroad. Many of these restrictions have been in place since mid-2020.
Here is a summary of the current restrictions, as announced by the Civil Aviation Authority on 7 February 2021.
Passengers arriving to Greece from abroad will need to do the following:
complete the inbound Passenger Locator Form (PLF), which can be found at the official website
bring a negative PCR test (taken max 72 hours before arrival)
self-isolate for 7 days. Self-isolation will need to take place at home or place of temporary residence. If travellers are staying in Greece for a shorter period, they will need to self-isolate for their whole stay in Greece.
In addition to the above, rapid tests will be administered to randomly selected travellers upon arrival.
Extra measures apply for travellers arriving from the UK, who will all have a rapid test on arrival. In addition, they will need to take a second PCR test after the end of the 7-day isolation period.
The Civil Aviation Authority has also announced the extension of current restrictions, both for international and domestic flights.
Update 23 January 2021: high schools are opening
Following the gradual ease of the lockdown restrictions, here have been a few more changes this week. The most important for families following this blog is the opening of high schools (γυμνάσια – λύκεια). They are scheduled to reopen on 1 February. Some schools in so-called "red" areas will remain closed. Universities and all other private classes (e.g. foreign language schools) will keep e-learning until further notice.
As per today, 18 January, the updated COVID-19 measures are as follows:
Greece will begin to gradually ease lockdown restrictions taken to curb the spread of the coronavirus (Covid-19). This means that as of Monday, January 18, all retail stores and shopping malls in the country will reopen, along with a number of other businesses including hair and beauty salons and vehicle inspection services. All businesses that will open as of January 18 will have the option to also operate on Sunday, January 24, in order for overcrowding to be avoided during the previous days.
Greece's strict curfew will still be in force (non-essential movement in the country is banned from 9pm until 5am). The outside movement will continue to be allowed only for specific reasons and by sending an SMS to the five-digit mobile phone service 13033. (For movements related to shopping at retail stores and going to hairdressers and other businesses that will open, consumers must send an SMS to 13033.) Also, movement between prefectures continues to be banned.
Covid-19 per 2 January 2021
After a relatively 'free' holiday season, the Greek government announced a return to the strict lockdown on the morning of 2 Jaunary 2021.
The Greek government has decided to return to the previous version of the lockdown as of tomorrow Sunday 3 January and until 11 January. This means that the stores that were operating with the so-called 'click away'- method will close again. The hairdressers and nail salons will also close. The curfew will be reinstalled from 21.00 – 5.00.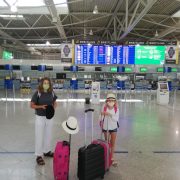 New COVID-19 measures in Greece November 2020 – January 2021
New measures have been announced regarding the holiday season. As of Sunday 13 December, the evening curfew will be from 22.00 – 5.00. Also, hairdressers and bookstores will reopen on Monday 14 December while commercial stores will remain closed. These will only operate with the click-away method.
For travelers:
All measures remain the same besides the self-isolation rule for people coming to Greece from abroad. Mandatory self-isolation will be 3 days, and not 10 as initially announced. Travelers need to present a completed PLF form and bring a negative PCR test (max 72 hours before arrival). This is also for children over 10 years old. Note that you can be tested on arrival.
Updated on 7 December 2020
Here are the updated COVID restrictions for Greece until 7 January 2020.
Travelling between Regional Units in the country is not allowed, with few exceptions relating to essential travel. Travelling within a Regional Unit should only be limited to essential movement. If you had planned a holiday in Greece for December 2020 – January 2021, it will be affected.
Further, schools, restaurants, bars, other entertainment venues, courts, gyms and ski resorts will remain closed. The SMS – mandatory paper forms and the curfew from 21.00-5.00 will remain in place.
For Travellers
Anyone travelling to Greece from abroad from Friday 18 December 2020 – Thursday 7 January 2021 will need to – complete the PLF form – bring a negative PCR test (max 72 hours before arrival)- be tested on arrival- AND self-quarantine for 10 days.
Greek COVID measures for November
It was announced on 26 November that the measures are extended from 30 November until 7 December. Below you can find the guidelines for tourists.
Here are the latest announced guidelines for visitors that are arriving, leaving or already staying in Greece during the national lockdown of November 2020. The government has announced that the lockdown will end on November 30. According to an announcement on the ministry's website:
For visitors LEAVING Greece
During November 7-30, foreign tourists that are already in Greece and have to depart for their country, must have their booking/airline ticket handy when traveling towards the airport (by public transport, taxi or private car) in case a check is made by authorities.
For visitors IN Greece
Outside movement of tourists staying in Greece until November 30 is allowed only for essential reasons that apply to all residents in the country. Movement outdoors is allowed by sending an SMS to the five-digit mobile phone service 13033 or using the paper form.
The ministry advises tourists to avoid unnecessary movement outside their accommodation (hotel, resort or apartment) except for essential reasons.
"In this case the hotel should inform them of essential movement reasons and of the documents or sms required," the ministry says.
For visitors ARRIVING in Greece
Visitors, who are scheduled to arrive in Greece by November 30, must show their reservation for accommodation to authorities upon request, during their movement to their places of stay (hotel, resort or apartment).
Wearing a mask is mandatory everywhere in public (indoors and outdoors).
A night curfew is in force in Greece from 9 pm to 5 am. During this curfew, movement (with identification) in Greece will be allowed by sending an SMS to the five-digit mobile phone service 13033 and only for the reasons relating to health (SMS – Option 1), walking a pet close to residence (SMS – Option 6) and work (with the required employer certificate, no SMS is needed).
Visitors in Greece should know that travel between prefectures (domestic travel) is allowed only for returning to permanent residence (proof will be required), family reunification, business reasons and health reasons.
A number of businesses in Greece, including retail stores, bars, cafés and restaurants will remain closed during lockdown. Takeaway services are available.
The penalty for violating movement restrictions can reach up to 300 euros.
Beginning July 1, 2020, the Greek government has determined how the country will welcome travelers, carry out the necessary diagnostic screening and keep everyone safe throughout the season.
The Passenger Locator Form (PLF) is a key element in the planning. All travelers must complete their PLF until the day before entering the country, providing detailed information on their point of departure, the duration of previous stays in other countries, and the address of their stay while in Greece. In case of multiple stays, they are required to provide the address for the first 24 hours at least. One PLF should be submitted per family.
Travelers will receive a confirmation email upon submission of the PLF.
Travelers will receive the PLF with their unique Quick Response (QR) code on the day of their scheduled arrival in Greece (at midnight) and will be notified via email (the QR code will be provided in a link in the confirmation email).
Travelers boarding or embarking on the previous day of the arrival will be allowed to do so upon showing the confirmation email, since they will receive their QR code during their flight or voyage.
The PLF can also be found on the Visit Greece app and at travel.gov.gr.

It is strongly recommended that all visitors download the Visit Greece app (GDPR compliant) for free, prior their arrival in Greece.
Family Life
Greek authorities have announced the closure of elementary schools across the country as of Monday, November 16, in efforts to curb the spread of the coronavirus (Covid-19) pandemic. The operation of primary education units will be suspended for two weeks throughout the country. Kindergartens and elementary schools will remain closed as in the case of secondary and high schools, until November 27. Special education schools will remain open. Measures are currently being implemented for online education in both private and public schools. Pupils will continue lessons via tele-education as in the case of middle and high schools that are closed since November 7. Participation in lessons will be mandatory for pupils and teachers.
Covid-19 Government Measures Updates
We are updating this post whenever new measures are being put in place. For direct official travel information, please check the official website of the Greek government at https://travel.gov.gr/ or follow our Facebook Page. You can read about our family travel experiences in Greece during the coronavirus in 2020 in Travel in Greece with Kids during Corona.
With all that said, here are some ideas for future travel to Athens!