Last Updated on October 8, 2022 by Celeste.
In July of 2020, we travelled to Galaxidi with kids. Galaxidi is a place for families who seek an "island" like atmosphere just two and a half hours away from Athens. We loved the pretty summer colours of the town but Galaxidi is an all year round destination and great in winter too.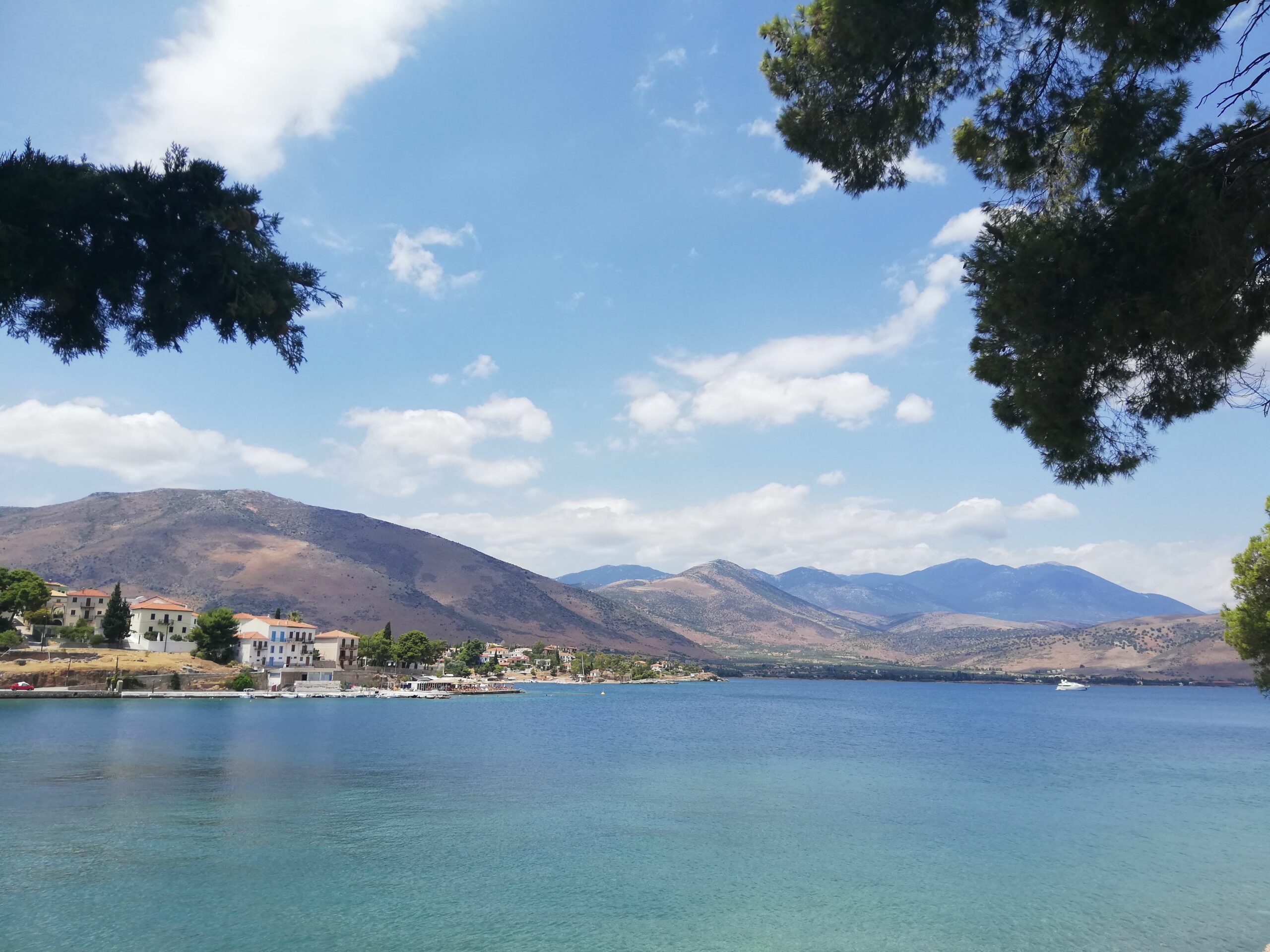 Travel to Galaxidi
The small town of Galaxidi combines the architecture and atmosphere of an island with beautiful mountains and an impressive scenery. Galaxidi is pleasant and quaint. It offers a rich naval history and is a traditional and preserved area. Galaxidi is mostly famous for its stone path alleys, the beautiful homes, picturesque country houses, and harbour. Galaxidi kept its traditional character and is, therefore, a great place to show your family the real Greece.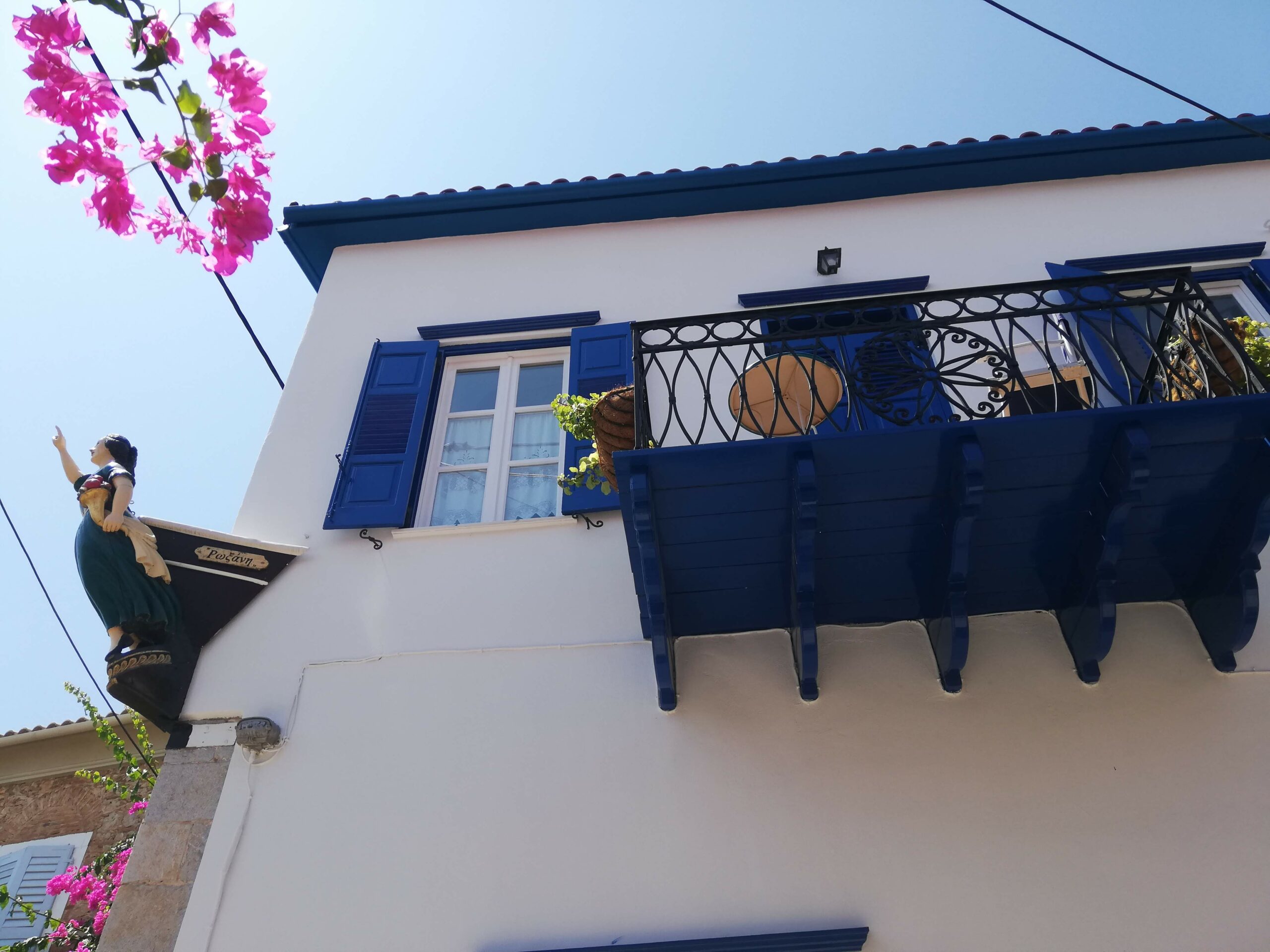 THE ISLAND ON THE MAINLAND

This is how Galaxidi was described in the past. Until 1963, when the Nafpaktos-Itea road project was completed, the town could only be accessed by boat from Itea. Even today, Galaxidi's island-like nature has been maintained. Downhill paths lead to the sea, bougainvillaea plants provide color to the alleys, and the wonderful promenade is popular for To see and do in Galaxidi with kidsstrolling. My kids loved running freely at the large village square.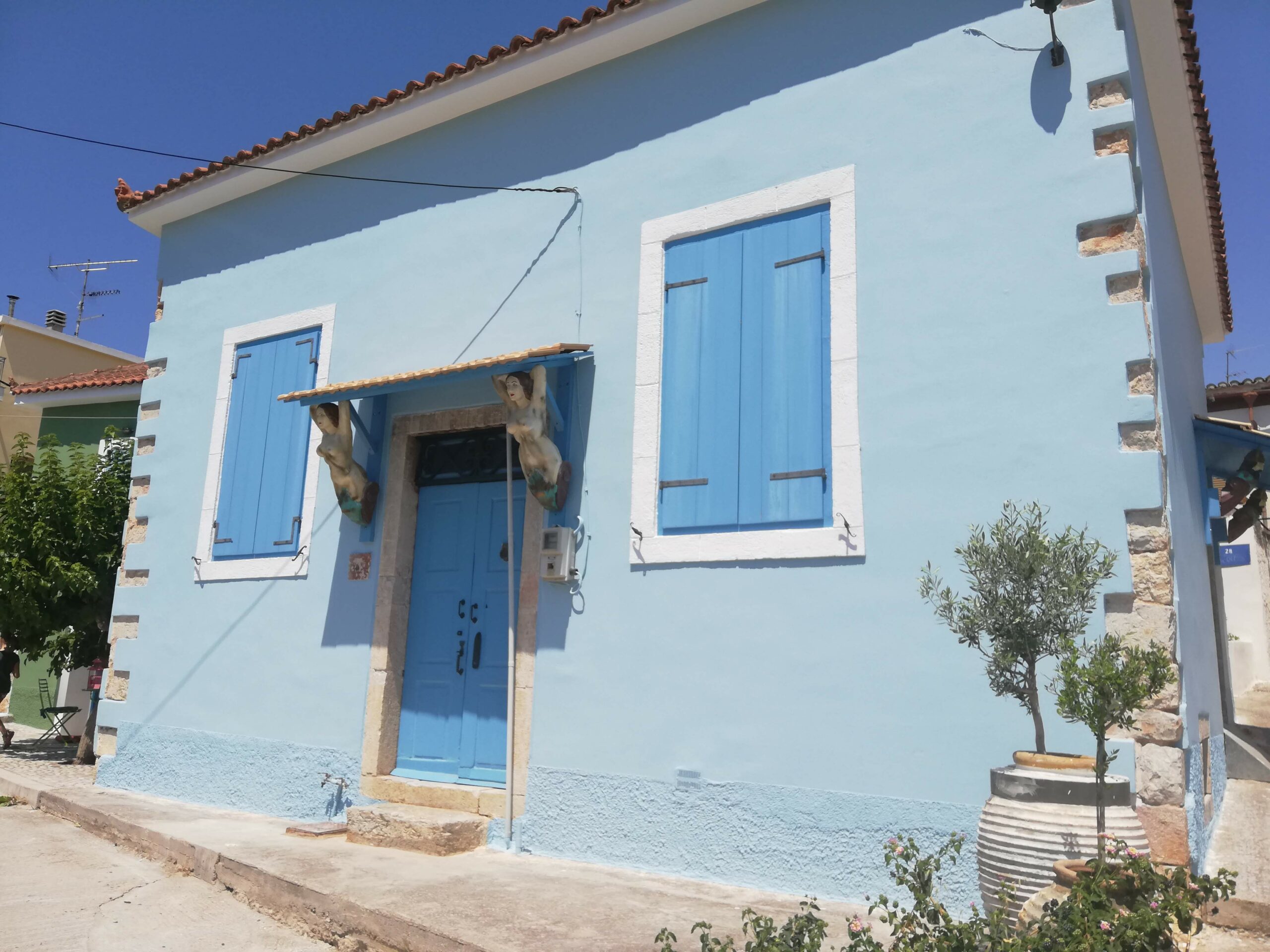 Top things to see and do in Galaxidi with kids
Our trip to Galaxidi with kids was a relaxing experience. The town is easy to navigate and everything is nearby.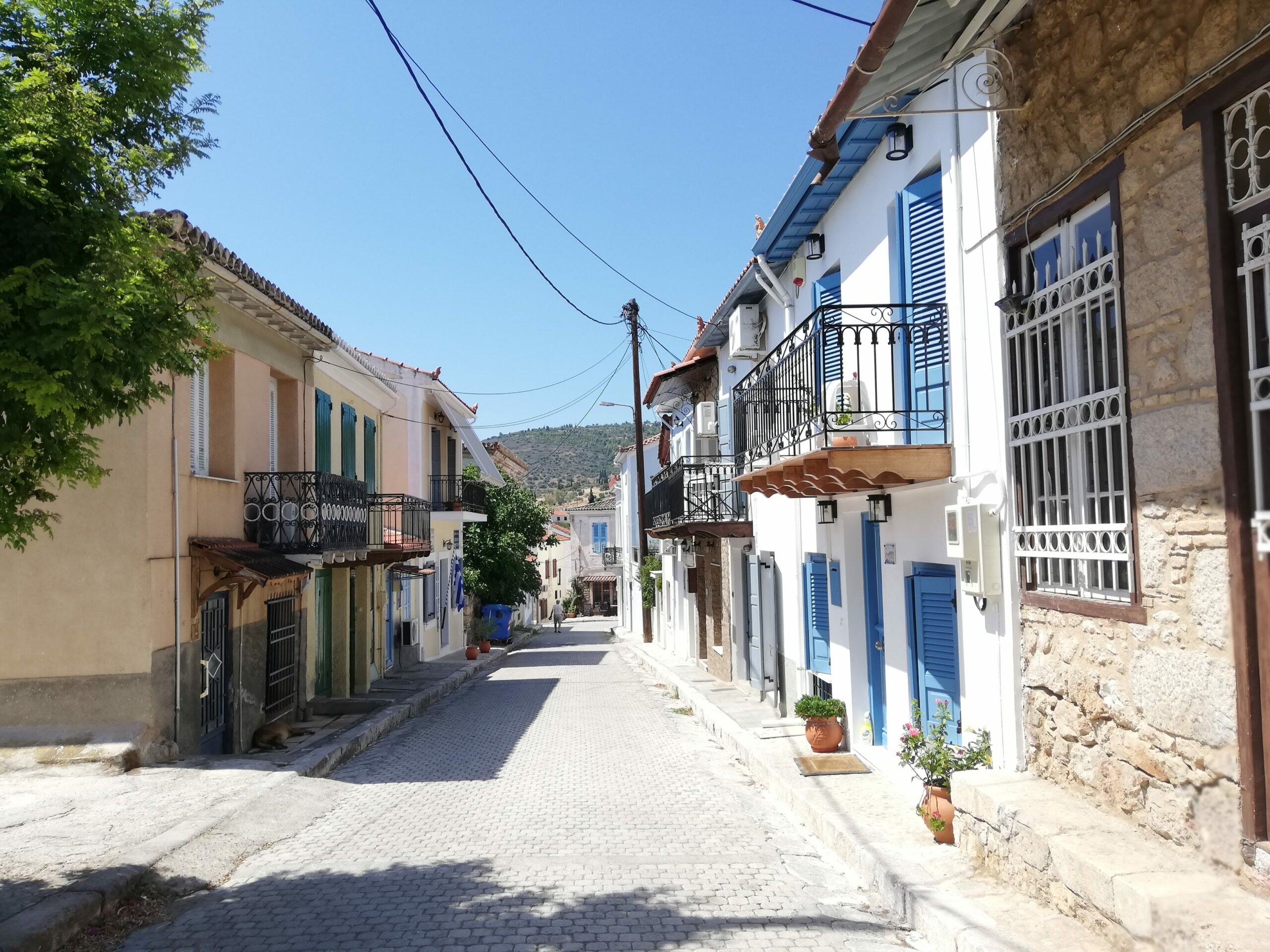 Looking for what you can do with kids and family in Galaxidi? Here are the things that you should not miss out on a family vacation with kids, toddlers, or teens. Children will have fun, learn new things, get good food and will not get bored in long queues in this town. There are several attractions inside the picturesque town. Here are some of my recommended things to do in Galaxidi with kids.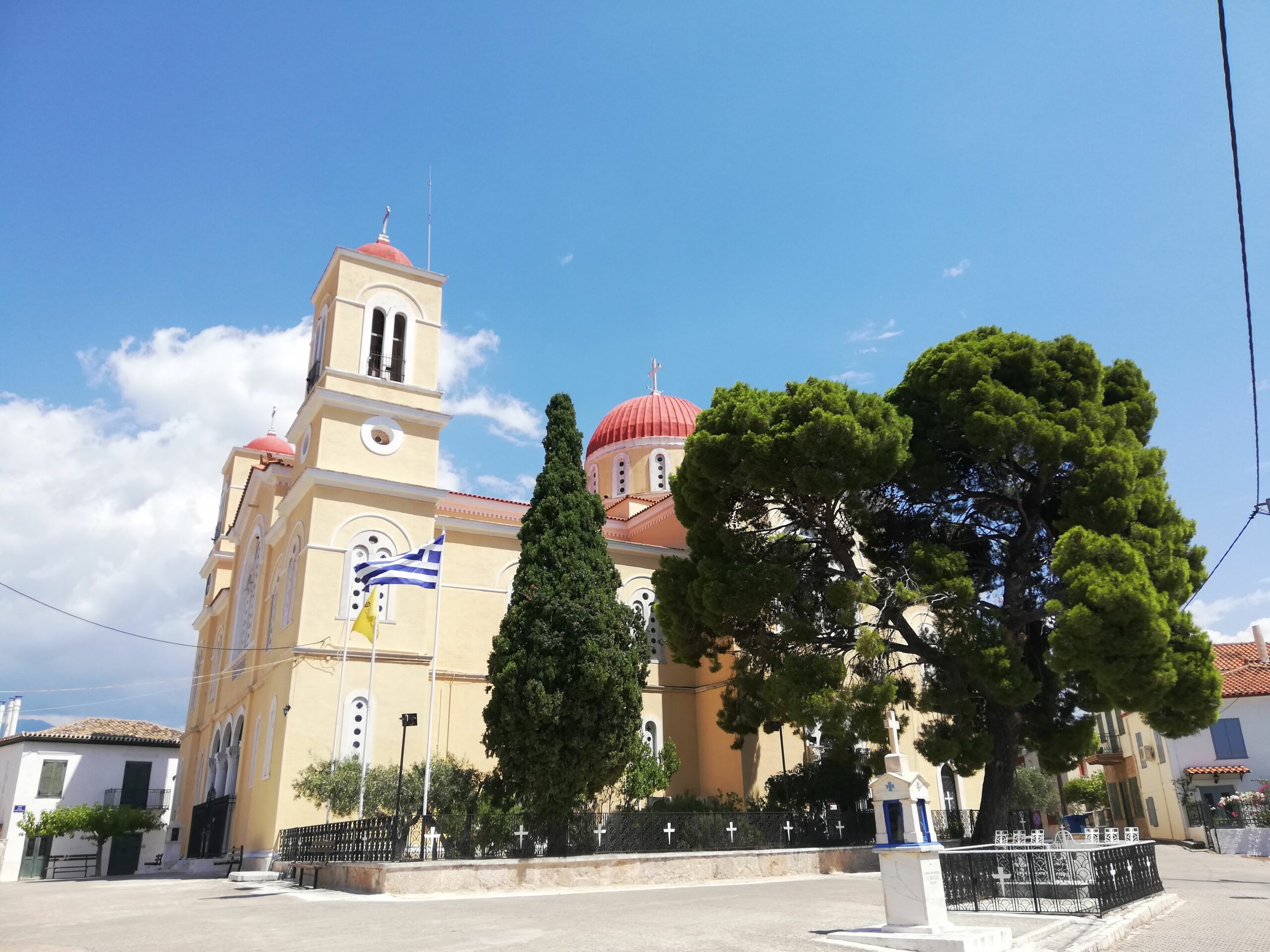 Admire the sundial at the church
Stroll about the town's first port, feed the ducks and head up the cobbled alleys. Visit Aghios Nikolaos church with the wood-sculptured altarpiece, ornamented with unique details, as well as Aghia Paraskevi church, featuring a zodiac cycle on its floor surface, and its famous sundial outside.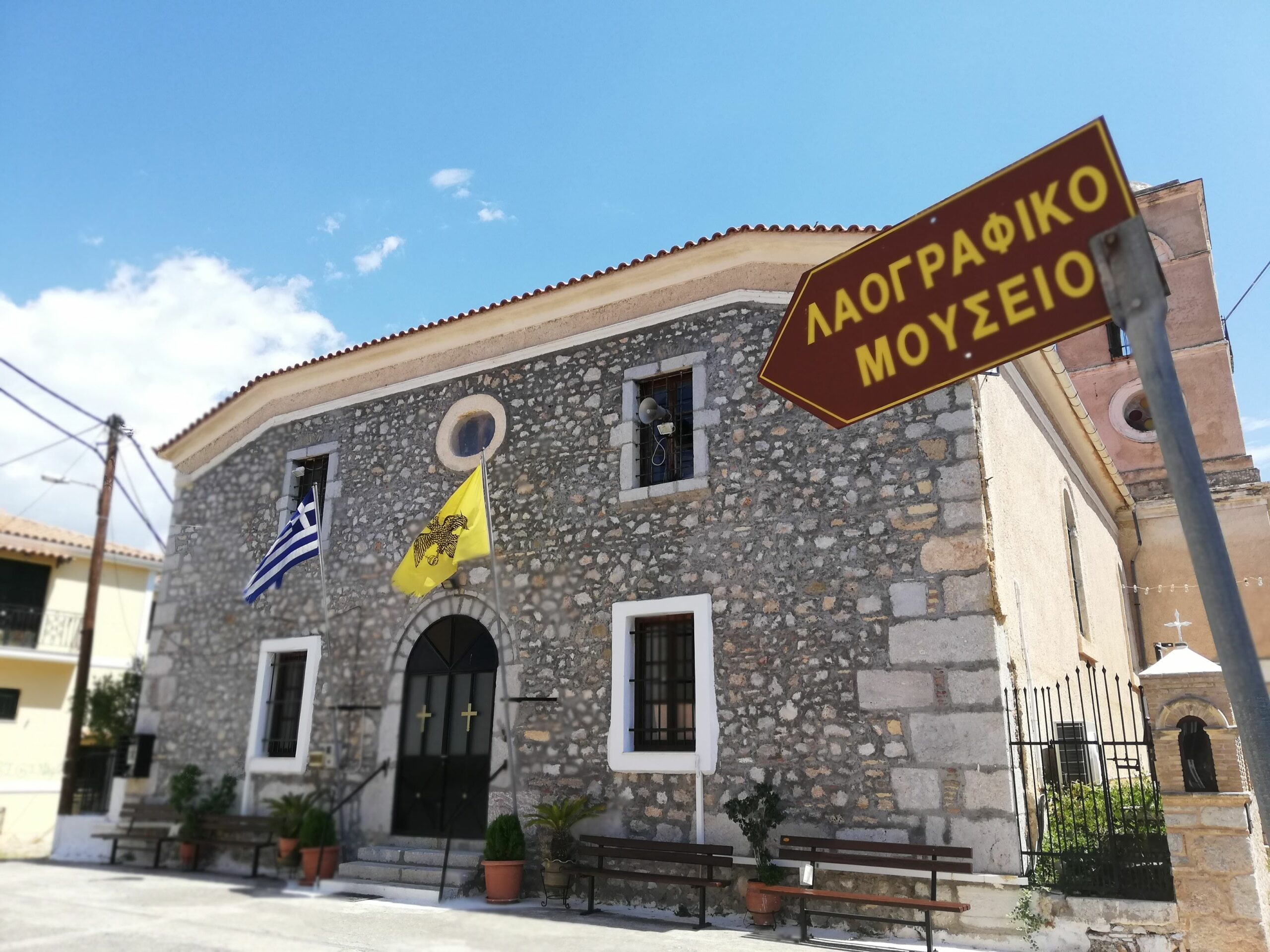 Play at the Mama Square playground
The Mama Square is the central square of Galaxidi. It hosts a playground and several restaurants for parents to sit and watch the children play safely. Older kids may enjoy the Folklore Museum or the local library.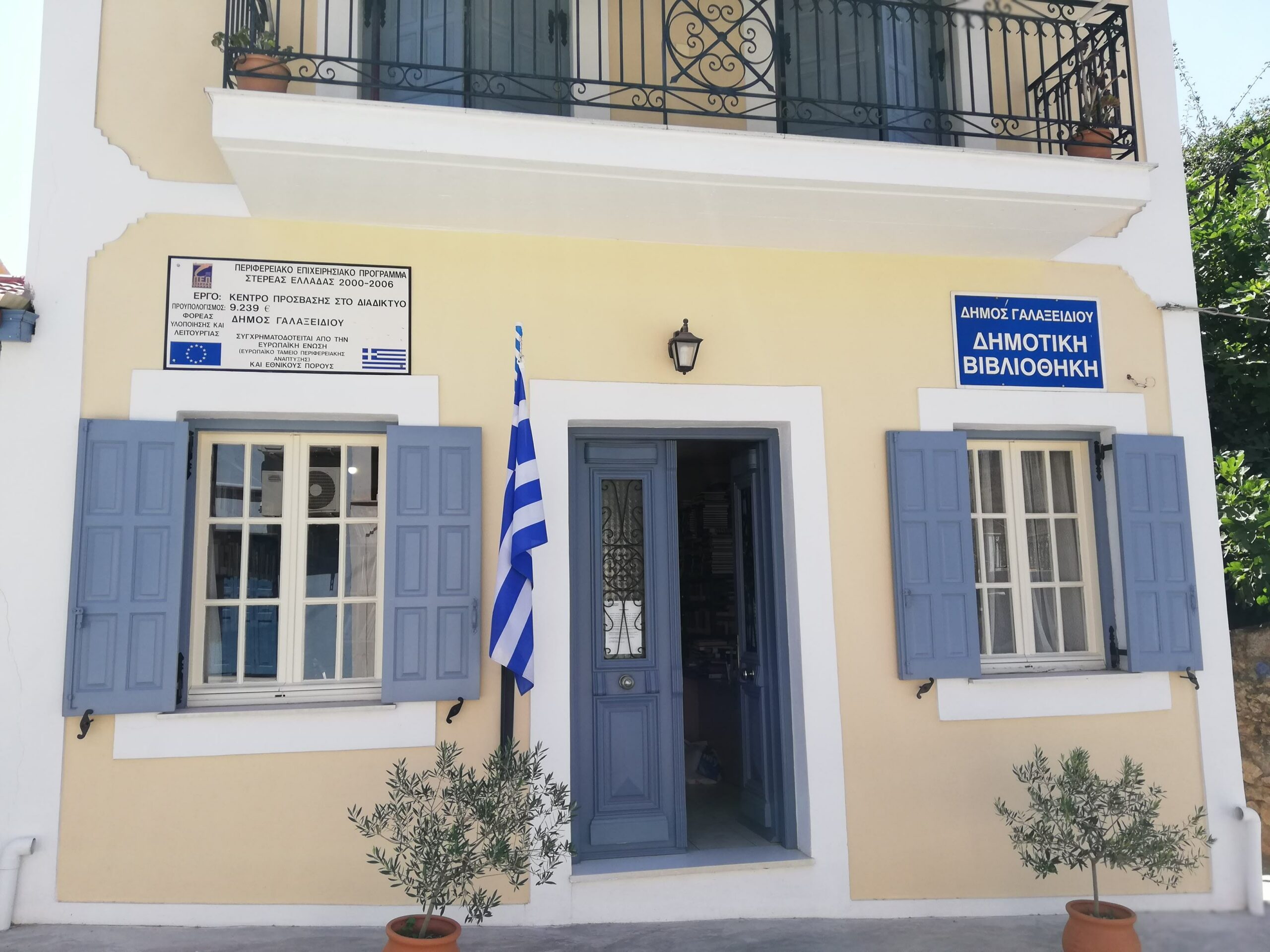 Visit the Museum
Galaxidi was home to some of the country's most important shipping families, a legacy which can be observed at the Nautical and Historical Museum, the first of its kind in Greece. The interesting collection reflects the rich naval history of Galaxidi and is housed in a beautiful old mansion. Working days-hours: daily, 08:00-13:30 (summer period)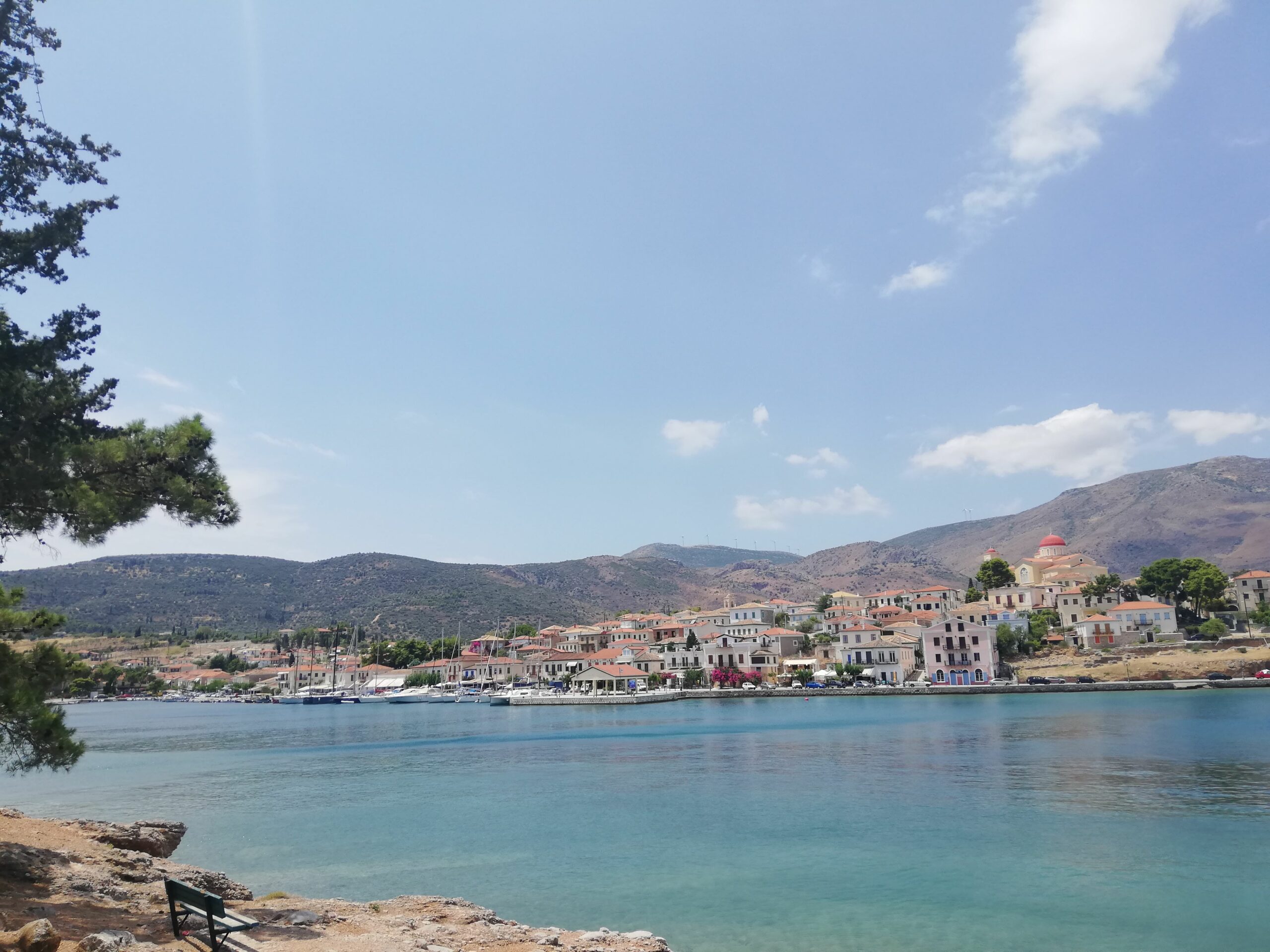 Make a walk to Kentri
Follow the coastal road by the forest side and leave behind the village. You will find the "Wife of the Sailor" monument at almost the end of the road. Enjoy the view of the town as you will be walking along the small beaches in the coves.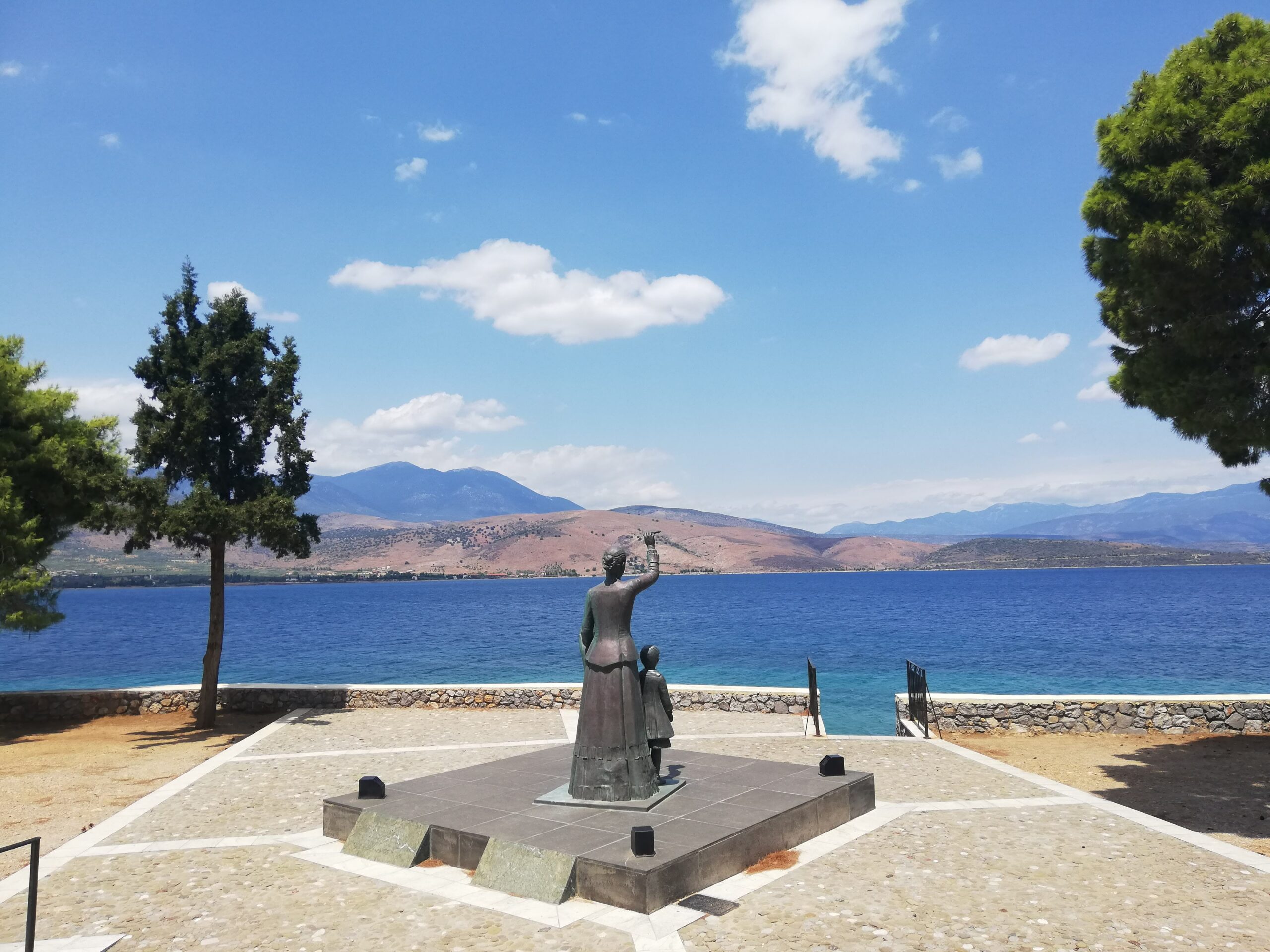 Take a boat trip
A day cruise to the small islands in the Itean gulf is great during a hot summer. Delphi sails organizes daily trips with a catamaran including diving or snorkelling.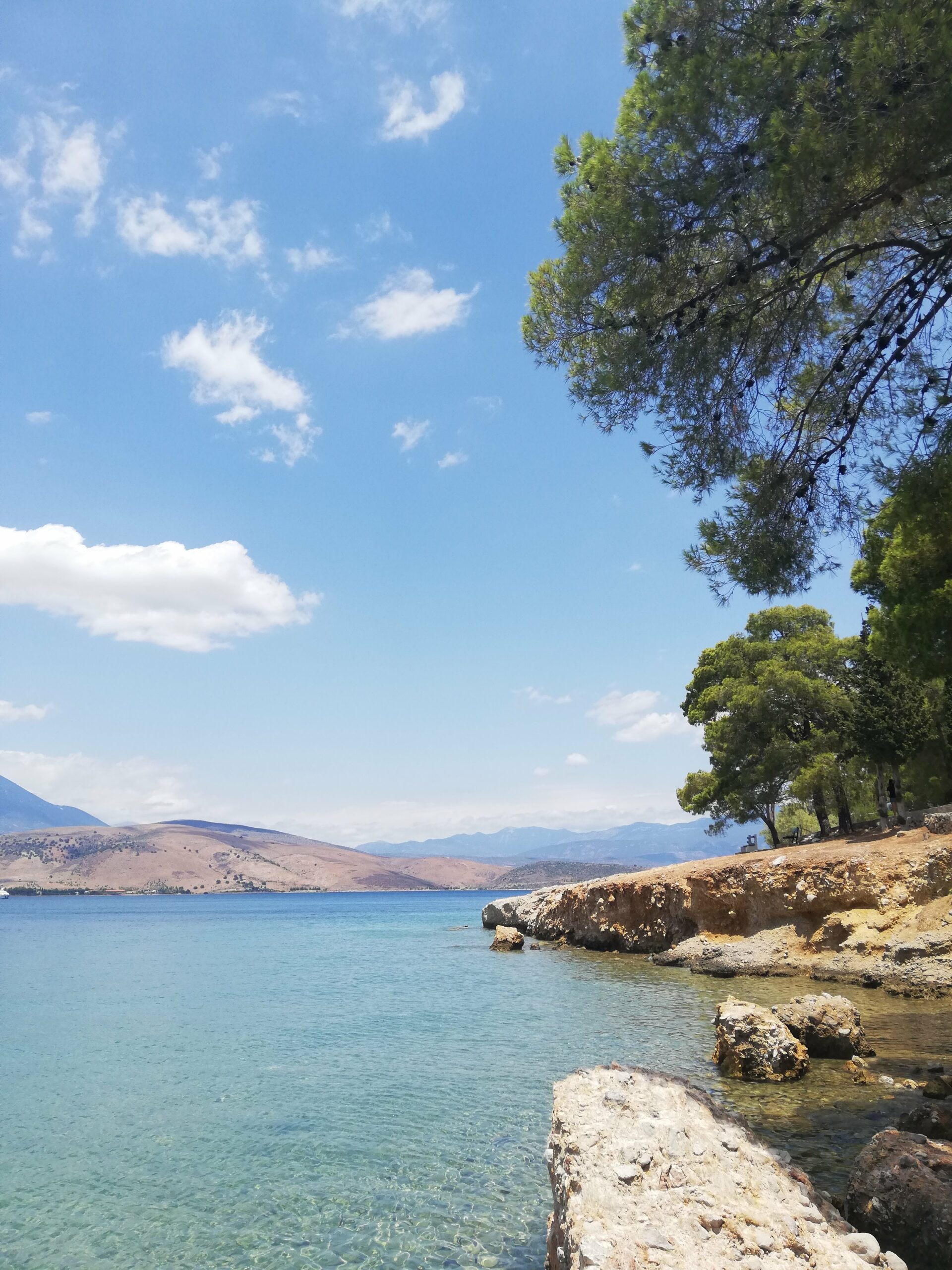 The Famous Galaxidi Flour Wars
This festival happens once a year during Clean Monday – the end of Greek carnival season. 1,5 ton of flour are thrown on the locals and visitors who attend this crazy flour battle, a 200-year-old custom dating back to ancient times!
Meet the friendly cats
Cats are everywhere in Greece and Galaxidi is no exception.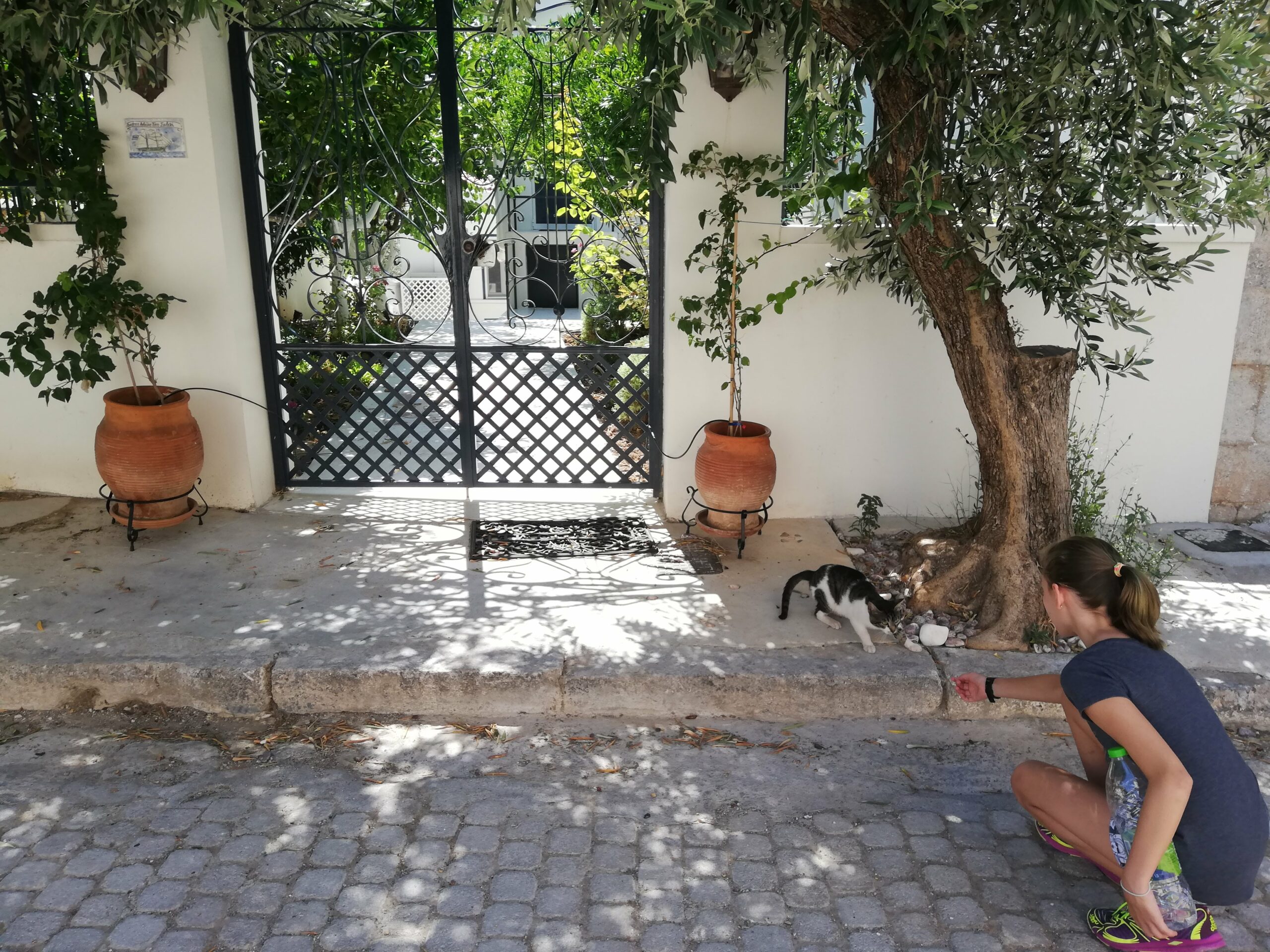 Visit Delphi with Kids
Galaxidi is an ideal base to visit the world-famous UNESCO World Heritage Site of Delphi with kids and combine a cultural holiday with relaxation on the beach.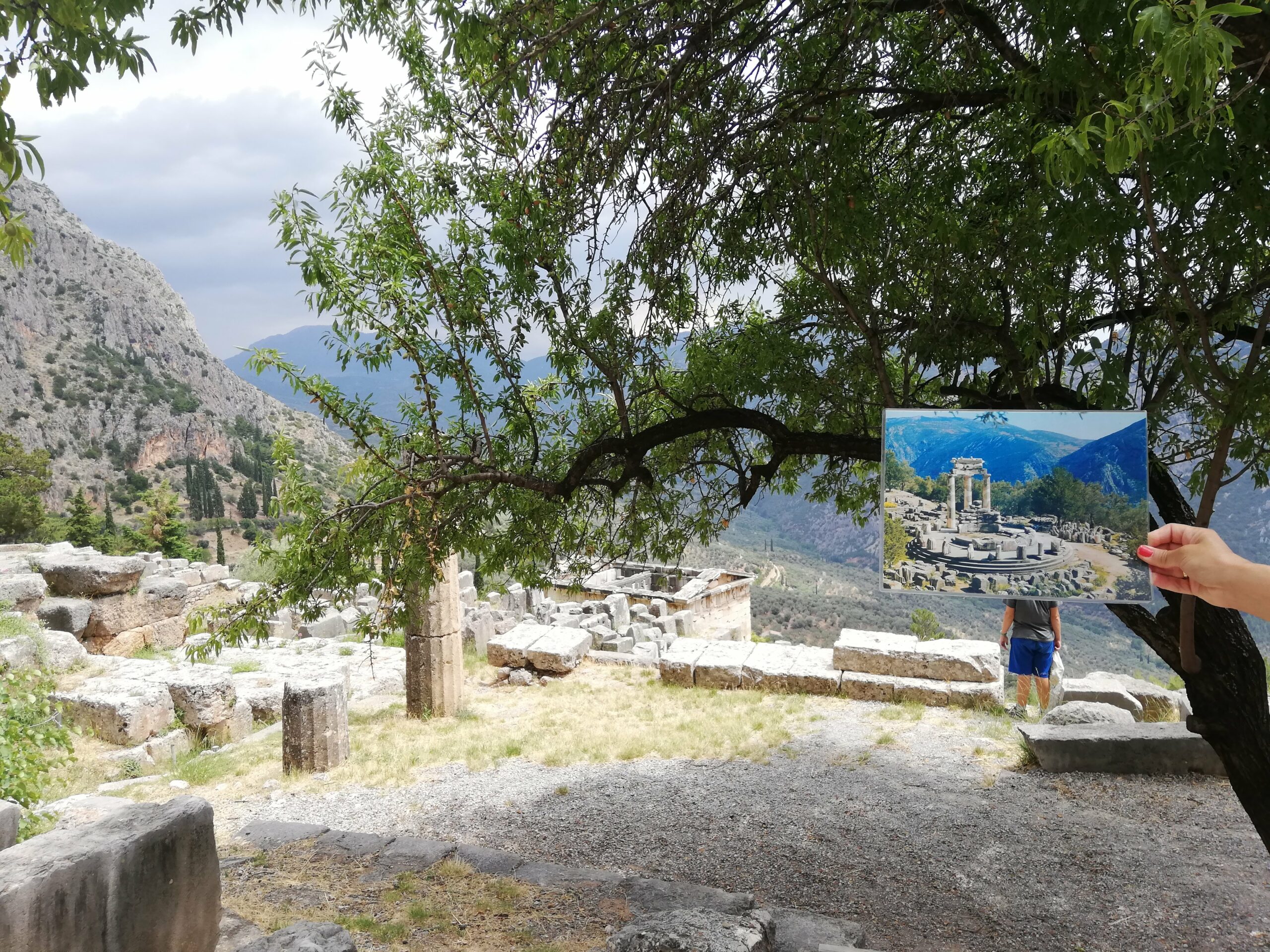 We drove from Galaxidi to Delphi in 40 minutes over a mountainous road. To make the most of your visit in Delphi, consider hiring a family-friendly state-licensed local guide.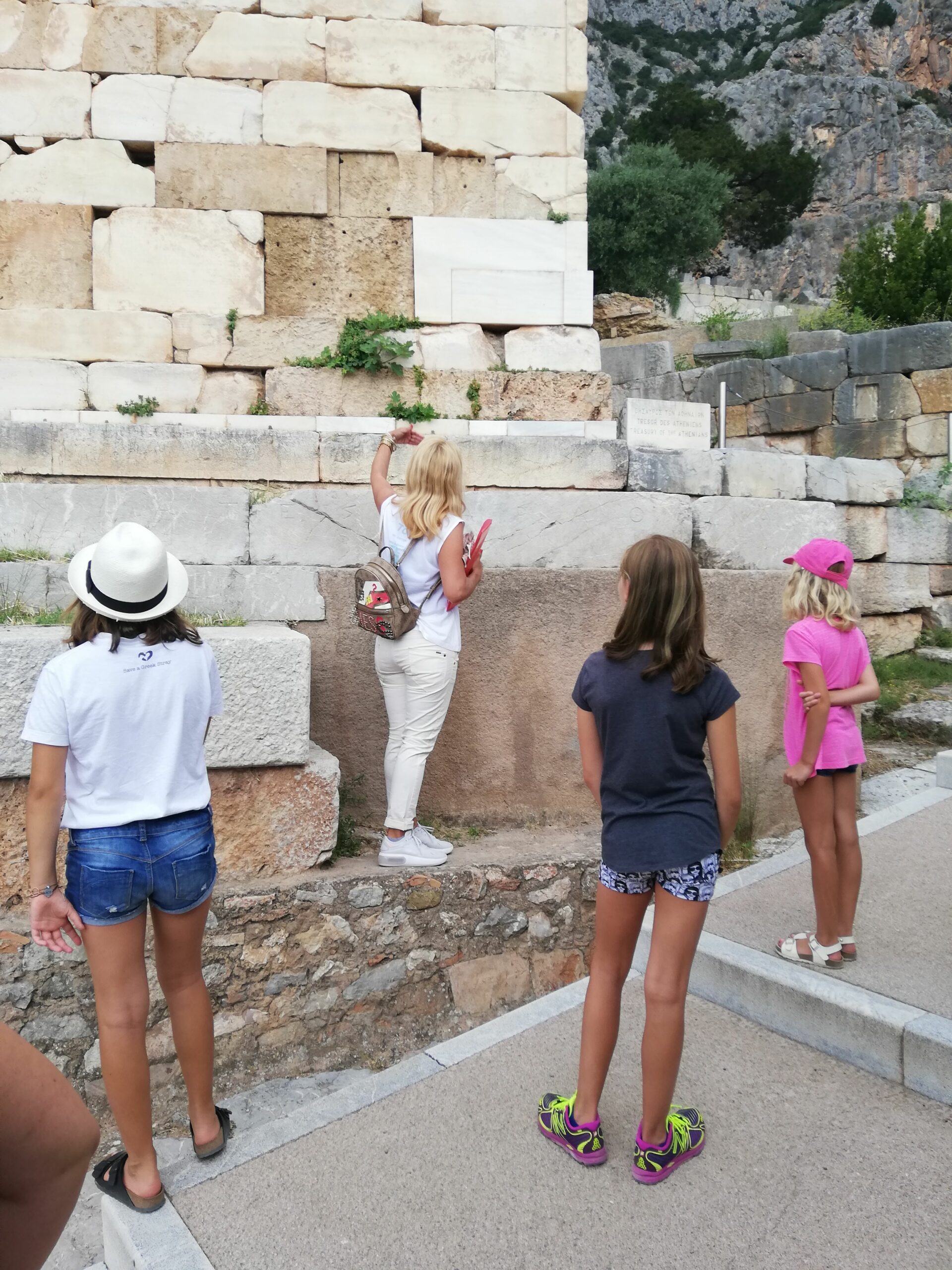 Our group was accompanied by the passionate Georgia Hasioti, a Delphi local experienced official tour guide who made our visit extraordinary. Not only did Georgia bring the site and museum to live with fascinating stories, but Georgia was also able to recommend local taverns, hiking excursions and more. Contact Georgia at www.delphi-guide.gr, she speaks French, Japanese, Italian and English.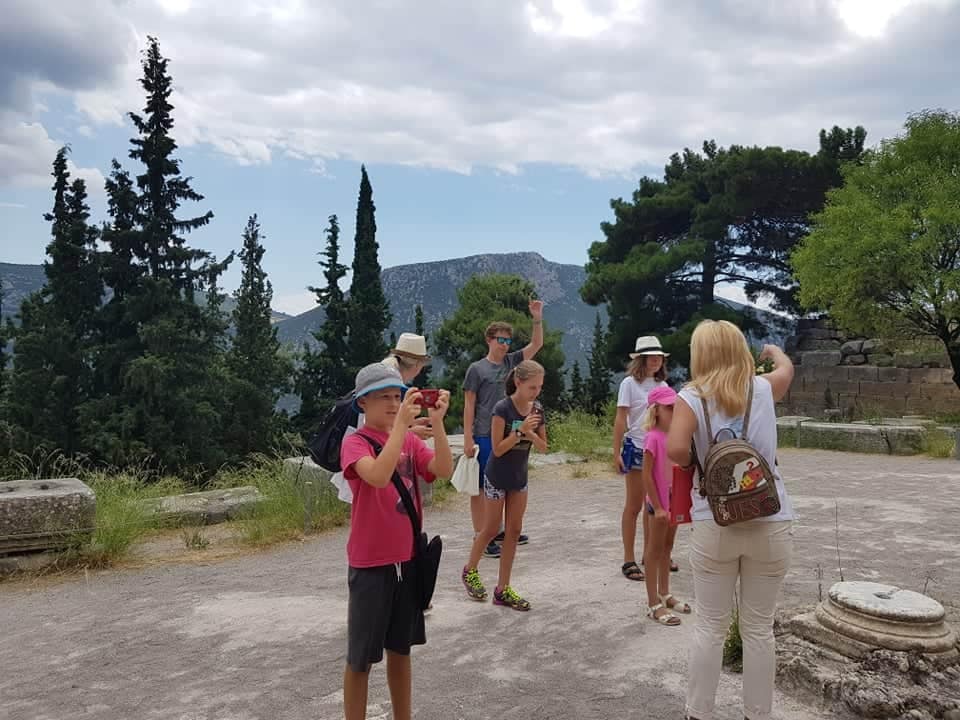 Beaches or hiking?
The beaches in Galaxidi are great for snorkling or diving but if you prefer the mountains over the sea, then a hiking route is the next best option in Galaxidi.
Beaches in Galaxidi with kids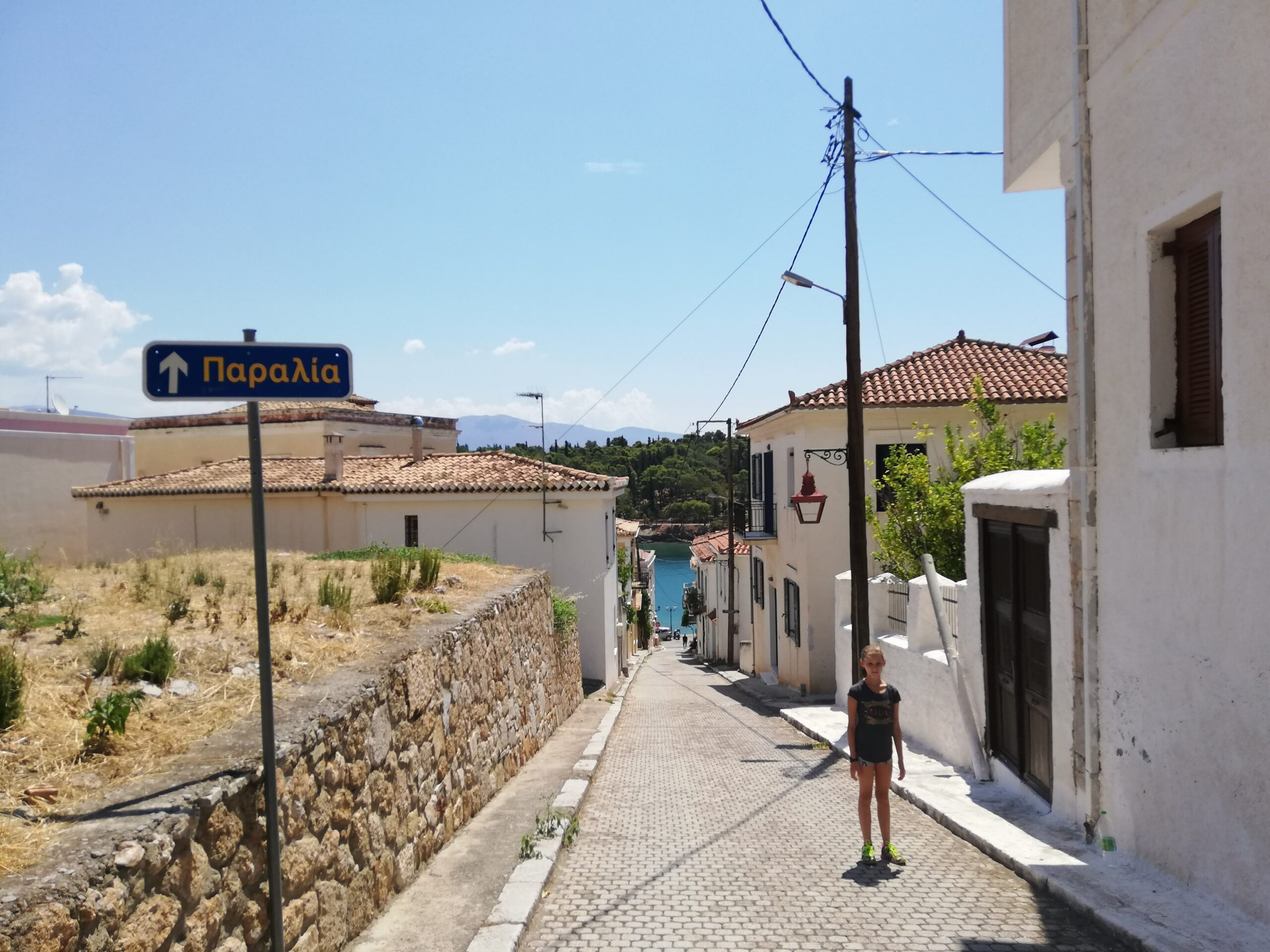 The beaches around Galaxidi are suitable for families because they are located in sheltered bays, and feature clear clean calm waters. At some parts, there are sea urchins on the rocks so don't forget to bring some water shoes.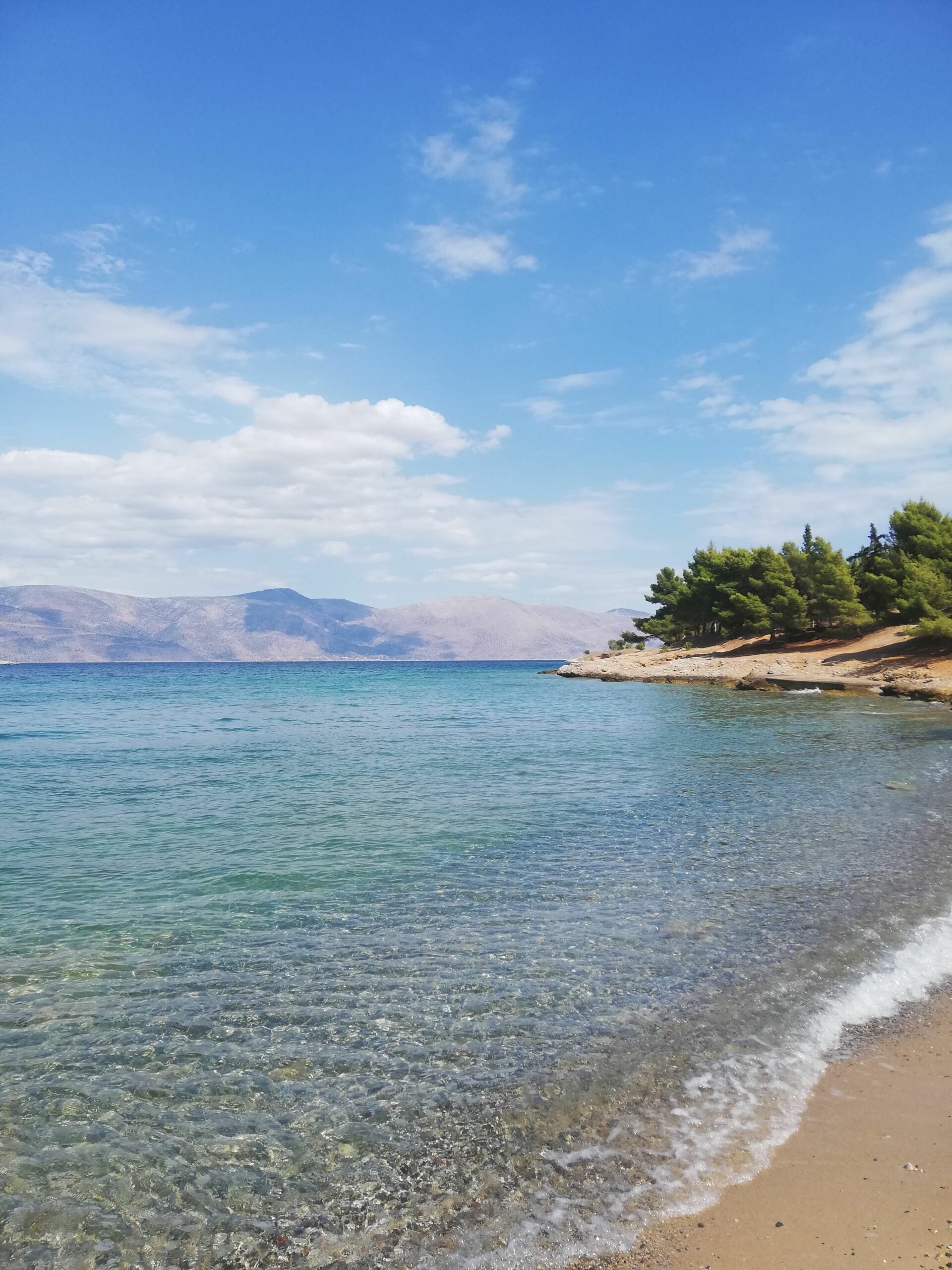 One of the best beaches for families in Galaxidi with kids is the small Kendri beach (featured below). You can find this unorganized beach before the end of the main road and immediately after the statue of the sailor's wife. There is lots of natural shade on this beach.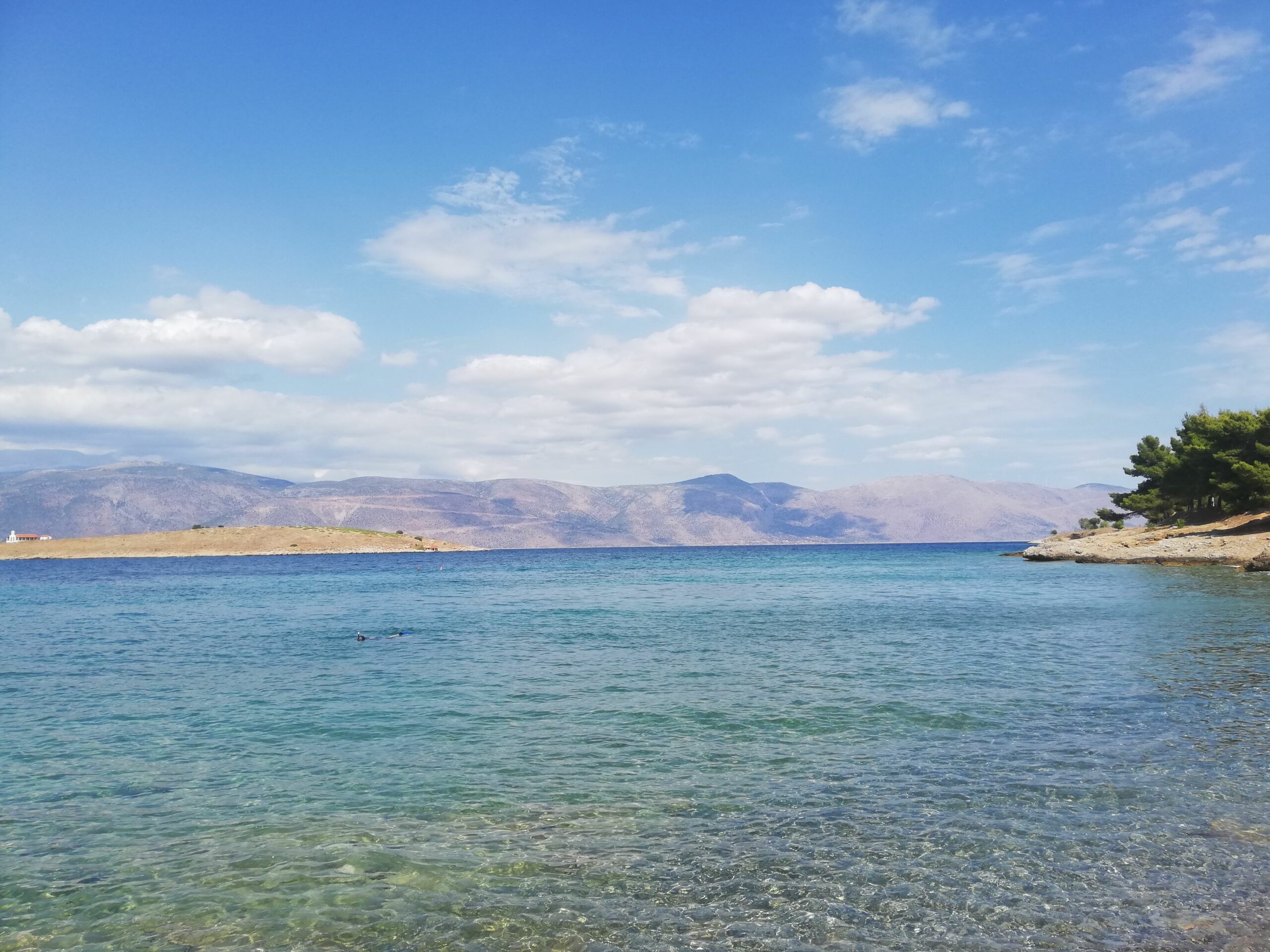 If you are looking for an organized beach club with a small pool, we recommend Kalafatis Beach Club. It's large beach with chairs and umbrellas feature shallow water and beautiful views. This beach is ideal for young kids and very safe.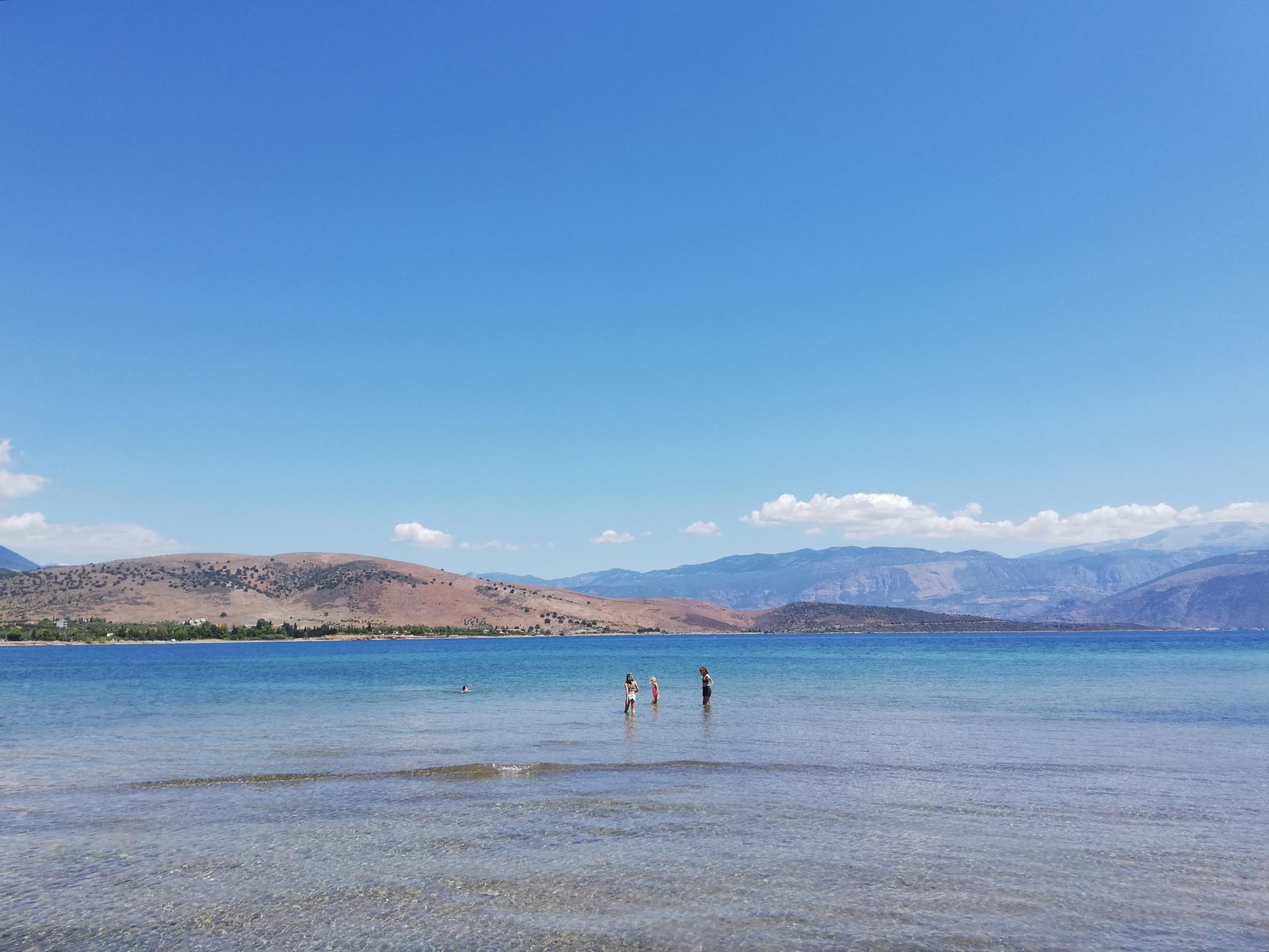 Where to eat in Galaxidi with kids
Galaxidi features a few restaurants, many quality family taverns and straightforward eateries. Most taverns are open all year round. Most of them serve traditional dishes and sea food at reasonable quantities and prices.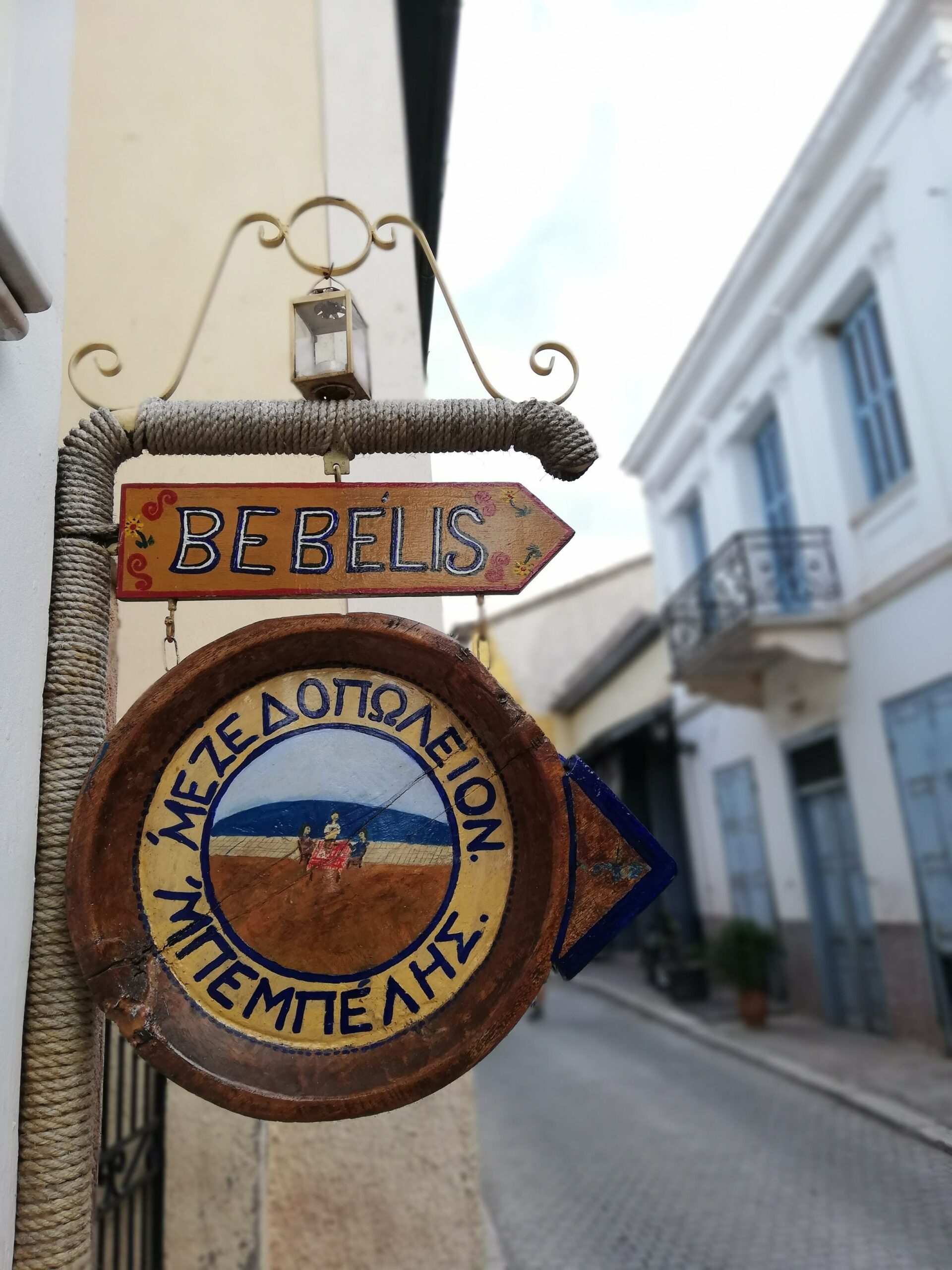 Traditional Greek Food O Bebelis Tavern
If you are looking for local traditional tastes and family recipes, a visit to Bebelis should be on the top of your list. Almost hidden away on N. Mama Street towards the port, Bebelis is like a small museum of folklore and flavor. Being a family business over centuries, Nikos Bebelis will not only spoil your taste buds but also share his passion for Galaxidi.
With an entertaining view on the people passing by, we sat on a large family table and indulged on delicious country food. For starters we had the impressive Bebelis salad with prosciutto and yoghurt sauce, chickpea salade, fresh zucchini and tomato balls, delicious fried feta with honey and sesame, local mushrooms in wine and more.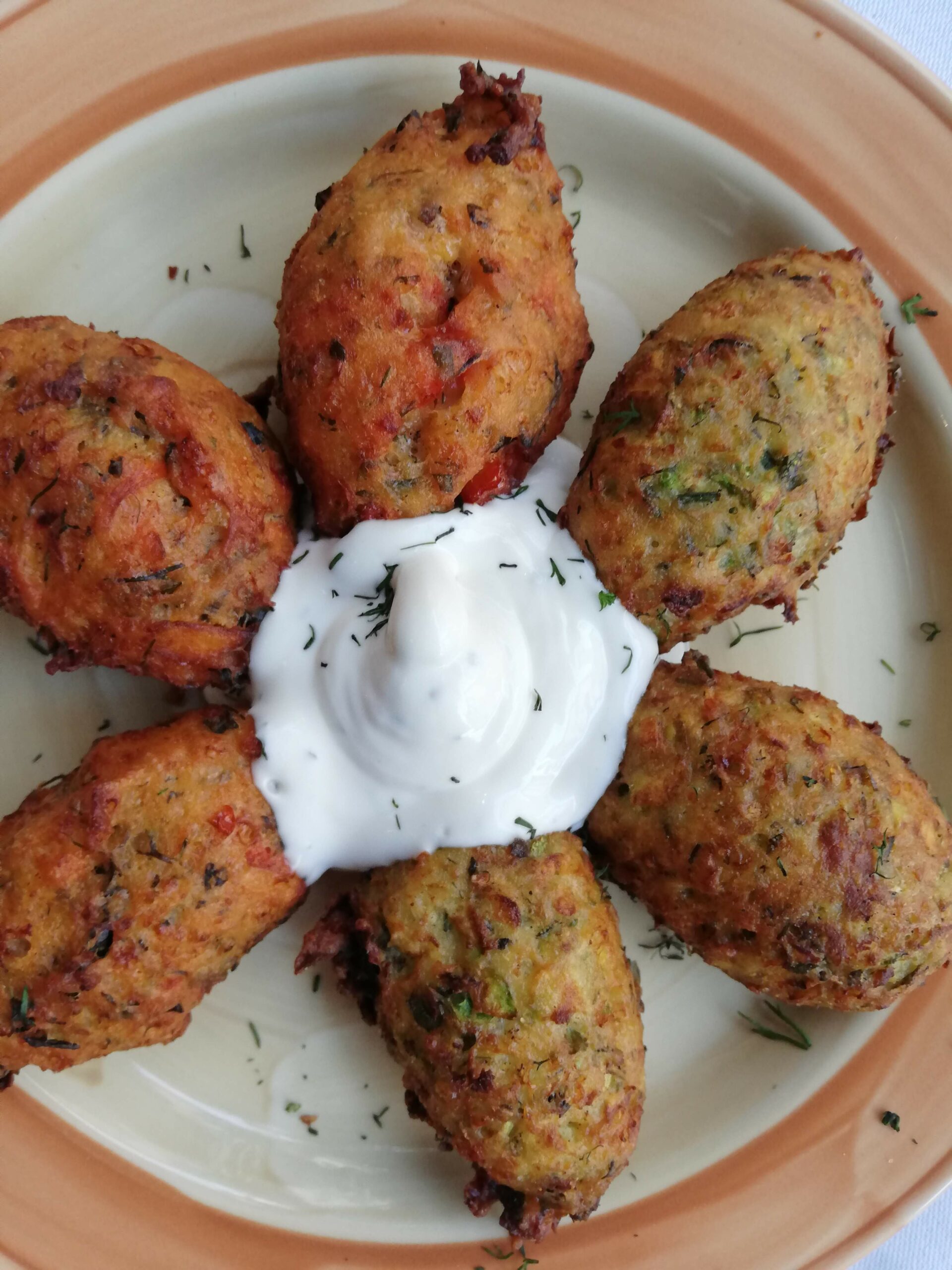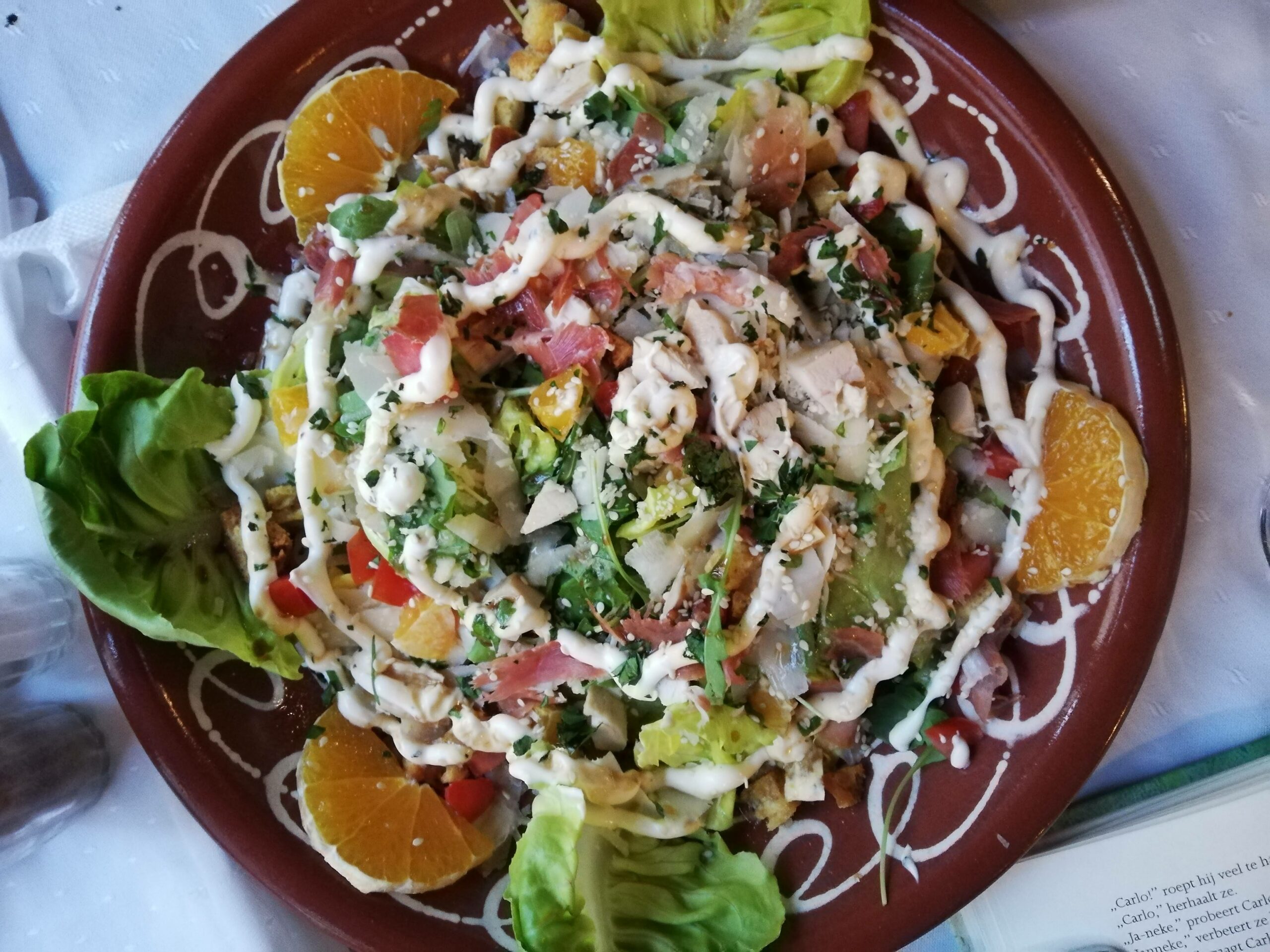 The Cretan rusk with tomato and Roquefort was my favorite meze.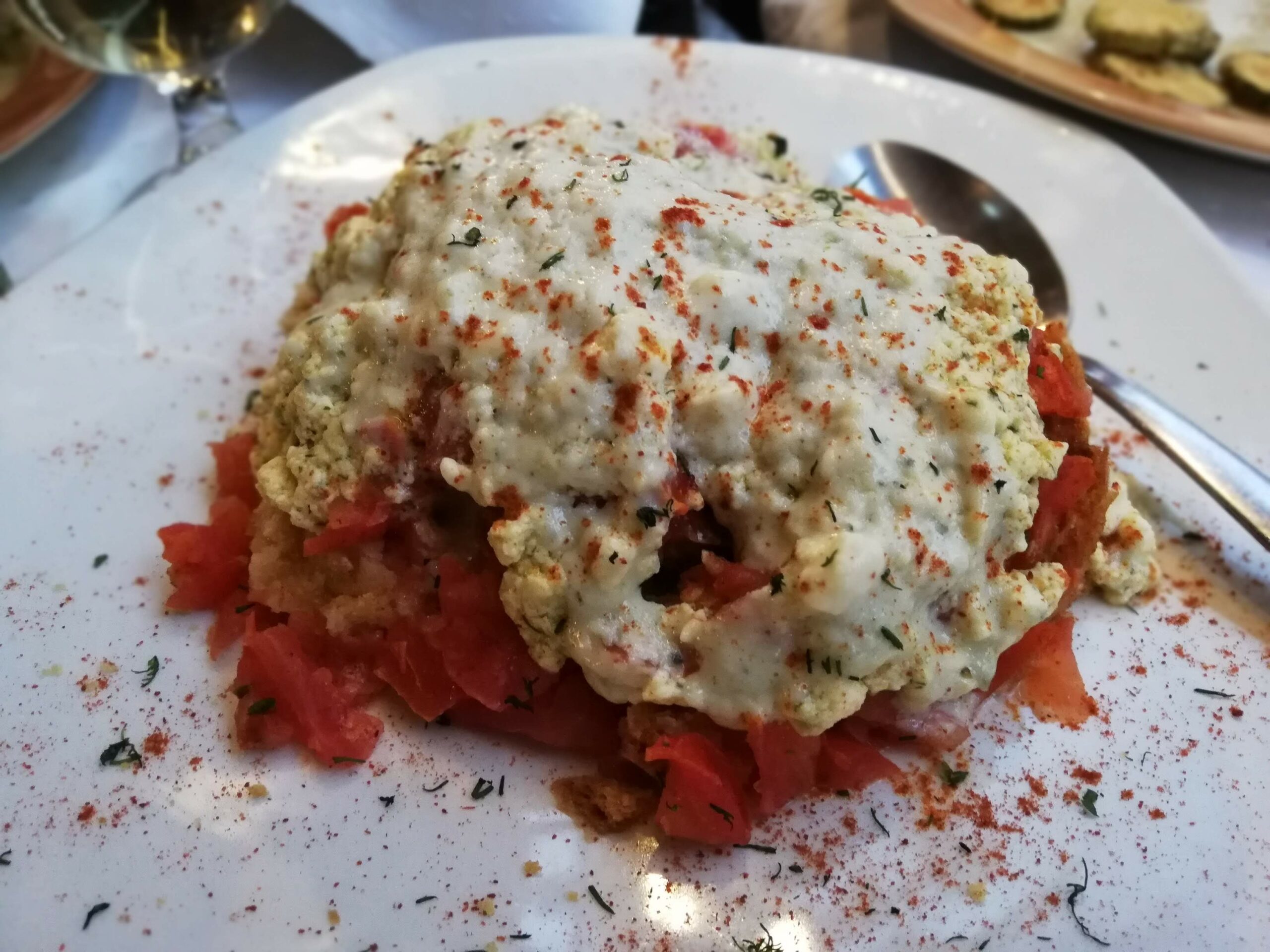 Try the famous Kelemia, or stuffed onions with ground meat, a traditional special dish from Galaxidi and the most famous food.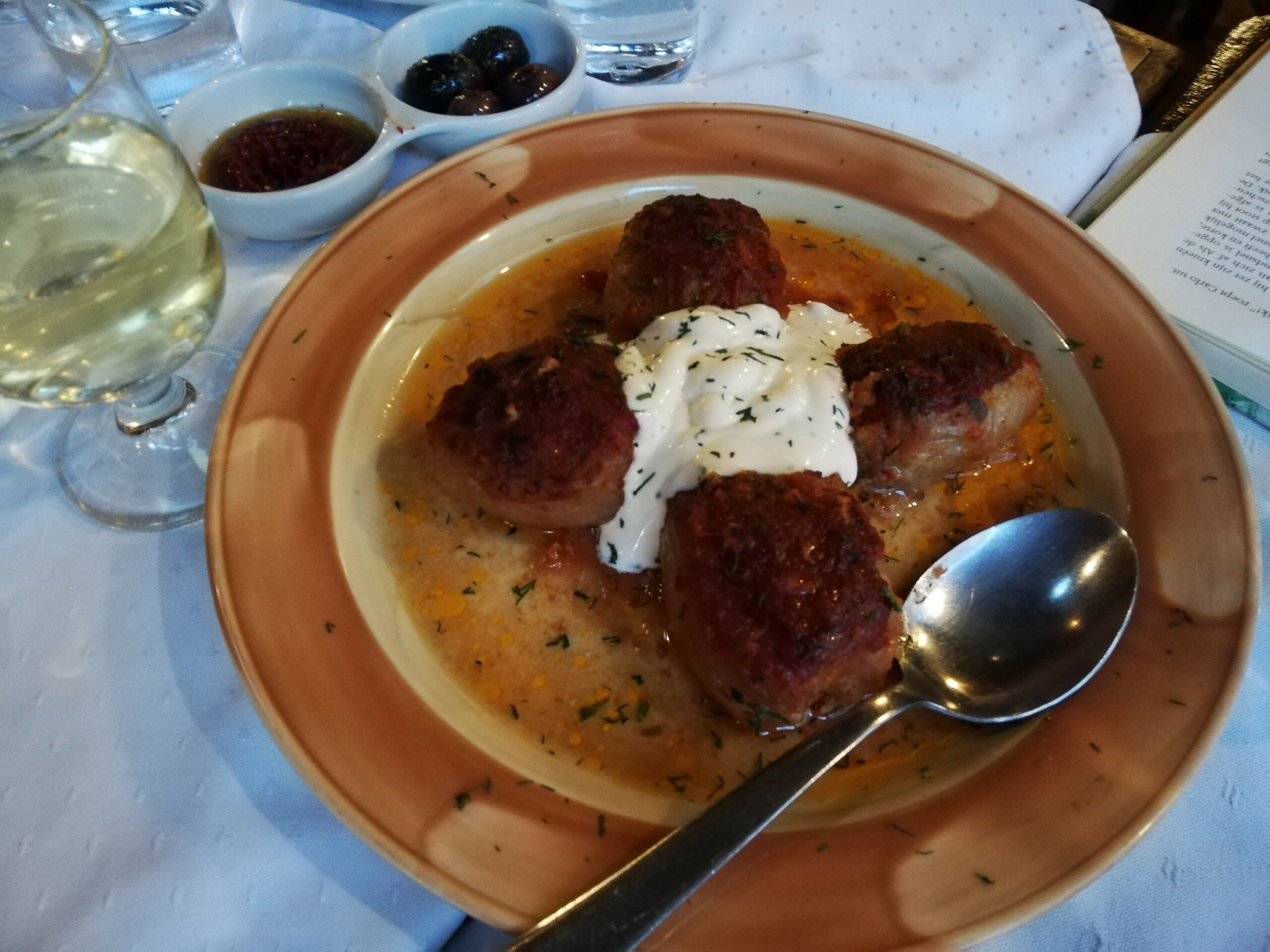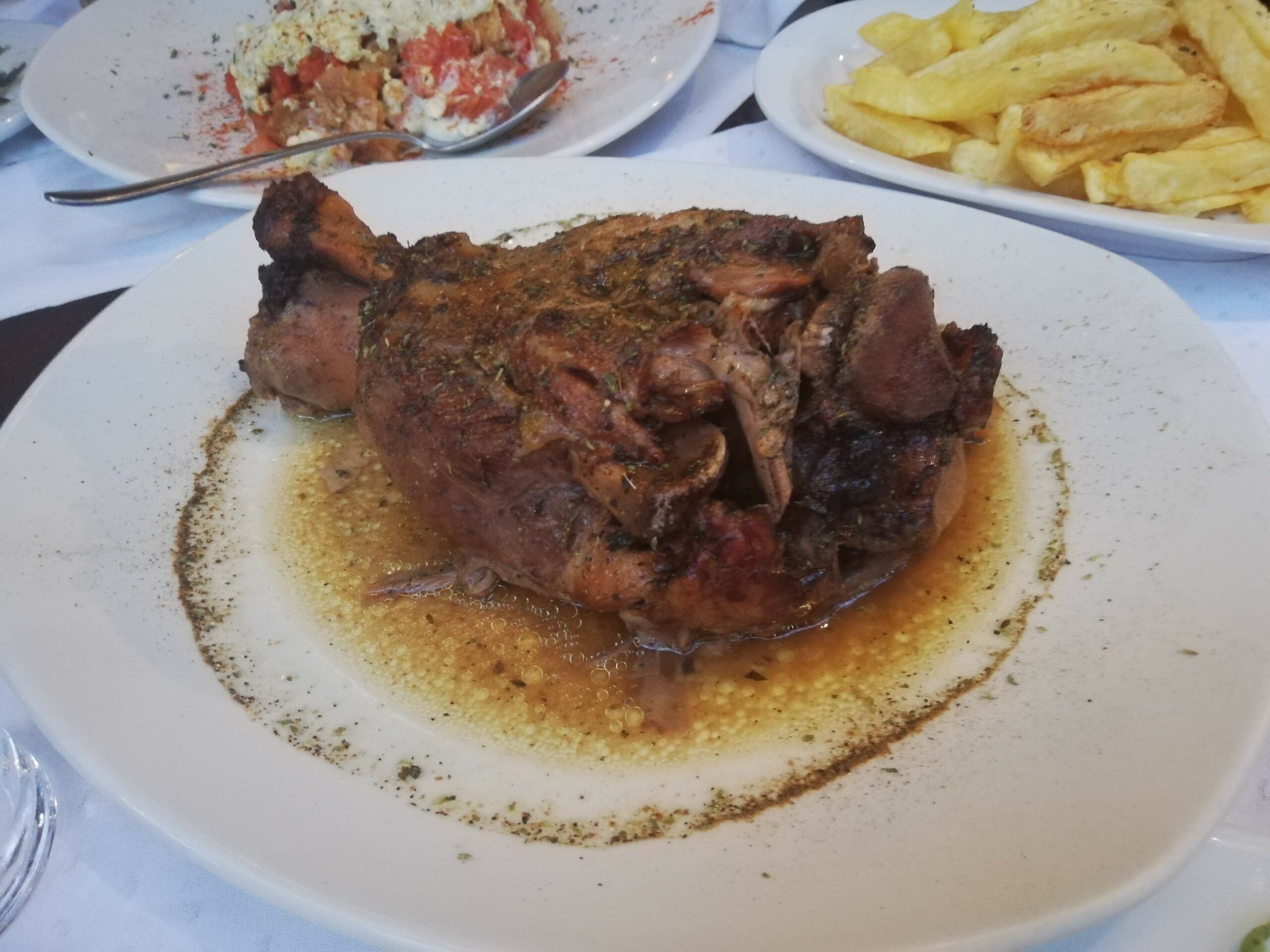 Our main course consisted of mouth-watering slow-cooked pork with plums in the oven, juicy pork bone, Greek meatballs, fresh potatoes and other kid-friendly sides. Local liquor and fresh fruits ended this evening feast.
Sea Food at Tassos Tavern
Galaxidi is a famous for its seafood too and you will find many seafood taverns along the port. We loved the food at Tassos, considered one of the best in Galaxidi. The young and friendly owners recommended us a mix of fish and seafood that we paired with fresh boiled vegetables (including beetroot and wild greens) and good house wine.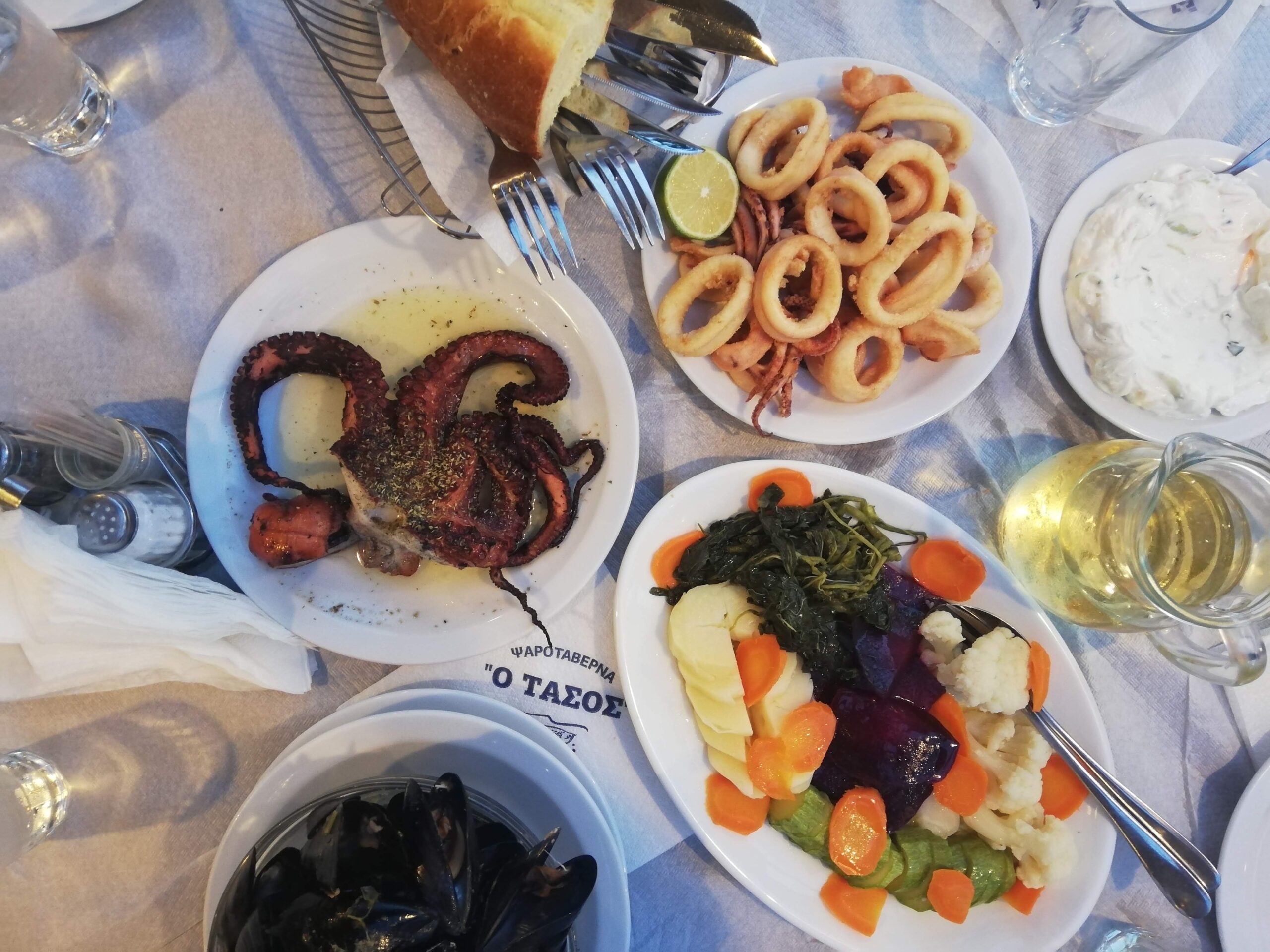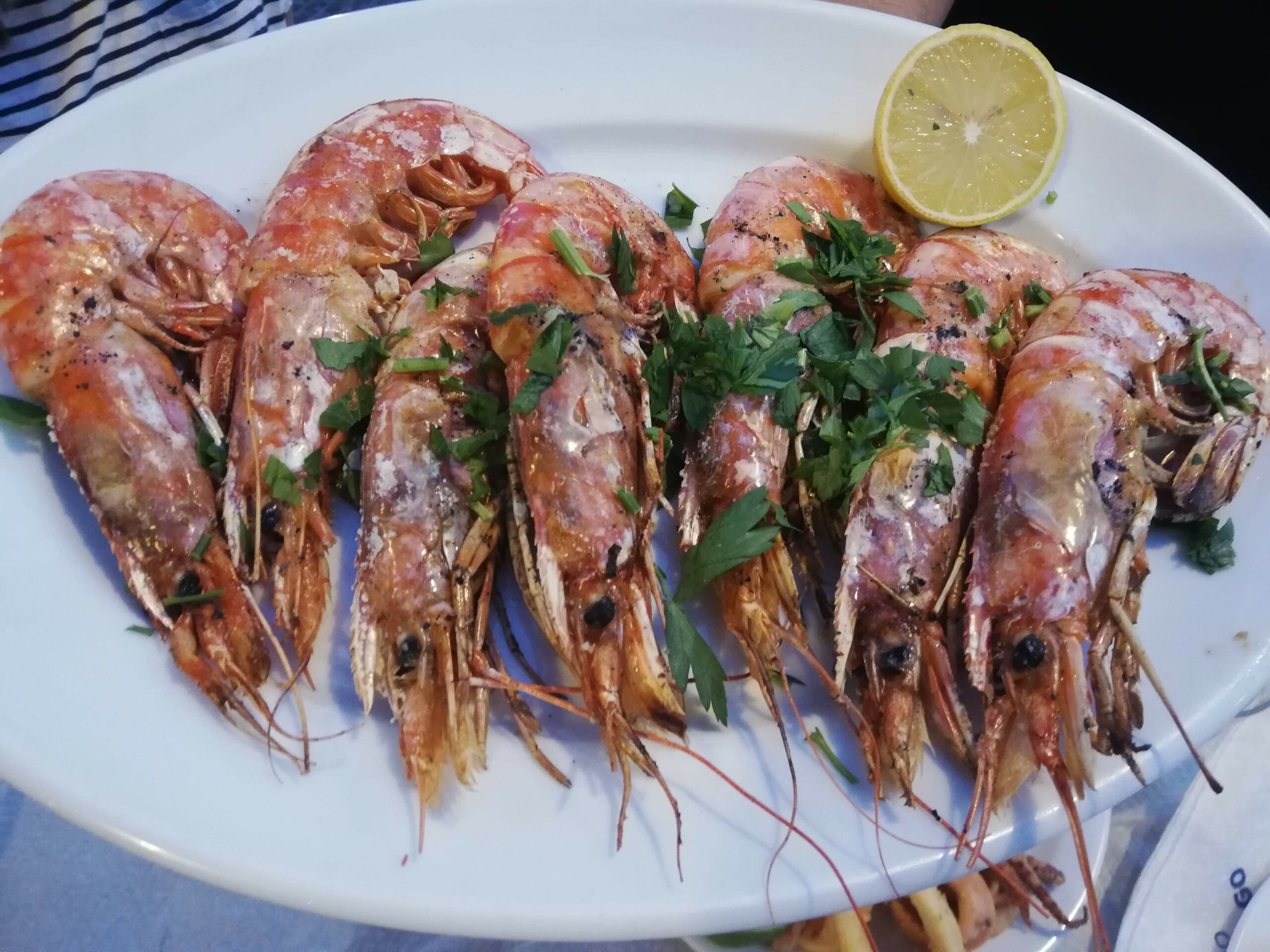 Tassos is located in a traditional port building right across from the fishing boats and all fish and seafood tasted as if it came straight from the sea.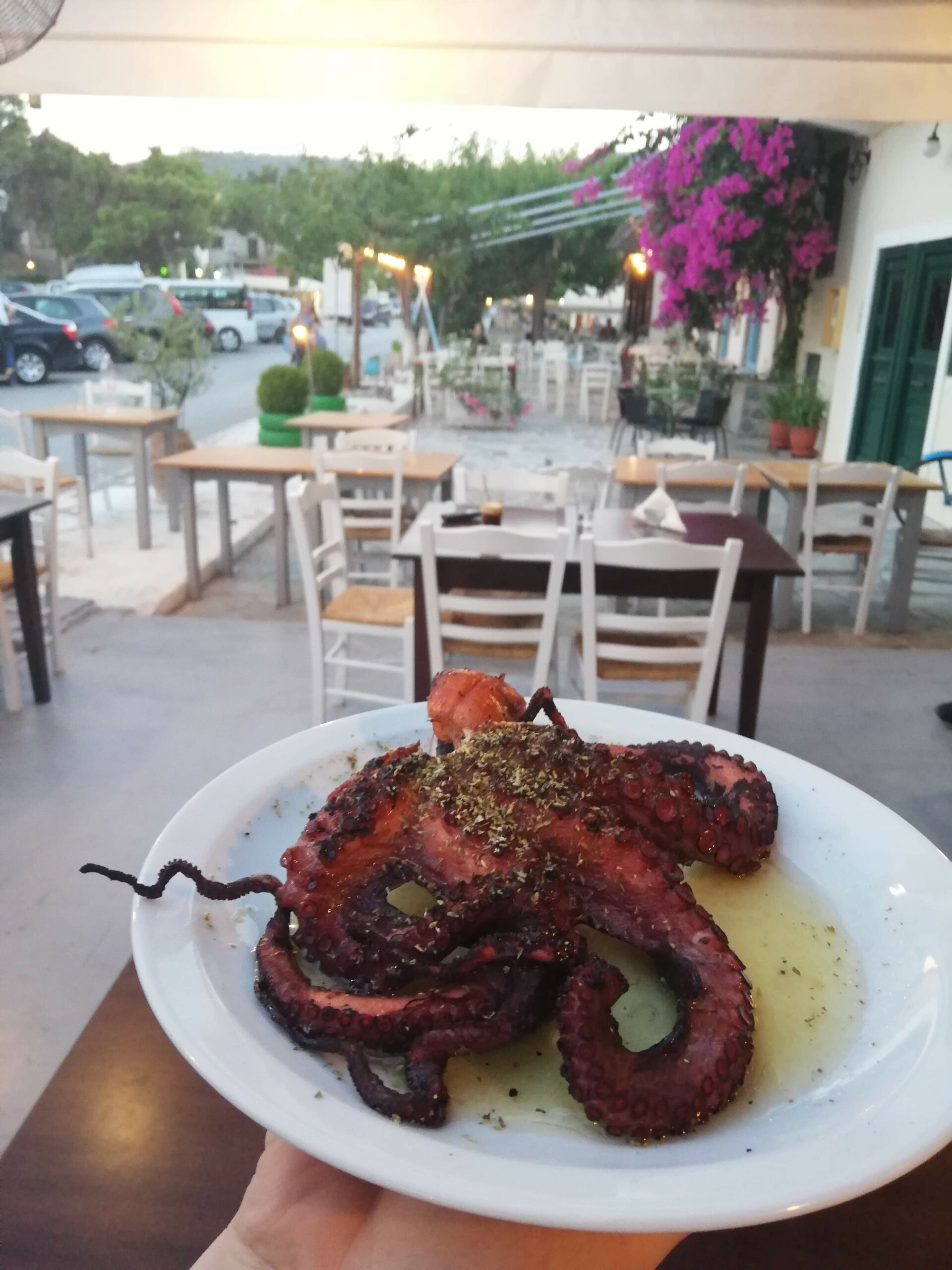 Where to stay?
The town's neoclassical houses with figureheads and pebble-covered courtyards have been preserved, as have the kapetanospita, meaning "captain's houses". Some are inhabited, while others have been transformed into holiday homes and guest houses.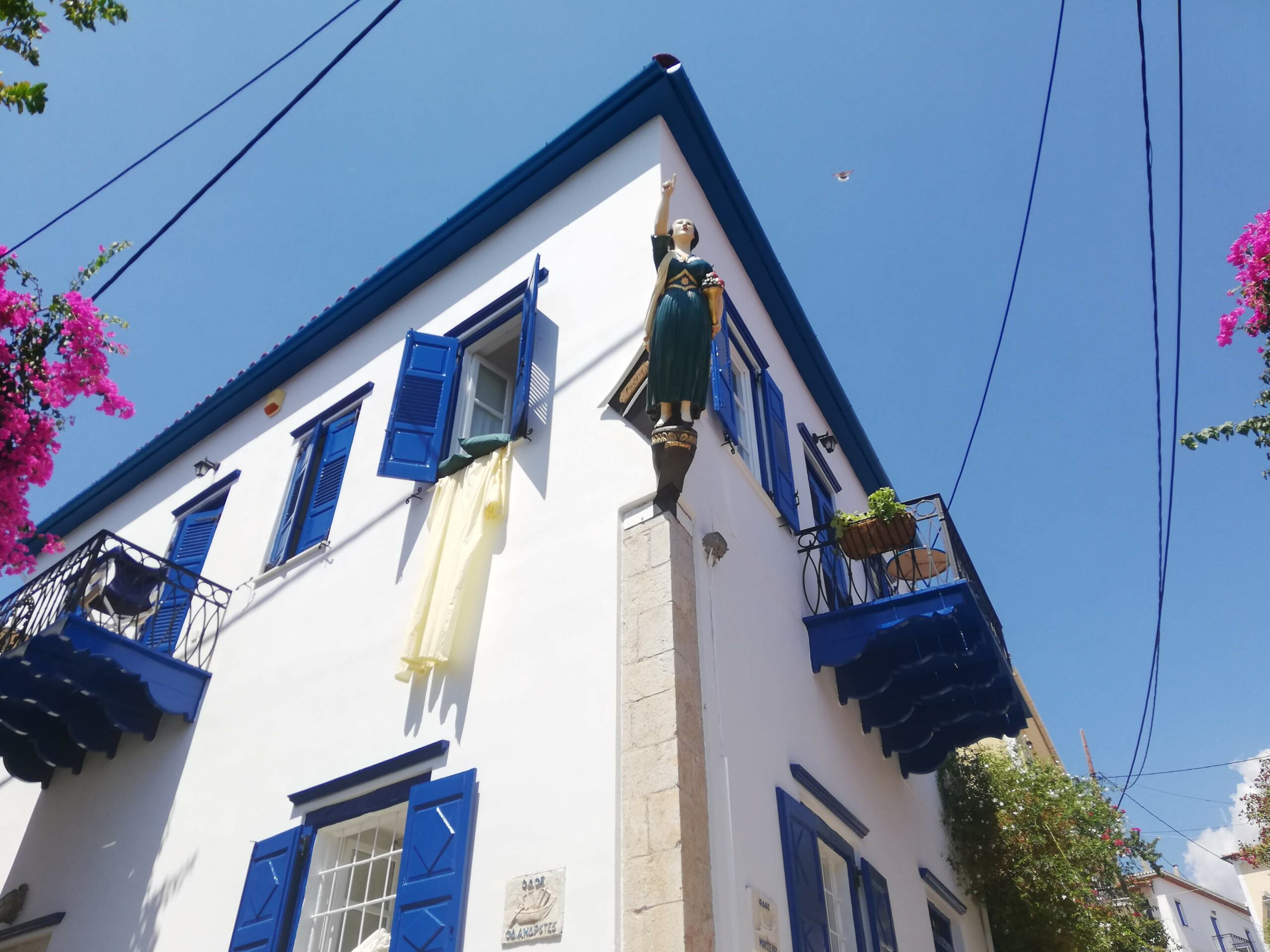 Family hotels in Galaxidi with kids
There are no large resorts or luxury hotels in the picturesque Galaxidi. Instead, there are boutique hotels.
Ganimede Hotel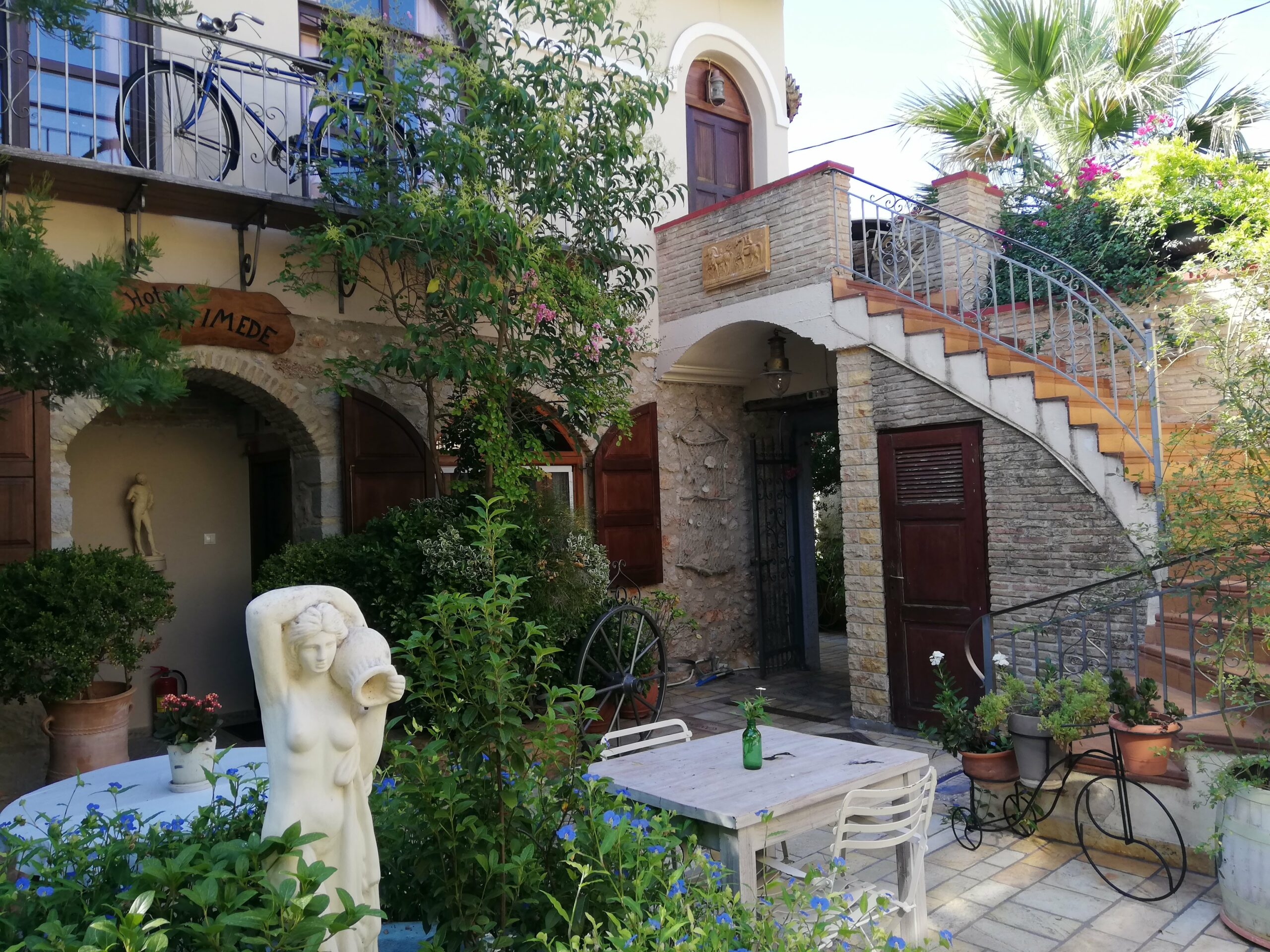 We stayed at Ganimede Hotel. We choose this charming hotel because of its family activities and kids-welcome vibe.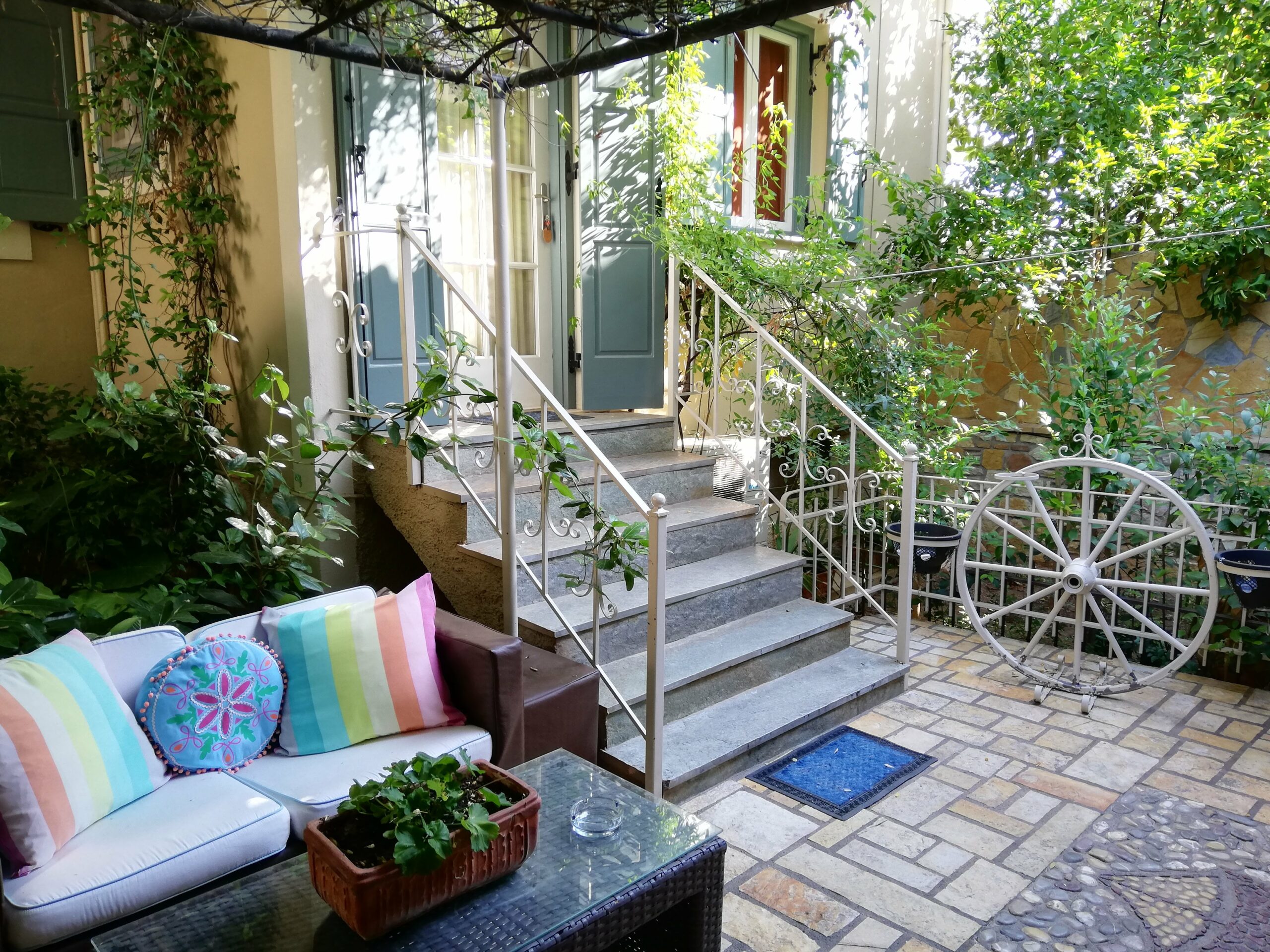 Ganimede Hotel is also known or its awarded Greek breakfast with delicious home-made jams, chutneys, sweet and savoury pies, local cheeses and fresh butter served on its romantic patio.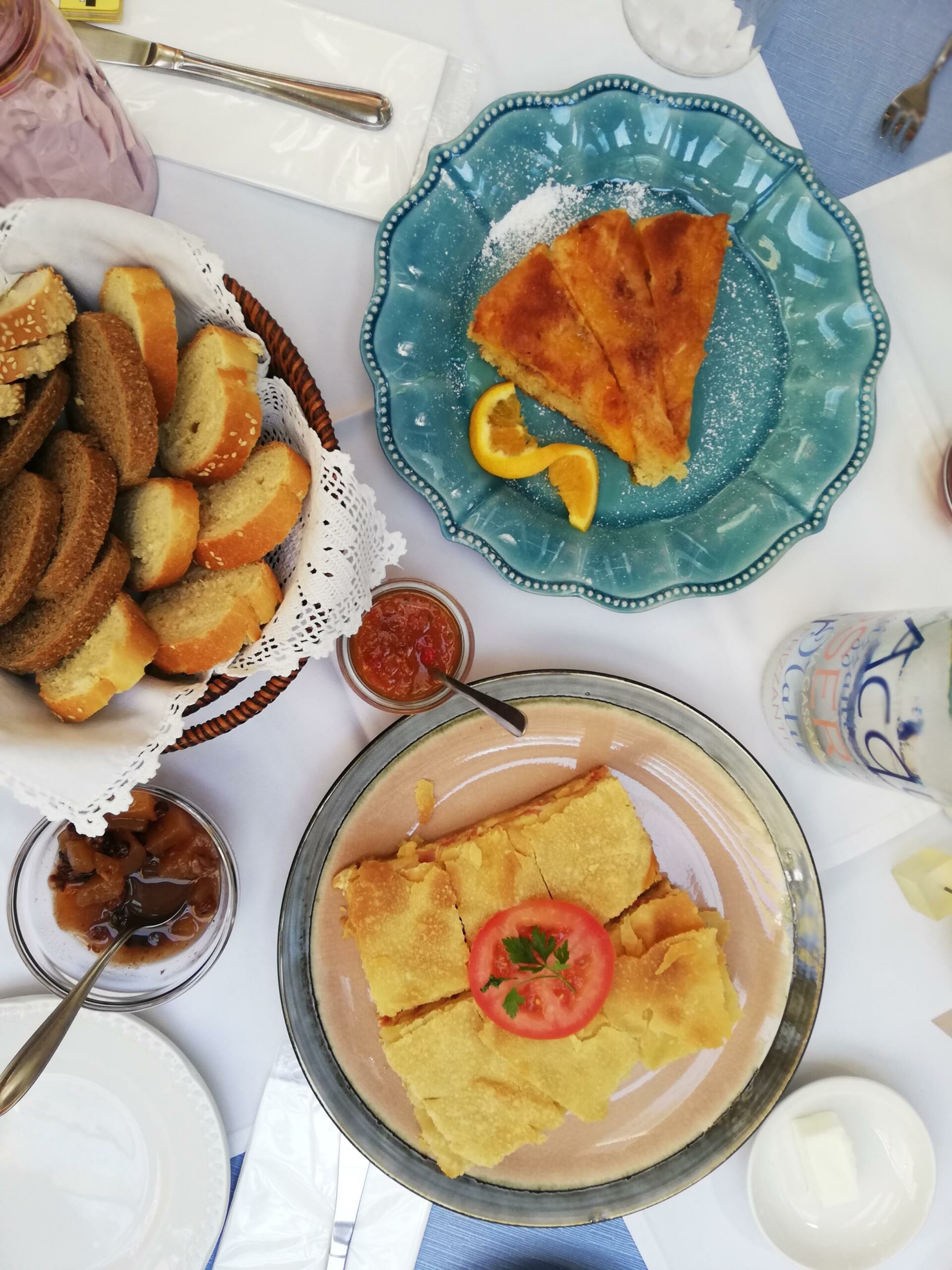 Ganimede hotel covers several old mansions with antique doors and flooring. The property features beautifully decorated (family) rooms and suites. We stayed on the top floor overlooking a small courtyard.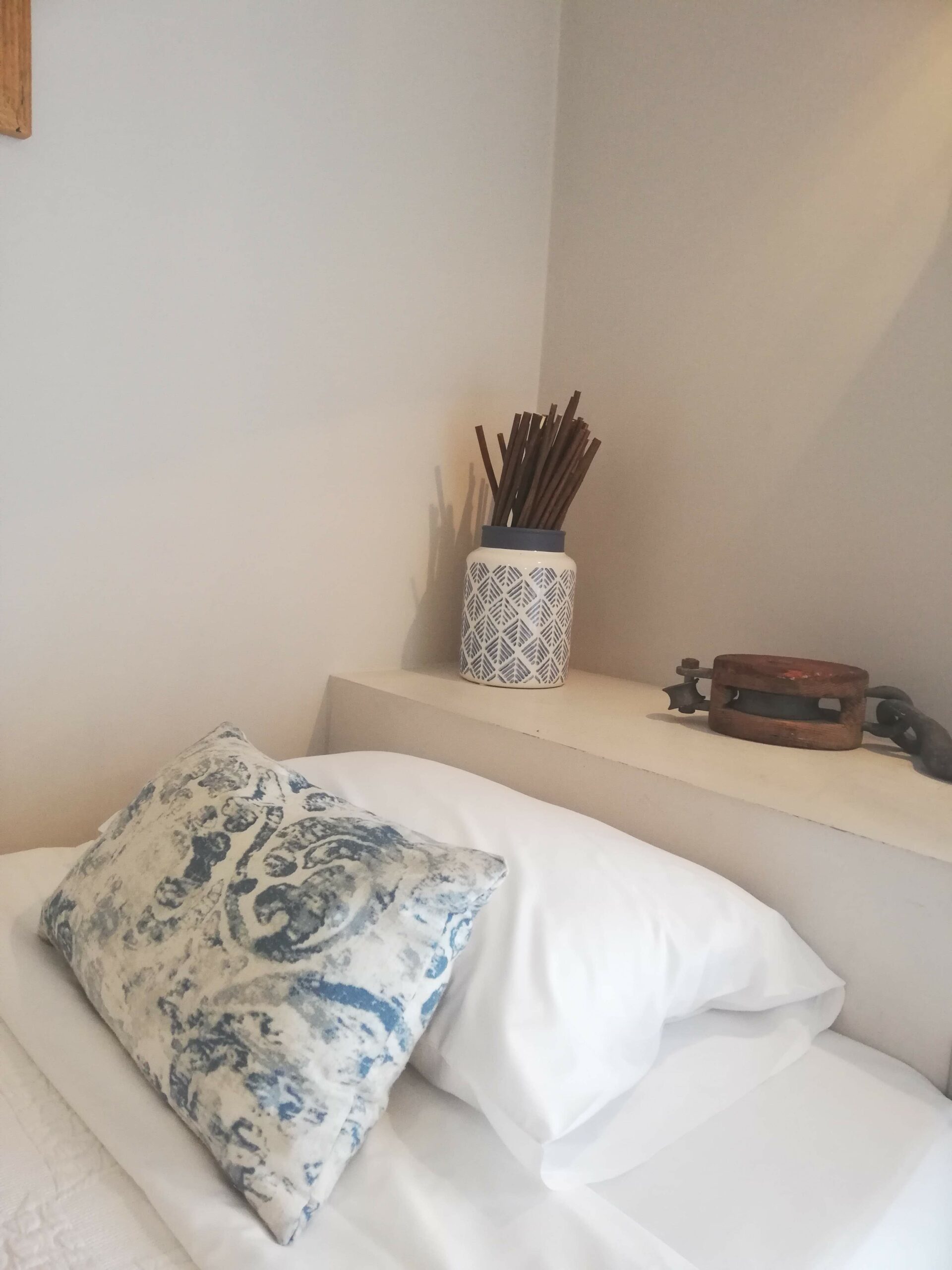 Our large two-room modern suite, offered a spacious well-equipped kitchen and dining area, a modern bathroom, a large sitting corner with games and books and three balconies.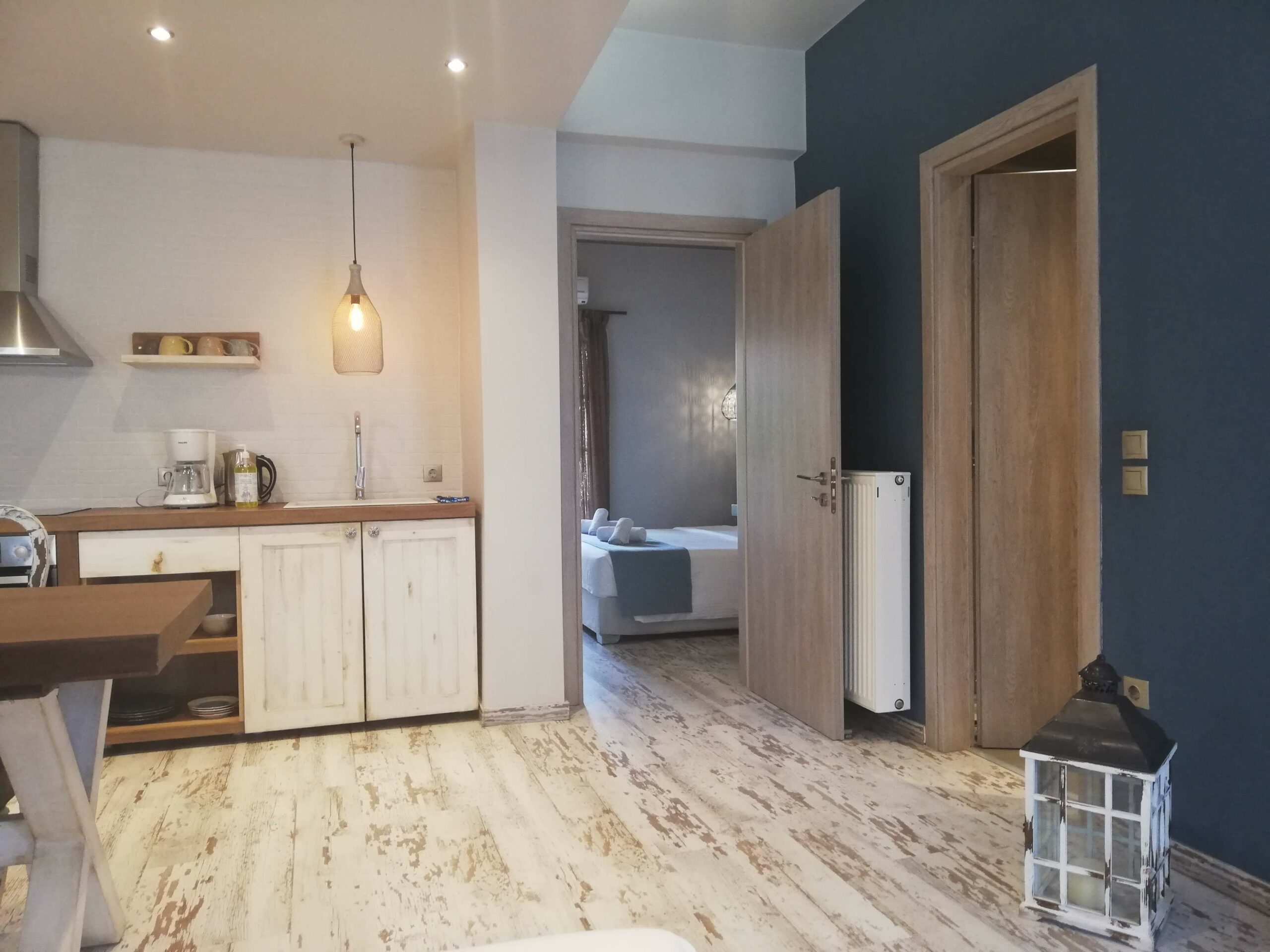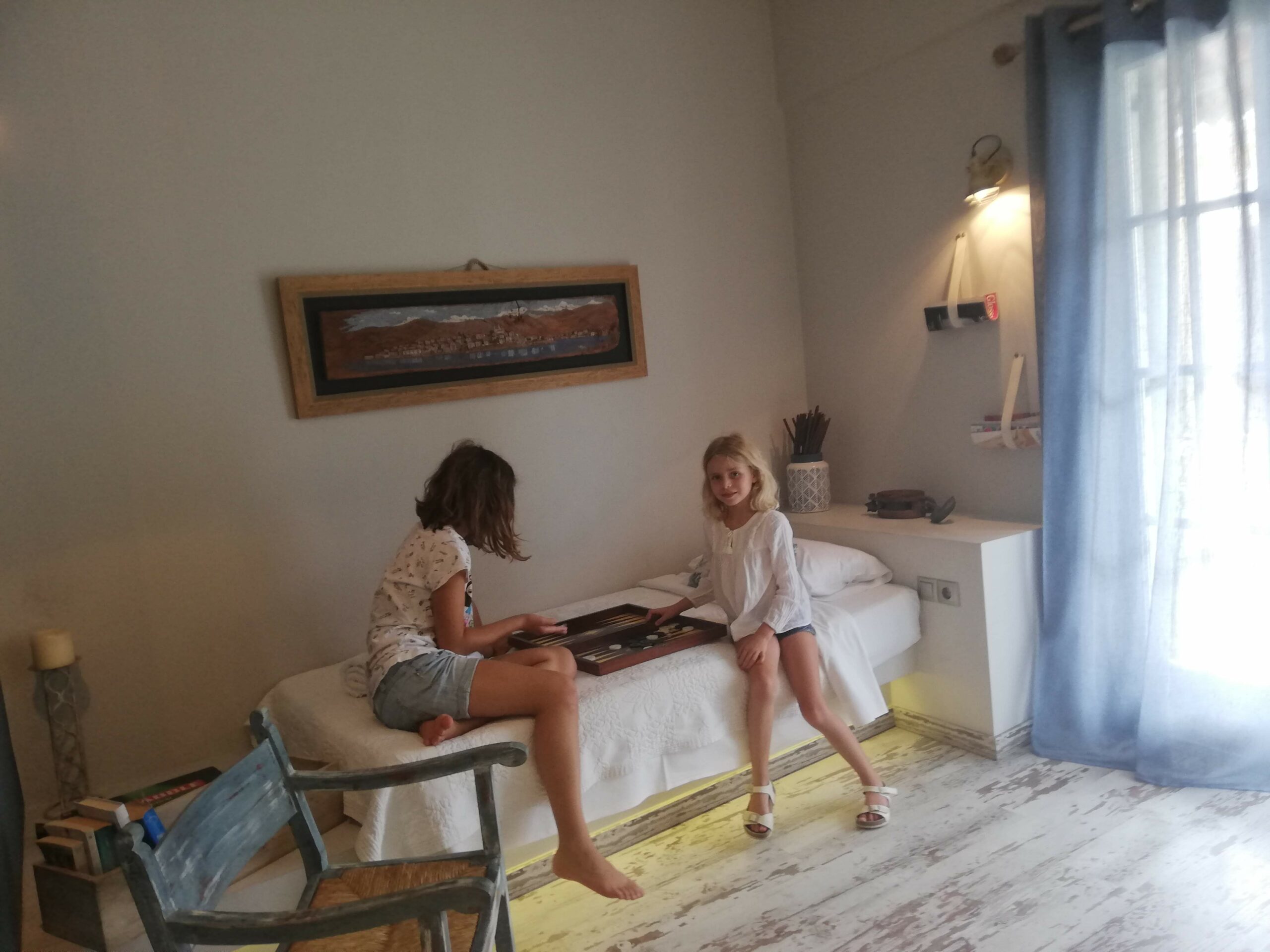 Click here for an interview with Chrisoula Papalexi, the owner of Ganimede Hotel. Chrisoula prepares jams, spoons sweets and cakes in the home recipes of her grandmother. We also talked about Ganimede's philosophy and its family-friendly cooking classes and activities.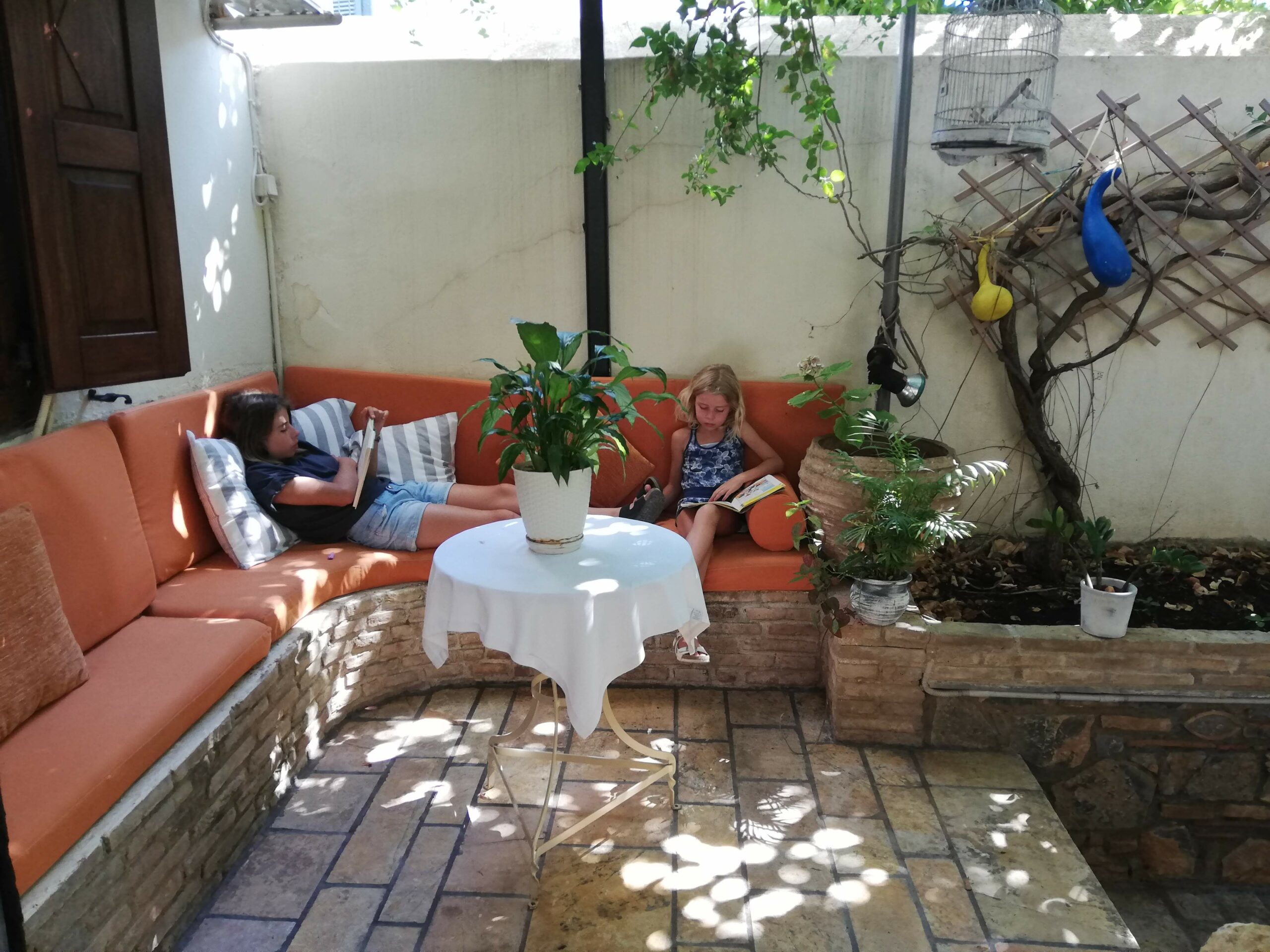 For more information and booking Ganimede Hotel Galaxidi, please contact [email protected] or the hotel directly at (+30) 2265 041328. Readers of Family Experiences Blog or offered a small gift.
How to get there?
Driving to Galaxidi from Athens takes roughly 3 hours, at a comfortable pace, either via Arahova (curvy road) or Distomo and Desfina.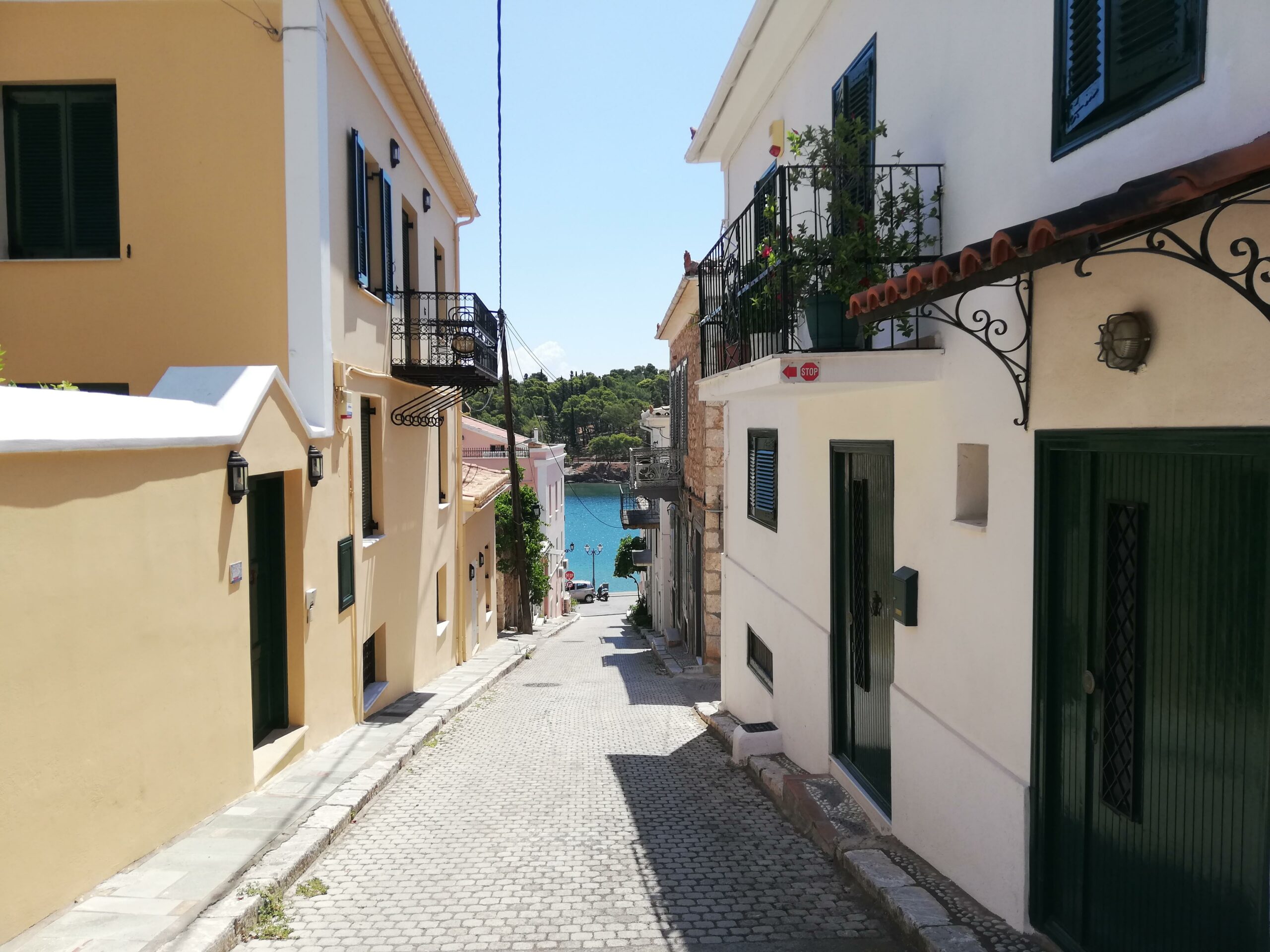 Galaxidi is a destination that's perfect for an eco friendly/family friendly weekend break or longer stay. Beautiful neoclassical houses, old captains' mansions, picturesque ports and the charm of a non-commercialized town are some reasons why I believe that you should visit. Ideal for a short getaway, as well as for quiet family vacations, Galaxidi may also serve as a launching pad for family visits to Delphi. This relatively unknown gem has won our hearts!
Have you been to Galaxidi with the family? I'd love to hear about your experience!