Last Updated on October 8, 2022 by Celeste.
Poros Island with Kids
Are you looking for a family-friendly island close to Athens? Think of visiting Poros. Just an hour and a half away by speedboat, or 2 and a half by ferry. It's a lovely place to visit with many activities for families and lovely beaches! We visited Poros island with kids and created this family guide.
Where is Poros island?

Poros is actually made of two islands. They were called Sphería and Kalávria in antiquity. But during the last explosion of the Méthana volcano on mainland Greece nearby, the morphology of the area changed a lot and brought the islands closer. The two islands are now connected by a bridge over a narrow channel. Poros lies very close to the Peloponnese or mainland Greece.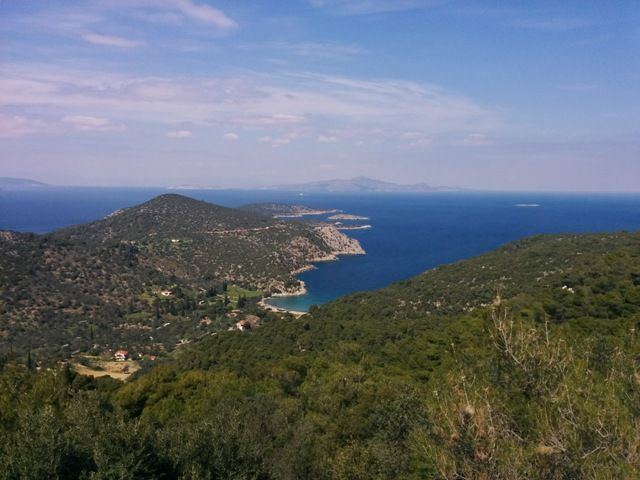 Poros Town, the island's capital, is located on Sferia. This is a 450m-wide strait, busy with many fishing boats, sailing yachts, catamarans, and separates Sferia from mainland Greece and the Peloponnese. The town is built in the shape of an amphitheatre.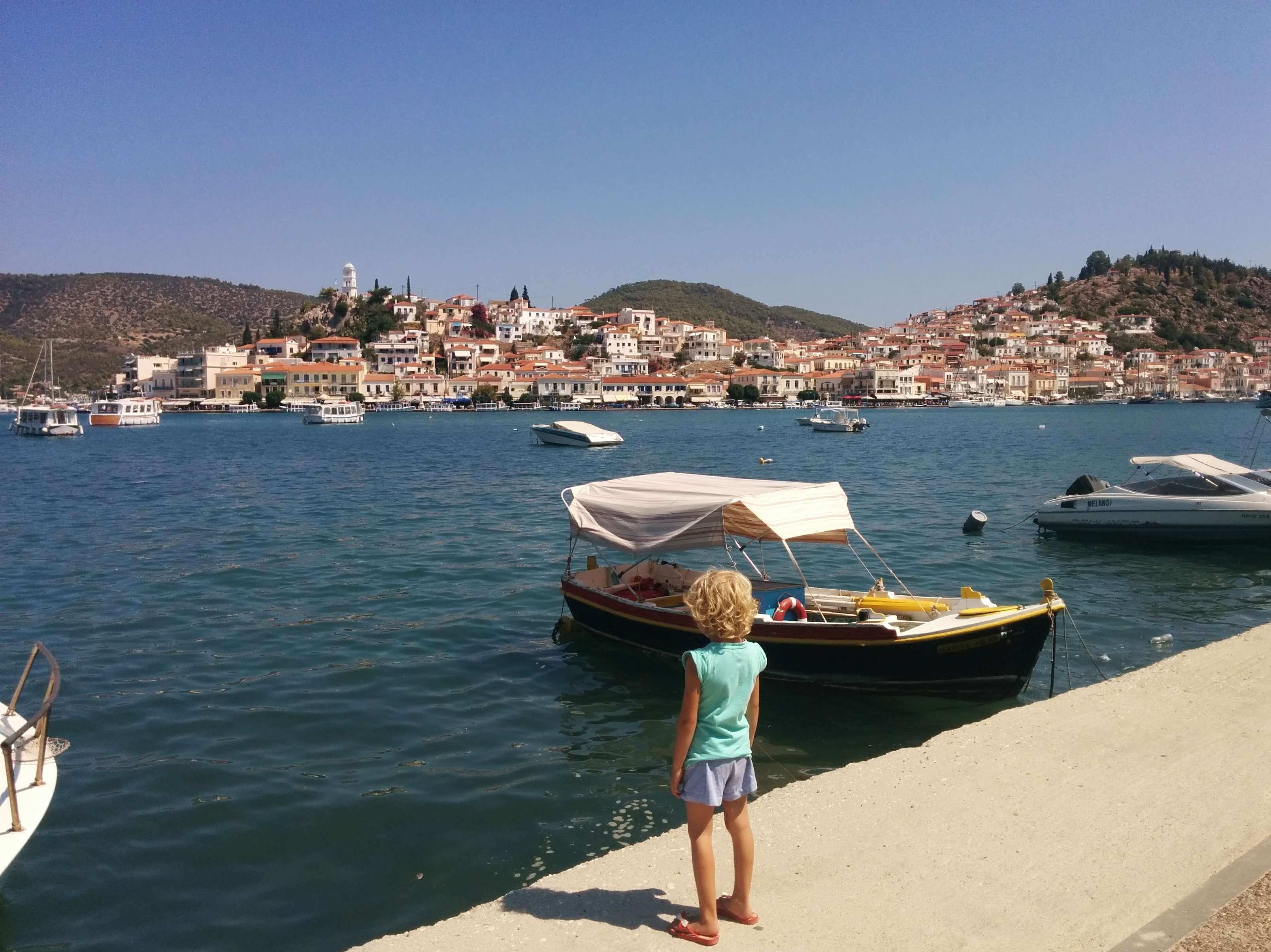 Things to do in Poros island with Kids
A walk in Poros Town
Poros Town is a charming place with magnificent neoclassical buildings and picturesque corners. The town's waterfront-lined with fish taverns, cafés and bars is a lively meeting place for locals and tourists alike. Make a walk around the port in the evening and you will meet people from all over the world.
Climb the Clock Tower
A must-do is to climb the Clock Tower (1927), the town's most famous landmark. The climb is not suitable for a stroller or very young children but if you manage to get up there with older kids, the panoramic views are fantastic!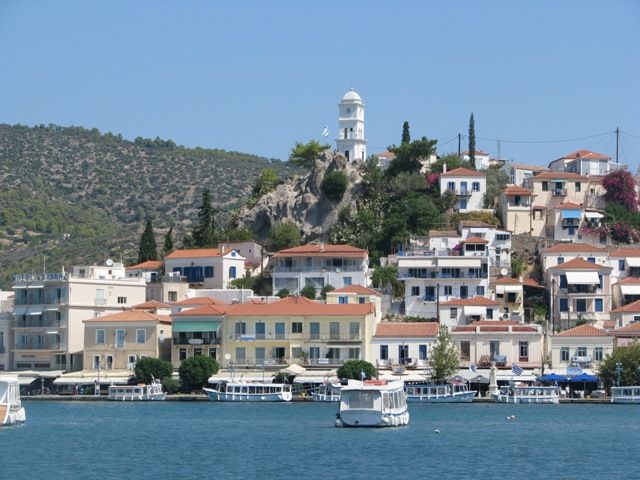 The Poros Archeological Museum
Did you know that Socrates lived on Poros island? For an educational experience, it is worth to visit the Poros Archeological Museum in Poros Town. Its collection includes finds from the excavations of the Swedish Archaeological Institute at the sanctuary of Poseidon, located on the sister-island of Kalavri.
Visit the Poros Poseidon temple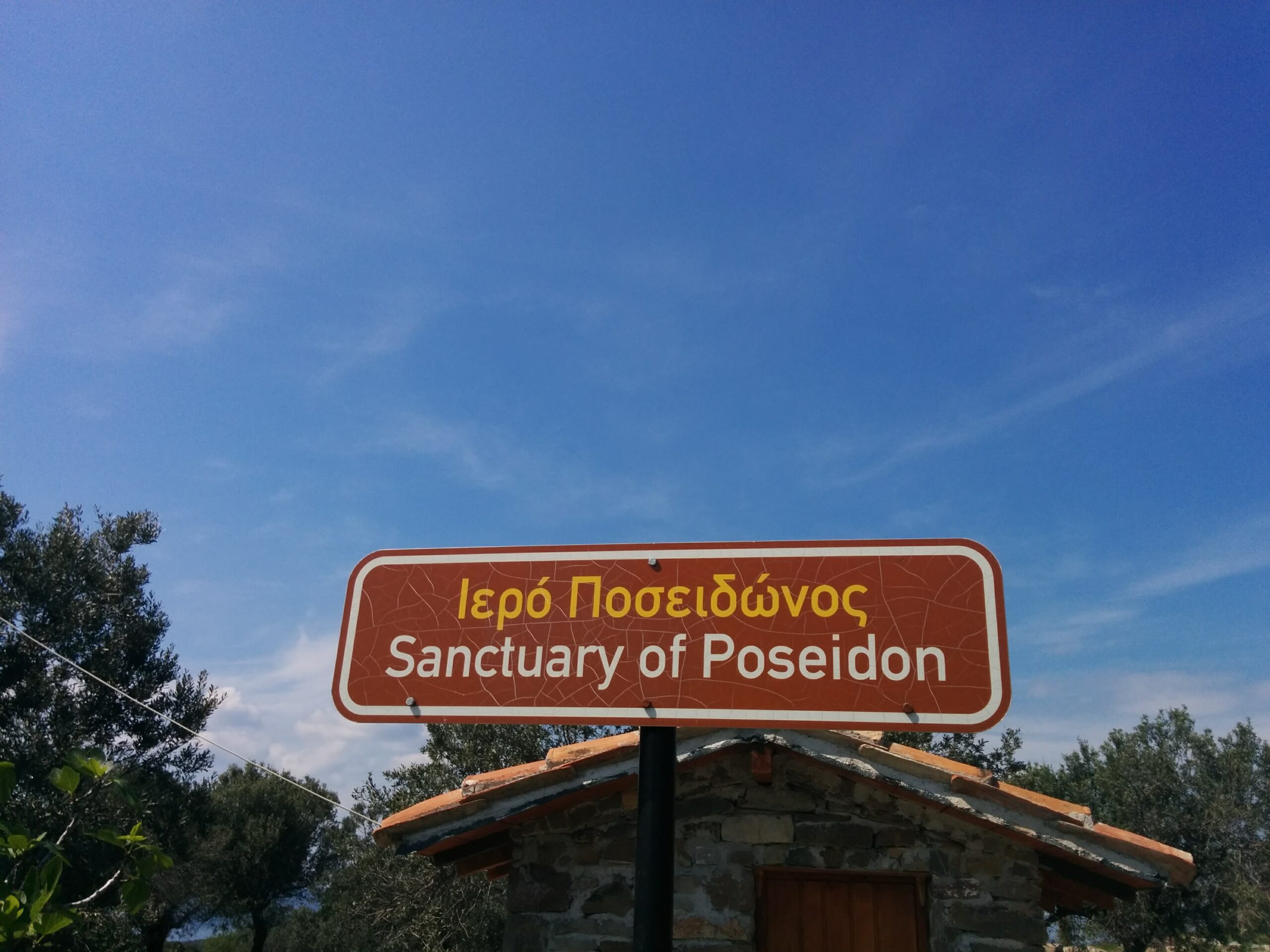 As with many Greek ancient sites, the sanctuary of Poseidon is located on an extremely beautiful spot on top of the mountain Prophet Elias in the middle of the island (about 6km out of town). If the weather is clear you can see all the way to Athens. It is a very small archaeological site, always open and there is no entrance fee.
Visit the Monastery Zoodochos Pigi
This very picturesque monastery is located 4 km out of the town and lies on a green hill surrounded by pine trees. It has a beautiful view of the sea.
Sailing Poros island with Kids
Thanks to its natural, well-protected harbor, Poros is very popular for family sailing vacations. There are many organizations for sailing vacations and yacht charters.
Family Sailing Adventure to Poros and the nearby islands
If you are based in Athens and want to visit Poros and the nearby island, consider an island Day Cruise. These cruises take you to the islands of Hydra, Poros and Aegina. They serve food onboard and often have live entertainment, making it a fun way to explore some Greek islands in a short time. We took such cruise a while ago, you can read our tried and tested experience here.
For more information and tickets for a One Day Cruise to Poros and other islands, please click here.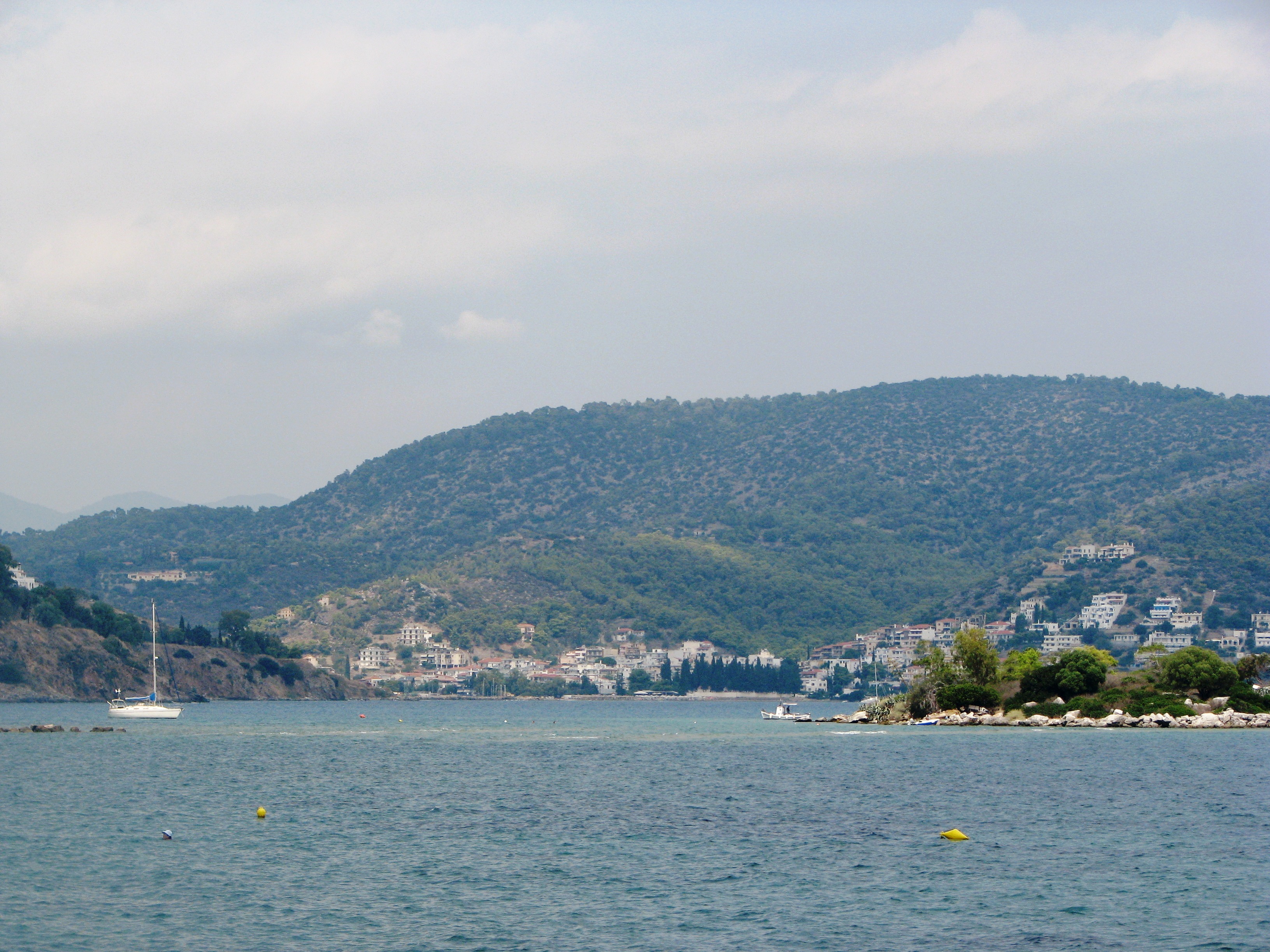 Beaches in Poros island with Kids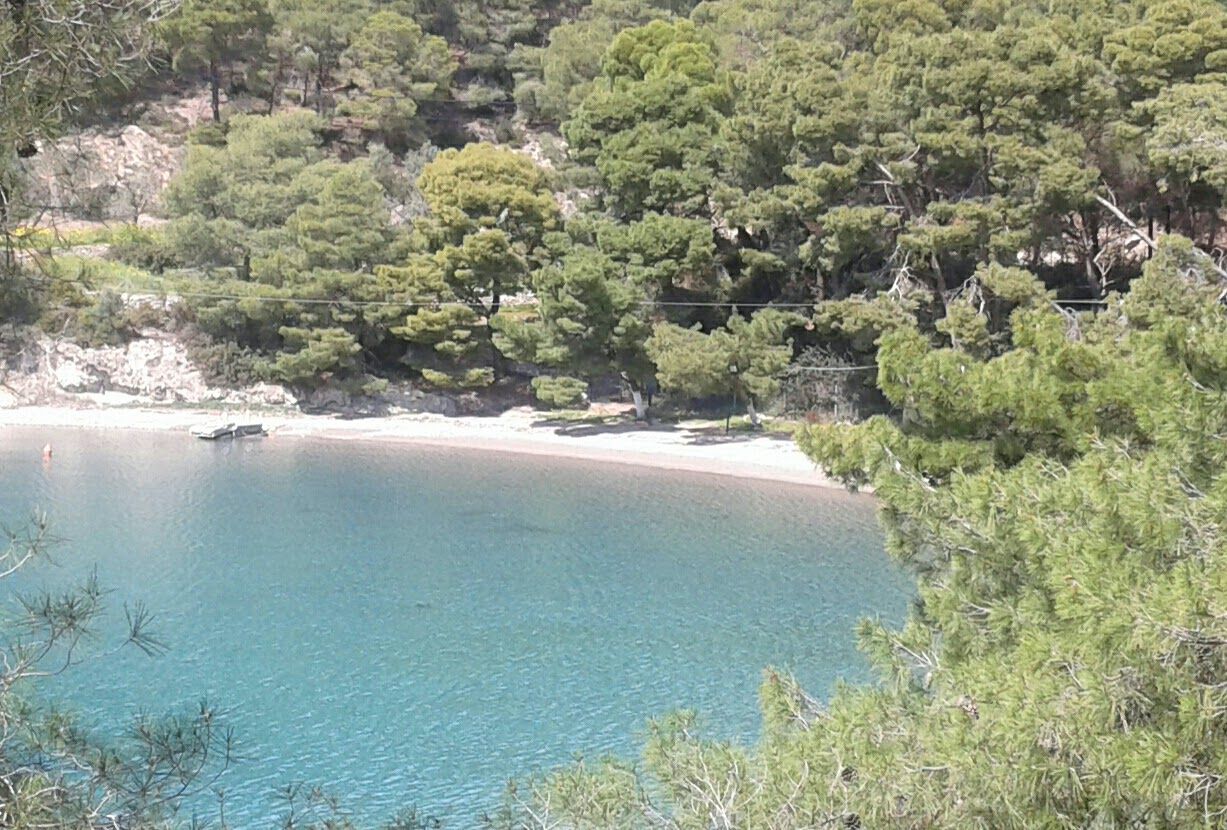 Regardless its small size, Poros has several nice beaches to choose from, the majority of which are located on Kalavria. The best for families with young children are:
Askeli beach – a postcard beach and an all-time favorite for families. An organized sandy beach with a beach bar, crystal clear waters, and water sports
Monastery beach – again, crystal clear water, quiet and small
Poros beach – sandy beach with calm shallow sea
Love Bay – A tiny cove with pine trees hanging over the water
Beaches nearby
Around Galatas are two family-friendly sandy beaches
Aliki beach – a protected bay with an organized beach. The sea is shallow and calm
Plaka beach – An organized beach with beds and umbrellas and a beach restaurant
Pebble beach & Katinais beach bar
Our favorite one and a must-visit if you are on vacation in the area is Pebble beach. In fact, its bar, Katinais beach,  was listed in the 10 best beach bars in Greece this year by The Guardian. It is not perse a family place but so cute and colorful, your kids will love it. Parents will love the Mojitos with homegrown limes and mint.
The beach is one of the most beautiful in the region and about 20-minute drive from Galatas. It is called 'pebble beach' by the locals. You need to make a small hike down the mountain, my five-year-old managed just fine. The beach is pebbled with crystal clear turquoise calm water. There are no sunbeds or umbrellas. Lots of kids jumping down the small cliffs in the water here, including my 8-year-old daughter!
Natural Poros
In the spring of 2017, I had the change to visit Poros island with the teams of Paths of Greece and Natural Greece. I realized that Poros is great for autumn and spring too. Paths of Greece has set up an amazing network of hiking trails. Spiros from Paths of Greece explained to us how the two different sides of Poros island each have their own vegetation and character and how to discover these. He also showed us that Poros is great for hiking. Families with teens can consider hiking in Poros and volunteering. Natural Greece offers a Hiking & Volunteering vacation on Poros island. This means cleaning and maintenance on the stunning walking paths of the island.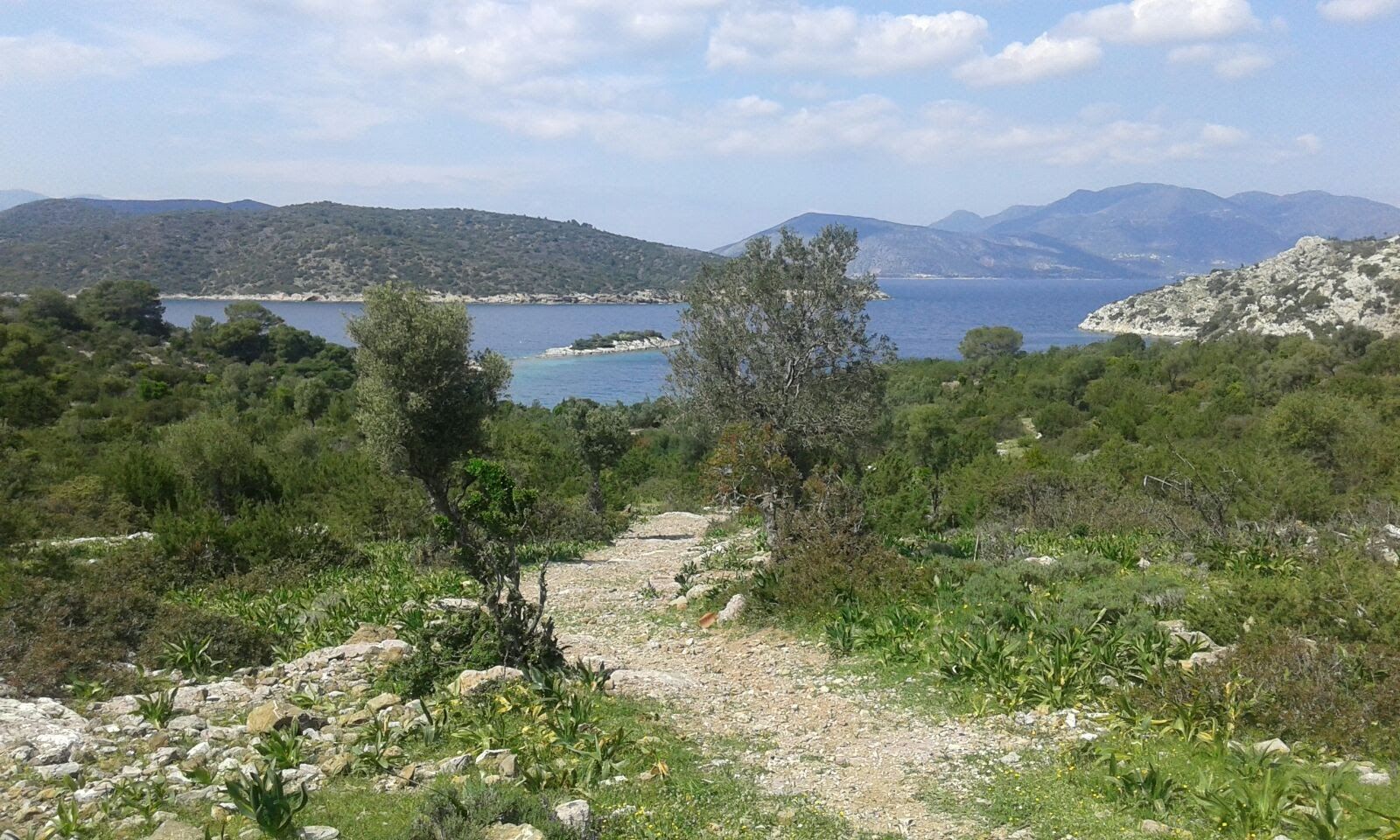 Nearby Poros things to do with kids
Port of Galatas discovery
The hustle and bustle in the port of Galatas is an attraction all day long, the Galatas boulevard is ideal for cycling and walking. Make a nice walk along the boulevard and stop at the Galatas public playground for play with great views.
The Lemon forest in Galatas
My kids were amazed by the many lemon trees everywhere around Poros and Galatas. There is an actual lemon forest called 'Lemonodasos Poros'. This is a lemon tree grove on a hill on the Peloponnese mainland (administratively it belongs to Poros Island hence the name) with more than 30,000 lemon and orange trees. The view from the hilltop to the island of Póros is really stunning. Don't forget to try some of the local sweets based on the lemons and oranges.
A safari to the Psifta wetlands
A must visit with your kids during your vacation in Poros or nearby are the wetlands of Psifta. These wetlands are a few kilometers from Galatas and very important for bird watching. Rare bird species stop for a few days in Psifta while on their way to Africa.
Flamingos
It is also the home of the amazing salmon-colored flamingos. We spotted them both in spring and summer, and it was a very special sight.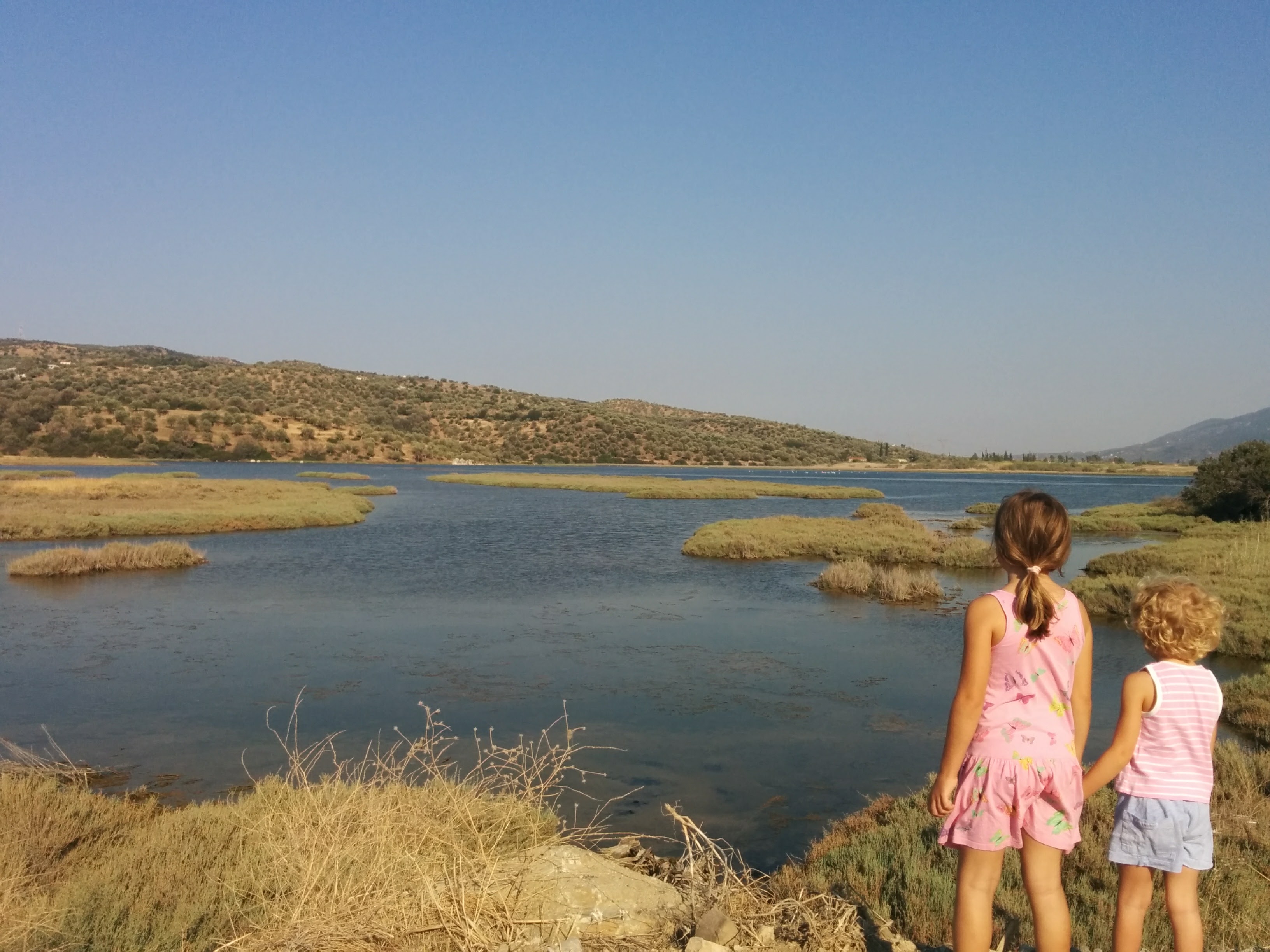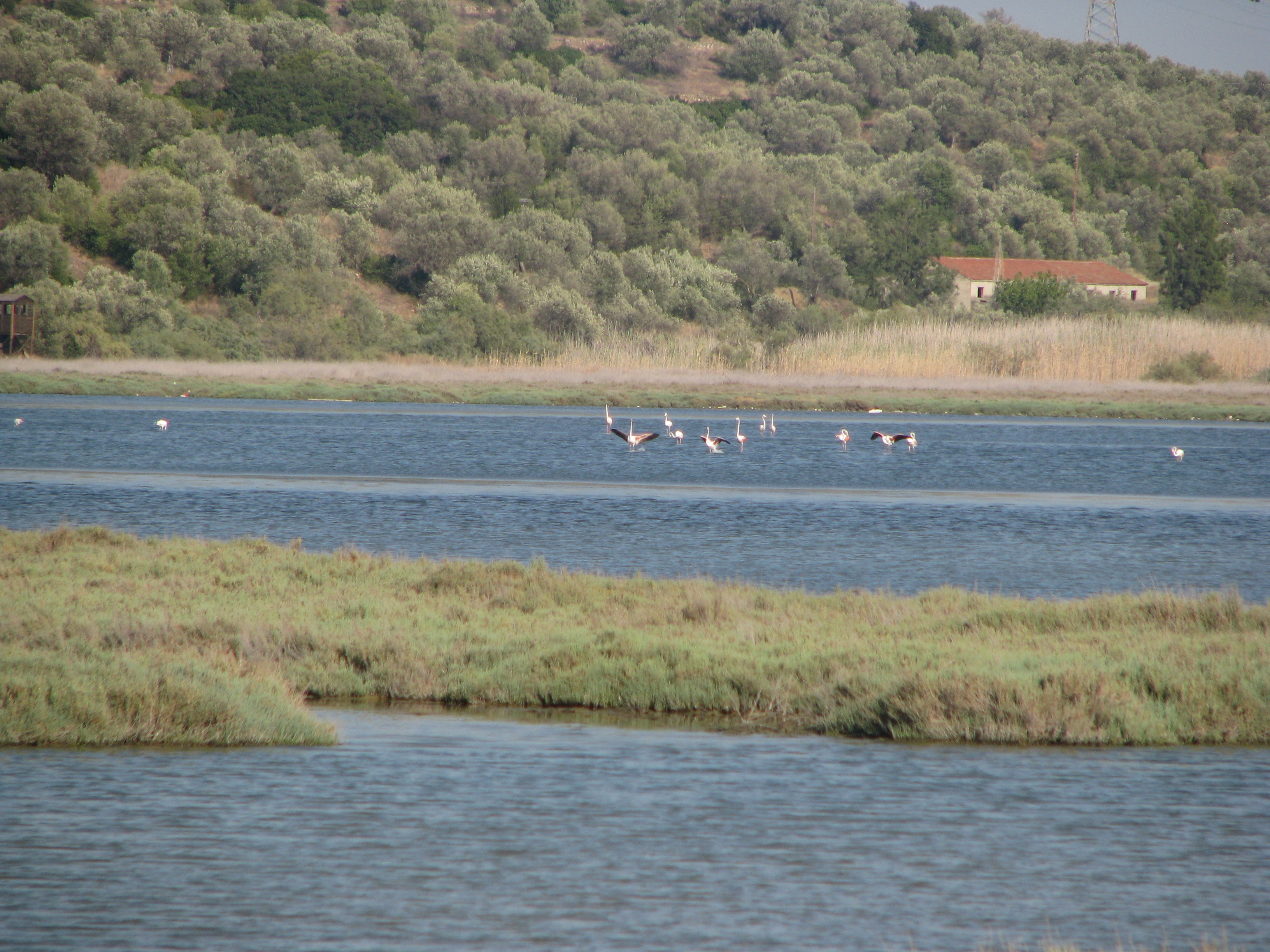 Devil Bridge picnic
Just outside the town of Trizina on the mainland (in 15 to 20 minutes by car from Galatas) is the gorge of Diavologefiro or Devil Bridge. A bridge takes you over the gorge, 35 meters above the stream, where once the Devil is said to have demanded a toll from those who would pass by. It has wonderful scenic views, a waterfall, and a mountain stream and is an ideal quiet and cool place to have a forest picnic.
The Ancient Theatre of Epidaurus
Another must visit for older kids and not only because of its archeological importance. From June until August there are various music and dance performances and festivals in the Ancient Epidaurus Theatre.
Where to stay in Poros with Kids
Glamping at the Odysssey's Farm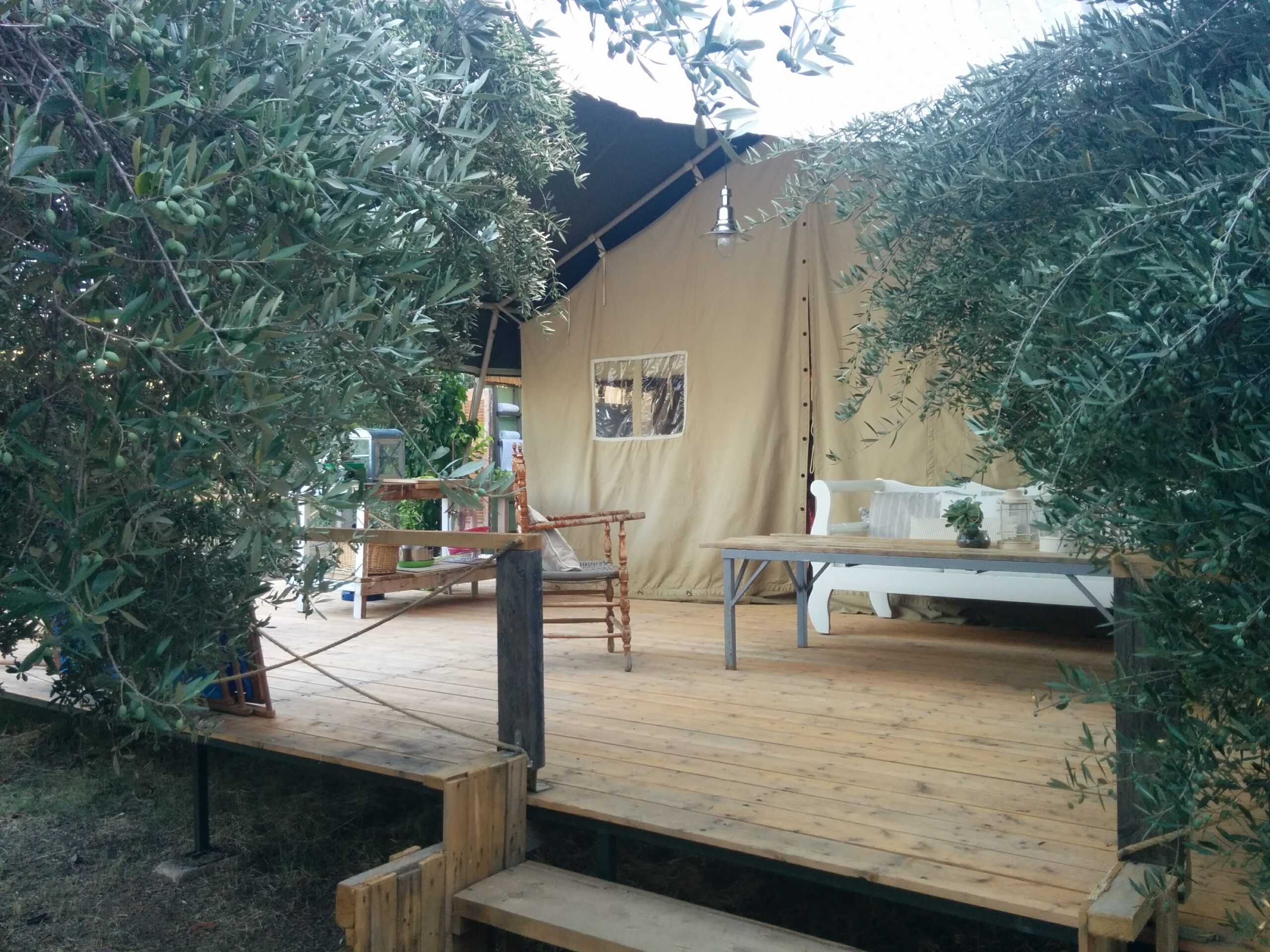 If you want to be as close to nature as can be but still enjoy the comforts of an apartment or hotel, I would recommend trying glamping. We had an unforgettable family experience glamping in the olive gardens of the Odyssey's Farm Resort near Galatas. We stayed in a large well-equipped canvas lodge (or safari tent). Not only did we have a real farm experience, but we also enjoyed an amazing view over Poros from our campsite beach.
Getting around in Poros
There are frequent bus services from Poros Town to some of the beaches. Taxi rides are reasonably priced and in most cases, rates are fixed. If you prefer to rent a car, there are only rentals in Galatas on the mainland. Mind you that parking in Poros Town is difficult. For the area of Galatas, you will need a car or you can book organized excursions to many of the highlights.
Poros island – How to get there
To get to Poros island with kids, you have several easy options. You can go by car to Galatas (2,5 hours from Athens) and take the ferry. There are frequent ferry services that operate the 15-minute crossing from the town of Galatas to Poros Town. You can take your car on the car ferry. It leaves from Galatas every half hour. Costs are 5 Euro for the car. The ticket service is next to the ferry on the dock.
Here you can find prompt information about ferry schedules and prices
Another option is to park your car in Galatas and take a water taxi from Galatas. It operates 24/7. It will drop you off downtown, and the fee is to be paid to the boatman when you enter the boat (costs 1 Euro one way) You can also take the ferry or hydrofoil directly from Piraeus port in Athens. There are also boats from Methana, Hydra, Spetses, Aegina, and Agkistri to Poros.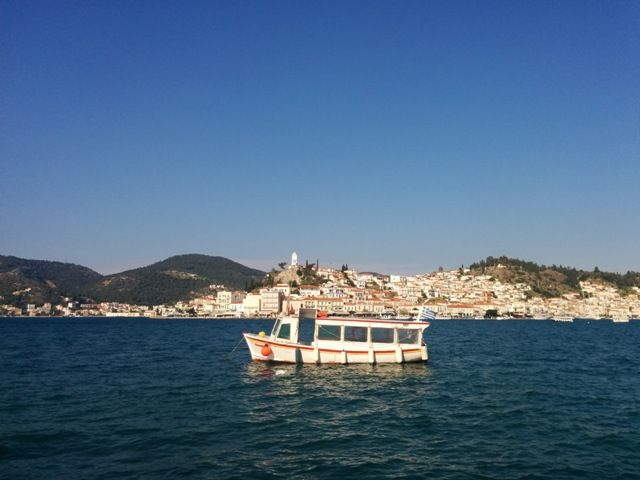 Have you been to Poros island with kids and what was your favourite family activity? I would love to hear from you and add them to my list!
Pin it for later!