Last Updated on January 26, 2023 by Celeste.
Celebrating Thanksgiving in Athens, Greece? American Thanksgiving is typically held on the fourth Thursday of November, which is this year on 28 November. So if you don't feel like cooking, there are dinners being organized by American-affiliated groups, schools and some major hotels in the cities of Thessaloniki and Athens. Each year, I gather the menus of my favorite places in Athens.
From all-day lunch/dinner at the elegant GB Roof Garden Bar and the mouthwatering buffet at the Byzantino Restaurant complete with a turkey carving station to mind-blowing Acropolis views at the St. George Lycabettus Hotel (featured photo) and comforting pumpkin pies at the casual Athenian Hard Rock Cafe.
St. George Lycabettus Hotel
For one of the best views over Athens and the Acropolis, celebrate Thanksgiving at the St. George Lycabettus Lifestyle Hotel in Kolonaki. The menu includes: pumpkin soup with sour cream and fried pumpkin seeds, salad greens in a nest of rustic bread with corn and vinaigrette, roast turkey with stuffing, cranberry & gravy sauce, sweet potato cream & brussels sprouts and Apple pie with vanilla ice cream. Price: 35 Euro
In order to make your online reservation please click HERE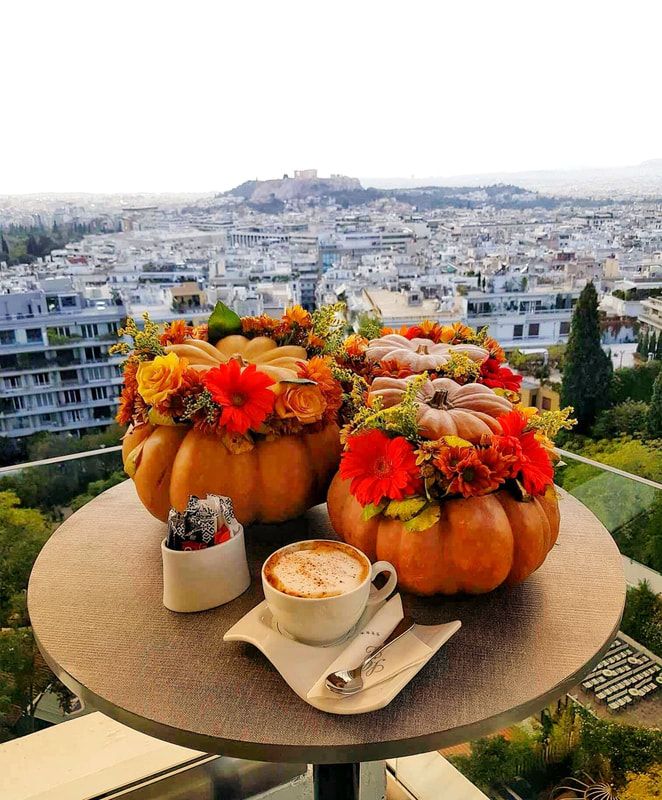 Lunch and Dinner Buffet at Byzantino Restaurant
Thanksgiving in Athens at the awarded Byzantino restaurant at the Hilton Athens Hotel means an impressive over the top lunch and dinner buffet with a dazzling array of starters, salads, seafood dishes, soups, side dishes and a long list of desserts. Thanksgiving Menu ➡ http://bit.ly/ThanksgivingHilton. Price: 45 Euro
For reservations and more information, please call +30 210 7281 400 or email [email protected]
Premiere at InterContinental Athenaeum Athens
This year celebrate Thanksgiving in Athens at the award winning Première rooftop restaurant. Savour succulent cuisine accompanied by select wines and dazzling Acropolis and Lycabettus views.
For reservations call at 210 9206981. See the menu –> http://bit.ly/2Q6CWSw.
Hard Rock Cafe Athens
Celebrate Thanksgiving in Athens with a special festive Thanksgiving dinner. Enjoy a special set menu, 2 course combined menu or 3 course combined menu all day long with: thanksgiving turkey with all the trimmings, pumpkin Pie
and Espresso Martini. Choose your preferable combination and enjoy the day. Set prices. Kids can choose a kids meal at 9.95 euros. For reservations, call +30 210 3245170 or email at [email protected]