Last Updated on March 13, 2023 by Celeste.
Athens airport with kids is easy to navigate. I have been flying with my kids from and to Greece countless times since they were both newborn babies, so I believe my tips can be valuable.
If you are visiting Greece from abroad, you are likely to arrive at one of Greece's 15 (!) international airports or (mostly in summer) one of its 27 (!) national airports. The busiest is the Athens International airport (or AIA) called "Elefthérios Venizélos". It operates since 2001 and serves as the hub and main base of Aegean Airlines as well as other Greek airlines.
Update 2023: The airports of Athens and Thessaloniki have been recognized among the best worldwide for offering excellent customer experience by the 2022 Airport Service Quality (ASQ) Awards program, that were announced by the Airports Council International (ACI) World and travel technology company Amadeus.
Athens airport with kids
I have been navigating the airport since my kids were 3 months old. Often by myself, with a stroller, a baby carrier, and lots of stuff. I have always found it pleasant traveling from and to Athens airport. People are accommodating towards families and it is safe. Here I have listed the 10 reasons why I believe that Athens airport is an easy-to-navigate airport with the kids:
1. Location
AIA is located in Spata area and can be reached within a half hour from every part of Athens town. It is also near several beaches and holiday destinations in the South and East Attica area. If you have the time before your flight, you could have a swim at the nearby beach or visit one of the many retail parks and designer outlets in the area.
2. Easy to reach by road and public transport
We usually go to the airport by train or car. The train arrives at a 5-minute walking distance from the departure terminal. We can also be dropped off right outside the departure terminal and only need a 5-minute walk to the check-in counter. If we park at the 'short-term parking area' (the first 20 minutes are for free) we require 10 minutes more by foot to arrive at check-in.
3. Design
The terminals of the Athens airport are modern, spacious, clean, and safe and there is lots of daylight coming in.
4. Size
Athens airport is relatively small and people are spread out. (In comparison with big hub airports elsewhere in Europe) In the summertime, you will find waiting lines at some check-in counters, but in general, this is not a busy airport because people are spread out before security checks.
5. Airport staff is helpful toward children
In no other European airport have I been helped at security check-in as much as I have here in Athens.  Athens airport with kids is comfortable, children are approached with respect, and we are always accompanied by a staff member through a priority lane. During all our flights in the busy summer of 2019, we have not waited in line for security but were helped to pass from a separate entrance where our passports and boarding cards were checked manually.
6. Kids club makes Athens airport with kids fun
The playroom is located on the first floor and is designed for children from 1,5, until 8 years old. The children have to be accompanied by a parent at all times, and you will need to show your passport and boarding passes. There is a soft play corner for the little ones and toys, books, and handicrafts for the older children.
7. Babies
Clean baby changing rooms in both public and passenger parts of the airport and there are fountains everywhere to fill our water bottles
8. Museum
There is a small exhibition on the first floor (next to the play area). It is always a nice distraction while we are waiting for our flight. The collection houses many ancient artifacts which were uncovered during construction work at the site of the airport
9. Great views
10. The sun is always shining in Greece
Arriving back at Athens airport makes us feel happy: its sunny, and we are home!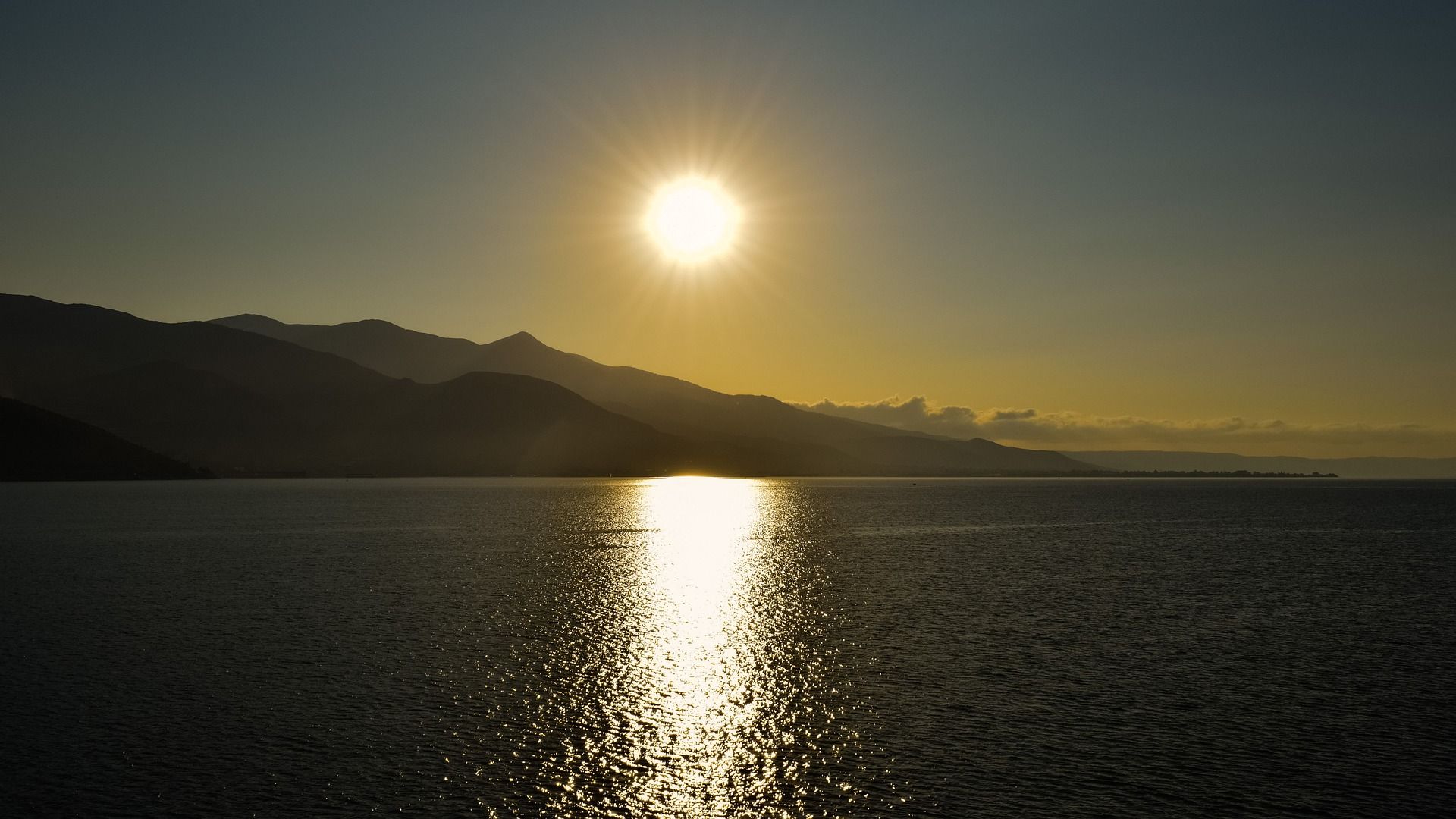 Stay at Athens Airport
There are 2 good family hotels near the Athens airport, both with family rooms and kids' facilities.
Athens Sofitel Hotel
The first one is Athens Sofitel Hotel, located at the airport at a 2-minute walk from the departure hall. A luxury choice with many open spaces, restaurants and bars for a very relaxed stay. My kids love the desserts and sweets at the ground flour lobby. The best choice if you don't want the hassle of leaving and arriving at the airport. Click here for more information and to book your stay.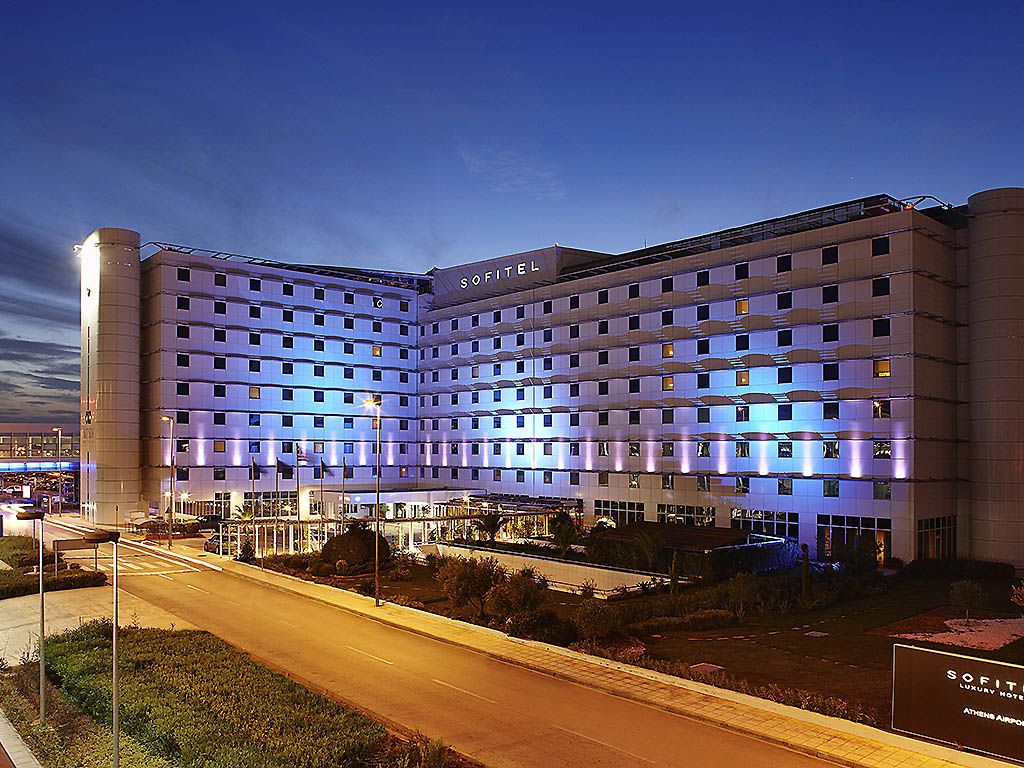 Athens Holiday Inn
The second one is the Athens Holiday Inn. The Holiday Inn requires a 10-minute taxi ride from the airport but it is actually really close. The hotel features an indoor pool and gym, many family rooms, and is in close proximity to the major Athenian shopping malls. Beautiful views over the Athenian landscape from all rooms!  Click here for more information and to book your stay.
How to get to Athens Airport with Kids?
Airport Train
A railway station is immediately adjacent to the airport terminal, accessible by an elevated walkway. Athens Metro line 3 and the suburban railway service Proastiakos run trains to and from this station.
Road
The airport is accessible by the Attiki Odos toll highway from the center and northern Athens, Varis-Koropiou Avenue from the western part, Lavrio Ave. from the South, and Spata-Loutsa Avenue from the East. A variety of parking options are available on-site at the airport in three different parking lots.
Located at the arrivals level, opposite the airport terminal, the airport offers short-term parking for maximum of five hours with 1,357 parking spaces available in lots P1 and P2. Long-term parking is located across the airport's main access road (Attiki Odos) with 5,802 parking spaces in lot P3. A free shuttle bus is available there to take you to the terminal. Premium valet service is also offered at the Departures.
Taxi
Upon your arrival, taxis are available at the designated Taxi waiting area located by exit 3 of the arrivals level. Limousine service is also available upon request by the inner curbside of the arrivals level between exits 3 and 4. Taxis can drop you off at Departures right outside of the check-in counters.
Bus
Families with older kids may opt for the airport bus. Four bus lines connect directly to the Athens greater area, the intercity bus stations (KTEL Kifissos Bus Terminal and Liosion bus terminal), and Piraeus.
Buses disembark passengers at the departures level, again, right outside the check-in counters, and depart from the arrivals level between exits 4 and 5.
What is your experience of Athens International airport?
Did you like this post? Pin it for later!