Last Updated on November 24, 2022 by Celeste.
We much enjoy playing games. It is a great way of spending quality time with the kids. Memory, UNO Mastermind, these are just a few in which my kids beat me regularly! We also enjoy crafts and arts during our vacation. When we travel, we always make sure we carry a couple of our best travel games for kids with us no matter what trip we're on.
Best Travel Games for Kids
Because travel isn't all about beautiful beaches and exciting adventures. Sometimes we need a bit of downtime and relaxation. Other times we want to meet new kids to play with or pass the time in a restaurant. And believe it or not, there are plenty of situations where we even get pretty bored (think waiting at the airport).
Travel games are the perfect way to pass away a few hours in an airport, entertain ourselves after a long day of exploring, and even make new friends. If you're wondering which ones should make it into your backpack, we've put together a list of the best travel games on the market right now.
How We Chose the Games that kids will Love
How did we choose the games for this list? We simply selected our kids' favorite games. Tried and tested by our kids (Natassa's boy and girl and my two girls) aged between 9 and 13 years old.
We also watched them play these games with their friends at home, or on the beach over many summers. And I see what they pack when we head out to meet friends in Athens.
This list sums up the games that they add to their hand luggage for flights and boat trips, press trips, or blogger familiarization trips. Our travel friends come from all over the world, so the list is a pretty good international representation.
In fact, the inspiration for this post came during a recent trip to Amsterdam. Meeting up with another family that we had not seen for a long time, my kids were a bit anxious about meeting the kids. But their worries proved unnecessary because as soon as UNO came out of their bag, the ice was broken. The kids spent a wonderful afternoon together playing games, while the adults had time to talk and catch up. lunch.
So, whether you're planning a spring outing to the nearest park, a beach vacation to the Greek islands, or a lazy day at the beach, read on for my top picks for the best travel games to add to your family game night repertoire, at home, and on vacation.
You'll be a winner even if you lose. In this post, we have selected our kids' favorite games, that come in convenient, travel-size packages.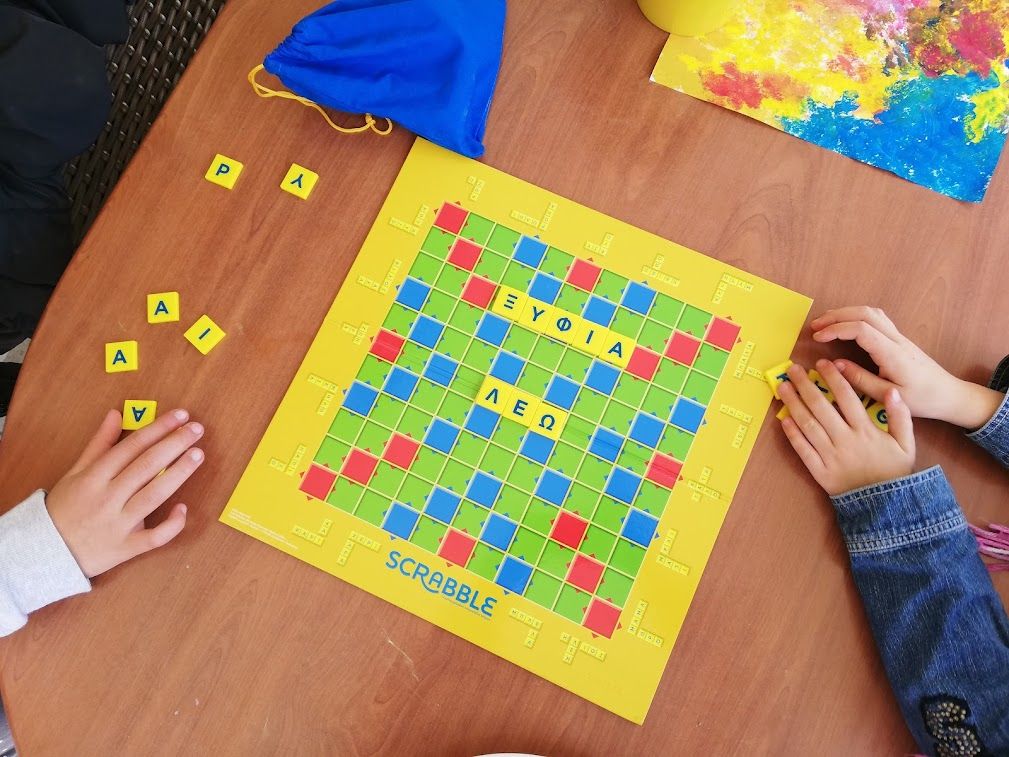 Important considerations for a Travel Game
The main considerations we have for choosing a game to take on the road are the game's size, weight, and portability. All of these mini-travel games tick those boxes. Moreover, to be considered one of the best travel games, they have to be awesome fun to play. By choosing only tried and tested ones, we've covered that too!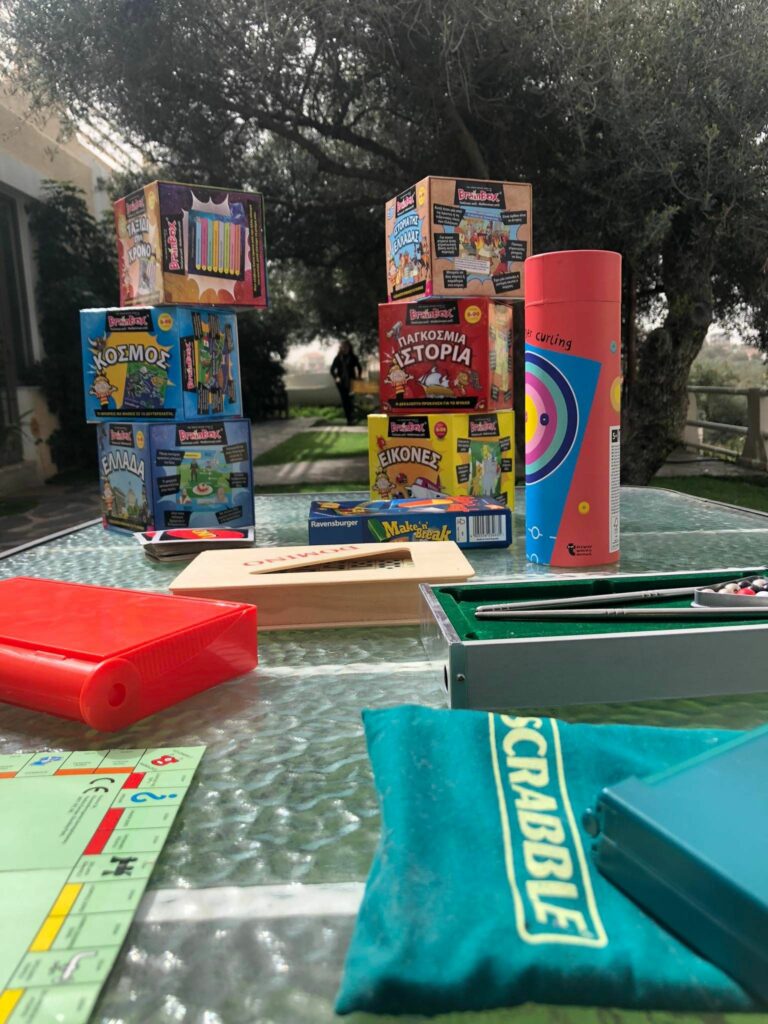 This list is broken down into helpful categories depending on what you're looking for. It covers the best travel games for kids according to age, the best travel crafts, the best Greek Mythology travel games, and the best game for adults.
I have also included some of our favorite craft items. Because with two tiny 'artists' in the family, a simple travel drawing pad or notepad has always proven to be a success where ever we go. Even if it is just for a simple game of hangman or tic-tac-toe. Scroll down for the sum-up of our favorite games!
Here are the Travel Games that Kids will Love
A must-have bestselling game for everyone's travel bag! UNO has been around for almost 50 years, but it never gets tired. The basic idea is to get rid of your cards before anyone else, as players take it, in turn, to put down or pick up cards that correspond with the color or number that's on top of the game pile.
What I especially like about UNO is the fact that language does not play a role. Kids from different nationalities can still play without sharing the same language. Children all around the world are familiar with the game. But even if they are not, they can understand the game quickly.
Ages: from 7 years and up, Number of Players: 2-10
For more information and prices of the games in this post, please click on the green highlighted names.
A classic game, known in most parts of the world and easy to understand for even the youngest traveler. Language plays no role during this Purple Cow game of Tic Tac Toe. Although it is a game for only 2 players, I recommend you to have one ready for your next adventure.
The Travel Tic-Tac-Toe Game includes magnetic game pieces, a tin case that opens to become the game board, and the rules and instructions on the back of the case. It also contains a four-in-a-row option!
Ages: from 3 and up, Number of Players: 2
If your kids like word games, they will enjoy playing Magnetic Hangman. Although Hangman can also be played on a piece of paper with a pen, this magnetic travel game is ideal for the airplane, the car (think bumpy roads), or the outdoors. The Purple Cow brand created a lovely series of magnetic travel games.
Do check them out via this link because there are many games that we enjoyed as a child such as checkers, backgammon, chess, snakes & ladders, battleship, bingo, and more. The games come in a small, slim tin case, the perfect size to slip into your purse or backpack. 
Ages: 6-99, Number of Players: 2
This travel-friendly Bounce Four in a Row comes in a handy travel suitcase and is fun for the whole family. It combines aiming practice and strategic thinking and can be used indoors and outdoors. It almost looks like an arcade action game (teens love that) It is made from sturdy materials, providing a durable set of a fun board game for children to play with.
Ages: from 6 and up, Number of Players: 2
Hasbro Connect 4 Grab and Go is the classic 4-in-a-row in the travel edition. The game includes a playing grid with trays, 21 yellow checkers, 21 red checkers, and instructions. A classic that is a great gift too!
Ages: 6+, Number of Players: 2
Travel Games for Kids
This cute card game comes in a round tin box and has proven to be a success in our family, especially on the beach. It was introduced to us many years ago, and it is still fun because Dobble (Note that the bb is written backward!) is easy to play with many. It is a game of speed, observation, and reflexes.
Players must find one matching image between one card and another. Images may be different sizes and placed on any part of the card, making them difficult to spot. Every card is different and has only one picture in common with every other card in the deck. There are standard versions, but we use the Harry Potter Dobble. Young kids may enjoy Paw Control Dobble.
Ages 4+, 2-8 Players
Another universally known game that has been around forever. Monopoly is a big hit at home. But it is not an easy game to bring along. That is why the Monopoly company invented Monopoly Deal Card Game.
This travel version of the classic Monopoly plays up to five players, which takes approx. 45 min to play with 5 people. But 2 players can play in 15 minutes. Fun, fast dealing…every card counts!
Ages: 8+, Number of Players: 2-6
The Cluedo Grab & Go game is a compact mobile version of the famous and much loved Cluedo game. This all-in-one game unit makes storage easy. In this version, you keep track of the elements of the case with the detective notebook. Included are Guest, Room, and Weapon cards to tell you who did it!
Ages: 6+, Number of Players: 3 to 6
Following earlier mentioned Cluedo, my pre-teen loves any kind of mystery game. In fact, the darker, the better. There are several mystery travel card games on the market. Mind Trap Shadow Mysteries is one of the many card boxes available with riddles, puzzles, and crimes. This box features 52 cards.
Ages 12+
I discovered the Top Trumps Cards when I was looking to compile a list of the Best Greek Mythology Games. Top Trump Cards are sets of cards for many subjects and for different ages. In the game, you need to outsmart your opponents and discover new and exciting facts about a certain subject.
In the Trop Trumps Wonders of the World, you learn about the world we live in with the three most adventurous games: Countries of the World Top Trumps, Wonders of the World Top Trumps, and Countries and Flags Top Trumps Quiz. PS. For Harry Potter Fans, I recommend, the Harry Potter Trump Specials!
Ages: 7+
My daughter loves to play chess. She started learning the game at the age of 8. Wherever we go, we always find someone to play a game of chess with. This Magnetic Travel Chess game is ideal for trips.
The game is made of durable HIPS plastic while lightweight and portable. The well-crafted chess pieces have a light magnetic attraction to the playing field; light magnetism makes it stable to play while not hard to move the piece. It is always part of our travel bag.
Ages: 7+ Number of Players: 2
When I asked my children which game to include in our favorite travel game list, they both replied: Quartet! We simply love a game of quartet. It is a game that everyone of every age can play, and there are countless themes to play with.
My youngest loves her Baby Animals quartet, whereas my oldest daughter prefers the Art and books themes. You will pick a theme according to your family's interests. The relatively simple game requires brain, bluff, and strategic thinking, making it a great game for hours of fun and laughter. A favorite to play with the grandparents too!
Ages: 4+ Number of Players: 2- 5
The fascination of my children (and their friends) with this Pass the pigs game has surprised me. Apparently, there is something about pigs and kids..! Although I have not yet played this game myself, I know that it is part of their toy bag on every trip. Judging from the laughter and competitive vibes during each game, I had to include it in this list. This dice game involves throwing the pigs, and is easy to learn and quick to play for 2 or more players.
Ages: 7+, Number of Players: 2 or more
CATAN – Traveler is based on the same rules as the CATAN base game, its "big brother." Catan is a strategy game: Trade, build and settle the Island of CATAN in this addictively fun strategy game previously called Settlers of CATAN. Players control their own civilization and look to spread across a modular hex board in a competition for victory points.
Ages: 10 plus, Number of Players: 3-4
This Scrabble Road Trip Edition is beautiful. The most popular word game, is even more well-suited for taking on the go, since it features 24 letter-printed dice instead of the traditional version's 144 tiles. Players race to build their own word grids and learn to spell at the same time!
Brain paint comes in a cute tin bucket box and is about colors, patterns, and your brain. I like to play this game because it seems that the younger the child, the better they are at not confusing their heads. This brain-teasing game comes with 100 cards that can be used for 3 different games.
Ages: 3+, Number of players: 2-10
All products featured in this story are handpicked and tested by our kids. In this post are affiliate links for each game to Amazon. If you decide to buy items through these links, you will be helping us to fund this site and perhaps the next adventure. More importantly, it doesn't cost you anything extra!
Greek Mythology Travel Games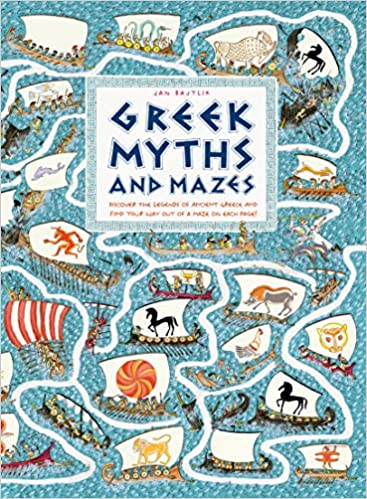 Educational Card Game Top Trumps takes you to an exciting, ancient world of heroes, gods and monsters in the brand new Greek Mythology deck. Will you play with foul creatures like the snake-haired Medusa and the one-eyed Cyclops or have brave heroes like Perseus and Odysseus in your hand of cards? Great for your vacation to Greece!
Best for ages: 6 and up
Catch Zeus if you can! The great Greek god has bolted from Mount Olympus and it's up to you to nab this dashing deity. Play cards strategically, adding numbers as you climb up the mythic mountain.
Grab Zeus when the total reaches a multiple of 10. Better yet, summon the strength of Apollo, Poseidon, or all-powerful Hera to bring Zeus within your grasp. Reach the top of Mount Olympus with Zeus in hand and you're a mortal among the gods. To play is human. To win, divine!
Best for ages: 8 and up
Craft Items for Travel
As I mentioned before, sometimes a drawing pad and some colors are all my girls need to have fun or pass the time at the airport, in the car, or at the beach. That is why I also listed here our favorite basic travel kits with paper pads, pencils, colors, and other travel-friendly arts & crafts items.
An absolute favorite for kids is the BIC Kids Visacolor XL coloring magic markers. They have large blocked tips, they are washable, and they are very easy to hold for little hands. My kids have been using them since they were 3 years old. They are a bit pricer than other brands, but they will not dry out even if the cap is off for a couple of months.
Ages: 3+
This Carrvas LCD Writing Tablet substitutes your classic drawing pad. It can be very handy for minimal-style travel and uses an erasable reusable electronic doodle board. 
Not too fond of electronics, please note that the eye-protection colorful screen of the doodle board provides a better painting experience, no blue light, and glare, avoiding injury to the child's eyes from long-term use.
If you are like me, and you prefer screen-free entertainment, you can choose this very cute Pipity Travel Art Kit for Kids. It is an activity set with coloring and drawing options and stationery sets.
This kit is great for traveling and also makes a great and affordable gift for little artists. For more colors and options, choose the EZDesk laptop-style Travel Activity Kit with 64 pieces.
Ages: 6,7,8,9+
Last year, our friends from the USA brought to the beach an ARTISTRO Watercolor paint travel set. My artist daughters were immediately in love, especially with the pen that is filled with water. We ordered our own set, and they bring it everywhere, even to school. Definitely good value for money and a great present for hobbyists and painting enthusiasts.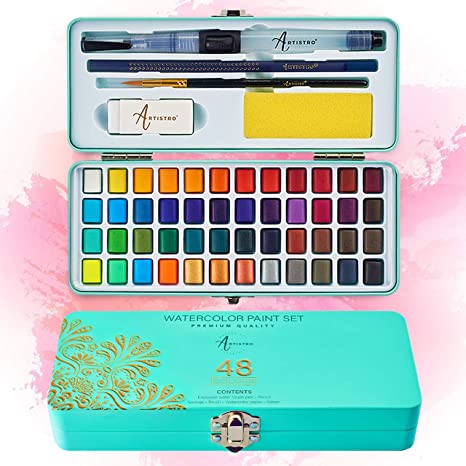 The ARTISTO pens are great for a beach holiday because they transform any pebble into a piece of art! Do your kids like to collect rocks? Mine do, and now they can really take their hobby to the next level.
These 28 colors Acrylic Paint Marker Pens are for Rock Painting, Stone, Ceramic, Glass, Wood, Mugs, Metal, Fabric, Canvas, and more!
Travel Games for Adults: Backgammon
Let me add one travel game for adults too. Backgammon is a classic and this one is ideal for camping and travel. Its hardcover carrying case doubles as the playing board, which means it can go straight from under the umbrella to the dinner table. This magnetic game is extra convenient during bumpy travels!
What is your favorite travel game, or which craft item do your children bring along every trip? What engages your child for endless hours? I would say that drawing is our favorite activity. I would love to hear your experiences and add your suggestions to this list. Thank you for leaving your favorite one in the comments!
Related posts for games and books
Click here for more choices and bestseller Travel Games for Kids. For games and activities at home, have a look at