Last Updated on October 8, 2022 by Celeste.
My daughter loves Harry Potter. And the fact is, so do I. If you do not have a Harry Potter fan in your home, it's hard to imagine how obsessed my teen has become with the books, the merchandise, and the movies. We even participated in a Harry Potter Walking Tour Experience. If you are not allowed to say You-Know-Who's name and if you have sent multiple application letters to Hogwarts, then this list with our favorite Harry Potter gifts for teens will be inspiring for you.
Together with my 11-year-old, we've rounded up something fun for every type of muggle and wizard (pre) teen, from the ones who just love the movies (aka the muggles) to the die-hard fans who know every expecto patronum.
From Hermione's time turner to the journal of Tom Riddle, these are the perfect presents for any magic-loving teen.
If you're looking to gift a "Harry Potter" fan, don't trust anything that wasn't written by one (or, in this case, a pair of them)
My daughter decided that these Harry Potter Funko Pops should be on top of this list of gifts for teens. They have details and characteristics from your kid's favorite persona's. This particular set comes with Harry, Ron, and Hermione, but you can even get the advent calendar version for even more figures. If you know multiple Harry Potter fans, you could even give these out as separate gifts since they come individually packaged.
Click on the highlighted titles or images for prices and more details
A scarf is a classic gift. And this one is almost an exact replica of the ones the characters wear in the films, and it's one of the basic pieces of Harry Potter memorabilia every fan should own. They can represent their house or remain neutral with a Hogwarts crest version if they just can't come to terms with the fact that they're a Hufflepuff when they've always insisted they were a Slytherin.
This Harry Potter Wand is the most classic of all wands available and according to my teen (and all of her friends 🙂 ) the best for fighting and combat spells as well as expecto patronum. An authentic recreation of the famous wizard's wand featured in the movie Harry Potter and the Prisoner of Azkaban.
Pay homage to your favorite hero by wearing this Harry Potter Robe. Be careful, it may take you straight to the Gryffindor room of requirements. A must-have for every real Potterheads collection.
It may not be able to take you back in time or help you to be in two places at once, but this time-turner device will help your teen to stay on top of their appointments. Its functional hourglass on the back can even time study breaks. Don't be late for potion class!
A fascinating favorite of many teens; the Journal of Tom Riddle. This is a great replica and excellent identical to the real thing. It does NOT write back to you, but practically perfect in every other way!
This must-have goes into the category of Harry Potter necklaces, key hangers and medallions that Potterheads love. The Horcrux Locket is a reproduction of Salazar Slytherin's original locket, later turned into a Horcrux by Tom Riddle. Slytherin's locket was a piece of jewelry originally owned by Salazar Slytherin that became an heirloom of his family. It was a locket of heavy gold with a serpentine S in glittering green stone inlay on the front.
I love this item. This Harry Potter Golden Snitch Lamp is so pretty, even muggles would not mind adding to their bed or living room. A great gift for teens and parents alike.
Have you noticed that your (pre-) teen is suddenly sleeping in? During adolescence, the body's internal biological clock is reset, telling a teen to fall asleep later at night and wake up later in the morning. Harry Potter-loving muggles will happily add this Bulb Botz Harry Potter Alarm Clock to their bedroom set up. Help your teen wake up for school and never miss the Hogwarts Express again!
10. Harry Potter gifts for teens: Socks
These Harry Potter Socks are a cute gift for every Harry Potter-loving teen (and even for yourself!). If you happen to be looking for the perfect affordable present for a birthday, holiday, or something in between, add these to your shopping cart. These magical socks will keep your feet warm all winter.
This Harry Potter Gryffindor Journal with lined pages is great for school. Show your classmates which house you belong to or use it at home as a diary. It comes with a beautiful metal transfer spring mechanism with the most famous Harry Potter coat of arms.
The Maraunders Map reveals all of Hogwarts School of Witchcraft and Wizardry. It was also capable of accurately identifying each person, and was not fooled by animagi, Polyjuice Potions, or invisibility cloaks; even the Hogwarts ghosts were not exempt. Can you find the secret passages that are hidden within its walls?
From all the Harry Potter purses and wallets available in the muggle world, my teen fell in love with this collectable Harry Potter Hogwarts Letter Wallet. It looks like Harry's Hogwarts acceptance letter envelope, featuring his address, the school seal, 2 interior pockets, and slots for credit cards.

In this list of Harry Potter gifts for teens, I had to include a special edition book series. If the pages of your copies are nearly falling out (from re-reading so many times!) gift them this special edition boxed set. The best part? They feature brand-new covers that display a black-and-white mural when put side-by-side.
This invisibility cloak is designed just like the one used in the Harry Potter films. All you need to do is place a phone on the included tripod and follow the instructions on the free app to start disappearing on camera. When you turn the cloak inside out (so the green part is on the outside), even muggles will be invisible on camera!
I must admit that this Harry Potter Ornament was my choice and not my daughter's. Each year, we add something new to our family Christmas tree and it is always something special that has an important meaning to us. I'd love to add this ornament to our collection as it captures the crazy teen ride we are on. It also comes in Hermione, Ron, Dobby, and Hedwig versions!
This vintage-looking Marauder's Map throw can be used as a Harry Potter blanket, but also as a wall tapestry or area rug instead. It comes in seven different Harry Potter versions, but the Marauder's Map is our favorite.
Whether it's a cozy sweatshirt, a pair of Dobby socks, or a Harry Potter ugly Christmas sweater, every true fan needs at least one piece of Harry Potter clothing in their wardrobes! We got our Harry Potter PJ's a while ago, they were the first of many Harry Potter items to follow.
For your teen who loves Instagramming a perfectly cute dorm room, there's this gem. Obviously, all bedrooms or dorm rooms of Harry Potter fans need this cute Harry Potter Hogwarts Full/Queen Quilt and Sham Set to finish off the décor.
If your teen spends hours pouring over Harry Potter trivia, you'll love the Harry Potter Trivial Pursuit USAOPOLY. The game comes with cards filled with all sorts of fun questions about the Wizarding World. As you can play this game with just the cards, it also makes the perfect road trip game!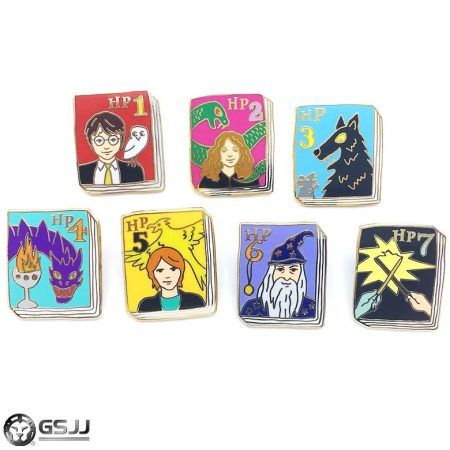 Are there any Potterheads in your life? Did they join the school's movie club? Perhaps they have read every book in the series, often recite lines, and plan to travel on the Hogwarts Express in real life. These pins are a unique personalized gift for every Harry Potter fan. Custom lapel pins can bring them back to the magic world. Designing a custom pin for yourself or your movie club is the best way to share your favorite movies with like-minded friends.
These Harry Potter gift ideas for teens should give you a good start to checking off your holiday shopping to-do list! They're also perfect for birthdays, back-to-school gifts, and more.
What are some of your favorite Harry Potter gifts for teens? Tell me in the comments!
At Family Experiences Blog, we independently select and write about stuff we love and think you'll like too. Family Experiences Blog has an affiliate partnership with Amazon, so we get a small commission from your purchase. Readers never pay more for products. This way we support the blog, run the site and engage with this community we truly love. Thank you for reading!
Other games and books that your teen may like