Last Updated on September 10, 2020 by Celeste
Tourists may flock to Greece during the summer months in search of sun, sea and islands but autumn is actually a great time to spend in Greece. Here are my 7 favourite reasons to travel to Greece in Autumn!
Travel To Greece in Autumn
1 The colours
With so many wooded areas of outstanding natural beauty to be found in Greece you are never too far from those stunning Autumn colours. North Greece and the Peloponnese, there are so many places to see nature's display. We love going to Pelion in autumn because of its hiking trails and picturesque villages with romantic squares and fields of apples. Read more about Pelion with kids here. Even Athens has its own share of beautiful coloured parks where kids can enjoy autumn leaves.
2 The chestnuts
My kids love chestnuts and in Greece, we have loads of them. Travel to Greece in Autumn and celebrate the chestnut! There are several areas in Greece organizing chestnut festivals such as the one in Nafpaktos. The festival takes place in Ano Hora in mid October. During the festival tsipouro is distilled and served to the visitors along with roasted chestnuts, traditional desserts (baklava, kourabiedes, ravani, cherry, chestnut, walnut, and quince), traditional pies and goat stew. Read more about our trip and experiences to Nafpaktos is this post.
3 The wine
Greece may not be considered a major destination in wine tourism, but it sure has plenty of options to offer any wine lover willing to step off the beaten track. The wine harvest takes place in September and October thus but autumn is a fantastic time to tour some of Greece's vineyards. Head over to the Nemea region for a glimpse into the age-old wine-making traditions and let your kids run around the beautiful vineyards. We tried a wine tour and wrote about our experience.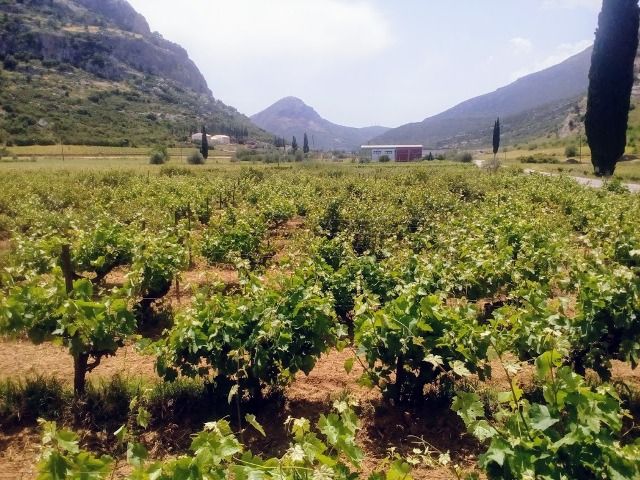 4 The truffles, mushrooms and chestnuts
Autumn is wild mushroom season in Greece, so why not grab a basket and spend a fun autumnal day foraging for some tasty fungi but be sure to go out with an expert so you know what to look for…and what to avoid. Many towns hold mushroom picking and tasting events and in Meteora, there is even a mushroom museum. The Natural History and Mushroom Museum of Meteora, located in Kalambaka, Thessaly, organizes a Mushroom Festival each year with events focusing on mushroom species and delicacies. Chestnut festivals and chestnut picking takes places everywhere in Greece, such as the famous Mountainous Nafpaktos Chestnut Festival.
5 Hearty food
If you are a foodie and you enjoy food tasting as much as me and the kids do, Greece is your place to be in autumn! As soon as the temperature drops, it's nice to cozy up to some warm, Greek cuisine in the autumn, especially after doing everything possible to avoid hot dishes in the sweltering summer.
6 Fewer tourists
After being overwhelmed by the record number of tourists flooding Greece this year, it is a relief to see less busy pavements, open tables at cafes and shorter lines waiting to see famous ancient sites. Greece generally sees a drop in the number of foreign visitors in autumn after peaking in the summer so now is probably a good time to travel a bit more around the country or visit world-famous monuments in Athens with your kids without too many tourists.
7. The weather
For those of you who struggle to make it through Greece's sweltering summer, autumn comes as a welcome relief: a sunny, breezy time when people are still enjoying the outside terraces, but in a much more pleasant temperature. The fall in temperatures makes it a great time for a city break. Athens is very hot during the summer, but perfectly lovely in autumn. 
Are you ready to travel to Greece in Autumn? What is your most important reason to choose fall as the perfect travel season?
Need more ideas for autumn in Greece? Have a look at my Best parks in Athens for autumn and What to do with kids on a rainy day in Athens or read up about the special Varnavas forest in Athens with kids and enjoy autumn!

Pin it for later!