Kids on a rainy day in Athens do not have to be bored. Here are some things ideas to keep them dry, happy and entertained.
Visit one of the Athenian shopping malls
I am not a huge fan of malls, but ever since I had kids, I am more than grateful for them. Although we prefer the outdoors, sometimes you need a different place to go, especially when the weather isn't ideal. Athens has several shopping malls, spread all over the city. They are all fairly new and clean with good family facilities. My personal favorite is Golden Hall in Marousi on Kifissias Avenue 37A. There is a large square with a fountain and playground outside. The playground is clean and organized with a sandpit, swings, zig-zags, and a jungle gym for children 2- 4 years old. More importantly on with kids on a rainy day in Athens is the indoor soft play area for children starting from 3 years old (entrance fee  5 Euro) There is also a separate play area with computer games for older children. Golden Hall regularly organizes kids events, currently, there is a Lego play area on the second and third floors. There are several good family-friendly restaurants on the top floor, there is a very clean and organized baby changing room, children's toilets and strollers are available at the reception area. Don't forget to check out the fish tank on the main floor, my kids favorite. Golden Hall is centrally located and can be easily reached by car and by public transport.
Playmobil FunPark
If your children like Playmobil as much as mine, then this will be the place to be. Playmobil fun park is located at the National Road at a distance of 16 minutes from the city center. It is a large space full of corners with different playmobile themes (pirates, zoo, princess, police etc) that leave kids to play for endless hours. The setting is spacious and even on busy days, kids will always be able to play. Large boxes full of Playmobil are constantly moved around by the staff. There is a special closed area just for the little ones where they can safely play with the 'baby' Playmobil. No danger of small pieces here and this makes Playmobil fun park suitable for children starting from 18 months old.  I enjoy the (non-smoking) cafe next to the play area. Midday it is usually not very busy there and I find it a pleasant place to have a coffee whilst my children are playing.  There is also a small flower shop. The entrance in the weekend is 9 euro per child,  parents do not pay. For more information on the opening hours and ticket prices click here.
Visit a museum
There are many child-friendly museums in Athens. Our favorite is The Acropolis museum, ours of entertainment are guaranteed. The museum regularly organizes events for families and there are guided tours designed for children. Families can borrow a Family Backpack from the museum's information desk (you need to leave identification,  first-in-first-served-) With the educational package in these bags your kids can learn about the exhibits. The museum also hosts children gallery talks, there are video presentations and there is a series of children's books and games that can also be found in their book corner and museum shop. My daughters like the Lego Acropolis model at the first floor of the museum and the book corner for reading. The outdoor excavations covered by class are another of my kids favorite. It brings them as close to archeology as possible. Best for children from 4 years old. Check out all current programs on the website. Goulandris Natural History Museum in the suburb Kifissia is another favorite of ours. What I like about Goulandris museum is its size. There is a lot to see but all in a very child-friendly setting. The preserved giraffe at the entrance of the museum prepares you for what is coming. The collection shows zoological, marine, rock and fossil specimens.  The next door GAIA center is suitable for older children and educates about Planet Earth, Atmosphere and the Solar System as well as Agriculture, Technology, and Science through interactive displays. The museum is stroller friendly and the facilities include a very nice cafe with healthy choices and a souvenir shop. The museum can easily be reached by train and bus. There is free parking at the museum (but difficult to find a spot) and there are several paid parking stations in Kifissia. Entrance for children is 4 Euro and free entrance under 5 years old, adults pay 6 Euro. You can find everything you need to know about the museum and how to get there on their English webpage.
Visit an indoor playground
For a country with so many days of sunshine and such wonderful outdoors, it is remarkable how many indoor playgrounds Athens has to offer. One of my favorites is located outside of the city center near the Athens airport. Blanos Sports Park is a great place to get all that energy out. I discovered the park some years ago when I was trying to find a venue for my daughter's 3rd birthday. I am not a big fan of indoor fun parks with electronics and plastic. They are usually too small, too busy, too crowded. But Blanos Sports Park is huge thus limiting the chances of being crowded. It offers a long list of activities for young children, teenagers, and adults. There are bowling lanes (with special children's bowling balls!) table football, billiard, electronic games, roller skating, trampolines, restaurants, and bars. The best part is the enormous jungle gym. It is separated into different sections so young children can play safely separated from the older kids. Whilst I was playing with my baby in the soft play area, I could still watch my older one. Blanos is easy to access and has a large car park. The facilities are good and there is lots of daylight coming in the building. Find more information on the website. Need more inspiration for indoor playgrounds, search for one in your neighborhood via the search option on our partner's Little City Spots website. Simply enter age, location, and price and find an indoor playground nearby.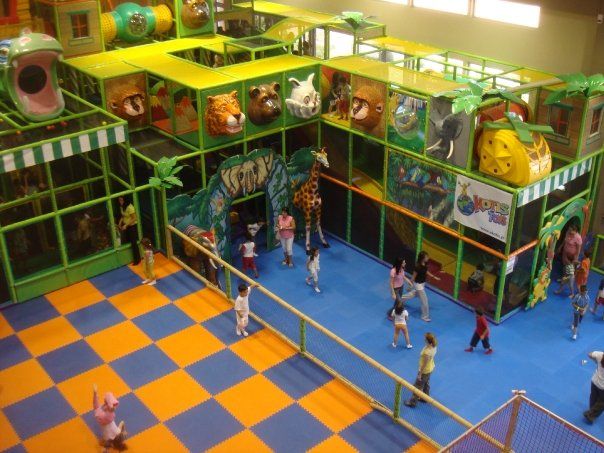 Book a family lunch
Have you considered a family lunch? Several hotels in Athens organize weekend family lunch events. A family brunch or lunch is a great way for parents to relax and spent some quality time with their children and each other. Children will have lunch and do not have to sit longer at the table than necessary. They are being entertained by professional organizations and are engaged in arts and crafts, theatre or other fun things to do whilst parents enjoy a relaxed meal. We love the St. George Lycabettus Boutique hotel and their Sunday Family Brunch, a successful event running each year in fall and winter with arts and crafts for the little ones and a kids movie and popcorn in the hotels screening room. The view from this hotel is one of the best in Athens.
Luxury boutique hotel Grecotel Pallas Athena organized Pallas Athena Family Sunday Kids Creative Lab this year with interactive theatre performances, puppet show and more. The Athens Hilton hotel organizes similar family events. You can find my experience here.
Visit a play, dance or musical performance
Need inspiration for more activities? Check out Little City Spots search platform and find running events, shows, festivals, creative activities, art workshops and more according to price, location, amenities, category and the age of your children. Little City Spots lists running events in town, as well as permanent activities.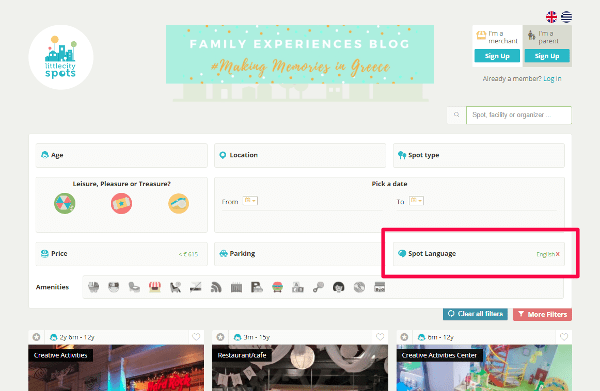 Need more inspiration for things to do in Athens with children? Check out my list of favorite things to do in Athens here.
Did you like this post? Pin it!