Last Updated on January 26, 2023 by Celeste.
Are you in Athens this Christmas and do you need inspiration for your family outings? Here are some of my favorite activities, all tried and tested by me and my little travelers. Christmas truly is the most wonderful time of the year, and it's magic in Athens too. And you don't need to spend a lot of money to get into the Christmas mood. In this list, I have included free and low budget options too.
So put on your nicest outfit, eat some melomakarona and go out with the family because there is lots to do in Athens during the holidays. And don't forget to follow our social channels or stay tuned to this blog because this list will be constantly updated. Read on and find below everything that you need to know about Christmas in Athens with Kids, Top things to do!
Christmas in Athens with Kids
Enjoy the Christmas tree at Syntagma square
Being so festive and abundantly decorated this year, a walk around the city center is a great thing to do with kids in Athens during Christmas. Watch the colorful decorations at Syntagma Square, the massive Christmas tree, and the buildings around, all dressed at their best.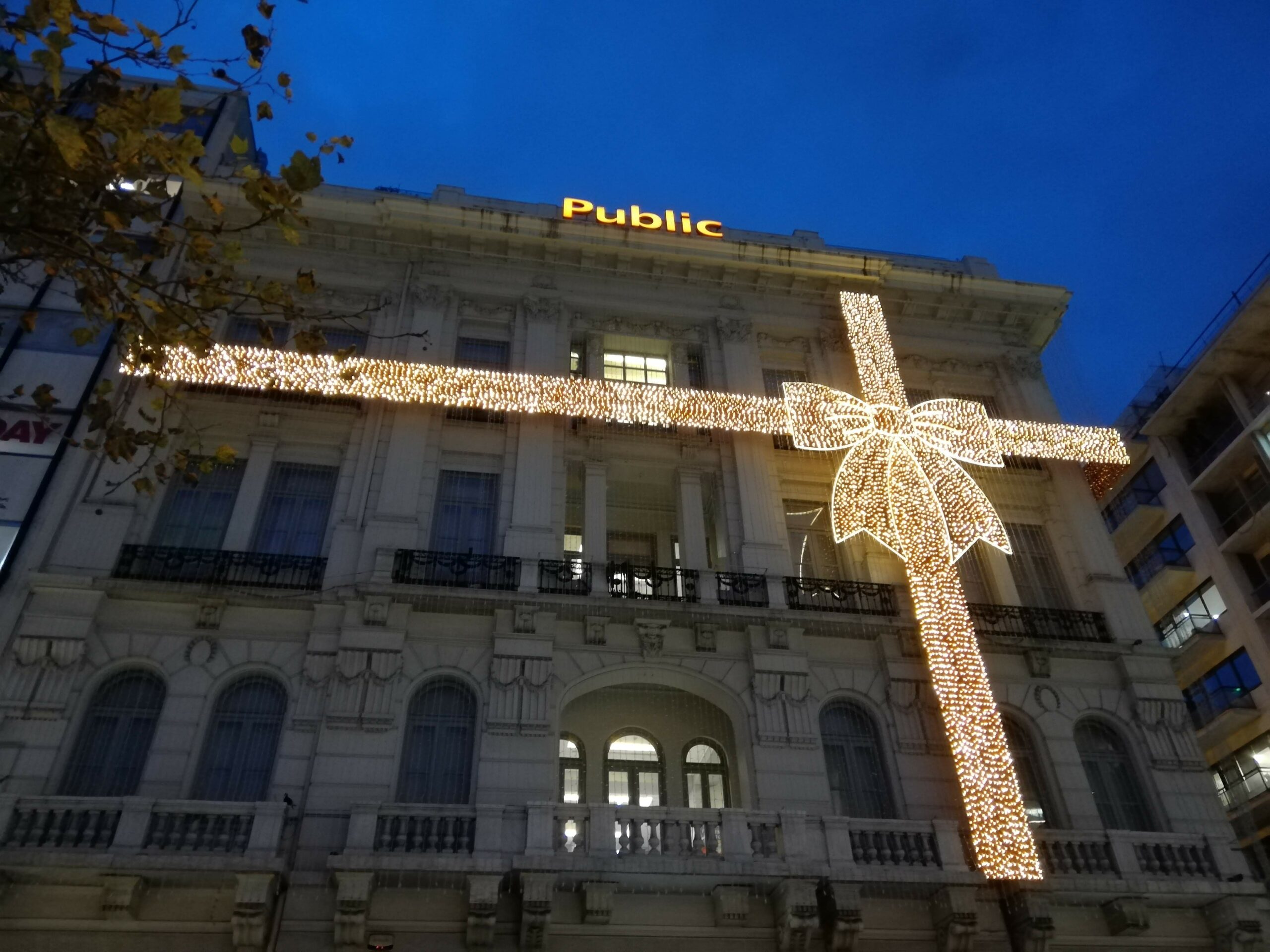 You can opt to walk from Ermou street towards Psiri and admire twinkling lights everywhere. No need to spend money, the warmth of the shops and the twinkling lights will bring anyone in the Christmas spirit. Don't miss a stop at the Little KooK Cafe in Psiri. Beautifully decorated for Christmas, it is an attraction on its own!
Admire Christmas light with by City Tuk-Tuk
If you or someone in your family has difficulties walking, but you still want to experience the city from close, why not choose a Tuk-Tuk ride? Kids (and adults alike) will find this a lot of fun. The tuk-tuk will bring you to Syntagma square, the Acropolis, and the beautifully decorated avenues of the city center.
Click here for more information and booking the City Tuk-Tuk Tour
Join a Christmas Walking Food Tour for Families
If you like to walk around the city, and admire Syntagma square, Psiri, and the festive Plaka, you could also opt for a walking food tour. Because why not see twinkling lights AND indulge in yummy food at the same time? Consider booking a food tour for families. During a Christmas Food Tour, you and your kids will be guided by a local foodie.
While learning more about the city and seeing world-famous monuments, you will also make food stops at traditional shops and taverns. It is your chance to try typical Christmas sweets such as kourabiedes and melomakarona. A Christmas family food tour in Athens combines a festive stroll through the city with indulging in the very best of the season.
Click here for more information and book your food tour in Athens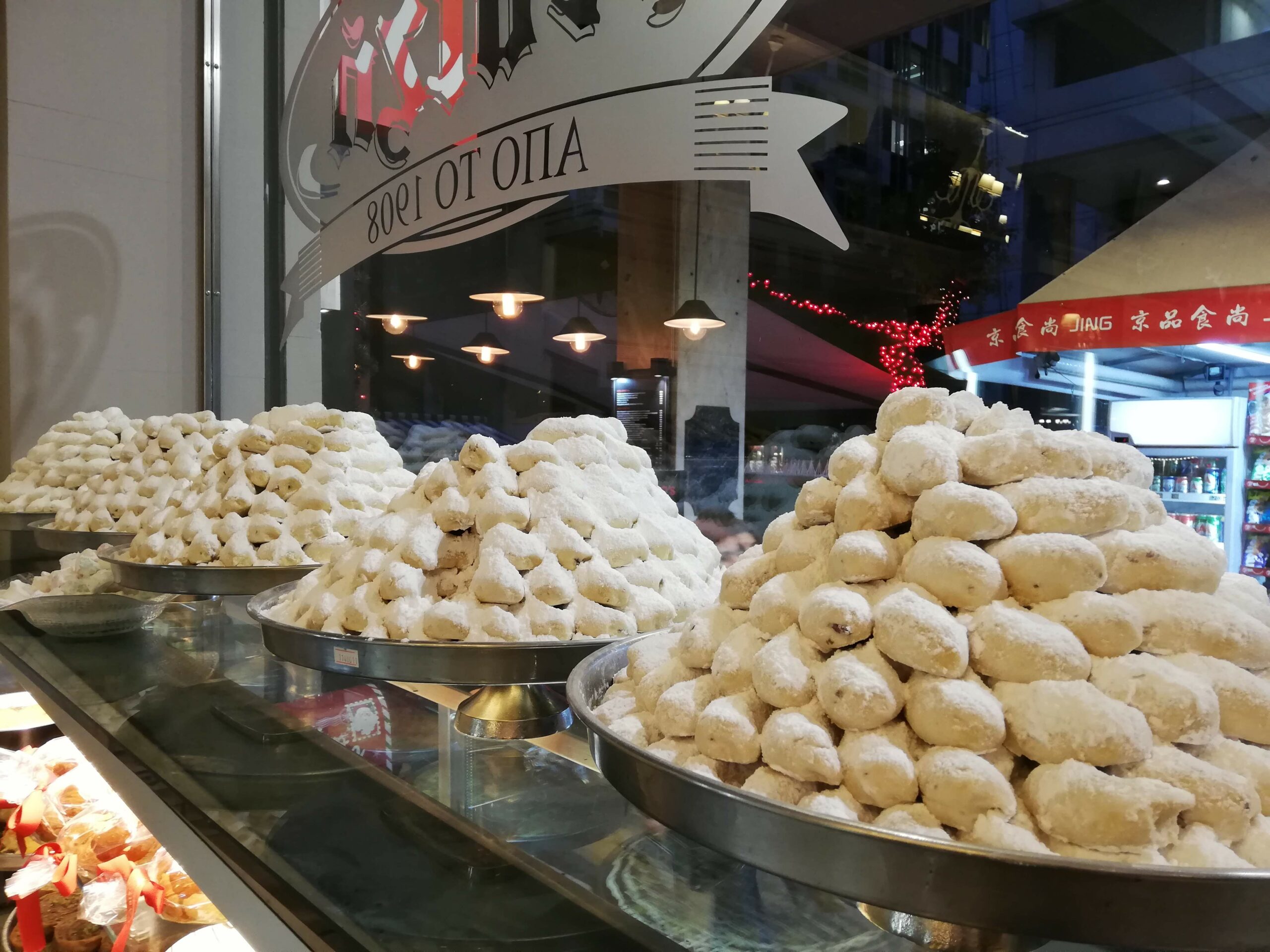 Ride the Athens happy train
Not in the mood to walk through the city but still want to admire the festive atmosphere? Take a ride on the Athens Happy Train. This is a toy-like street train (no rails but wheels). It starts its sightseeing tour every 30 minutes from Syntagma Square and crosses the historic city heart, old neighborhoods, and Acropolis hill, a great way to join the festivities in a relaxing way.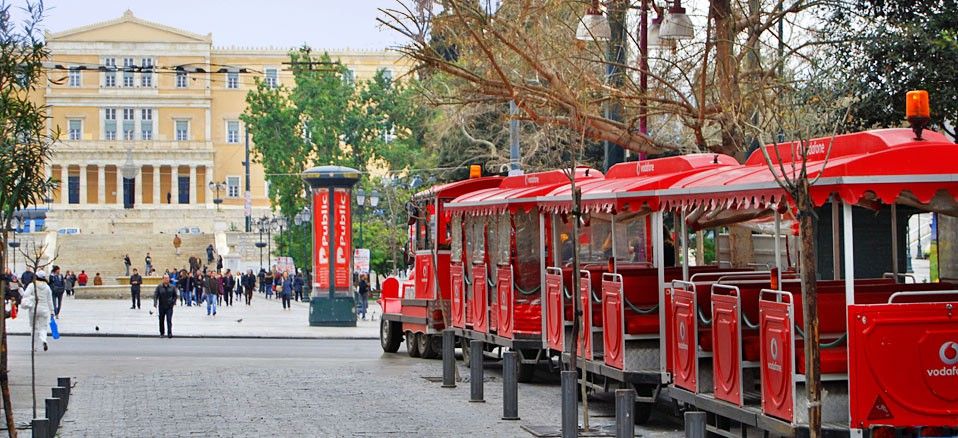 Older kids may also enjoy the tour bus in Athens. I find these tourist site-seeing buses a great way to discover any city, especially in sunny Athens where you can usually sit outside.
I recommend the Athens Hop-On Hop-Off Tour. This tour goes along three different routes. You'll travel on an open-top, double-decker bus as you take in the many important sights and attractions of the city. The tour takes around 90 minutes and encompasses central Athens, commencing at Syntagma Square and leaving every 15 minutes.
Click here for more information and booking your Athens Hop-On-Off Bus tour
See a Christmas performance
You can find family Christmas performances everywhere in Athens. The best is to check the Athinorama website (translate with Google for English). Each year, there is a good choice of family holiday theater, ballets, and other Christmas performances in the Athens Concert Hall. We also love to see a Christmas ballet. Last year we watched the Nutcracker at the Christmas Theatre. This year, they are doing it again (but this time on ice) as well as classic orchestra performances, musicals, acrobats, and more.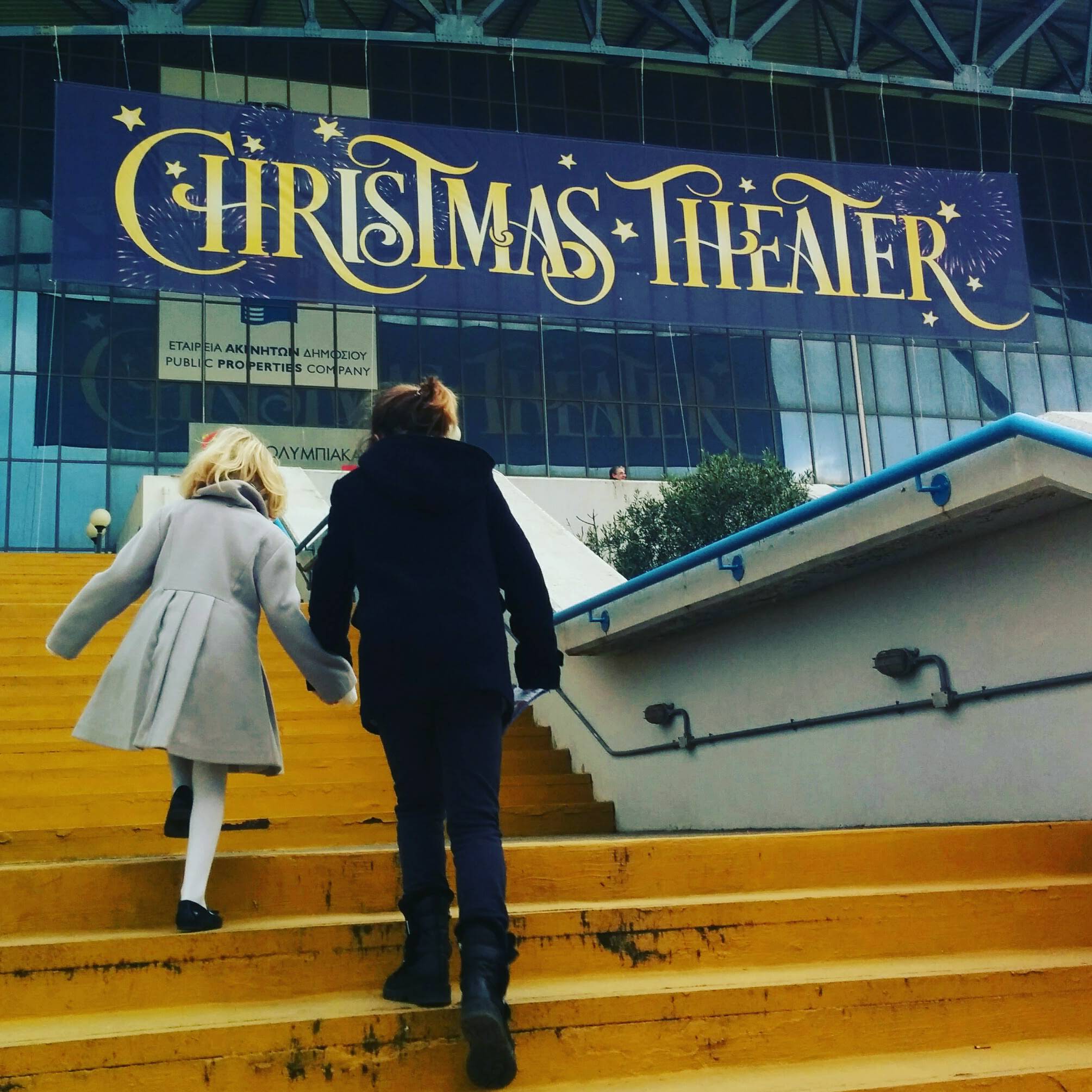 Alternatively, you can take your family to the birthplace of theater and create your own play. One of the most ancient Greek theaters is located at the Acropolis. To visit this theater, I recommend you book an Acropolis guided tour that includes the Dionysos theatre, the Parthenon, and the other ancient monuments at the Acropolis Rock.
Click here for more info and to book your guided tour to the Dionysos theater and the Acropolis
Visit a Theme Park: Christmas Factory
Need more action and cannot sit still? In the Christmas Factory in Gkazi near the city center, kids can visit Santa's Toy Factory, write him a letter at the Santa post office or participate in Christmas crafts workshops or cooking baking. The big wheel and the cooking workshops are our favourites each year.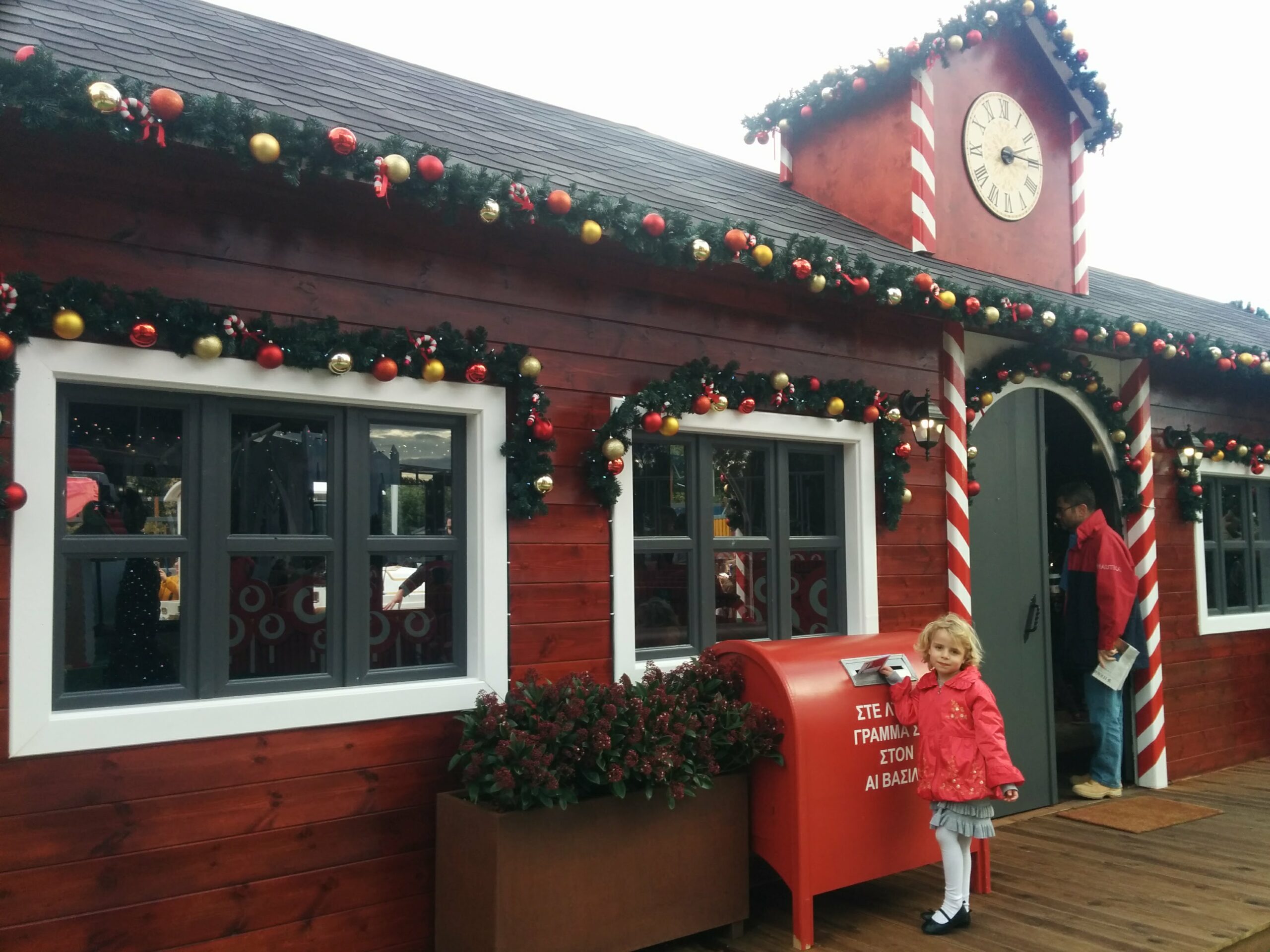 Santa Claus Kingdom
The Santa Claus Kingdom in Peania (outside the city center) is an enormous indoor play park of 13.000 m2 including roller-skating, ice skating, race cars, bouncy castles and more. Very suitable for the little ones too because of the soft play areas. My kids loved the trampolines and the slides.
Allou! Fun Park
With older kids, head over to festive Allou! Fun Park, the largest in Greece. Feel their heart race on a 40-metre drop, enjoy panoramic views of Athens from the "Panorama" Ferris wheel and take a trip to the stars in the "Star Flyer" or ride the sky at speeds of up to 30km/h with your hands and feet hanging in the air!
Click here for more information and booking your entrance tickets for Allou! Fun Park
Christmas Buffet with Family
One of the traditional things to do in Athens during Christmas with kids is to enjoy a festive Christmas meal together. However, eating out with kids during the holidays can be a challenge. Children cannot sit long at the table. Luckily, several major hotels offer Family Christmas lunches and dinners with entertainment for the little ones. We have tried Christmas brunch and dinner at the following hotels:
St. George Lycabettus Boutique hotel offers a festive Family Christmas Buffet at Le Grand Balcon with Christmas activities for the kids. New Year's Day will be celebrated with a Brunch Buffet with a kids' Christmas movie in the screening room. For more information on the program, visit the website or call for reservations at 210-7416191.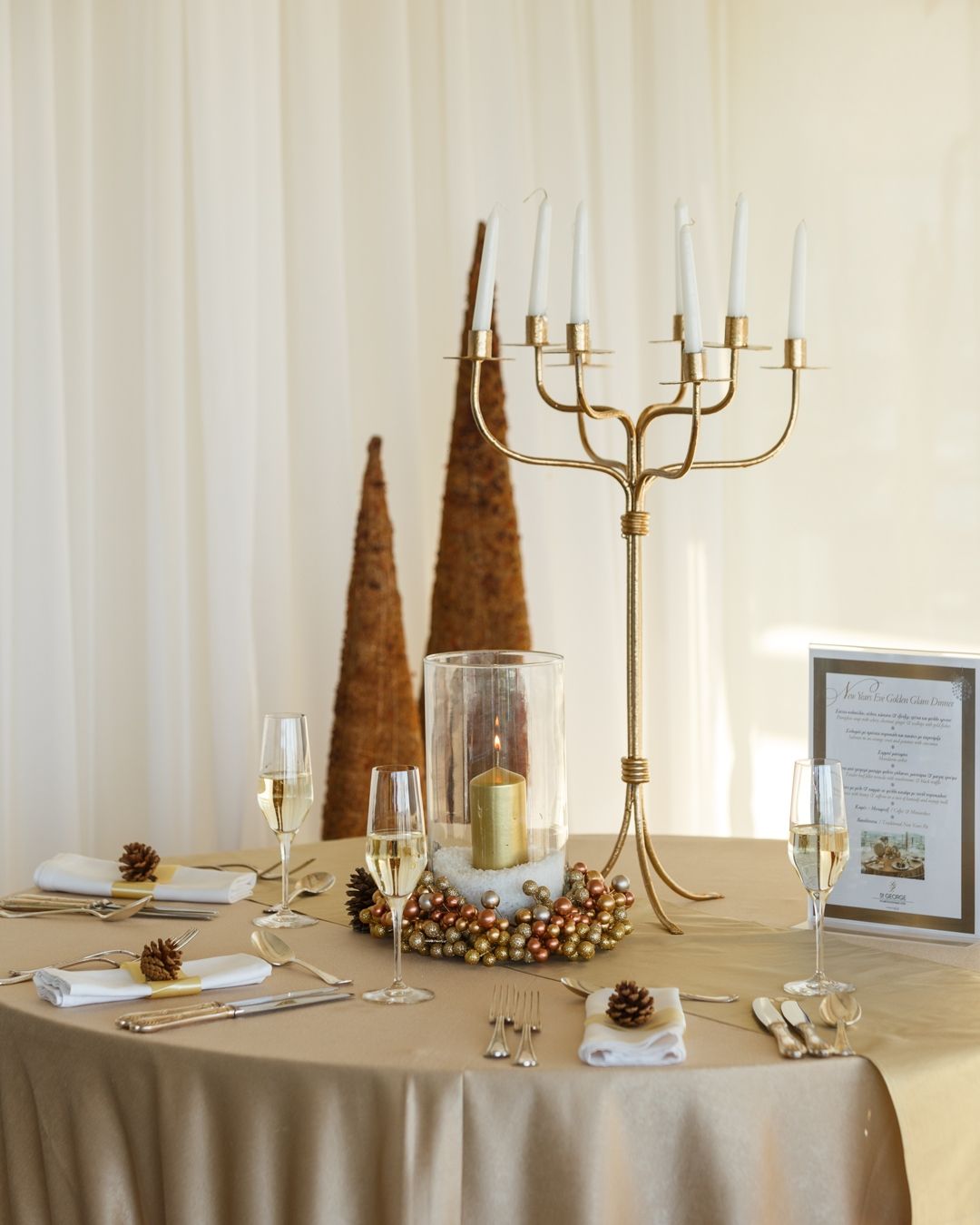 Christmas in Athens with Kids: Visit the Zoo
Attica Zoological Park, organizes Christmas activities during the holidays too, including arts and crafts and educational tours. Did you know that the Athens Zoo has more than 350 animal species, and half of these species are endangered? The zoo hosts exotic animals and one section of the park is dedicated to Greek fauna, where the brown bear is the stand-out attraction.
Click here to book your online tickets to Athens Zoo
Christmas Magic at Little Kook Café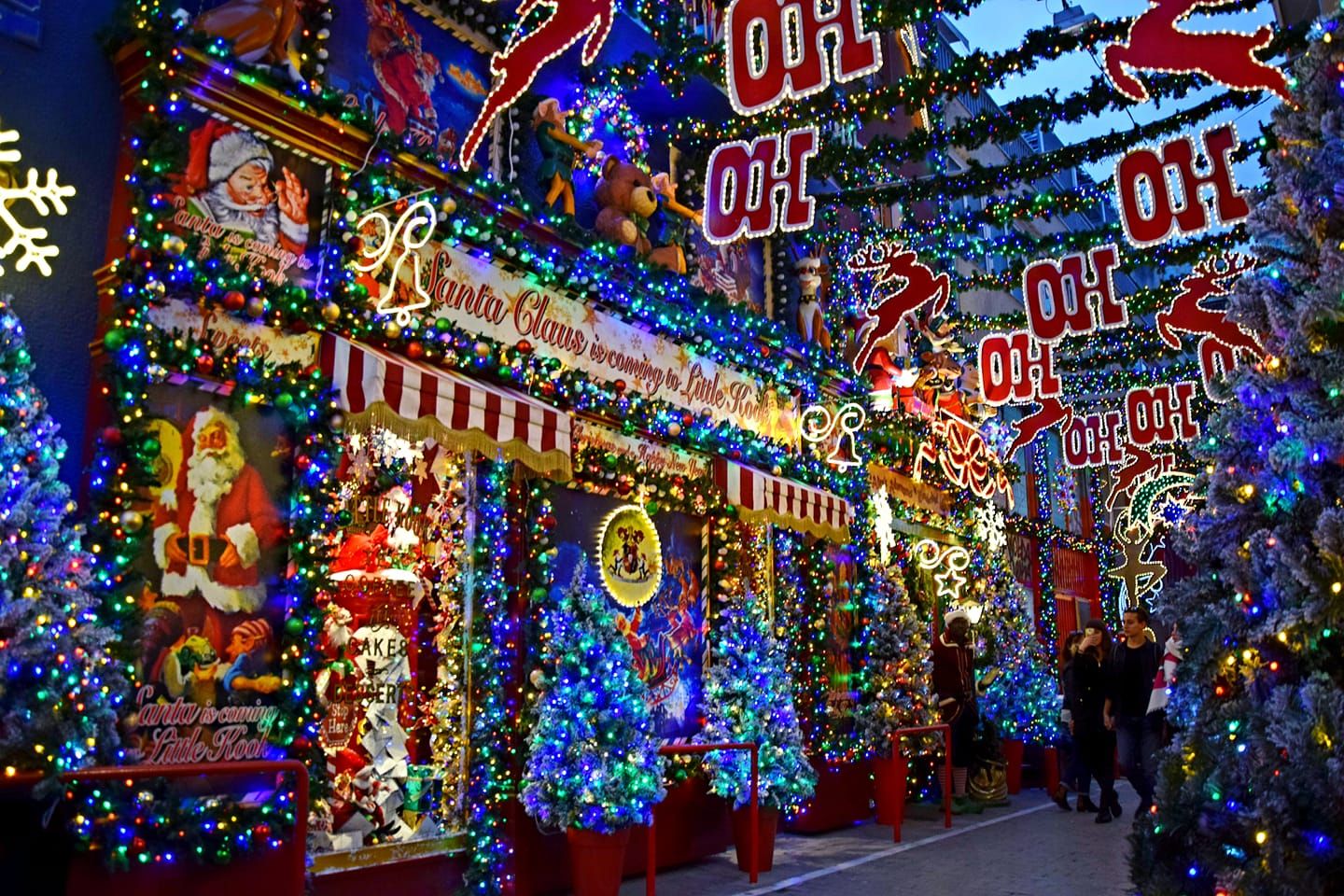 Little KooK Themed Café cannot be missed in a list of things to do during Christmas in Athens with kids. The abundantly decorated fairy tale café is definitely worth your visit! Your kids will like the fairy tale cakes and crêpes and the theatrical performances of the staff.
Read more about Little Cook Themed Café in Athens here.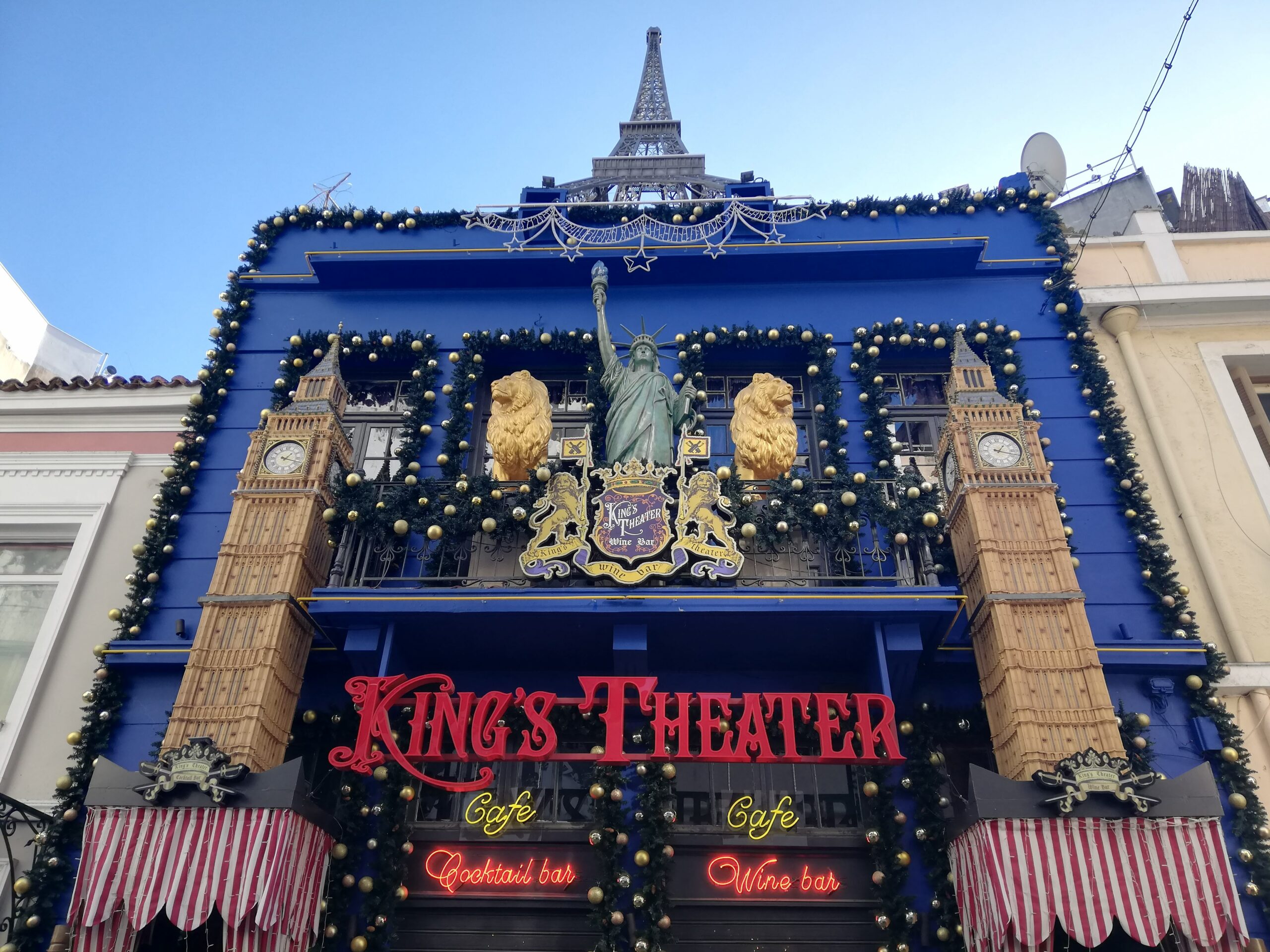 Adults can enjoy the King's Theatre next door, set up as a wine—and cocktail bar. During Christmas, Little Kook gets very busy. Although it is still a good spot to take some photos, you may want to avoid the crowds and visit another time.
Try a Greek Christmas sweet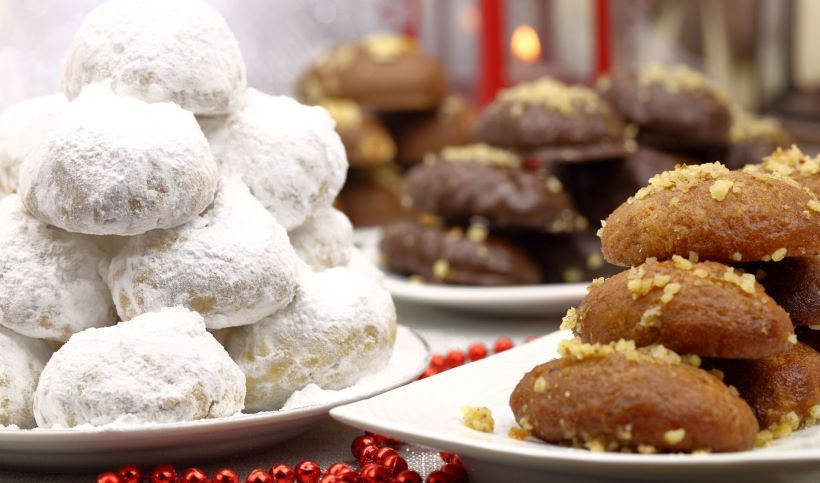 A difference between Christmas in Greece and in other parts of the world is in the Christmas treats. Melomakarona and kourambiedes are two examples of traditional Christmas sweets, and you can find them literally everywhere over the Christmas period. They look nice, don't they?!
If you want to try Greek sweets during Christmas in Athens, you can also opt for a food tour including a visit to a local bakery. With children, pick a small group tour that is no longer than 3.5 hours.
Click here for more information and booking a small group food tour in Athens
Christmas activities at the Athens shopping malls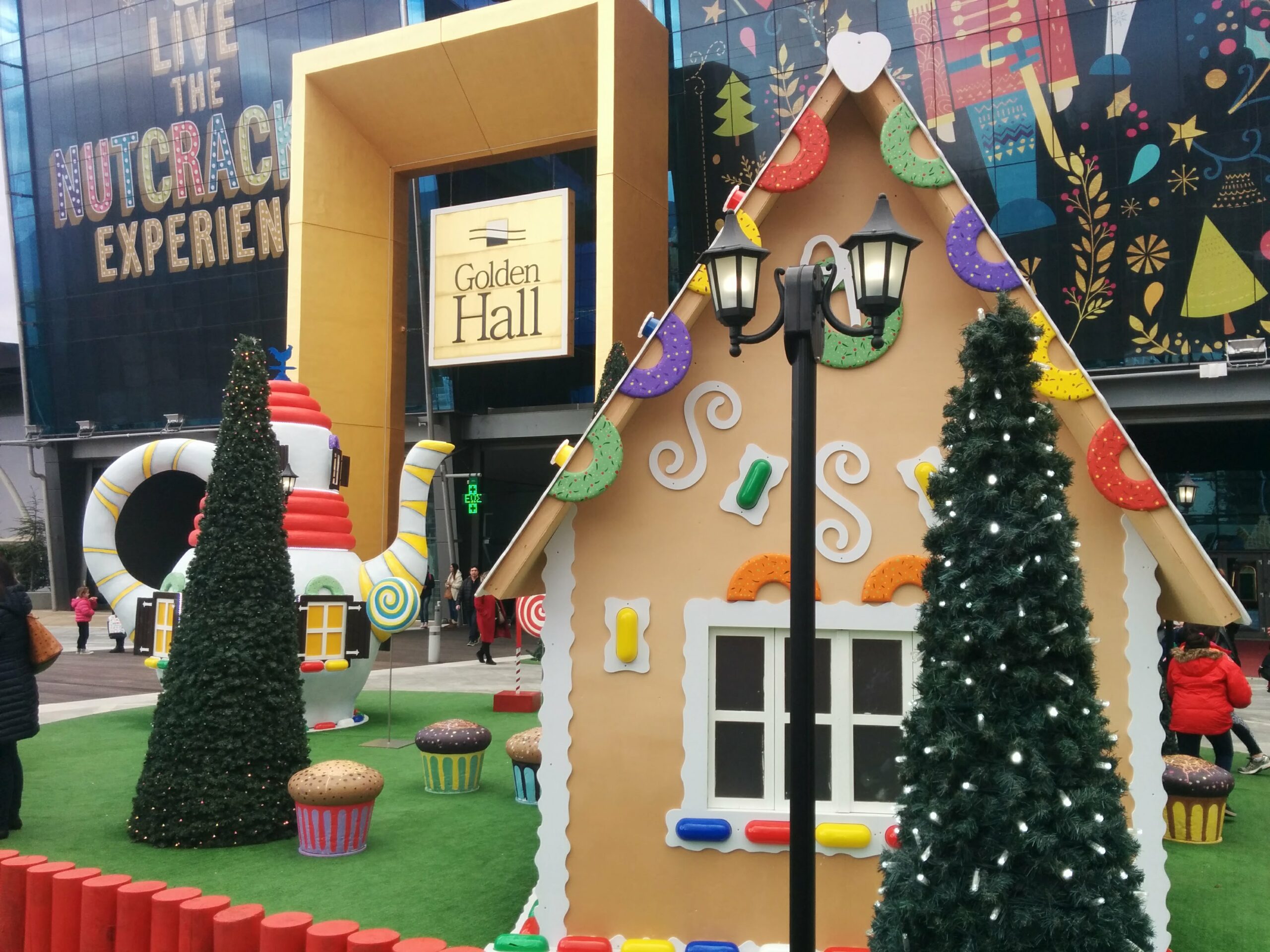 For a low-budget option (that is if you do not get tempted by the stores) with lots of festive atmosphere, you can opt for one of the shopping malls in Athens. All of them organize free Christmas activities for children. Do you want to meet Santa and prefer to be indoors with easy parking options, changing room facilities, and a safe place for your little ones to run around?
Head over to your nearest shopping center. I love going to a mall at Christmas, especially with babies! Golden Hall in the Marousi suburb has set up a little Christmas village with games and crafts for kids.
Christmas shopping
The Athens Mall (pictured below) and all other shopping centers in Athens, are decorated abundantly and bring you straight into Christmas mode! For Christmas shopping, you can opt for memory from Greece. If you want to buy food, think of olive oil, or sweets like amygdalota (almond pastries) or baklava to take home, too. Olive oil soap is another favorite product.
Just as herbs and spices, such as dried Greek oregano or basil. Natural sponges, good luck charms, and magnets are some of my favorite gifts as well as Christmas tree ornaments. They are small and easy to bring home in your luggage.
Best places for souvenir shopping in Greece? In Athens, head over to the area of the central public Varvakeios Market for food and handicrafts. Very close to Monastiraki and Omonia metro stations, this particular area offers thousands of colours, aromas and memories. The public market is open daily except for Sunday.
For fashion and gifts, Plaka and the Monastiraki flea market are the best places for shopping. For high-end fashion shopping, head over to Kolonaki with a nice selection of Greek designer stores and Attica Department store on Panepistimiou street near Syntagma.
The museum shops in Athens have an excellent choice of high-quality souvenirs and Greek design items. Have a look at the Acropolis Museum shop, the Benaki Museum store or the MCA shop at the Museum of Cycladic Art.
In Athens, you will also find a wide selection of great souvenirs for kids such as (coloring) books and games about mythology. Many toy stores sell ancient Greek Playmobil figurines. Instead of carrying them home, you can order them here:
Events at Stavros Niarchos Cultural Center
The Stavros Niarchos Foundation Cultural Center (SNFCC) is the largest cultural center in Athens. Each year, numerous festive lights illuminate the plane trees of the canal and the decorated firs of the agora. There are also impressive light installations.
Check out the complete program for SNFCC on the website and don't miss a walk around its beautiful park decorated with tons of Christmas lights (below are some photos from previous years).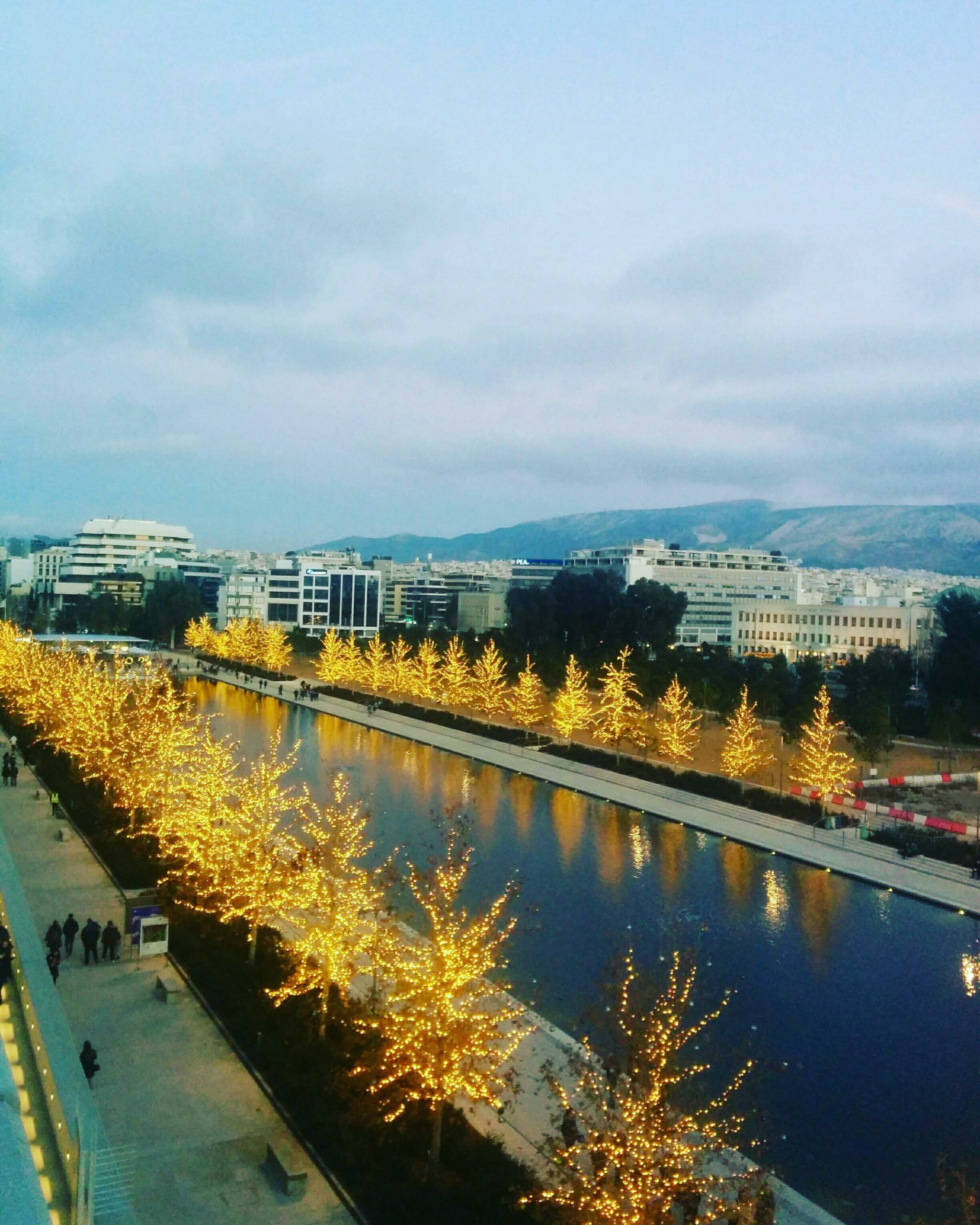 Ice Skating
Ice skating rinks are very popular during Christmas and there are several around Athens (ICE ARENA at Athens Concert Hall, Athens Heart Mall, and floating ice rink in the SNFCC Christmas World). The largest ice skating rink in Athens in 2021 is located in Kontzia square in the center of Athens.
The Ellinikon Experience Park Christmas Events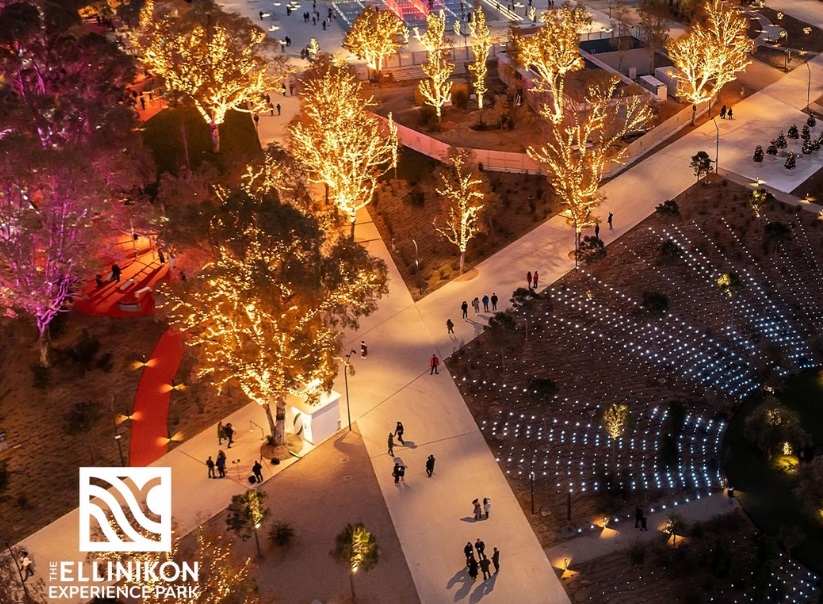 The Ellinikon Experience Park is a great place for a festive walk. Lots of activities are taking place too. From light shows to eco-fireworks. For the entire Christmas period, each area of the park will "hide" a unique, interactive experience that will "come to life" with its visitors' energy, giving sparkle and light to the decorated park. The journey will begin at the Hill of Lights and continue at the Garden of Reflections, where guests can play a specially designed game with mirrors.
Those who visit Plazza B will walk through the largest, interactive projection mapping in Greece, and discover how their steps can change the designs of the Magic Christmas Carpet. Kids can visit the Christmas Hub, located next to the park's fountain, and create original Christmas ornaments, with sustainable materials.
Music group "Musicians of the Box", from the popular TV show "Music Box", will fill the Christmas scene with a special accompanying soundtrack. The festivities at the Experience Park will run until January 8, 2023. Visitors can access the Ellinikon Experience Park from Vouliagmenis Avenue, near the Ellinikon metro station. Parking is free.
Christmas in Athens FAQ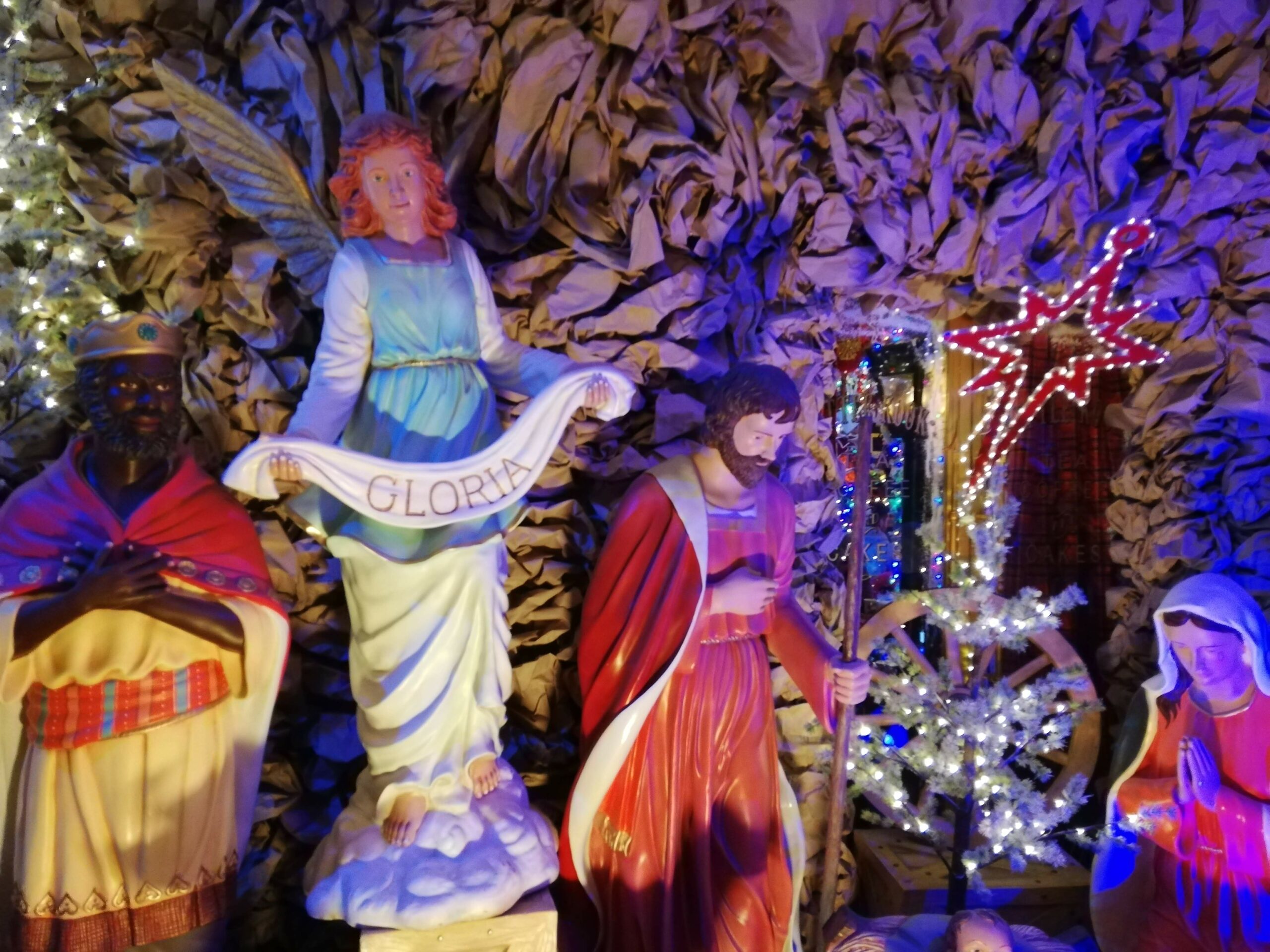 What can I do in Athens with kids during Christmas
For more inspiration and a list, of tried and tested things to do in Athens with kids, head over to my complete list of Top Things To Do in Athens Greece with Children
What are the Covid-19 rules for Christmas activities in Greece?
For an updated list of current travel restrictions, please visit travel.gov.gr. The rules for Christmas theme parks and ski resorts can be found here: Greece announces covid-19 rules for ski-resorts Christmas theme parks.
Where to stay with the family in Athens?
For the ultimate family hotel in Athens, I advise you to take a look at my guide for Best family hotels in Greece.
A winter vacation in Greece with children?
Christmas is festive everywhere in Greece. Why not consider Greece for your winter escape or ski vacation? For a family winter holiday close to Athens or a bit further out, look at my list of family-friendly ski resorts and winter destinations in Greece. For a winter story in Greek Mythology, check out winter traditions in Greece!
What are the most famous Christmas traditions in Greece?
If you want to immerse yourself into the Greek way of celebrating Christmas and New Year, have a look at Christmas Traditions in Greece with Kids and New Year Traditions.
Happy Holidays!