Last Updated on October 8, 2022 by Celeste.
Verita International School is open for admissions, registering new students for the school year 2021/2022. Let's take a look at this south Athens-based, English-speaking, international school focused on inquiry-based learning and emotional intelligence.
Verita International School Athens
Verita International School was founded in 2008 […] and is located in Glyfada, an international suburb in South Athens on the Athens Riviera. The school is an English-speaking, international-based educational institution that follows the National Curriculum of England from Nursery to Secondary (secondary school opening soon). Although international, the program does include daily Greek language lessons.
Verita is family-owned and operated. Mr. Michael Wolpner and Leslie Wolpner are the brother-and-sister duo behind the school. Having spent most of his adult life in Los Angeles, Michael came back to Greece and joined forces with Leslie to pursue their passion for quality education.
Educational philosophy
Verita International School's program focuses on two principal pillars. The first one is Inquiry-Based learning; a student-centered, hands-on approach to academic mastery. Second is the Social-Emotional and Ethical intelligence, a structured learning process that develops the discipline of life skills and the habits of mind and heart. With this approach -integrating academics with self-reflection- Verita students will have the skills to reinvent the world they live in.
With this approach, Verita school aims to develop discerning thinkers, passionate learners, emotionally wise young adults, and world citizens who have the knowledge, discipline, and resources required to put ideas into action. Within this framework, children are taught to think in ways that are both critical and complex. They are constantly challenged to ask questions, take risks, and use creative and critical skills to understand the world and solve problems.
This combination of Inquiry-Based learning and Social Emotional Learning is very important. Verita feels it is equally important for children to cultivate life skills that enhance both their well-being AND academic success.
Emotional and social intelligence are as equally important as intellectual intelligence. Our integrated approach offers skills and values that aid each child in developing skills of self-motivation and independent learning. Ultimately, students will be able to succeed in life – despite its complexities – with adaptability, creativity, emotional balance and critical thinking.

Verita International School
A few more words about Inquiry-Based Learning
In a nutshell, inquiry based learning is a way of teaching, that is focused on creating learning skills, rather than simply transferring information.
A great deal of the interest in inquiry based learning is driven by the fact that the world our children are growing up in is changing, and existing educational philosophies don't seem to be preparing them for this new world.
It is expected that careers and employment may change over the course of a lifetime, and hence the ability to adapt and learn in new circumstances will be very valuable.
Moreover, there is some evidence to suggest that inquiry based approaches may be better at developing a fundamental understanding of some subject areas, such as science. Thus, start with the outcome, not the tool.
Inquiry based learning is focused on getting to understand a problem or subject area, by applying multiple tools. Understanding is verified by getting the students to present the results of their inquiry, using a variety of techniques and media.
This doesn't preclude specialized education in specific subjects or techniques, such as structured writing, analytical techniques etc – however, by showing their application, it reinforces their value to the student.
Inquiry based learning integrates multiple traditional subject areas. Students are encouraged to apply what they have learned in subject areas including literacy, numeracy and others to research their inquiry topics.
The ability to adapt and learn something new should be valued above all else. Children must learn how to learn — to adapt, collaborate, and gain perspective in a world that is increasingly interconnected. Education demands both a rigorous and focused international core curriculum, and the deeper wisdom, emotional intelligence, and resilience that goes beyond traditional textbook-based education.

Verita International School
What is Social-Emotional Learning?
Social-emotional learning is the process of developing the self-awareness, self-control, and interpersonal skills that are vital for school, work, and life success.
People with strong social-emotional skills are better able to cope with everyday challenges and benefit academically, professionally, and socially. From effective problem-solving to self-discipline, from impulse control to emotion management and more, SEL provides a foundation for positive, long-term effects on kids, adults, and communities.
Social-emotional learning helps improve kids' academic performance, curtail bullying, reduce dropout rates, and build character. Studies show that social-emotional skills—such as problem-solving, self-regulation, impulse control, and empathy— not only help improve academics but also reduce negative social behaviors and create positive classroom climates.
We do know that this deeper wisdom, emotional intelligence and resilience, will provide our students with the ability to navigate the inner and outer landscape of mind, body, and heart for success, well-being, and happiness in any environment.

Veritas International School
Veritas Community
Verita International School is also characterized by a strong sense of community with a cooperative relation among its staff, parents, and children. Although Verita is an English language school, it embraces and engages with the local culture. Language is a key element in belonging to a place and a culture. Greek holidays are also recognized and celebrated at Verita.

What makes Verita International School unique?
Social-Emotional Learning methods
Inquiry-Based Learning approach
Well-being; a physically and emotionally safe space for students with Kindness at the center of everything
Students Agency; "the ability of students to act independently within a given environment and assume an amount of control and empowerment"
Education offered
Early Years: Nursery ages 2.5 to 4
Reception: ages 4 to 5
Primary School: ages 5 to 11
Secondary School: coming soon
Open for Admissions
Admissions for 2021-2022 are open for Preschool to Year 5. Verita International School will open grades 2 to 5 in 2021/2022. Secondary education is coming soon.
For more information: veritaschool.gr | [email protected] | +30 211 419 9994
Verita Summer Camp 2021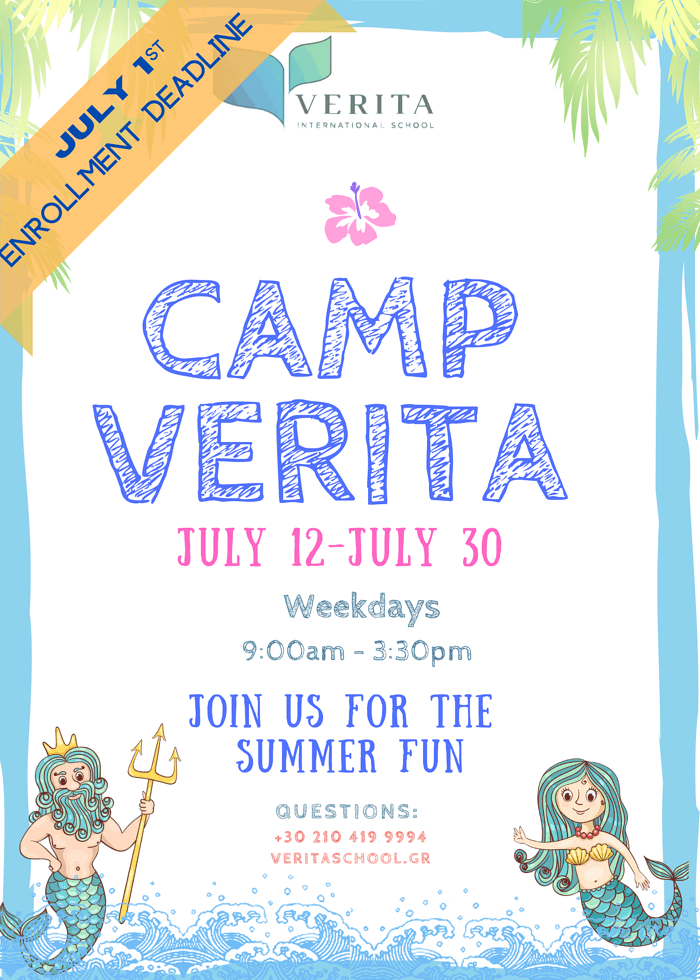 International Schools in Athens
Athens has several international schools for ex-pats (and locals) to choose from spread out over the northern and southern suburbs of the city. Take a look here at some other international schools in Athens and the rest of Greece.