Last Updated on August 31, 2020 by Celeste
Flisvos playground in Palio Faliro offers a great day out for families and kids of all ages. I believe that the Flisvos playground hosts one of the best free play spaces in Attica. Flisvos playground is located in Palio Faliro in the South of Athens in between the beach and the important coastal road called Poseidonos Avenue, 6 km away from the city center. You can easily reach the park by car via the city center or via the highway. There is a large private paid parking at Flisvos Marina but on weekdays, you will be able to park in the public spaces outside the marina too. You can also take the tram or bus to Flisvos Park. They stop just outside the marina and they are connected with the main train and metro lines in Athens.
You have a choice of two different kinds of play in Flisvos.  There is the enormous free public playground by the Palio Faliro municipality. This one is called Flisvos Park. It extends for 300 meters along the coast and has large grass areas with plenty of picnic facilities, pathways for walking and bike riding and 3 different zones depending on the child's age. Toddler are separated from the older children.  There is a lot of climbing and innovative constructions, large towers, ships and castles, all very challenging. My kids especially love the 12 meter high large rope tower and the sand pit underneath. I find it a safe playground; the grounds are covered with sand and rubber tiles. But it can get very crowded in the playground, it can host over 1400 kids. Be careful! When my kids are running around I find it difficult to keep track of them and this is an open park accessible to everyone. For me, Flisvos park is the best playground in Athens!
Next to the playgrounds is an outdoor fitness area and a sports field. There is plenty of shade under the pine trees and at the picnic areas. The sea breeze makes this playground very pleasant on a hot summer afternoon. There are several restaurants around the playground of which some even offer their own private play area while you are drinking a coffee.  Vendors sell snacks and balloons. You can rent little electric scooters for your child and there are  also family bike for a ride along the coast.  There is also an open air summer cinema, a open theatre and a special area for dogs to play. Here are also fountains for your pet to drink water.
The second play option in Flisvos is located inside the Flisvos Marina and is called Volta Fun Town. This is a commercial playground and prices start from 3 Euro,  depending of the games you choose. There is a soft play area that is covered where even very young children (under supervision!) can play. Outside there is a climbing castle, a train, a carousel, boats, karts and electronic games. What I like here is that parents can sit right next to the play area and watch the children. It is clean and well organized and there is a bar with ice cream, drinks, and snacks.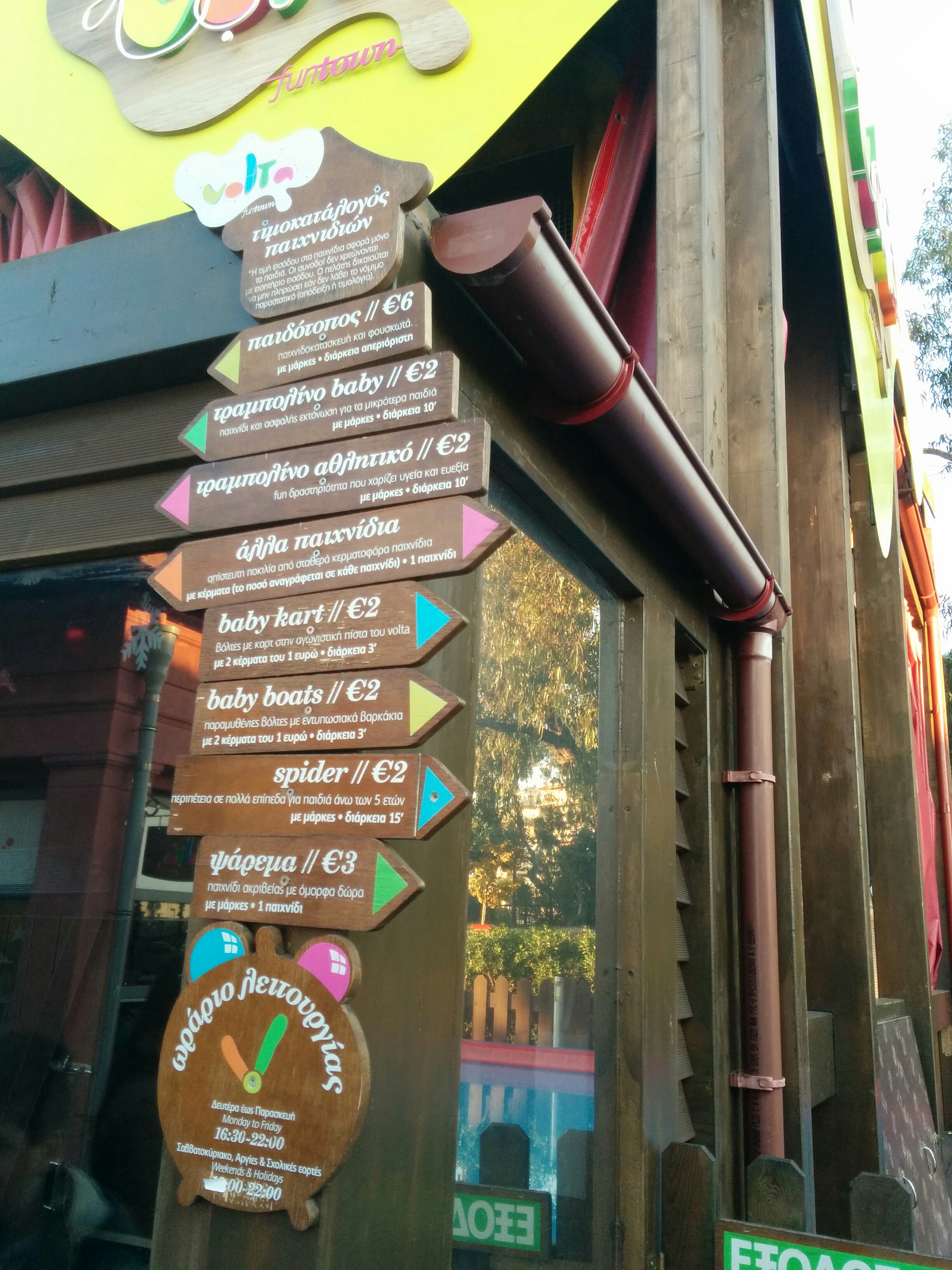 I like to combine the Flisvos municipality park with the Flisvos Marina funpark. I have been taking the children since they were babies. I love the walk from the one park to the other along the sea, it takes about 15 minutes. In the modern Flisvos Marina, we enjoy the view of the beautiful yachts and see boats come and go. I like to have lunch or coffee in Flisvos Marina. It is clean and has a luxurious feel and very peaceful in the mornings.  In the evenings I love to watch people passing by and listening to the music from the many bars. There are high end restaurants and shops but also family friendly ones such as T.G. I. Friday's. I believe that Flisvos offers enjoyment for all members of my family. Mind you there is water everywhere so if your child is very young you may want to skip walking around the port unless with a stroller or carrier. The marina is very stroller friendly and has good baby changing facilities.