Last Updated on by Celeste
I love cosmetics that are organic, baby friendly and practical. I prefer products that can be used by both myself and my children. It saves time and cupboard space. Multi-purpose products for the whole family are also practical during traveling. Soap bars are my favorites (no liquids during traveling!) and products based on Greek olive oil too. Multi-functional creams, such as creams for hands and face, are very practical and I love ointments that have many purposes.
Bioselect
Recently I was introduced to the products from Bioselect, a collection of certified organic cosmetics from a company in Crete. I was immediately enthusiastic because in worked in Crete as a tour guide and I know that the island is a botanical paradise. Crete has one of the most interesting ecosystems in Europe and a lot of the herbs are endemic to Crete. I remember telling visitors the story about dittany. Aristoteles said that if a goat was wounded by a hunter, the goat would go and eat dittany to heal his wound. This aromatic herb, Dictamnus, is only found in the mountains of Crete. Hippocrates and other great ancient doctors they have discovered the benefits of using Dictamus nearly 2.500 years ago. Bioselect uses Dictamnus in their products, something that I had not yet seen before in other brands.
Psoriasis
It is important to mention here that I suffer from the skin condition called psoriasis since I was 16 years old. The sun and the sea in Greece have helped me a lot but I still need the help of medication on a daily basis. I also must use very gentle products for my skin. Especially on my face where the psoriasis is the most obvious.
My experience with Bioselect products
I have tried the samples of the complete range and I used 3  regular products extensively for one month to date. These are the Dictamelia Ointment, the Olive Hand Cream with Dictamelia and shea butter and the Make- up Remover with Dictamelia, balsam oil and rosemary. The Dictamelia Ointment contains dictamnus olive oil and beeswax. Some of the Dictamelia uses are: dry skin on face and body, chapped hands and lips, dermatitis and tired skin, burns from sun exposures and other causes, cracked nipples and baby rash.
After using these products for only a month, I am already very pleased with the effects on my face.  I see results that I usually get only from using my cortisone creams. The psoriasis marks on my face did not disappear but my skin is less red and feels softer. It seems that it is getting better every day. I will continue using the ointment and will update the information here when I have used it longer term.  The ointment is greasy and makes my face shiny during the day. But with some compact powder and a tissue, this is easy to solve. The ointment comes in a small jar (good for traveling too) and, as mentioned before, can be used for many purposes during trips and at home. It is also a moisturizing cream so you basically need a jar of this in your travel bags and you don't need to bring much else. The best part is that the ointment is safe for kids and babies too. I have also used it on my youngest nappy rash.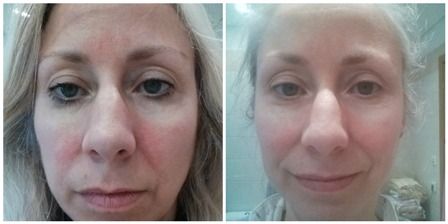 The makeup remover works fine. It comes in a very practical bottle that is also handy for traveling.  The hand cream smells amazing and is 87,4% organic. I was surprised with the natural lifting cream. The cream was very well absorbed by my skin and left a mat result.   
The product line
Besides the above-mentioned products, there is also a range of hair products and elixirs, facial masks, sun care products based on olive oil and tanning oils based on carrot and walnut oils, essential oils, shaving creams and natural lip balms. This is the complete list of Bioselect:
1.Keraloifi 2.Lip Care 3.Face Care 4.Hair Care 5.Body Care 6.Spa Care 7.Men's Care 8.Baby Care 9.Sun Care 10.Essential Oils 11.Base Oils 12.Ready to fly – Special size products 13.Special Gifts
More experiences
I look forward trying Bioselect sun products this summer and I will report back my experience.
And I will definitely get back with more information on the progress on my skin condition. Who could imagine that a little herb from Crete could do so much for the psoriasis.
Have you used Bioselect products and what was your experience? I would love to hear your story!
For more information: 
Website: http://www.bioselect.gr/
Facebook: https://www.facebook.com/bioselect.gr/
Instagram: https://www.instagram.com/bioselect_official/
**I was provided with free products of Bioselect in return of my honest review. All thoughts and opinions expressed herein are my own and not influenced by the developing company, and/or its affiliates, in any way**