Last Updated on May 13, 2021 by Celeste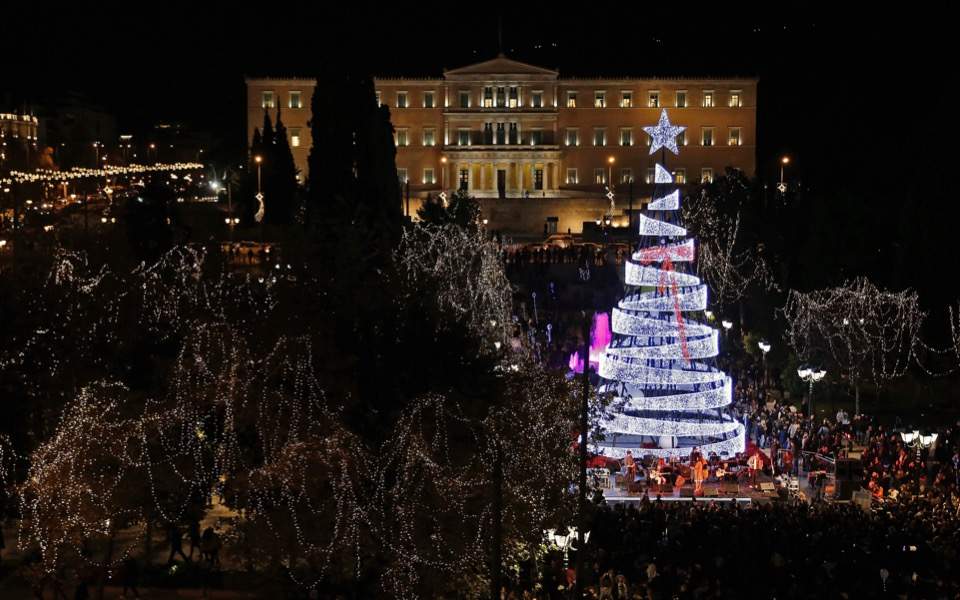 Related blog post about the most important family Christmas traditions and customs: Christmas-holidays-in-greece-with-kids
In order to get the most out of Christmas in Athens with your kids, plan ahead to buy tickets, make reservations, and ensure you're not shut out of any of the activities that make the city a magical place to visit at Christmastime. Thinking about an Athens Christmas break? This list of my favourite tried & tested Christmas activities in Athens will get you started.
Free family activities in Athens
This Christmas, the City of Athens prepared an events program dedicated to "Love with our Angels as guides". From December 3 and for 36 days, the city will be filled with music, theatre, educational programs, dance, photo exhibitions, screenings and tributes to great artists. Strolling through the streets of the city, you will meet angel-like figures. There will also be a celebration at the National Observatory of Athens and kids and parents can visit the "Olympia City Music Theatre Maria Callas", reopening this Christmas. There will be dancing in Monastiraki, music in Agia Irini Square, in Metropolis Square, in Thisio, in DionysiouAreopagitou Str. and in Theatre Square. Kids can also enjoy educational activities in newly opened playgrounds in the city. You can download the complete program here. Don't miss the city's large Christmas tree on Syntagma square.
More beautiful trees and free activities can be found at the Stavros Niarchos Foundation Cultural Centre (SNFCC). This Christmastime, the Stavros Niarchos Park is full of light and sounds, through a series of interactive installations forming a magical winter wonderland. On Christmas day are two free performances of the FLIP Fabrique circus, there will be Christmas carols singing, orchestra performances and more. All available on the website.
For the little ones in Athens
Little ones are tired of walking the city? Use the Hop On – Hop Off Bus to go around town. A flexible and great way to see the city without getting tired.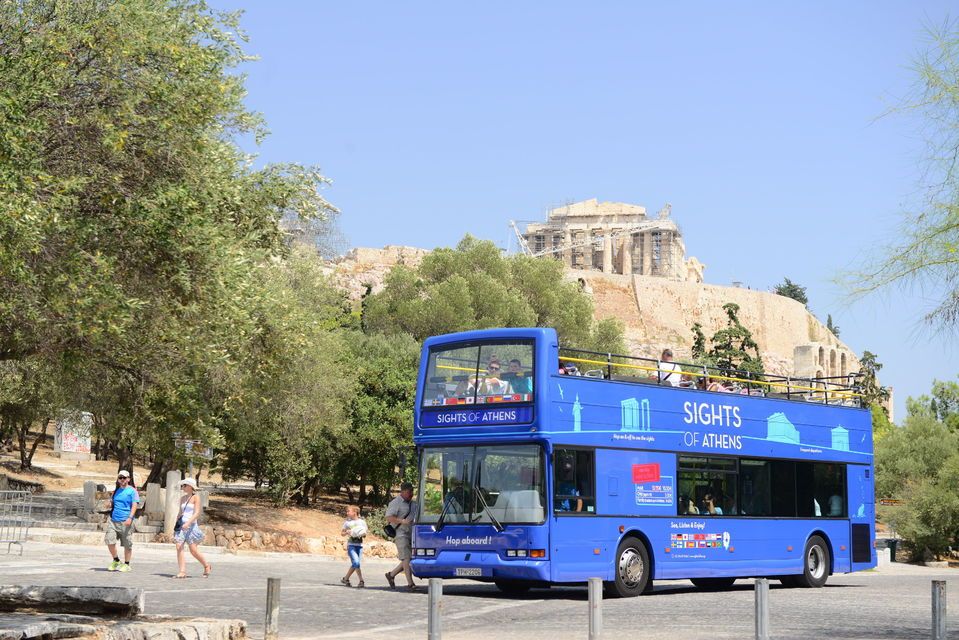 Ride the Athens Happy Train. An open toy-like street train on wheels that rides your family to all the monuments and places of interest. It starts a tour every 30 minutes from the Syntagma square and crosses the historic city heart, old neighbourhoods and the Acropolis hill. The train passes by the Acropolis, The Temple of Zeus, the Zappeion, the Panathinaiko Stadium, the Theatre of Herodes Atticus, Hadrian's Arch, the New Acropolis Museum and the War Museum. The tour lasts approximately 60 minutes and has a hop-on-hop-off system so you can start your tour from any point on its route within two hours. The train operates from 9am until 12pm and will get you in a festive Athens city mood within getting tired.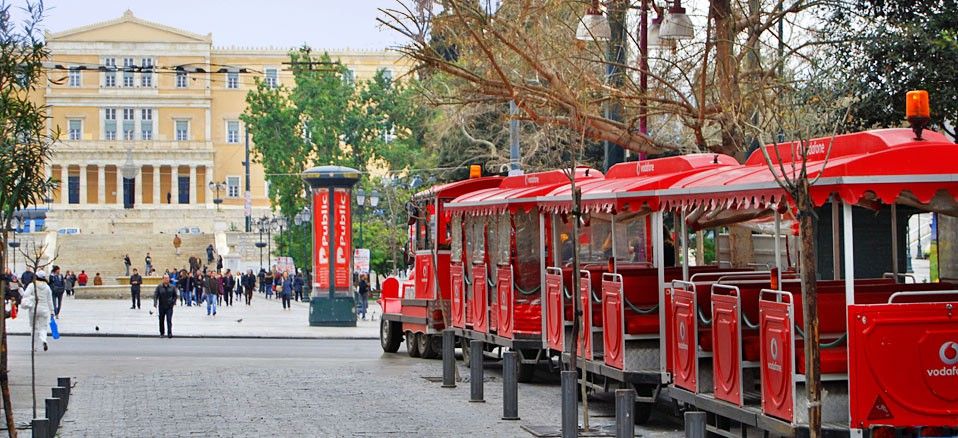 Holiday Shows in Athens
The first thing you should put on your itinerary for an Athens Christmas with kids are the most popular events, particularly stage shows. Once you've bought your tickets, work everything else around these. The Athens Concert Hall 'Karagiozis' shadow puppet theatre is a must to see, but there are plenty of other holiday shows around town. The Christmas Theatre in Galatsi presents the family holiday classic "The Nutcracker" and the Greek National Opera performs Swan Lake during Christmas. For Snow White on Ice, click here. You can also check the program of the Stavros Niarchos Cultural Center for holiday shows.

Christmas funparks in Athens
To get the family into the Christmas spirit visit the Christmas Factory in Technopolis, Gkazi. Children can visit Santa's Toy Factory, write Santa a letter at the Santa post office or participate in Christmas arts& crafts workshops. The ferris wheel is our favourite each year. Need more action and play? The Santa Claus Kingdom in Peania (near Athens airport) is a gigantic indoor play park of 13.000 m2 including a roller skating, ice skating, racecars, bouncy castles and more. Very suitable for the little ones because of the soft play areas. My kids have loved the trampolines and the slides in the past. We have planned a visit this year and we'll update this blog post as soon as we do! Something similar can be found at Elliniko called Christmas Fantasy Fun Park Theatre, but we haven't been there.
The Christmas Meet Market 2018 created two events: Market Christmas Edition, Saturday 15 (12:00 – 23:00) & Sunday 16 December (12:00 – 22:00) at the Athens Conservatoire. There will be food stalls, a ceramics workshop for kids and the Hellenic Children's Museum created a sensory playground (for kids aged 3 -12). The Hellenic Children's Museum will be open from 12:00 – 20:00 both Saturday and Sunday, alongside the Meet Market, with plenty to do and see and learn, from cookie baking workshops to bubble making and lots more. There is a special space for babies aged 0 – 3 years old. Finally, if you don't like the flashy lights of the amusement parks, you can opt to celebrate Christmas with animals in the calm surroundings of the Attica Zoological Park.
Ice Skating in Athens
For a traditional outdoor Christmas activity, head over to the ice skating ring at the SNFCCf. The long canal of the SNFCC has been transformed into an ice-skating rink and is open to the public every day from now until 27 February 2019 (weather permitting), between 10:00am and 10:00pm free of charge. Each ice-skating session will last 40 minutes and visitors need to register in advance. Pre-register here for Ice Skating. The maximum stay is 40 minutes. Pre-registration will be available every Thursday at 12.00pm (noon) for the following week. In order for your pre-registration to be valid, you must arrive at the skating rink at least 20 minutes before your booking, otherwise, your spot will be re-allocated. Ice skates will be available or you can also bring your own. The operation of the ice rink may be suspended or modified if the weather conditions are not suitable for skating. Please call the SNFCC from 9am daily for updates on +30 216 809 1000.
Family Christmas menu
Many hotels in Athens offer Christmas packages including a family brunch or dinner on Christmas and New Year's Eve. What is more important; some of these combine the meal with Christmas activities for children.  At St. George Lycabettus Boutique hotel kids while doing arts & crafts while parents enjoy a Buffet at Le Grand Balcon. The hotel's screening room shows a Christmas movie plus popcorn! The Wyndham Grand Athens created accommodation packages with free Christmas services for kids & adults such as free theatre tickets, a playground for the kids, and other surprises.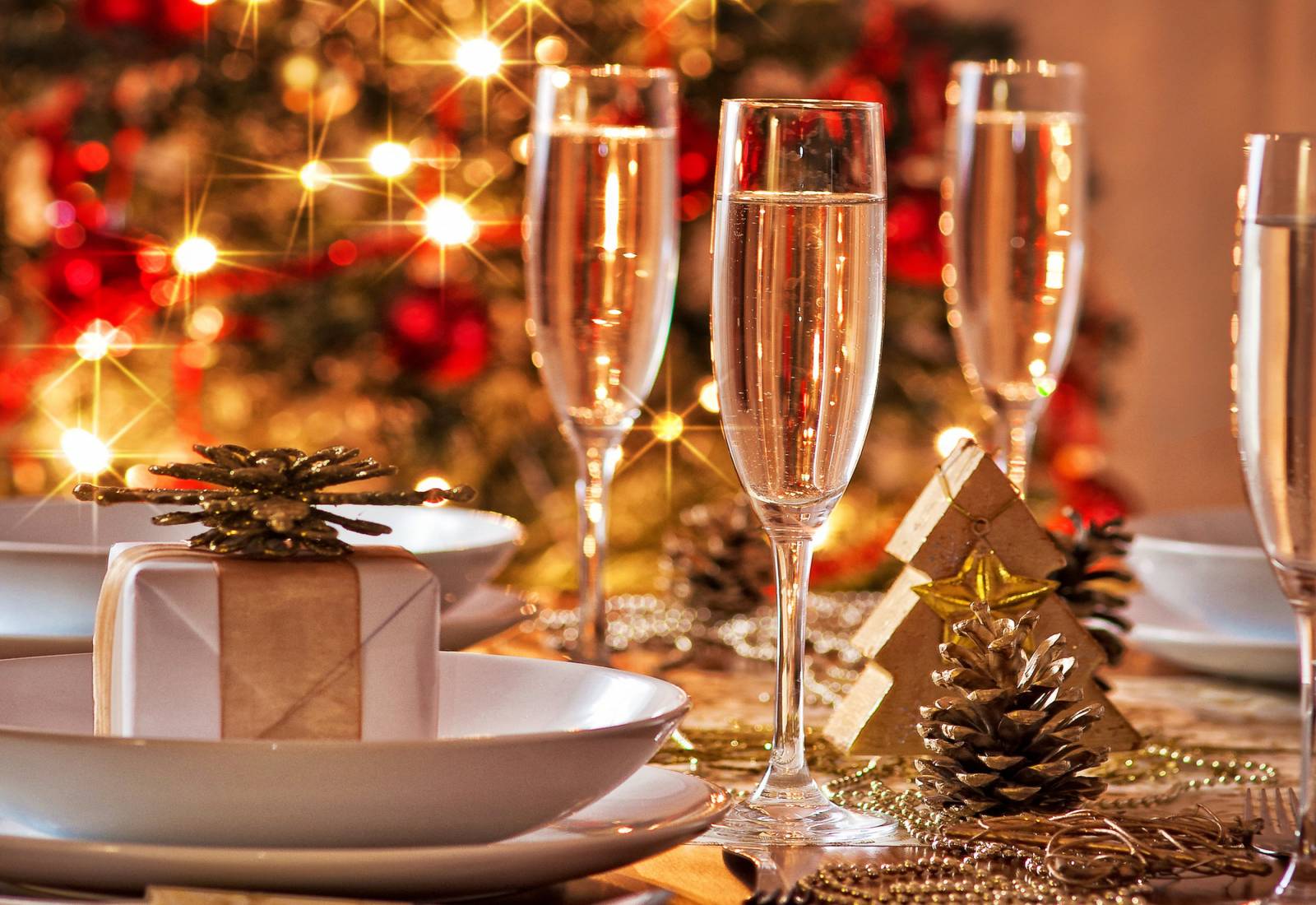 Little Kook Cafe
Little Kook Themed Cafe cannot be missed in a list of things to do during Christmas in Athens with children. The abundantly decorated fairy tale cafe is definitely worth your visit! Your kids will love the fairytale cakes and crepes and the theatrical performances of the staff. I wrote a separate blog post about Little Cook Themed Cafe in Athens.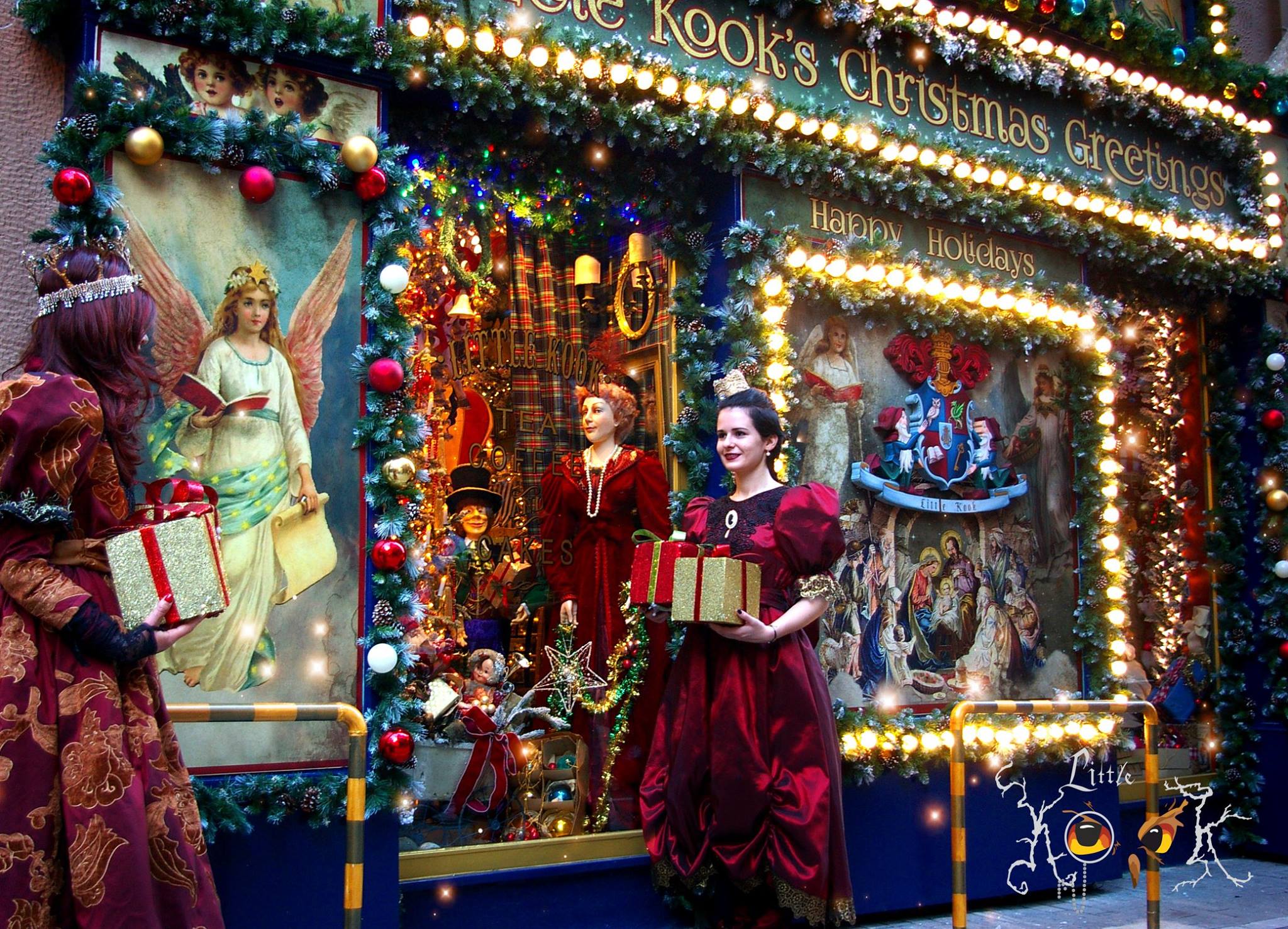 Shopping and Holiday Window Displays in Athens
For a low budget option with lots of festive atmospheres, you can opt for one of the shopping malls in Athens. Department store windows at several Greek stores get decked out every year. The displays are more about telling stories than selling clothes and they can me very fascinating with moving parts and special effects. All of the shopping malls organize Christmas activities for children. Do you want to meet Santa and prefer to be indoors with easy parking options, changing room facilities and a safe place for your little ones to run around? I love going to a mall during Christmas, especially with babies! Golden Hall in the suburb of Marousi has transformed itself into the magic world of the Nutcracker this year.
Best Window Displays and Christmas lights in Athens center
Kolonaki (Voukourestiou street)
Syntagma square (don't miss the toy soldier at Grande Bretagne Hotel) and Ermou Street
Attica Department Store on Panemistimiou street
Notos Galleries
Karaiskaki Street Psiri and Little Kook Cafe
Hotels in Athens for Christmas
Many hotels in Athens offer special packages for the Christmas holidays. Here are some of the most family-friendly 4- and 5-star hotels with a festive program:
Grande Bretagne Hotel: The iconic lobby of the Grande Bretagne hotel, on Syntagma square is thoroughly decked with lights and a Christmas tree, the entrance flanked by a toy-soldier. Special menus served in the restaurants complete a stay at this historic Athenian hotel. A festive program with family Christmas dinners can be found here. Love their spa and the winter garden.
St. George Lycabettus Hotel: With views overlooking the Acropolis at the Lycabettus hill, this upscale hotel is sumptuously decorated for the holidays, with a complete family program for the holidays. The St. George Lycabettus Hotel is the only one in Athens with a cinema for kids! Have a look at our experience here.
Grecotel Pallas Athena: Located in the heart of Athens, this funky boutique hotel with its unique family rooms and festive packages and Christmas shopping discounts, is one of our favourites.
Hilton Athens: With a garden full of blue Christmas trees and a program full of festivities in the hotel's awarded restaurants, Hilton Athens is a trusted choice for the holidays. We are a fan!
Additional Tips for Christmas in Athens

The weather is usually sunny. The average temperatures in December is 12°C (54°F), while the average low is 9°C(48°F), and the average high is 14°C (57°F). The beginning of the month brings cloudy days, with a decent chance of rain, and an average daily temperature o f14°C (57°C).
Crowds and lines are inevitable, but your best opportunities for minimizing the impact is to visit the highlights in Athens is on a weekday, and plan activities and visits to attractions during the day instead of the evening.
Expect most stores and restaurants to be closed on Christmas Day. The restaurants that are open will likely serve a special Christmas menu, and require advance reservations. Hotel restaurants will be open too.
Related blog post about the most important family Christmas traditions and customs: Christmas-holidays-in-greece-with-kids .
Happy Holidays!