"I miss our travels," said my daughter a few days ago. Exploring Greece and visiting museums or ancient monuments are not possible right now. Since the corona crisis has kept us home in our Athenian suburb, history and culture seem far away. That is why we started exploring virtual tours in Greece.
Virtual Tours, exploring from home
If you cannot travel to your favorite place, virtual tours can fill the gap. They are also a great resource for planning your next trip.
In Greece, several museums, archaeological sites and other organizations, have stepped up their online game, putting (kid-friendly) virtual tours right at our fingertips.
Through these virtual tours, we get to explore Greece at any time that we want and without waiting lines or summer heat. Combine these advantages with the fact that kids love iPad or tablets and you have a winning solution!
My 10 favorite virtual tours in Greece
There are quite a few excellent online tours available. To make things easier for you, I have listed my 10 favorite resources and virtual tours in Greece. Travel with kids from the comfort of your own living room, happy exploring!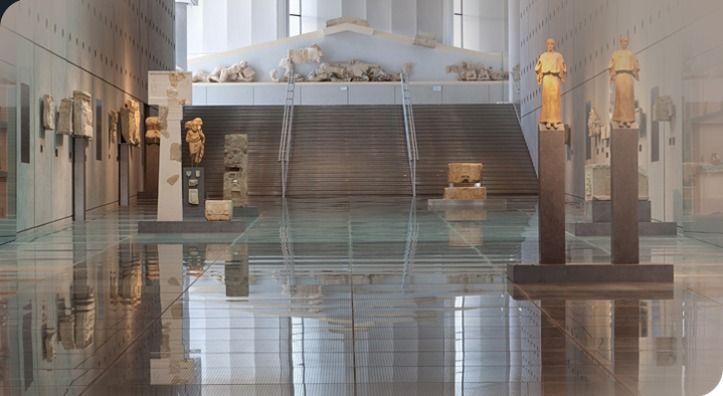 Possibly the largest collection of virtual museum and monument tours, Google takes you inside scores of iconic institutions — including the Acropolis Museum and the National Gallery in Athens. If you only have time to scour one resource for virtual travel experiences, this is the one!
2 The National Archaeological Museum
The largest museum in Greece, the National Archaeological Museum, features over 11,000 exhibits, that provide the virtual visitor with a panorama of ancient Greek culture from prehistory to the late antiquity.

3 Virtual Tour of the Acropolis in Athens
Discover the most famous monument of Greece during this virtual tour of the Acropolis in Athens. Engaging audio commentary (in English) combined with satellite and street views you will travel to the most captivating ancient citadel from your sofa. For more information, please click here.
I can't think of a brand more suited to offering free insight in (Ancient) Greece than National Geographic. From the artistry to politics, Ancient Greece left a considerable impression on world history and this is a great tool to teach your kids how the legacy of Ancient Greece has evolved over thousands of years with short videos and more. Have a look at this virtual tour of an Ancient Greek cult.
Virtual Tours in Greece
We were already a fan of the family self-guided audio tours of Clio Muse. This audio tour company moved forward with Next Generation virtual experiences making it possible to remotely visit renowned museums and sites from home.
Follow the streets cats in Athens or explore the impressive Ancient Agora without leaving your house! No special equipment or apps needed, you can view them on your browser.
For anyone interested in Greek history and culture, this high-quality platform with free virtual tours is a must-exploring! The beautifully designed website has videos and other resources for myths, arts and crafts, destinations and experiences in Greece. With videos of music and wonderful places as well as tours and lots of cultural information by the E-Learning Center of the National and Kapodistrian University of Athens. Great for parents and older kids.
7 The Benaki Museum
The Benaki Museum also offers museum fans a virtual tour through its exhibits. Thanks to its online collection, you can virtually wander the museum's exhibit spaces and permanent collections of ancient Greek, Roman and Byzantine art. At Benakids, children can read a letter from the Toys of the Benaki Museum, while staying at home and participating in a drawing contest.
Greece from home is a platform with videos of Greeks from around the world, Greek-inspired music, mythology, cuisine, arts, crafts, fashion, sport and style. The YouTube channel also offers cooking classes of renowned chefs and a selection of videos of destinations and experiences from around Greece.
9 Basil and Elise Goulandris Foundation
Help your kids to get inspired by the artworks in the online collection, of the Basil and Elise Goulandris Foundation where they will meet several artists who drew inspiration from their favorite everyday objects. In We create from home, kids and teens up to 15 years old are invited to create their own artwork that will be exhibited in the museum when it opens again. My kids love it! For terms of participation, head over to the website.
10. 360 Tourist Net / Free Virtual Tours in Greece
The 360 Tourist Net website offers a dazzling amount of virtual tours around the world. Click on the Greek flag and find 165 free virtual tours in Greece. By clicking through the photos, similar to Google Street View, we were able to travel from Piraeus port to Hydra island. A great way to prepare for a trip!
Have you tried any virtual tours in Greece? What is your experience with your kids, did they like it? Let me know in the comments!
If you want to learn more about Greece and its history and culture, try reading some Greek mythology with your kids. Click here to find our recommended 20 best Greek Mythology books for kids.