Last Updated on March 2, 2023 by Celeste.
Balos (together with Elafonissi beach) is one of the most famous and most photographed beaches in Greece. In fact, it has been named by Tripadvisor Best of Best Beaches 2023 and CNN in the list of most beautiful beaches in the world for consecutive years. I couldn't wait to take my children and see their expressions when they would see these colors.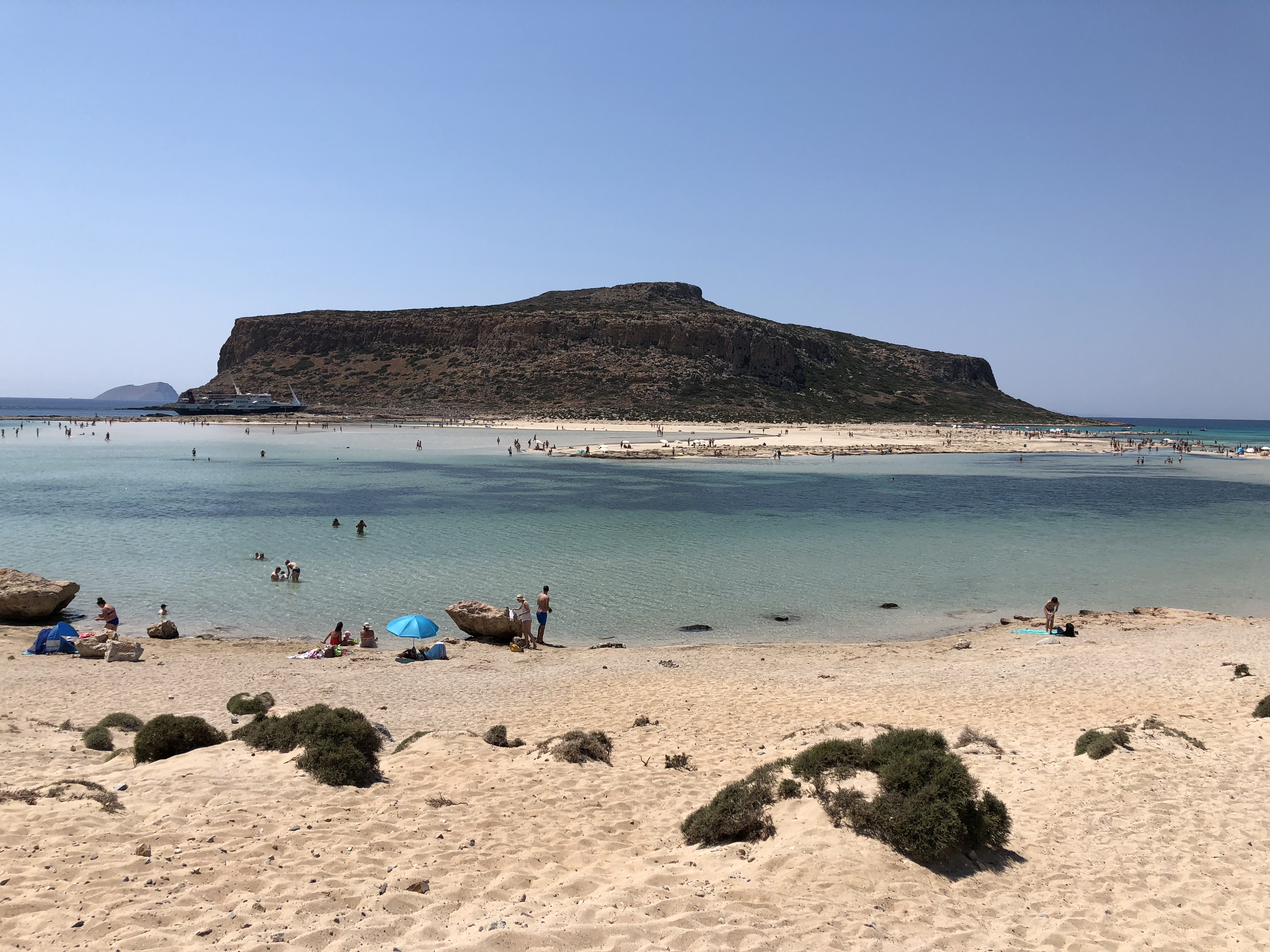 Balos and Gramvousa island in Crete with Kids
I was also looking forward to sharing this experience since I know this place so well, and there is one thing I can say for sure.
No matter how well described, no matter how beautiful pictures you will see, the feeling of being there and receiving the aura of the place is more than divine.
How to get there?
There are two ways to get you to Balos and Gramvousa island with kids and today we are choosing the easy one, which is the boat that takes you from Kissamos on a small cruise with an extra bonus. The islet of Gramvousa where you have the chance to enjoy the beautiful view from the Pirates Castle and swim at crystal clear tropical waters.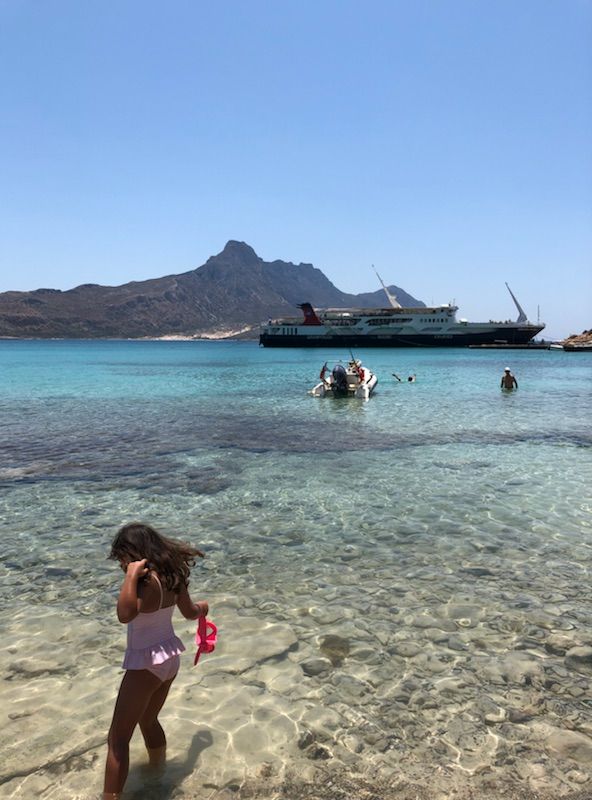 The Castle was built by the Venetians in the Sixteenth Century but during the Cretan revolution, it was used by the local pirates to control the area.

The view from the top of the castle is breathtaking, the smell of thyme and oregano are very characteristic, and you will see Balos within a distance of two miles.

This will be our next stop. Crystal-clear water in all shades blue, tropical sand, and serenity. The place is big enough if you prefer to get isolated, so wander around and see what feels right for you.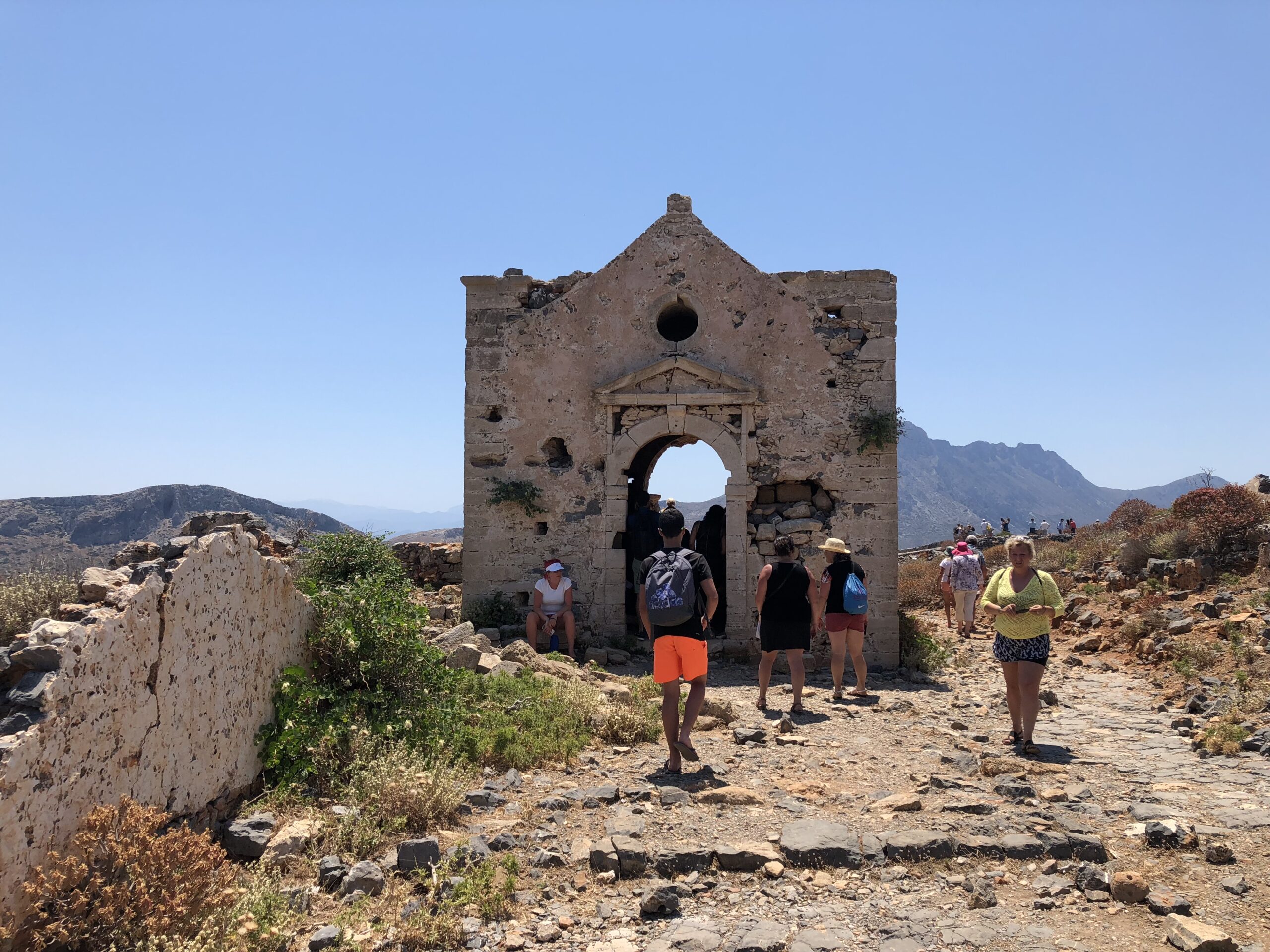 If you choose to go by car to the parking lot, just be prepared for a half-hour bumpy ride, followed by a thigh-burning hike down the cliff which is quite pleasant actually, especially when the whole scenery starts unfolding before your eyes. To be honest, this is my favorite way of visiting because this view needs to be seen and felt. With the kids, I picked the easy way with the Castle bonus.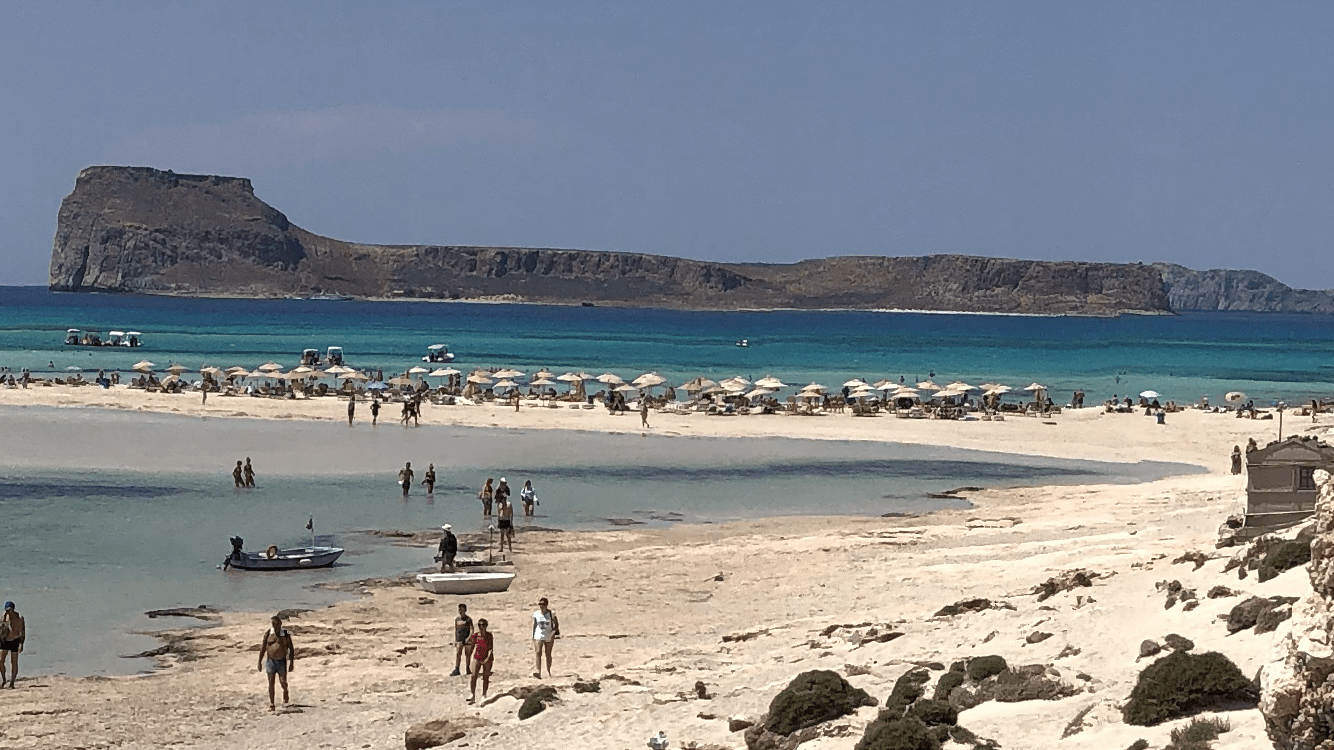 The best advice I could give if you drive is to go light. You need nothing more than the very basics considering sun protection, water, light food and towel. Don't carry too much, because it's quite easy to go down to the beach, but after a long day, you have to return from the same route and trust me, you don't want to carry a lot or not have enough water.
Boat Cruise to visit Balos and Gramvousa island in Crete
The best way to visit Balos with kids in a relaxed, organized way is by boat trip. If you have your own transport to the port, I can recommend this boat tour: 
Boat Cruise to Balos Lagoon & Gramvousa from Kissamos Port
The boat departs from Kissamos Port and sails for about an hour in the bay, against a stunning backdrop of steep cliffs and rocks, incredible secluded beaches and the infinite blue. Have the chance to see a large cave, which is thought to be an ancient shipyard. At the end of the bay, the boat will sail between Gramvousa Island and Cape Vouxa. The landscape is breathtaking against the backdrop of Valenti, Pontikonisi, Balos Lagoon and Imeri Gramvousa.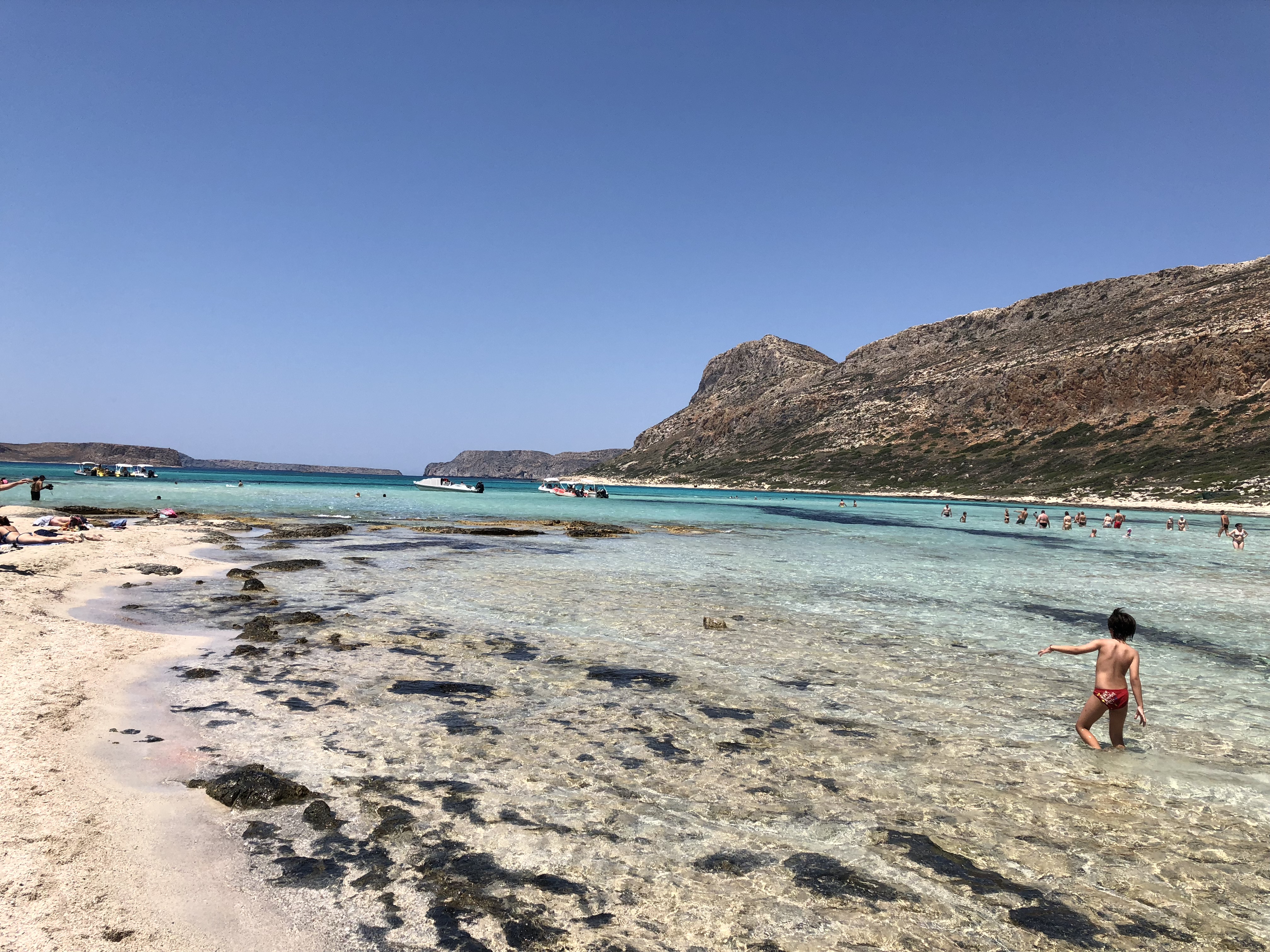 When to visit Balos and Gramvousa?
It would also be more than ideal if you would not visit during the high touristic season of July and August. This is what I recommend in general to those who visit Crete and the repeaters do experience a major difference in services, traffic, beach quality, and tranquility.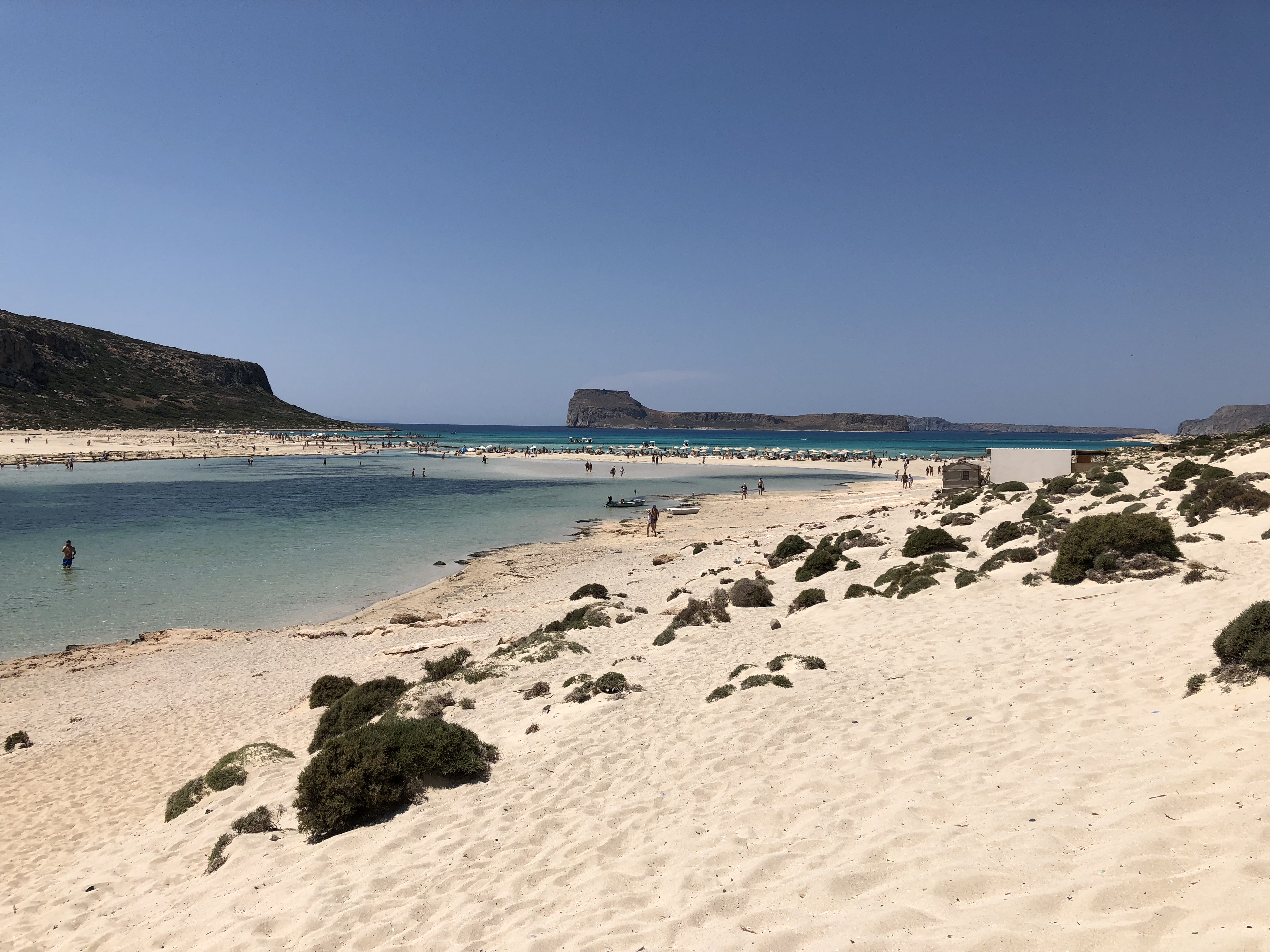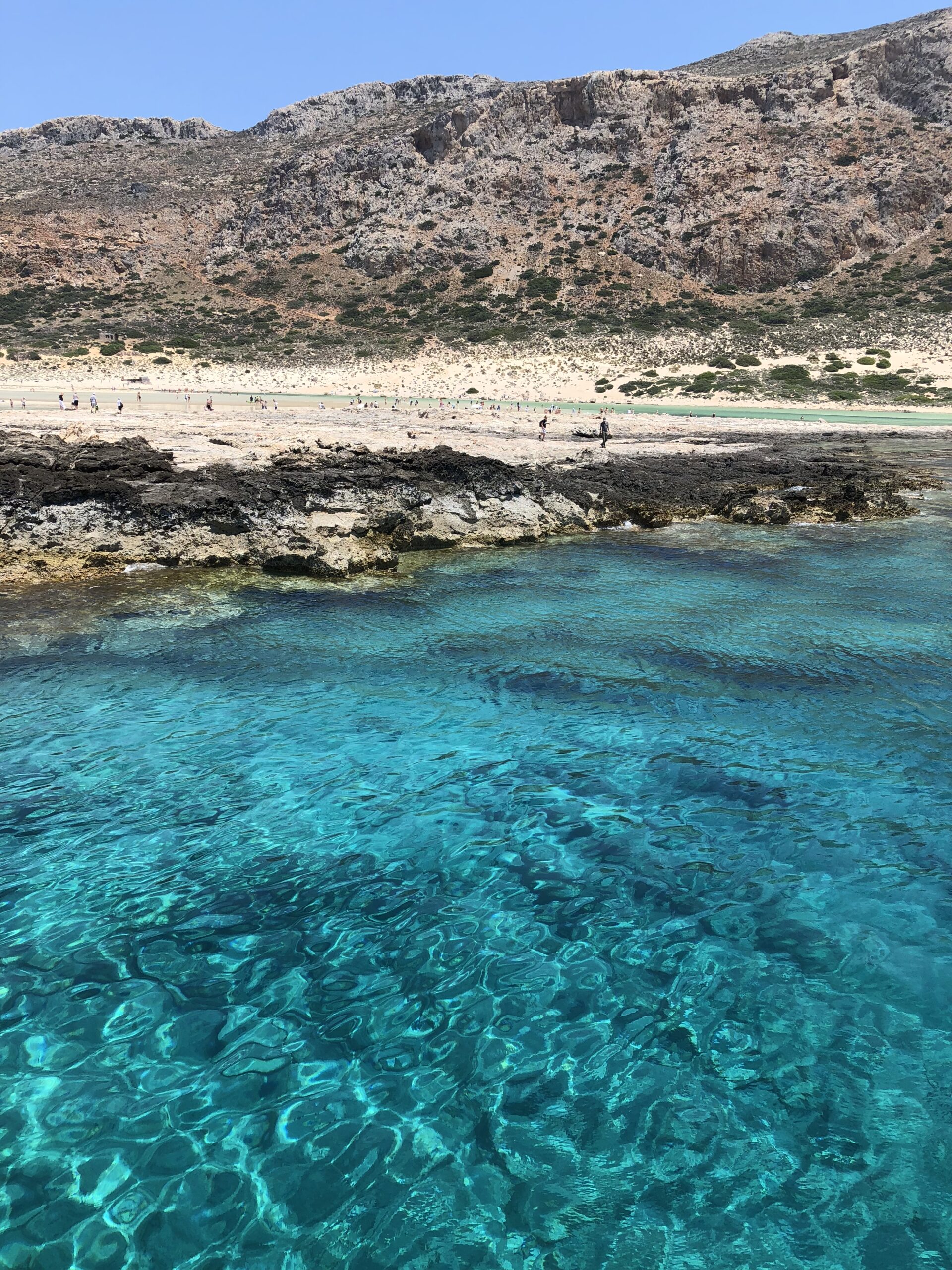 I will leave the final word to my little two travel experts, whose favorite part of the excursion was "the pink sand with the shells and the goat in the back" and "the pirate whose eyes had the same color with the sea"! I didn't see a pirate, but I can't doubt the magic effects of the area…if you see him too during your visit give him our best regards!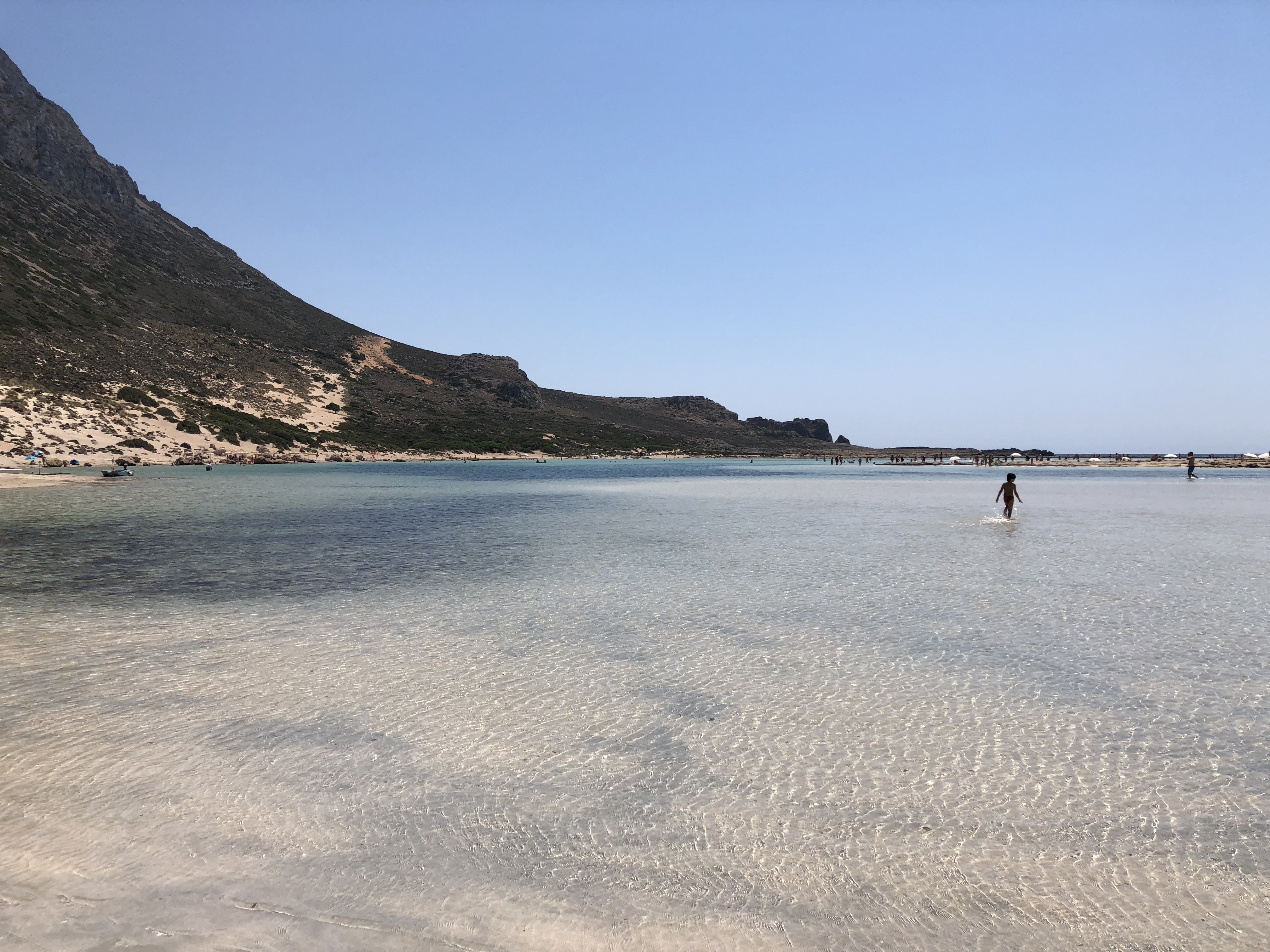 If you are in Chania, this From Chania: Gramvousa Island and Balos Bay Full-Day Tour is value for money, it includes the bus transfer and the tour guide but not the boat tickets. Click here for more information and to book your day trip from Chania.
More beautiful beaches in Crete
I am blessed to live in a part of Crete that hosts many beautiful beaches. Have a look at my blog post about Elafonissi, a tropical paradise in Chania. I also love Falasarna beach, also located near Chania. These are some of the most famous beaches in Greece.
Where to stay in Crete with Kids
Are you planning to visit the beautiful beaches of Crete and need to find a recommended family hotel or kid-friendly resort? Check out our list of family-friendly hotels in Best Family Hotels in Crete.
Related posts about our experiences and visits to beautiful places in Crete:
Related posts for families who love Greek Mythology: