Last Updated on April 11, 2023 by Celeste.
Naxos is one of the most family-friendly Greek Islands. Great beaches, good food, a fun vibe, and lots of small friendly hotels. The largest of the Cyclades group of islands, it is easy to hop over and see Paros, Mykonos, or Santorini during your stay. It is the greenest of the Cyclades with imposing mountains, green valleys, and stunning rural villages. This treasure of an island will certainly not disappoint you.
The Best Family Hotels & Resorts in Naxos 
We have visited the island and handpicked the 12 best family hotels in Naxos based on their location, the availability of family rooms, facilities, and beaches. Have a look and our list below and don't hesitate to visit the island because Naxos is truly a family-friendly gem and a much-recommended place for family vacations!
Built in a traditional style the Kavos Hotel Naxos is just 450 yards from Agios Prokopios Beach. The outdoor swimming pool overlooks the Aegean Sea and a pool bar serves refreshing drinks. The onsite restaurant serves ever-popular Meditteranean cuisine and there is a supermarket close by for supplies. All the accommodations have a lounge area with a kitchenette, making it a fantastic family hotel in Naxos. There is a free airport shuttle, complimentary wifi, and free toiletries at the hotel.
The 5-star Nissaki Beach Hotel is located directly on the beach of Agios Georgios. It offers boutique-style accommodation in the minimal Cycladic style. The seaside restaurant at the hotel serves fresh fish and other Mediterranean dishes. Breakfast for guests is served either by the pool or in the breakfast area, which is a beautiful way to start the day. The main town of Naxos is only 200 yards away so it is a short walk to shops, bars, and restaurants.
Galaxy Hotel is in the South-West part of Naxos town, just a 10-minute walk away from the main area of the town. It offers a high standard of accommodation just 150 yards from Agios Georgios Beach. Like many on the island, the hotel is designed in a traditional Cycladic style, featuring large gardens and a large pool area. The hotel offers free WiFi and free parking.
Located just 10 yards from the beach, the award-winning Iria Beach Art Hotel is built in traditional Cycladic style. The beach that the hotel sits on is one of Naxos' most popular, Agia Anna Beach. It is also within easy reach of Naxos Town, which is just a few kilometers away. The breakfast at the hotel, made with local fresh ingredients, comes highly recommended.
Illiada Villas is just 550 yards from Agios Prokopios Beach in Naxos. It has a swimming pool and a stunning sun terrace with loungers and umbrellas. The hotel offers self-catered villas, which include free Wi-Fi, a kitchen with cooking facilities, and a balcony overlooking the sparkling blue Aegean Sea. There is also a seating area for the whole family to relax. Just a short walk from the hotel is a supermarket and restaurant and car rental is available from the hotel.
Located only a couple of minutes walk from the sandy beach of Agios Prokopios this beautiful hotel offers a swimming pool, spacious accommodation, and free WiFi. There are a few options for rooms, making it an ideal family hotel in Naxos. These range from standard rooms to self-catering studios and apartments. A stunning Greek Buffet breakfast is available for guests until noon and there is also a barbecue area, snack bar, and pool bar. For children, there is a separate pool and playground, as well as a tennis court.

Stella Naxos Island offers self-catered accommodation just 20 yards from Agia Anna beach. All studios or apartments have a coffee machine and fridge, as well as a safe deposit box and TV. There are BBQ facilities in the garden and a children's playground for the younger members of the family. The main front desk is manned 24 hours a day to help with all your travel needs.

The 5-star Naxos Island Hotel has a beautiful rooftop pool with a restaurant, offering panoramic views of the Aegean Sea. Located just a few yards from Agios Prokopios Beach, there is a wellness center with a hot tub, hammam, and sauna. The rooms are all elegantly designed and fully air-conditioned, some have a balcony and others have an outdoor hot tub. Guests can enjoy meals, snacks, and drinks at the rooftop 'The Taverna' restaurant, whilst enjoying the view.

Situated in Aliko Beach, Pyrgaki Beach Villa has an outdoor swimming pool, garden, and terrace. This villa also has barbecue facilities and free private parking. There are 4 bedrooms, a living room and a fully equipped kitchen with a fridge and coffee machines. As well as this there are 3 bathrooms and complimentary toiletries. Just 650 yards away is the beautiful Pirgaki Beach, while 0.8 miles away is Aliko Beach.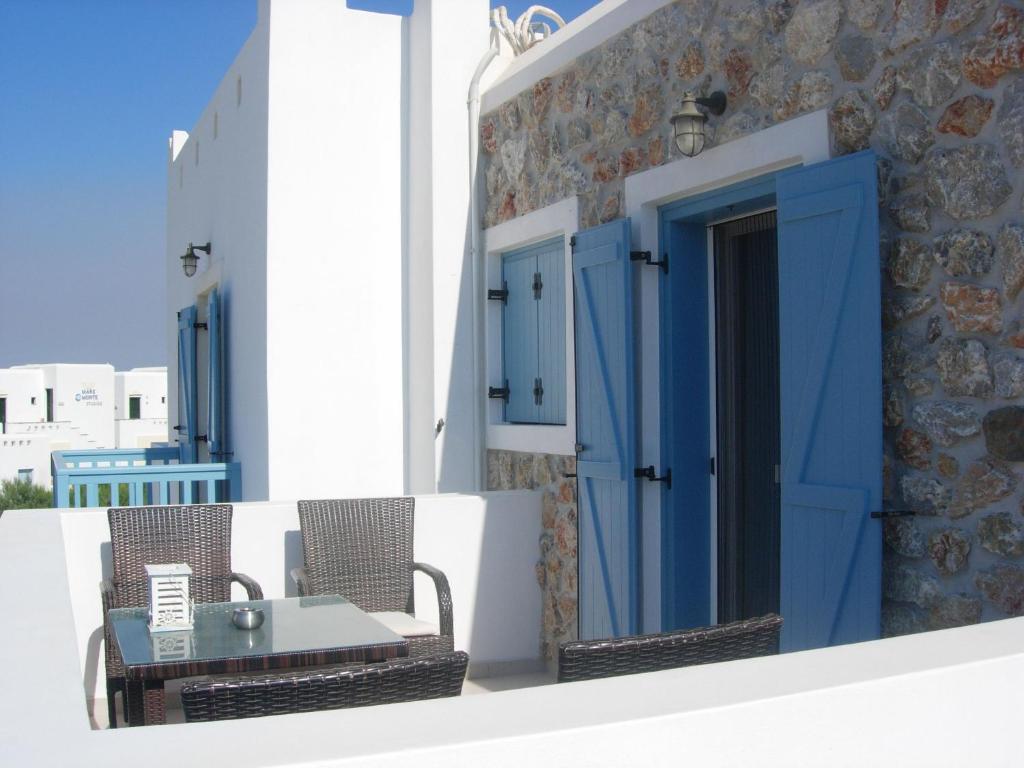 Blue Harmony Apartments is a family-run complex just 150 yards from the famous beach of Plaka. Each unit is carefully designed in soft colors and individually selected furnishings. Each has a large balcony, WiFi, a smart TV, and air conditioning. Guests can enjoy a delicious homemade breakfast in their rooms.
Belogna Ikons is built next to the Tower of Belonga in Naxos. They are designed in authentic Cycladic style and boast a stunning swimming pool and unobstructed views of the Aegean Sea. Each accommodation offers a fully equipped kitchen, with everything from a microwave oven to a cappuccino machine. For a special treat, guests can arrange for a private chef to cook for them during their stay.
We tried and tested Naxos Magic Village in Stelida. In a quiet, relaxing environment, Naxos Magic Village is 150 m from the beautiful, sandy Stelida Beach, as well as 800 m from the tourist resort and beach of Agios Prokopios. On-site facilities include an outdoor pool and tennis court. The location is amazing for families. The hotel is clean and the best part; it is very silent at night – you can hear the sound of the sea. We truly recommend it.
More family hotels in Greece and the Greek Islands
If you are planning a vacation on the Greek islands with kids, and you are not exclusively looking into Naxos, we can also recommend the following family-friendly hotels: