Last Updated on February 15, 2023 by Celeste.
When my family and I traveled to the Greek island of Kythnos, we were not really sure what to expect. The island is not (yet) as famous as the other Cyclades (such as Paros, Santorini, or Mykonos) and I had never been there before. It took us very few days to realize that Kythnos is an amazing destination with lots of family-friendly activities. Our photo collection will give you an idea of what the island looks like. So read on, because here's our Kythnos Greek Island experience!
Kythnos Greece Map
Check out where Kythnos is on the below map and use the zoom in—and out button to see Kythnos in its relation to the other Cyclades island group.
How do you get to Kythnos Greece
Thanks to its proximity to Athens, Kythnos is an ideal destination for families and for short trips or weekend getaways.
The fastest way to get to Kythnos is to travel by ferry from the port of Lavrio in Athens. There are ferry routes from Lavrio to Kythnos throughout the year. You can also get to Kythnos by ferry from the port of Piraeus.
We traveled in our own car, but in case you don't have your own vehicle, I would recommend you rent a car. The distances between the beaches and town are long, and there is no effective public transport around the island.
Kythnos Greek Island
Kythnos (Greek: Κύθνος) is a Greek island and municipality in the Western Cyclades between Kea and Serifos. The island reflects a wild but dry natural landscape. We saw farm animals and bee farms along the roads.
The island is dry but has many blue bays with beautiful long sandy beaches.
The main town of Kythnos is Chora. A classic Greek island town with white houses, colorful flowers, and churches.
The Chora on Kythnos is extremely picturesque, and many houses are painted with colorful Greek traditional designs. The town also features several beautiful chapels.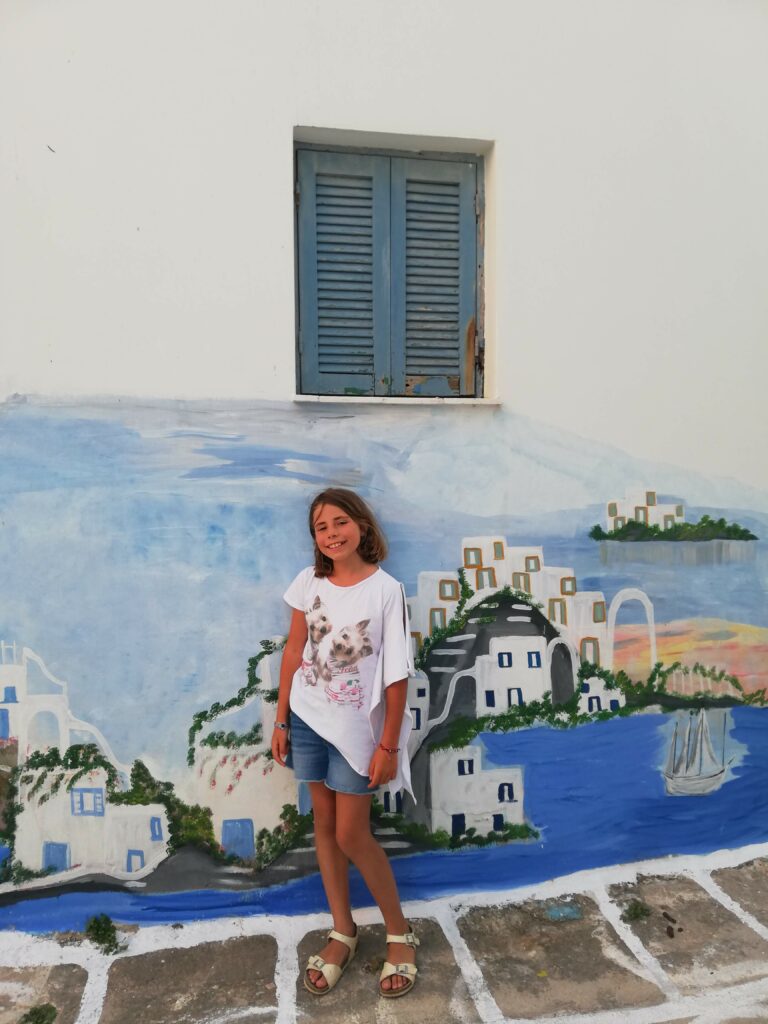 Kythnos in Greek Mythology
Did you know that Kythnos plays a role in Greek Mythology? The island is named after Kythnos, the mythical king of the original settlers (known Dryopes) and son of the god Apollo. The Dryopes were successful and well-organized. On the island, there are archaeological findings dating back to Ancient Greece.
The wells of the island were well known even in ancient years, and people from the mainland and the neighboring islands would go to Kythnos to be cured of various diseases. Kythnos was conquered by the Macedonians in the 4th century BC, and the Romans cane in the 2nd century BC, using the island as a place for exiles.
Kythonos Accommodation Greece
There are no big resorts or all-inclusive hotels on Kythnos. Instead, you will find small traditional hotels and boutique accommodation. Most hotels in Kythnos are found in Merichas, the main port. But also in Loutra, a popular seaside village on the northern side. These places give direct access to the beach and have nice tourist facilities, like shops, taverns, and car or bike rentals. Other hotels can be found in the traditional Chora and along the beaches.
Kythnos Suites
We were invited by Guardiero Kythnos, located at 12 km from the port on its own private beach. The luxury suites at Guardiero consist of 7 apartments in traditional architecture, all with sea views.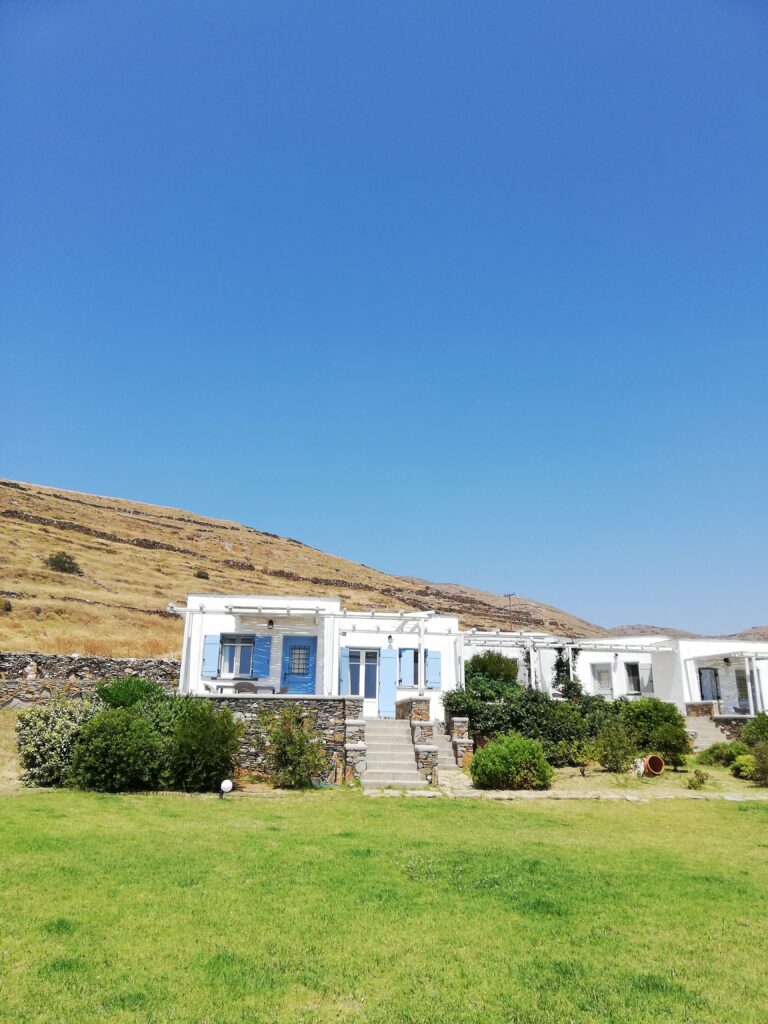 The suites are located on the sheltered Kouri beach, ideal for children. Guardiero's philosophy is stated on its website:
In our time, especially the people who live in the city have lost contact with nature. Our children know animals only through books, television and generally in theory. Our goal here at Guardiero is to create an environment that we cannot live and see in our everyday life in the city.
Through a series of activities (organized by the lovely owner Katerina) and the natural surroundings of the place, Guardiero delivered its mission statement. We petted the hotel dogs, climbed in trees, build tents, enjoyed endless hours at the sea, tasted the homemade dishes, had night swims, and watched the stars.
There is a large grass area in front of the hotel and a quiet beach bar with a lounge area. The beach is very child-friendly and safe. The hotel is pet-friendly and offers room service, breakfast and coffee, car rental, and a table in a restaurant in the village.
We stayed in a beautiful two-room house, for 4 people, with minimal lines and colors. The bedroom had a double built-in bed and anatomical mattress, and the living had two built-in sofas that became beds with anatomical mattresses. There was also a well-equipped kitchen and a built-in bathroom.
Very large terraces overlooking the garden and the sea complete our island house.
And if we wanted to hang out with our friends, we just moved to the lounge area of Guardiero.
Eat and Drink
Guardiero also has its own restaurant (for guests and visitors) where breakfast is served as well as à la carte lunch and dinner.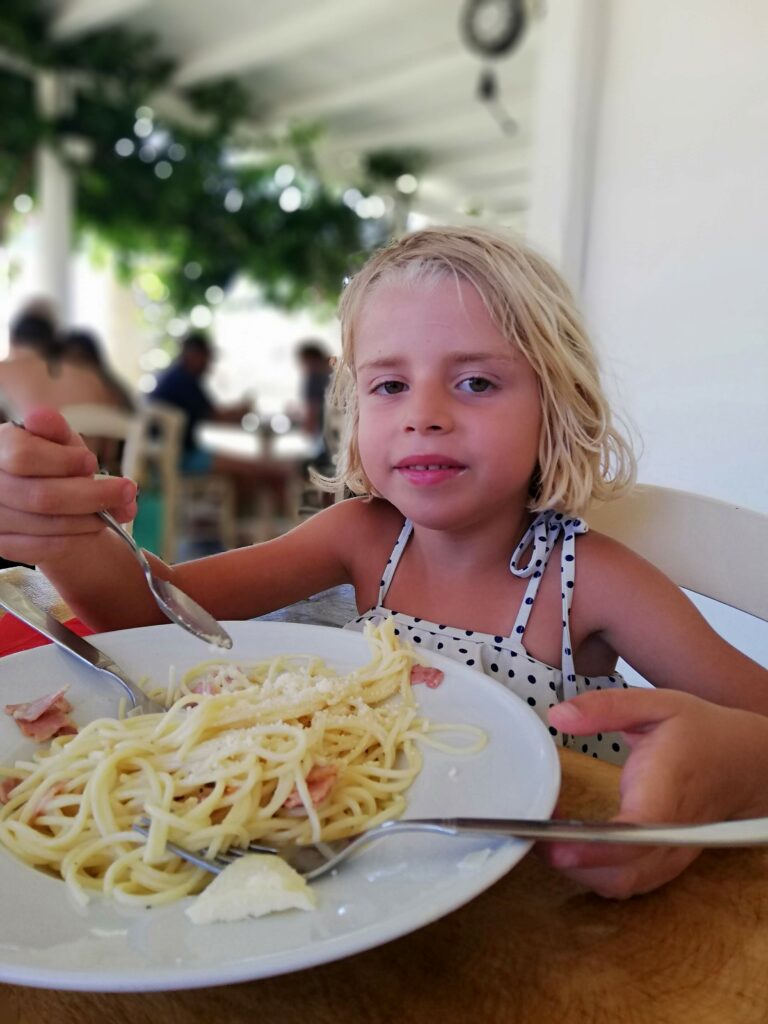 We loved all the breakfast choices as well as the healthy lunch and dinner dishes (all local organic and homemade!).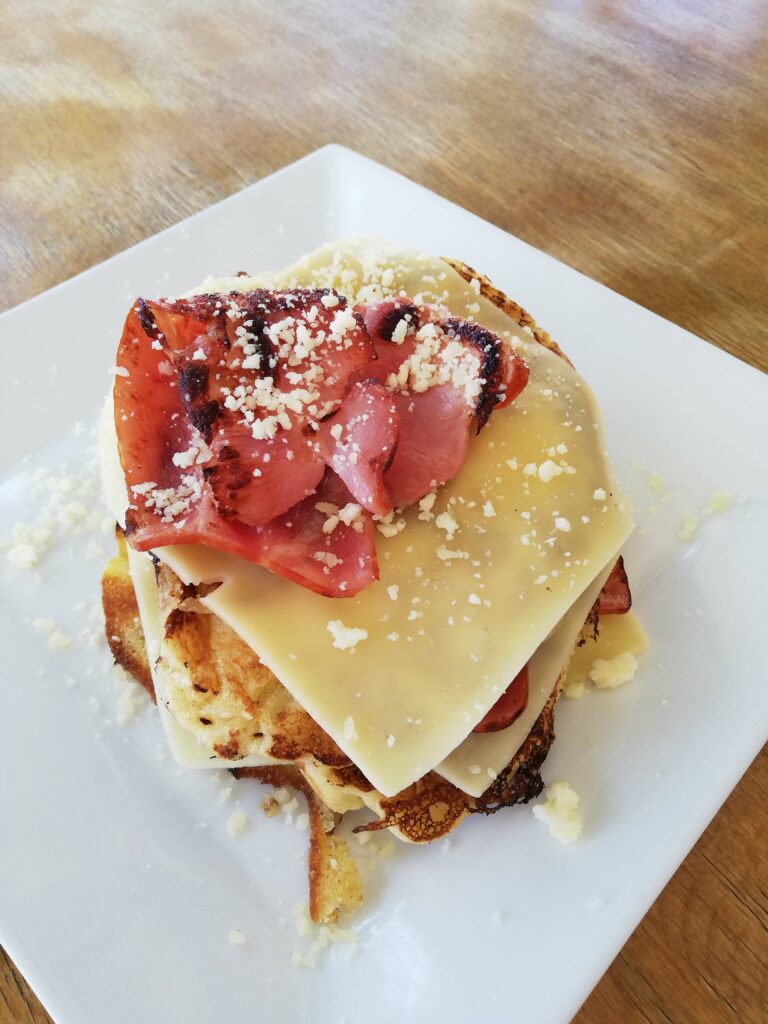 We also had dinner in the Chora of Kythnos at To Steki tou Ntetzi. A traditional tavern serving local dishes such as Sfougato and vegetarian choices.
Sfougato is one of the tastiest traditional dishes of Kythnos. It can be described as small fried cheese balls.
Don't forget to stop for ice cream, crepes and for Amygdalota, traditional Greek almonds biscuits!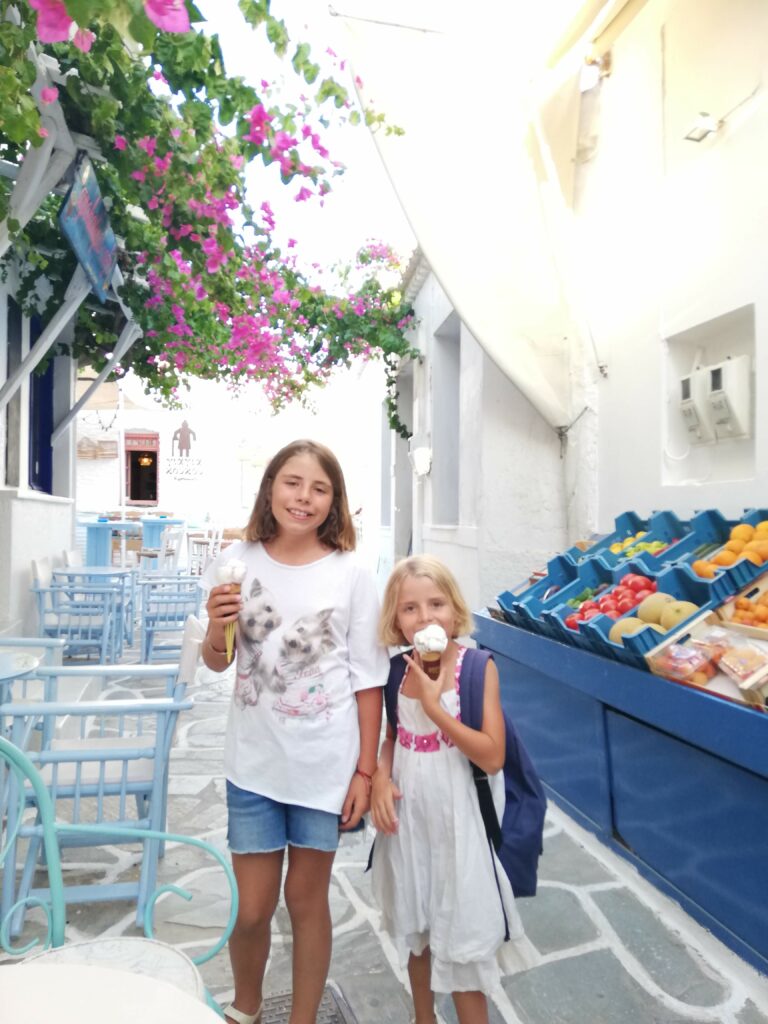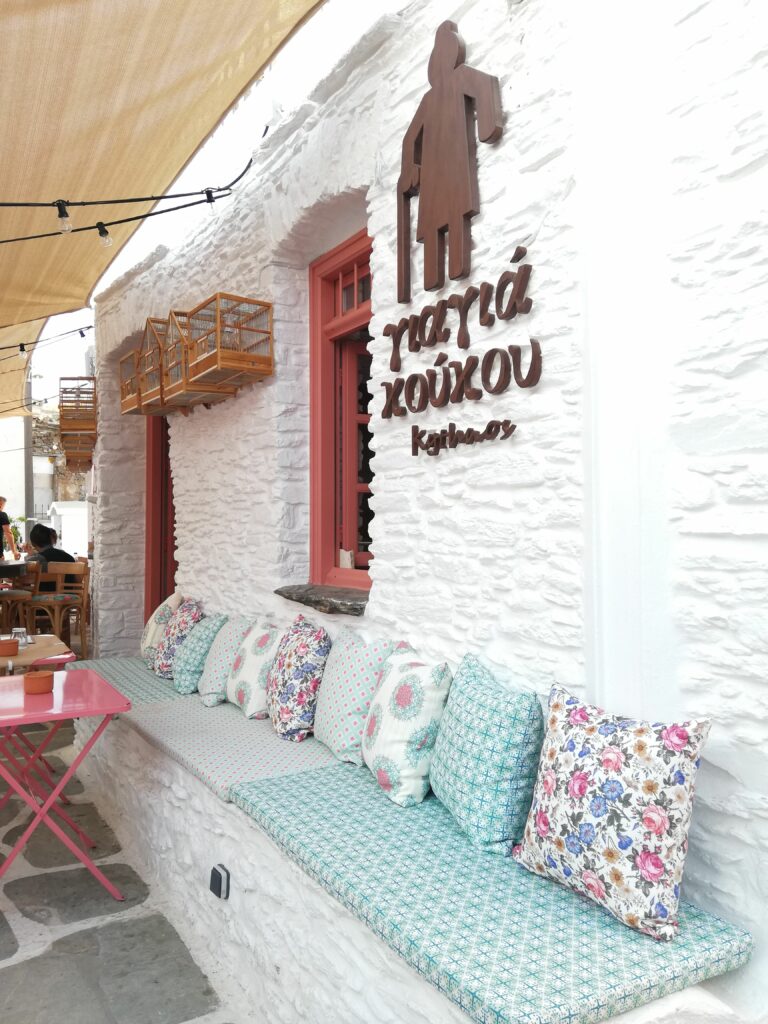 Things to see and do in Kythnos
Guardiero organizes fun, health, and wellness experiences. We participated in several of their family-friendly activities. It was very convenient that we did not have to leave the hotel to be active. Here are my things to see and do in Kythnos Greek island that kids will enjoy.
Hiking around the island
We hiked from Guardiero via a mountain path to the next bay while overlooking the sea and mountains. A hike around the island can also bring you to ruined castles, chapels, and beaches that remain secluded even in the high season.
Stand-up paddleboarding
The sea in Kythnos was calm and shallow, ideal for stand-up paddleboarding for kids of all ages. Guardiero arranged for a trainer and equipment, and we had a fun afternoon in the water.
Archery
Heroes and gods in several Greek Mythology stories are described as archers, including the Greek Artemis and Apollo. In Kythnos we had the chance to try archery too.
Discover the Chora of Kythnos
Kythnos Chora is a labyrinth of white-washed houses, blue doors, and narrow alleys, kids will love running around the streets and playing with the street cats.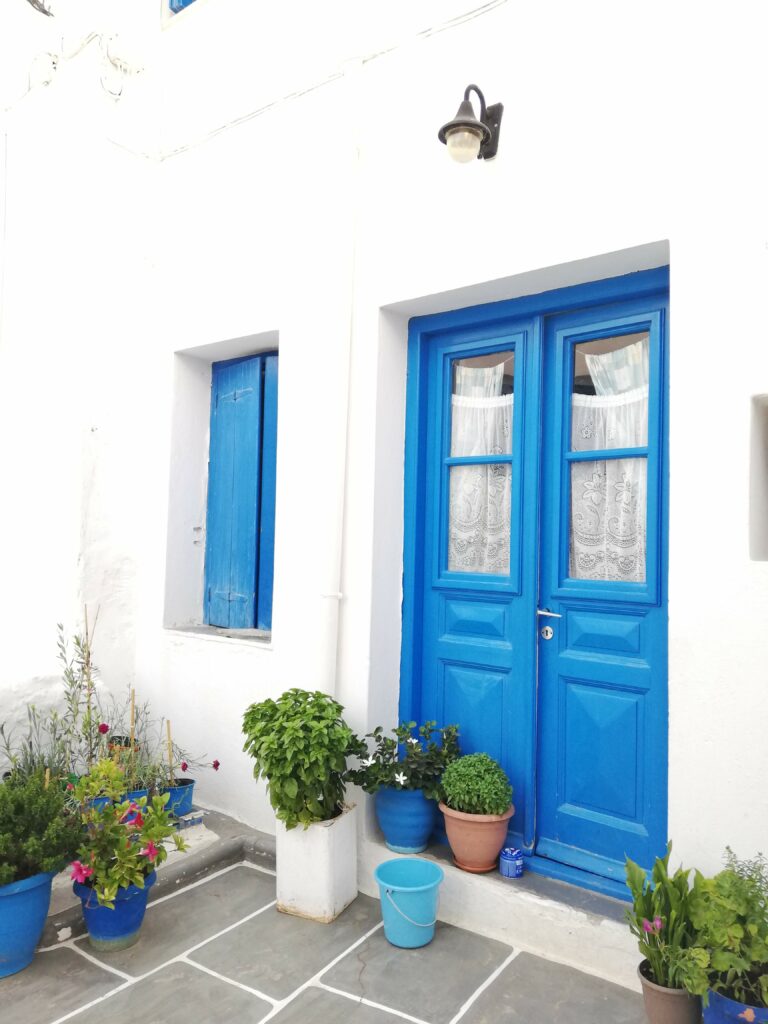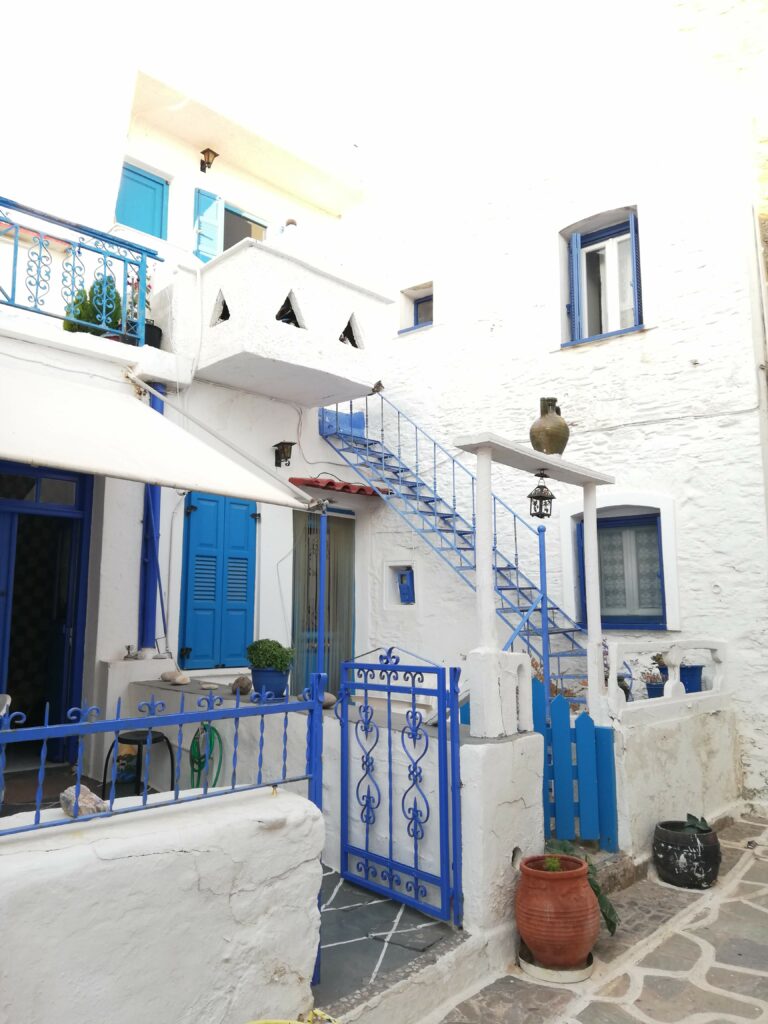 Your family will also enjoy watching the gifts in the souvenir shops in the narrow streets and the main square with its pretty church and cafés with bohemian-style colorful cushions and playful chairs.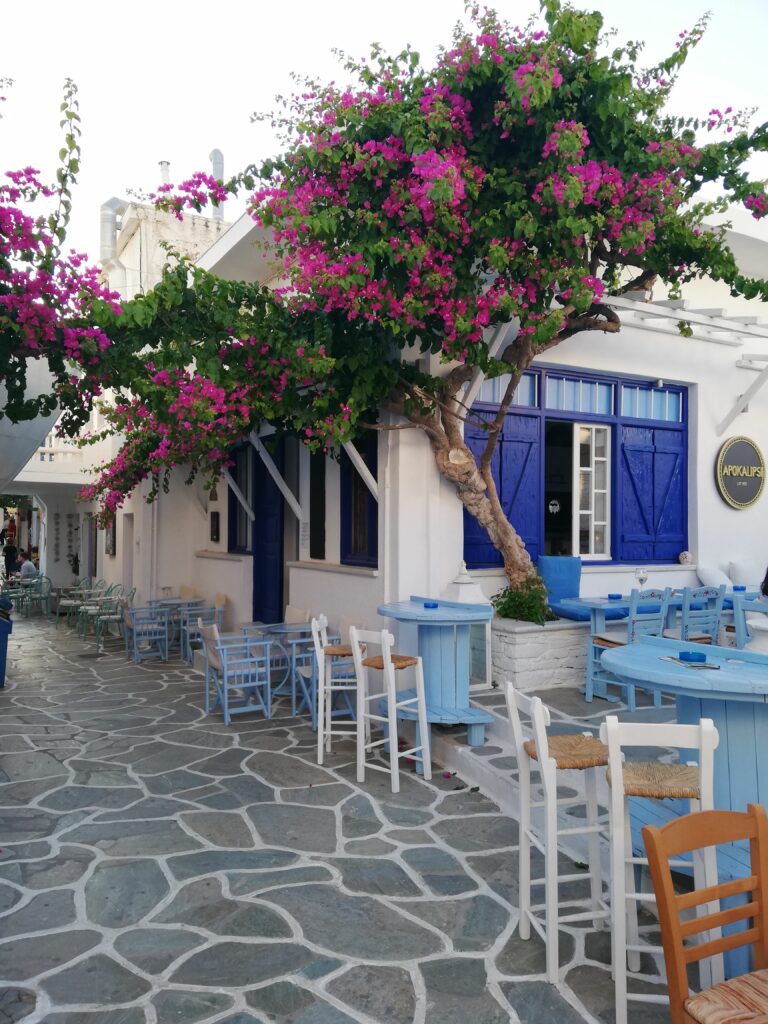 Visit the Folklore Museum
The collection of the Folklore Museum includes traditional clothing and significant folk art objects. The exhibits provide a glimpse into the life of the locals and offer a nice history lesson.
Stroll around the port
Walk around the picturesque port with its white cube island houses and enjoy the hustle and bustle of the boats.
Discover the beaches of Kythnos
Beaches in Kythnos Greece are quiet and relaxing. Some beaches in Kythnos are sandy while others are pebbled, but they are all comfortable.
The most impressive one is Kolona beach, considered one of the most beautiful beaches in Greece.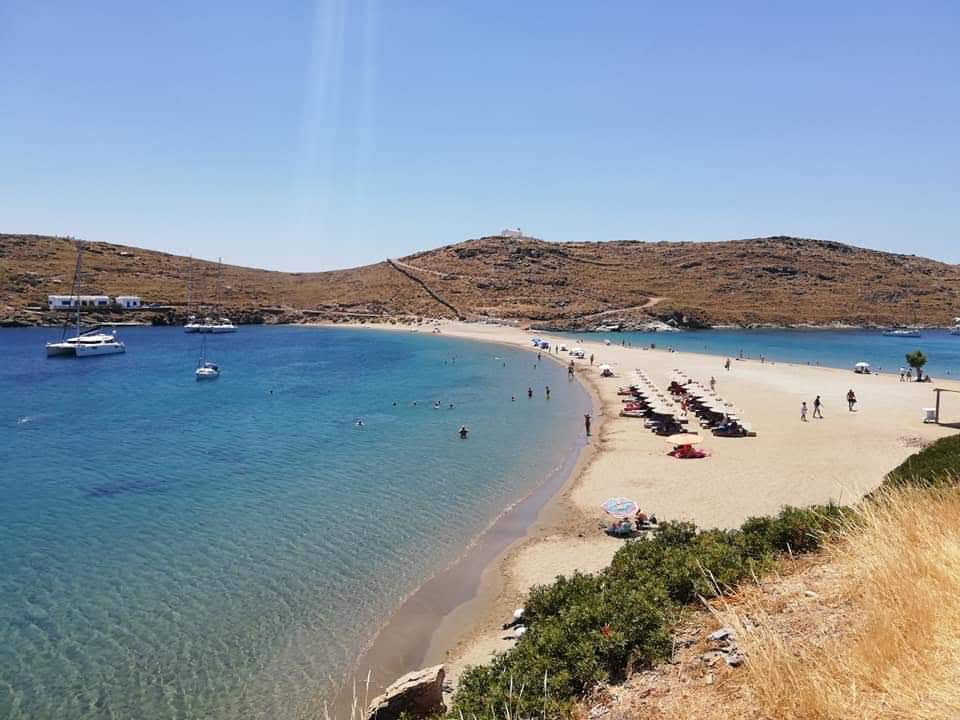 Another good one for families is the popular Loutra beach, lined up with family hotels, traditional taverns, and cafeterias. A drive around the island will take you to many secluded beaches too.
Is Kythnos worth visiting?
Kythnos is definitely worth visiting with kids. It is safe, charming, and only 2 hours away from Athens, making it easy to get to if you are flying into Athens airport. The island is part of the Cyclades island group, thus also a great start for a bucket-list Greek island hopping adventure. Kythnos has lovely long-stretched beaches that are safe for kids to run around at, and the old town of Kythnos is car-free.
We loved Kythnos and Guardiero suites and hope to return one day!
Have you been to the Greek island of Kythnos? Let me know in the comments. Sharing is caring!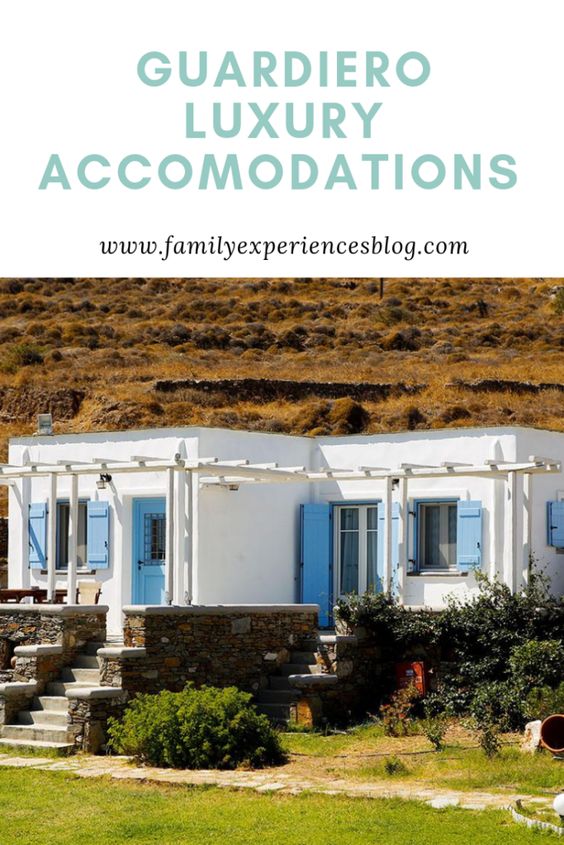 Related Posts